Los Angeles Preps:

Richard Mullaney
October, 31, 2011
10/31/11
10:55
PM PT
By
Tim Haddock
| ESPNLosAngeles.com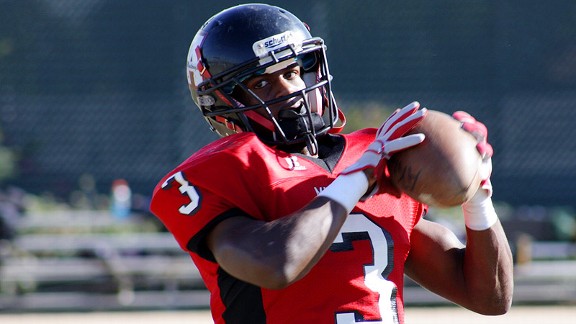 Tim Haddock For ESPNLA.comArleta's Dejon Coleman set a school record with 330 yards rushing vs. Jefferson last week.
Upon further review, Arleta running back Dejon Coleman rushed for 330 yards and set a school record against Jefferson in his team's 45-7 win on Friday afternoon. Coleman scored three touchdowns in the game and has 36 touchdowns on the season. El Camino Real running back Kawan Rally had a record-setting weekend too. He rushed for four touchdowns against Chatsworth and set a school record with 62 touchdowns for his high school career. El Camino won, 49-20, over its West Valley League rival.

A week after committing to San Jose State, Highland quarterback Christian Tago had one of his best games of his high school career. He passed for 294 yards and two touchdowns in Highland's 35-0 win over Eastside in a Golden League game. Highland is tied for first place in the Golden League with Quartz Hill and Eastside. Highland receiver Leonard Merriweather caught five of Tago's passes for 130 yards. He also rushed for 126 yards and scored two touchdowns.

Camarillo receiver Jake Maulhardt caught 10 passes for 203 yards and three touchdowns against Pacifica. He has 100 catches on the season, putting him in an elite group of receivers in CIF-Southern Section history. Thousand Oaks receiver Richard Mullaney set the Southern Section record with 122 receptions in his senior season in 2010. Pepe Villasenor from St. Bonaventure and Hayo Carpenter from Ridgecrest Burroughs are second on the Southern Section reception list at 111. Maulhardt has at least two more games and playoffs to move up on the receptions list.

Amy Weissenbach, one of the most decorated and accomplished runners in Harvard-Westlake history, has committed to Stanford. She is the National Federation High School record holder in the 800 and the reigning Gatorade National Girls Track and Field Althlete of the Year. She is a two-time CIF state champion in the 800 and was on the Harvard-Westlake distance medley relay team that set a national high school record. Weissman was on the Harvard-Westlake cross country team that won the CIF Division IV state championship in 2009. Calabasas senior Walker Huddy will commit to Cal and play on the school's golf team. Huddy won the Marmonte League championship and most valuable player as a sophomore and was an All Marmonte League first team selection in his junior year.

The South Hills girls' volleyball team won the Crescenta Valley tournament, downing Pasadena Poly, 25-17, 25-22, in the gold division championship match. Sydney West earned tournament MVP playing for South Hills. Sydney La Follette and Zoe Herrera from South Hills were selected to the all-tournament team. The Van Nuys girls' volleyball team won the silver division championship, defeating L.A. Baptist, 25-15, 18-25, 15-11. Van Nuys did not win a match in pool play, but beat Righetti in the quarterfinals and Maranatha in the semifinals to reach the championship match.
September, 26, 2011
9/26/11
7:52
PM PT
By
Tim Haddock
| ESPNLosAngeles.com
The games between Oaks Christian and St. Bonaventure are quickly becoming classics. The latest contest included a power outage that only knocked out the stadium lights but not the scoreboards, and interrupted the game for nearly 30 minutes. It took 15 minutes for the lights to be restored and another 15 minutes for players to stretch and return to the game. When the lights went out, Oaks Christian was ahead, 27-24, with 6:52 to play in the fourth quarter. St. Bonaventure was down 20-3 at halftime and scored two touchdowns in the fourth quarter to trim the lead to three points. St. Bonaventure receiver Montre Lee scored the second touchdown of the quarter on a 55-yard pass from quarterback Marc Evans. The Seraphs were about the get the ball back after forcing Oaks Christian to punt. But with the football in the air, the lights went out. The ball was downed on the St. Bonaventure 1-yard line. The delay seemed to sap all the momentum from St. Bonaventure. Oaks Christian scored a safety when the game resumed after St. Bonaventure was called for holding in the end zone. Oaks Christian's Marcus Jones forced his second fumble of the game and St. Bonaventure turned the ball over for the third time, ending a drive inside the Oaks Christian 20-yard line in the final minutes. St. Bonaventure coach Todd Therrien told the LA Times that Oaks Christian must have a hundred of rabbits' feet with the way the last couple of games have ended between the two teams. Oaks Christian coach Bill Redell insists the lights didn't go out on purpose, but he didn't know why they went out at all. Suspicions linger, but the end result is another dramatic win for Oaks Christian.
The final tally on Camarillo's Jake Maulhardt's record-setting receiving game against Canyon Country Canyon is 28 catches for 347 yards and three touchdowns. His 28 receptions are a state record, breaking the mark of 26 catches set by David Sepulveda for Fullerton in a game against Buena Park in 1984. Maulhardt's 28 receptions are fourth in the national record books. He broke the Ventura County record of 19 catches by Richard Mullaney of Thousand Oaks last year. His 347 receiving yards are No. 3 on the state list, behind Ramon Nevarez of Bolsa Grande (377 yards in 1996) and Keith Poole of Clovis (373 yards in 1991). Maulhardt scored on catches of 21, 25 and 37 yards. Camarillo coach Dennis Reidmiller told the Ventura County Star that if he knew Maulhardt had 28 catches during the game, he would have thrown to him a couple more times to try to get him an even 30. For good measure, Camarillo sophomore quarterback Michael Marin was 41-of-54 passing for 416 yards and four touchdowns.
February, 2, 2011
2/02/11
10:36
AM PT
Here's another crop of recruits and where they are expected to sign today. Oregon State is getting three top-tier players. Wide receiver Richard Mullaney might be the best of the bunch. He set the CIF Southern Section record for receptions and caught 20 passes in the last playoff game of his high school career. Alemany quarterback Vernon Adams was considered by some to be not only the best player in the LA North at his position, but the best football player in the region. He's a little undersized, but a dual threat. He beat teams with his legs and his arm. Yet, he didn't attract much interest from college teams and coaches. The only other school of note that made a run at him was Eastern Washington.

Oregon State

Akeem Gonzales, defense back Alemany

Lavonte Barnett, defensive line, Paraclete

Richard Mullaney WR, Thousand Oaks

Portland State

Vernon Adams, QB, Alemany

Sacramento State

Jake Geringer, QB, Newbury Park

UC Davis

Quinn Harris, LB, Moorpark
February, 1, 2011
2/01/11
11:12
PM PT
By
Sean Ceglinsky
| ESPNLosAngeles.com
SIMI VALLEY -- Each time the Simi Valley High boys' basketball team needed a big play Tuesday night, regardless of whether it was a bucket, rebound, assist, steal or block, the Pioneers turned to Jonathan Davis. And more often than not, he delivered.

For example, in the waning moments of the fourth quarter against Thousand Oaks, the senior converted a layup with 1:40 left to essentially seal a 48-44 victory and move Simi Valley into a first-place tie with the Lancers atop the Marmonte League standings.

"We need Jonathan to go, because when he does, we're a tough team to beat,'' Pioneers coach Christian Aurand said. "When we needed a basket late, he'd blow by the double-team heading for him and racked it. You've got to love having a player like that on your side.''

With three more games remaining in the regular season, Simi Valley (17-6, 9-2) can clinch a share of the league championship if it wins out the rest of the way. No. 17 in the ESPNLosAngeles.com top 20 rankings, Thousand Oaks (20-3, 9-2) is in the same position.

"In our league, it's all about being able to steal a game on the other teams court. Tonight, we ran into a tough team, unfortunately,'' Lancers coach Rich Endres said.

The Lancers also ran into a tough individual: Davis, of course. The 6-foot-8 forward, who is heading to George Washington, finished with 15 points and 12 rebounds. Can't forget to mention that he added two blocks and two assists in more than 30 minutes of action.


December, 18, 2010
12/18/10
10:36
PM PT
By
Tim Haddock
| ESPNLosAngeles.com


The Thousand Oaks boys basketball team is undefeated after the first 10 games of the season. The team has its share of blowouts, beating Cabrillo by 60 points in the opening round game of the Nordhoff Tournament.

Thousand Oaks has met some challenges as well. The Lancers beat Atascadero by eight points on Dec. 10. In a Marmonte League game against Agoura, Thousand Oaks saw a 13-point halftime lead shrink to three points in the final minute. Thousand Oaks eventually won, 61-56.

"We've played some teams that weren't ready and played some teams that were pretty good," Thousand Oaks coach Rich Endres said. "You're always surprised when you go undefeated."

The five starters for Thousand Oaks are seniors. That leadership and experience has carried the team so far.

Endres said when the season started, he thought Evann Hall was going to be his team leader. But Austin Cagley, Anthony Jacques and Richard Mullaney have added a surprising dose of senior leadership.

Hall is leading the team in scoring with 19 points per game. Cagley has been running the point and averaging 19 points a game as well. He earned most valuable player honors in the Nordhoff Tournament, scoring 20 points in a 61-52 win over Buena in the championship game.

"I thought Evann Hall would maybe be our main guy," Endres said. "Anthony Jacques has been rebounding and scoring. Mullaney is good for a double-double almost every game. We're pretty balanced. We're coming on because of our senior leadership."

Jacques led Thousand Oaks with 17 points against Agoura. He scored 15 in the first half. Mullaney scored eight of his 15 points in the third quarter. Thousand Oaks had to hold off a late-surge by Agoura in the fourth quarter, though, to win its 10th game of the season.

Endres said Mullaney is still getting his "basketball legs." Mullaney, who also played on the Thousand Oaks football team and is headed to Oregon State on a football scholarship, broke the CIF Southern Section record for receptions with 120. He also set a number of school records for receiving and touchdowns.

The Thousand Oaks basketball team will be taking its undefeated record to the Desert Heat Invitational at Cathedral City High School on Dec. 29. The first game for Thousand Oaks will be against Perris.
November, 29, 2010
11/29/10
7:25
PM PT
By
Tim Haddock
| ESPNLosAngeles.com


1. The Marmonte League tri-champions are in the final four of the CIF Southern Section Northern Division playoffs. Oaks Christian, the top-seeded team in the Northern Division playoffs, left no doubt in a 57-34 win over Marmonte League rival Thousand Oaks. The outcome was much different than the previous meeting, which ended 28-26 in favor of Oaks Christian. St. Bonaventure, the No. 2 seed in the playoffs, clamped down on an explosive Canyon offense and won 45-21. Westlake, the third seed, pounded Palos Verdes, 49-28. The other semifinalist is Valencia, a 40-21 winner over Moorpark, another team from the Marmonte League. Valencia, the No. 4 seed in the division, plays Oaks Christian on Friday night. St. Bonaventure plays Westlake. St. Bonaventure, from coach Todd Therrien to the ball boys, seems to be ready for Westlake. Valencia is the only hope of breaking up an all-Marmonte League final.

2. Thousand Oaks receiver Richard Mullaney caught a school record 19 passes for 303 yards in his team's playoff loss to Oaks Christian. He caught three touchdown passes to boot. The Oregon State-bound senior ended his high school career with a number of records. His 120 receptions this season is a CIF Southern Section record. He ended his career with an even 200 receptions, a school record. He scored 20 receiving touchdowns in his senior season, another school record. His 29 career touchdown receptions are also the most in school history. He is the school record holder in receiving yards for a season with 1,668 and ends his career with 2,665 yards receiving. He also tied a school record with 14 interceptions over his high school career.

3. Speaking of records, running back Steven Manfro is on the verge of breaking a couple of Foothill League marks. He has rushed for 2,434 yards and scored 40 touchdowns in his senior season. Manuel White from Valencia, who went on to play at UCLA and for the Washington Redskins, rushed for a Foothill League record 2,514 yards in 1999. J.J. DiLuigi from Canyon, now a junior at Brigham Young, scored a league record 43 touchdowns in 2005. Manfro is coming off a 346-yard rushing game against Moorpark. He scored only one touchdown, his lowest touchdown output of the season, but averaged 12.3 yards per carry. He is averaging nearly 203 rushing yards per game. He needs only 81 yards against Oaks Christian to break White's record.


October, 8, 2010
10/08/10
11:46
PM PT
By
Tim Haddock
| ESPNLosAngeles.com


AGOURA HILLS -- The Thousand Oaks football team scored eight points in 15 seconds in the third quarter and beat Agoura, 21-12, in a Marmonte League game at Agoura High School on Friday night.

Agoura had a 6-0 lead with less than a minute to play in the third quarter. Thousand Oaks scored on a safety when Agoura quarterback Gerard Poutier threw an illegal forward pass in the end zone.

On the ensuing free kick, L.J. Wiley scored on a 75-yard return to give Thousand Oaks an 8-6 lead. Thousand Oaks added a couple of touchdowns in the fourth quarter to pull away and ruined an otherwise stellar defensive performance by Agoura.

The Agoura defense shut out the potent Thousand Oaks offense for almost three quarters. Thousand Oaks scored its first points of the game on a safety after Agoura put up a strong defensive stand on their own 5-yard line.

Agoura stopped a Thousand Oaks drive and took over on downs. Three plays later, Poutier was caught scrambling in the end zone and threw the ball away to escape a sack. Thousand Oaks was credited with a safety and scored for the first time in the game with 47 seconds left to play in the third quarter.

It took Thousand Oaks only 15 seconds to take the lead for the first time in the game. Wiley scored the first touchdown for Thousand Oaks a free kick return with 32 seconds left in the third quarter.

Agoura coach Charlie Wegher said those two plays were the difference in the football game.

"If we drive the ball out and punt to them, maybe we stop them," Wegher said. "That really was the ball game."


September, 16, 2010
9/16/10
11:13
PM PT
By
Sean Ceglinsky
| ESPNLosAngeles.com
WESTLAKE VILLAGE -- If the Thousand Oaks High football team thought it was going to somehow, someway, pull off an improbable victory over heavily favored Westlake on Friday night, the Lancers were sadly mistaken.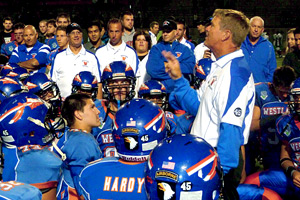 Sean Ceglinsky/For ESPNLA.com
Westlake coach Jim Benkert addresses his team after its Marmonte League-opening win over Thousand Oaks on Thursday night.
The Warriors reminded visiting Thousand Oaks who was the superior program and did so from the opening kickoff until the final whistle en route to a 31-3 victory in a Marmonte League opener for both schools.
"We came out and did our thing tonight, losing wasn't an option,'' Westlake quarterback
Nick Isham
said. "This was a statement game for us. We want to be known as one of the best teams around and this win means a lot.''
The Warriors (2-0, 1-0) are No.2 in the ESPNLosAngeles.com Top 25 rankings and they looked every bit the part. Opening up what proved to be an insurmountable 21-3 halftime lead certainly helped matters and ruined any momentum the Lancers (1-1, 0-1) might have had initially.
Westlake entered the fourth quarter with a 25-point advantage, but that didn't stop it from putting more points on the board.
Alex Ball
kicked a 20-yard field goal to give the Warriors a 31-3 lead at the 11:55 mark, but only after the drive was kept alive by
Tavior Mowry
, who converted a crucial fourth-and-short opportunity at the Lancers' 25-yard line.