Los Angeles Preps:

Rick Neuheisel
December, 13, 2011
12/13/11
9:18
PM PT
By
Sean Ceglinsky
| ESPNLosAngeles.com


WESTLAKE VILLAGE -- Line up Dashon Hunt at running back, put the football in his trusty hands, and he is more than capable of gaining the necessary yardage on the ground to keep the chains moving. Straight up the middle, or to the outside, it doesn't matter.

Slot the junior from Westlake at receiver and Hunt might run by the defense en route to the end zone. Position him in the slot and he is not afraid to risk his body going over the crowded middle to make the difficult catch against teams geared toward stopping him.

Hunt's effectiveness isn't merely limited to life on the offensive side of the ball. Stick him on an island at cornerback, and odds are, he will lock down the opponents top pass-catcher. Allow him to roam free in the secondary at safety and don't be surprised to see Hunt deliver a game-changing hit. Forcing a fumble is always a distinct possibility.

He is a jack-of-all-trades, Hunt plays a number of positions, each of them equally well. And we haven't started to discuss the special teams impact he makes.

His versatility and ability to excel in most any situation, of course, is what separates Hunt from most his underclassmen peers. Furthermore, the well-rounded skill set he possesses has been instrumental in helping guide the Warriors into Saturday night's CIF State Bowl game, an Open Division showdown against Concord De Le Salle at the Home Depot Center.

"Dashon is a darn good football player, a force to be reckon with, and we're glad he is on our side,'' Westlake coach Jim Benkert said. "He is an individual who can change the complexion of a game with one play, at any time and from any spot on the field.''

Hunt proved as much in the Southern Section Northern Division championship game last week against rival Westlake Village Oaks Christian. The 5-foot-9, 175-plus pound UCLA commit rushed for a team-high 154 yards in 24 carries and scored four times.

As if that weren't enough, Hunt was assigned to shadow Lions' senior receiver Jordan Payton, one of the premier prospects the Southland has to offer. Hunt finished with four tackles and an interception return for a touchdown in an all-important 49-42 victory for Westlake (14-0 overall), which has held the No. 1 spot in the ESPNLosAngeles.com rankings for several weeks.

"I'm always up for a challenge. Always have been. Always will be,'' Hunt said. "I've seen all kinds of things this season, on offense and on defense. Coaches and players know that I'm a good athlete. I'm not sure if they are intimidated by my play-making ability or what.''

"When I'm running the ball, most teams blitz or try to stack the box with seven or eight guys. I've seen some double teams when I'm running pass routes too. On defense, teams don't usually throw to my side of the field. All that stuff is a respect thing, I think.''


November, 29, 2011
11/29/11
6:33
PM PT
By
Sean Ceglinsky
| ESPNLosAngeles.com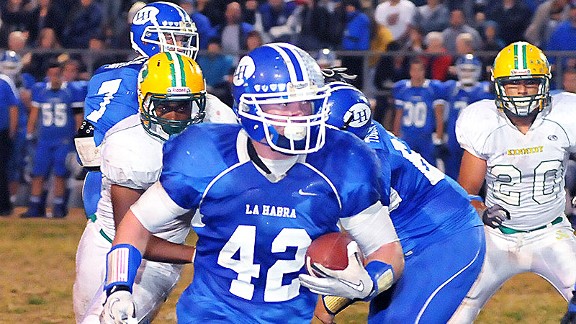 Courtesy of Arnold LeosAaron Porter is a four-year varsity player for La Habra, which has won four section titles in a row.
LA HABRA -- Since his days as a wide-eyed youth, dating to well before age five,
Aaron Porter
has been closely associated with La Habra football.
Years later, little has changed. The senior linebacker is still a fixture in the grand scheme, and has successfully emerged this season as one of the Southland's premier prospects at his position.
The Highlanders, naturally, have followed suit in terms of on-field success.
Porter & Co. head into Friday night's CIF-Southern Section semifinal playoff game against Lake Forest El Toro with plenty of momentum as a result. A victory, in fact, is the only thing separating the Highlanders from an appearance in the Southwest Division championship game and the opportunity to secure a rather remarkable fifth consecutive section title.
"What can I say about Aaron Porter, tell me, how much time do you have? There is plenty to talk about with him, he is a special kid,'' La Habra coach
Frank Mazzotta
said. "He means everything to this team and school. Aaron is a leader through and through.''
To gain a better understanding of where Porter, a potential UCLA commit, is heading, perhaps it is best to take a quick look back at his Highlanders roots.
His father,
Tony Porter
, took a position on the coaching staff at La Habra close to 14 years ago, right around the time Mazzotta was hired. Not surprisingly, son Aaron tagged along for the ride while Dad attended to his defensive coordinator responsibilities.
"We always knew Aaron would end up at La Habra, that's all he knew growing up,'' Tony Porter said. "I like to think that I have seen a lot of good players come and go over the years. Aaron is a student of the game, so I'm sure he remembers all those guys too.''
September, 12, 2011
9/12/11
9:37
PM PT
Monrovia defensive tackle
Ellis McCarthy
said last week his first official visit will be to Oregon "in a couple of weeks." The fifth-best prospect in the state and the nation's No. 6-ranked defensive tackle, according to ESPNU, wants to wait until defending Mid-Valley Division champion Monrovia has another Thursday game so his visit lasts longer.
That would leave a weekend in mid-October as the likely visit date. Monrovia's next Thursday game is Oct. 13 at La Caņada; Oregon hosts Arizona State in a possible Pac-12 Conference title game preview on Oct. 15.
McCarthy
has offers from all over
but Cal, USC, Florida, Oregon and Washington are believed to lead for his services. USC coaches
Ed Orgeron
and
Kennedy Polamalu
were among a group of recruiters who attended Monrovia's season-opening 29-16 win against Glendora on Thursday night. Orgeron aimed his video camera directly at McCarthy a number of times.
UCLA head coach
Rick Neuheisel
and defensive line coach
Inoke Breckterfield
were also there, though the Bruins' recruiting of McCarthy has fallen off. UCLA, though, is a suitor for McCarthy's teammate, class of 2013 linebacker
George Frazier
.
The 6-foot-4, 305-pound McCarthy said he spotted the coaches while stretching before the game and it gave him extra motivation to perform well. He had six tackles despite facing double- and triple-teams throughout the night.
"I just have to let them know why they're recruiting me and why they're here," he said.
December, 5, 2010
12/05/10
12:00
PM PT
By
Sean Ceglinsky
| ESPNLosAngeles.com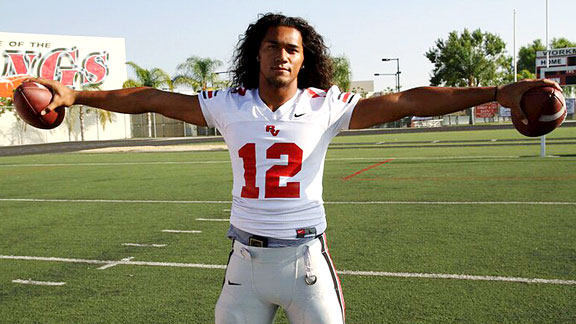 Courtesy of Ruben Arras
Junior Pomee, tight end at Rancho Verde, is one of the most highly recruited players at his position.
He plays for him, heavy-hearted and all.
Junior Pomee
appears to have a rather promising future ahead of him on the football field. Keep in mind, the 6-foot-3, 225-plus pound senior from Moreno Valley Rancho Verde High is one of the country's top tight end prospects with a scholarship offer on the table from several NCAA powerhouse programs.
Pomee, however, is a bit reluctant to move forward. He has some unfinished business to take care of, namely honoring a fallen teammate,
Emil Smith
, who was killed in an automobile accident months before the 2010 season.
Before life continues for Pomee, it's his desire to commemorate the life that was lost the best way he knows how: with a Southern Section Central Division championship. Accordingly, he played a prominent role in Friday night's 42-21 semifinal victory over host La Quinta to move the Mustangs a step closer to winning a title in Smith's memory.
"We dedicated the season to Emil, and we know he's upstairs, watching down on us. We're not going to let him down,'' Pomee said. "Before our games, we carry out a banner with his picture on it and then hit the field. It's like Emil is still with us, in some ways. His spirit motivates us. His spirit gives us energy and emotion. His spirit gets us hyped to play."
Similar to Pomee, Smith appeared to have just about everything going for him. The senior linebacker had committed to Boise State in June. On July 18, he was sitting in the passenger seat, alongside his older brother and driver,
Dimitri Garcia
, when they crashed into oncoming traffic in nearby Hemet.
Just like that, Smith was gone. And just like that, Pomee was devastated. His teammates, too. Seemingly everyone on campus was distraught.
September, 10, 2010
9/10/10
10:47
PM PT
By
Sean Ceglinsky
| ESPNLosAngeles.com
It was supposed to be a matchup between two of ESPN Los Angeles.com's top football programs, but Friday night's showdown between Mission Viejo and Los Angeles Loyola turned out to be a one-sided affair as one team looked every bit the part, and the other, not so much.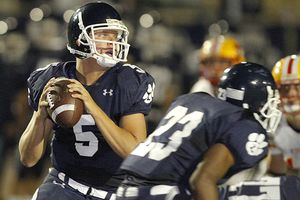 John Lazar/Special to ESPNLosAngeles.com
Loyola's QB Ryan Develle looks for a reciever in the first half of the varsity football game between Loyola and Mission Viejo played at L.A. Valley College on Friday, September 10, 2010.
Mission Viejo backed up its lofty No.3 ranking by dominating the No.15 Cubs from start to finish in a 42-7 victory at Valley College in Van Nuys. The effort was impressive, to be sure. Apparently, the Diablos wouldn't have had it any other way.
"We have a lot of pride and we wanted to come out here and make a big statement,'' said Mission Viejo senior
Tre Madden
, who is committed to USC. "We are for real, we proved that tonight and I think people will realize that when they see the final score of this game.''
All signs pointed to the Diablos (2-0) being disappointed with their 14-0 halftime lead given that they came out after intermission and promptly drove 80 yards in seven plays, with the drive capped on a 35-yard touchdown pass from
Alex Bridgford
to
Ryan Keller
. Before the Cubs (1-1) knew it, they trailed by three touchdowns midway through the third quarter.
Mission Viejo was just getting started too.