Los Angeles Preps:

River Cracraft
December, 10, 2011
12/10/11
11:35
PM PT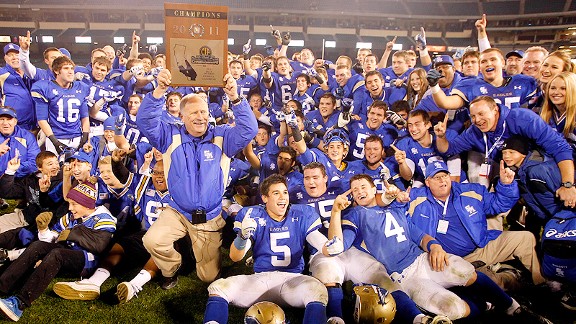 Alex Gallardo/ESPNLosAngeles.comCoach Harry Welch celebrates winning the Pac-5 title with his team at Angel Stadium.
ANAHEIM -- For the ninth time in his career,
Harry Welch
raised a championship trophy over his head. If he could, he would raise
Johnny Stanton
, too. But Stanton did his own carrying Saturday night at Angel Stadium, carrying the Eagles to the Southern Section Pac-5 title with a 27-13 victory over San Clemente.
Welch has had a lot of these moments -- five with Canyon Country Canyon, three with San Juan Capistrano St. Margaret's -- but when he grabbed the microphone after the game played in front of 14,424, he said "I have never been more proud than I am now."
The last three teams that Santa Margarita (12-2) defeated en route to their first championship since winning back-to-back in 1996-97 had only one loss; third-seeded Long Beach Poly (10-2), second-seeded Mission Viejo (11-2) and San Clemente (12-2).
If Welch loves this team, he'll love next year's too. Only two seniors start on offense, one of them being USC-bound lineman
Max Tuerk
. But the rest are underclassmen, including Stanton, the dual-threat quarterback who passed for 92 yards and ran for 148. His touchdown pass to
River Cracraft
with 11 seconds left in the first half gave Santa Margarita a 14-13 lead, and his two-yard score in the third quarter made it 21-13.
Then he engineered the drive of the game, one that covered 89 yards and consumed 9 minutes 56 seconds. It ended with
Ryan Wolpin's
second score, a three-yard run with 3:09 left in the game. It was at that point that San Clemente got its first possession of the fourth quarter. The Tritons had no more magic in what had been a magical season. Cracraft intercepted a
Travis Wilson
pass with 1:52 left in the game, and Santa Margarita ran out the clock.
September, 9, 2011
9/09/11
10:38
PM PT


MISSION VIEJO -- The highly anticipated Rumble at the Ranch on Friday turned out to be remarkably one-sided as No. 6 Santa Margarita scored a 39-7 victory over No. 24 Tesoro at Saddleback College.

The game wasn't as close as the score. Santa Margarita (2-0) committed two turnovers and several 15-yard penalties, but that didn't stop it from thoroughly beating its neighborhood rival.

"We played much better than I had any right to expect this early," said second-year coach Harry Welch. "Johnny Stanton is a pretty special kid. If I was playing agianst him, I'd be worried. Awfully great to have River Cracraft back (from an injury). And how about that defense?"

Stanton passed for 225 yards and two touchdowns to River Cracraft—he had five catches for 112 yards—as the Eagles (2-0) look forward to playing another local team next week, Trabuco Hills (2-0).

Stanton was 11 of 18 and his scores went for 34 and 15 yards. The dual-threat QB also scored on a seven-yard run that gave Margarita a 21-0 lead with 3 minutes 47 seconds left in the first half. He also carried 10 times for 66 yards, and Ryan Wolpin carried 14 for 115.

That defense dominated Tesoro (1-1), whose primary offensive weapons are versatile quarterback Matt Adam and running back Nate Tago.


August, 28, 2011
8/28/11
5:45
PM PT
Skill players score touchdowns, but many coaches believe games are won on the offensive and defensive lines, and that's where Santa Margarita appears geared for battle.
In its second season under the direction of
Harry Welch
(232-51-2), Santa Margarita has a huge offensive front, and a pair of defensive ends that Welch says might be the best pair of bookends that he has coached.
Any discussion of line play begins with USC-bound left tackle
Max Tuerk
(6-6, 296) on a starting group that averages 6 feet 4 and 299 pounds. Tuerk is joined by left guard
Cole Luther
(6-0, 286), center
Dane
Crane
(6-3, 295), right guard
Erik Bunte
(6-7, 301) and right tackle
Riley Sorenson
(6-5, 316). Nimble quarterback
Johnny Stanton
has to feel pretty good about having those guys leading the way.
The defensive ends that excite Welch so much are
Chris Frost
(6-4, 258) and
Sean Donegan
(6-4, 204), who has made huge strides since playing last season on the junior varsity.
Big and physical is a powerful combination.
Here's a closer look at the Eagles.
Team:
Santa Margarita
Coach:
Harry Welch, second year.
2010 Record:
9-3, lost to Mission Viejo in the second round of the Southern Section Pac-5 playoffs.
Returning starters:
Five total. Two on offense, three on defense.
Key players on offense:
OT Max Tuerk (USC), WR/DB River Cracraft, QB Johnny Stanton, RB Ryan Wolpin, WR/DB Conner O'Brien.
Key players on defense:
DE Chris Frost, NG Mack Pierson, DE Sean Donegan, LB Matt Anderson.
Difference maker:
Cracraft (6-0, 195), a junior, is the Eagles' most gifted athlete but may not play for a few weeks because of a shoulder injury. When he returns to the field, opponents will find he has an incredible sense for going to the ball — and for picking up yards after he gets it.
Newcomers:
DB Konner Kafentzis, a transfer from Salt Lake City; WR Sean Modster, a transfer from Capistrano Valley; DB Reid Andrew, DB Houston Agan, DE Sean Donegan, NT Ian Dewert, LB Sammy Gibbs, OL Eric Bunte.
Not to be missed:
Santa Margarita vs. Mater Dei at Santa Ana Stadium, Oct. 13. It's the Trinity League opener, and both teams know a victory here will go a long way toward getting one of three playoff berths. Not only is the game valuable in the standings, but for momentum, too, with big games looming the following week.
Coach's comment:
"Our biggest concern is inexperience," Welch said. "We have two offensive seniors starting and three defensive players with experience. With good fortune, a lack of injuries and the maturation of our young team we should be OK. The work ethic, attitude and effort has been outstanding."
Final analysis:
Welch has won large- and small-school State Bowl Championships with Canyon Country Canyon and St. Margaret's Episcopal. His impact as a coach was seen last year when the Eagles did a 180 — they went from no Trinity League wins to four in 2010, and from three wins overall to nine. That was just in his first season. Now, with a full year under Welch and his influence taking an even stronger hold, the program might be ready to take the next step and dethrone six-time defending league champion Servite and make a run for the Pac-5 title.
November, 2, 2010
11/02/10
3:47
PM PT
By
Martin Henderson
| ESPNLosAngeles.com
Amanda Honn, Huntington Beach, Fr.
Establishing a baseline result that will be hard to top, the sprightly freshman from Huntington Beach won the Sunset League title in her first season just a week after winning her event at the Mt. SAC Invitational by more than two minutes. Honn's time of 18:14.5 in Huntington Beach's Central Park was 11.4 seconds better than Jillian deAvila of league champion Los Alamitos, and was 29 spots better than her closest teammate. In the boys' race, Marina's Karl Baranov (15:26) led a 1-2-3 Vikings finish to win the league title.
River Cracraft, Santa Margarita, So.

Santa Margarita came back from its biggest deficit in school history, 20-0, to steal a crucial overtime victory against St. John Bosco, 42-41, and remain undefeated in the Trinity League. Cracraft caught a touchdown pass and had a fourth-quarter interception that he returned 34 yards to set up another touchdown, and then batted away the pass on the game-winning two-point conversion attempt. The Eagles can position themselves to win a share of the league title with a victory over Servite on Friday at Saddleback College.