Los Angeles Preps:

Riverside Arlington
January, 7, 2011
1/07/11
10:46
AM PT
By
Dan Arritt
| ESPNLosAngeles.com
Rancho Cucamonga (9-7, 0-0) at Etiwanda (14-0, 0-0), Friday, 6:30 p.m. – Let's face it. Rancho Cucamonga doesn't stand a chance. But it's a good opportunity for the neighborhood to come out and see Etiwanda in its Baseline League opener. The Eagles haven't played in their own gym since Dec. 9, winning two tournaments in the meantime. USC-bound guard Byron Wesley is averaging 18.3 points, Jordan Daniels is averaging 12.5 and Tyler LaCour is at 11.2.

Palm Springs (12-1, 2-0) at Palm Desert (9-5, 2-0), Friday, 6:30 p.m. – Palm Springs has edged out Palm Desert for the last two league titles and the Indians appear to have a better team again this season. Quintin Taylor, a 6-2 sophomore guard, is averaging a team-high 13.2 points and 8.8 rebounds for Palm Springs, and 6-9 senior center Dillon Floyd averages 12.2 points and 7.2 rebounds.

Riverside Arlington (10-5, 2-1) at Moreno Valley Rancho Verde (11-3, 2-0), Friday, 7:30 p.m. – Arlington is led by senior point guard Mason Biddle, who just so happens to be a top tennis player as well. He led the Lions to a Southern Section Division V title while playing doubles last season. Rancho Verde has a significant edge in this Inland Valley League game, however. The Mustangs lost in the fifth-place game last week at the Westlake Village Oaks Christian tournament.

Ridgecrest Burroughs (9-7, 2-1) at Victorville Victor Valley (13-2, 2-0), Friday, 6:30 p.m. – Zeke DeBlase is the motor that keeps Victor Valley humming. The 5-11 senior point guard scored 33 points Wednesday in a 64-43 victory at Apple Valley Granite Hills. Burroughs is much improved after finishing 1-11 in league play last season.

Chino Hills (12-3) at La Puente Bishop Amat (12-4), Friday, 7 p.m. – Chino Hills celebrated the holidays by winning the Covina Christmas Tournament for the fourth consecutive season. They couldn't repeat that effort in an eight-point loss Tuesday to small-school power, Los Angeles Price, but get one more tough test before opening Sierra League play Wednesday against Claremont.

Looking ahead:

Redlands at Redlands East Valley, Tuesday, 6:30 p.m. – Citrus League opener for the top two teams.

Eastvale Roosevelt at Riverside North, Tuesday, 7:30 p.m. – Playoff positioning already underway in the Big VIII League.
November, 29, 2010
11/29/10
4:43
PM PT
By
Dan Arritt
| ESPNLosAngeles.com
1. Let's head straight to the Central Division for the best game of the weekend. La Quinta trailed host Chino by 28 points in their quarterfinal game, then scored 42 in the second half to win, 42-41. The fourth-seeded Blackhawks took a 42-35 lead on a 37-yard touchdown run by Chyl Robinson with 51 seconds remaining, followed by a two-point conversion. Chino answered 19 seconds later on a 35-yard touchdown pass from Sean Molles to Promise Amadi. Needing just the point-after to tie the score, La Quinta deflected the kick and it fell short of the crossbar. The comeback also included two successful onside kick recoveries. La Quinta moves on to Friday's semifinal, where it will host top-seeded Moreno Valley Rancho Verde.

2. Thanks to a pair of upsets in the bottom half of the Central Division bracket, the other semifinal will feature a San Andreas League rematch Saturday between San Bernardino Cajon and host Colton. Cajon knocked off third-seeded Riverside Arlington in convincing fashion, 35-7. The Yellowjackets did the same to second-seeded Palm Springs, 35-14. The Cowboys defeated Colton, 29-20, in SAL play this season, but the Yellowjackets didn't have running back Tyler Ervin for that game. Ervin, who missed three games because of an ankle injury, rushed for a season-high 189 yards in 30 carries and scored two touchdowns against Palm Springs.

3. The competition must be getting stiffer because Corona Centennial had its closest game of the season Friday night – only beating Upland by 29 points. In fact, for only the second time this season, top-seeded Centennial actually trailed in a game. That lasted for all of 2 ½ minutes before the Huskies stormed away in the second half for a 52-23 victory in an Inland Division quarterfinal at Upland. Probably most impressive were the numbers put up by Centennial running back Barrinton Collins, who rushed for a career-high 305 yards in 27 carries and scored five touchdowns, despite dislocating a shoulder during practice earlier in the week. Centennial will play at fourth-seeded Chino Hills in Friday's semifinal.


November, 14, 2010
11/14/10
12:09
PM PT
By
Dan Arritt
| ESPNLosAngeles.com
INLAND DIVISION

Seeded teams:

1. Corona Centennial; 2. Vista Murrieta; 3. Rancho Cucamonga; 4. Chino Hills

At-large selection:

None

Best first-round game:

Temecula Chaparral (4-6) at Upland (7-3) – Chaparral is the defending Inland Division champion, while Upland won the Central Division title last season. Chaparral was the preseason favorite to repeat, but a 1-5 start ending any discussion of that. Still, the Pumas tend to get better as the season rolls along.

Best potential second-round game:

Vista Murrieta (9-1) at Norco (8-2) – Both of these teams should survive the first round to create a semifinal-type second-round matchup. Norco's upset loss to Eastvale Roosevelt on Oct. 8 ultimately dropped them into third place and created this nightmare matchup for Southwestern League champ Vista Murrieta.

Prediction:

Corona Centennial should walk through this division, especially with either Vista Murrieta or Norco getting knocked off in the second round. Corona Centennial 56, Norco 7.


October, 26, 2010
10/26/10
5:18
PM PT
By
Dan Arritt
| ESPNLosAngeles.com
Superiorr Reid, Riverside Arlington, Sr.

The 6-foot-1, 205-pound running back rushed for a season-high 261 yards in 31 carries and scored four touchdowns in a 41-27 victory Friday night against Moreno Valley Canyon Springs, topping the 1,000-yard mark for the second consecutive season. Reid also had two tackles and a sack on defense. Boise State is among the schools recruiting him.
Pauline Mandel, Temecula Great Oak, Jr.
Led the Wolfpack cross-country team to a first-place finish in the team sweepstakes race Saturday at the Mt. San Antonio College Invitational, finishing 11
th
overall in 17 minutes 47 seconds. Her effort helped Great Oak finished tied with Carlsbad La Costa Canyon, but the Wolfpack won the tiebreaker based on a higher finish by their sixth runner.
October, 26, 2010
10/26/10
11:59
AM PT
By
Dan Arritt
| ESPNLosAngeles.com
The drumbeat is growing louder in the Inland Empire as a number of top 10 teams prepare to face their league rivals. Corona Centennial still must wade through Norco and Eastvale Roosevelt, Fontana Kaiser has Fontana Summit on the horizon, La Quinta must get past Palm Springs and Palm Desert, Moreno Valley Rancho Verde hasn't played anybody until it meets Riverside Arlington and Upland gets a showdown this week against Rancho Cucamonga.

1. (1) Centennial, 7-0

Dual-threat quarterback Michael Eubank received his second and third scholarship offers last week (San Jose State and Utah State), then went out and rushed for a season-high 128 yards against Corona Santiago. Last week: Beat Santiago, 69-13. Next: at Norco, Friday.

2. (3) Norco, 6-1

Horsetown USA is known for its equestrian lifestyle, lack of sidewalks and a pretty good high school football team. Visitors can see all three Friday when the Cougars host their biggest game since 2007. Last week: Beat Riverside King, 35-15. Next: vs. Centennial, Friday.

3. (2) Vista Murrieta, 6-1

Something about the Broncos isn't adding up to a second consecutive appearance in the Inland Division championship game. Could be the 21.5 points a game their opponents are putting up this season? Last week: Beat Temecula Valley, 33-22. Next: vs. Temecula Great Oak, Friday.

4. (5) Roosevelt, 6-1

If you haven't jumped on the Roosevelt bandwagon, it might be time to hitch a ride. The Mustangs just put up 56 points on a defense led by former USC standout and NFL first-round pick Chris Claiborne. Last week: Beat Corona, 56-35. Next: vs. Riverside North at King, Thursday.

5. (4) Kaiser, 7-0

The Cats are putting up more zeros than Cliff Lee and Tim Lincecum combined. They have five shutouts and have allowed just 20 points this season. Last Week: Beat Riverside Patriot, 49-0. Next: at Riverside Notre Vista, Friday.


September, 23, 2010
9/23/10
8:43
PM PT
By
Dan Arritt
| ESPNLosAngeles.com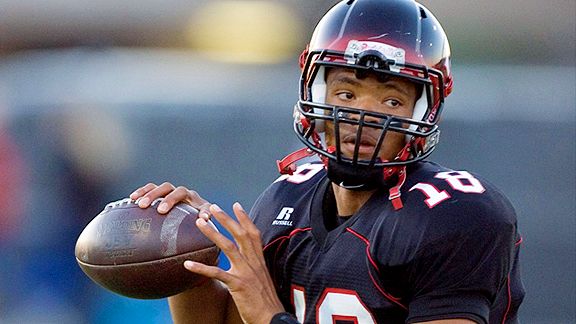 Larry Goren/Special to ESPNLA.com
Michael Eubank and Centennial figure to be motivated to play Chaparral on Friday.
Tough choice.
A couple of weeks ago, the best high school football game in the Inland Empire on Friday night was a no-brainer. Now it's a head scratcher.
On the south end of Riverside County, defending Southern Section Inland Division champion Temecula Chaparral is hosting Corona Centennial, winner of two of the last three Inland Division titles.
Centennial
opened the season
ranked No. 3 in the I.E. by ESPNLA but has
jumped to No. 1
based on one-sided victories against Lake Balboa Birmingham and Mater Dei. Chaparral was ranked No. 1 in the preseason but has fallen to No. 5 after an 0-2 start.
On the north end of San Bernardino County is a game that's much more difficult to predict. Upland, ranked fourth, is hosting No. 3 Norco in a battle of 2-0 teams.
ESPNLA
couldn't decided which fork to take in the road, so we'll be attending both games.
Centennial looks like a two-touchdown favorite against the Pumas but will probably win by three because the Huskies and quarterback
Michael Eubank
are still unhappy about losing to Chaparral in last season's Inland Division semifinals.
The Upland-Norco game figures to go one of two ways: Norco running back
Kelsey Young
breaks a couple long touchdowns early and the Cougars pin their ears back on defense and make Upland a one-dimensional passing team. Or, the Highlanders withstand the early surge by Norco and win on a last-second field goal by standout kicker
Jake Van Ginkel
.
Check back Friday to see the results.
September, 21, 2010
9/21/10
9:13
AM PT
By
Dan Arritt
| ESPNLosAngeles.com
Corona Centennial didn't just beat an Orange County team. They took apart the region's crown jewel, Mater Dei, piece by piece, yard by yard. Centennial quarterback Michael Eubank and running back Barrinton Collins looked like the best 1-2 offensive combination in the Inland Empire and the Huskies have a stifling defense to boot. Upland also makes a move back toward the top, Arlington needs to prove itself this week and the low desert adds a second team to the mix.

1. (2) Corona Centennial (2-0)

With all the hype surrounding Temecula Chaparral at the start of the season, the Huskies were lost in the shadows. How quick things change. Last week: Beat Mater Dei, 44-13. Next: at Chaparral, Friday.

2. (1) Vista Murrieta (2-0)

The Broncos are into the heart of their nonleague schedule and somebody might want to check their pulse. They waited until the final 16.5 seconds to beat Corona Santiago on Friday night. Last week: Beat Corona Santiago, 21-17. Next: vs. Rancho Cucamonga Los Osos, Friday

3. (3) Norco (2-0)

The defense allowed 501 total yards against Etiwanda last Friday, but saved themselves by forcing four turnovers, including two in Norco's end zone. Last week: Beat Etiwanda, 49-35. Next: at Upland, Friday.

4. (7) Upland (3-0)

If the Highlanders are for real, they'll can prove it Friday against visiting Norco, led by Stanford-bound running back Kelsey Young and an opportunist defense. Last week: Beat Phelan Serrano, 14-7. Next: vs. Norco, Friday.

5. (4) Chaparral (0-2)

Somebody call out the cavalry, Chaparral is facing a losing battle. The Pumas sought out the big boys to fill out their nonleague schedule and now they're paying for it. Last week: Lost to Fresno Central, 27-12. Next: vs. Corona Centennial, Friday.


September, 20, 2010
9/20/10
6:14
PM PT
By
Dan Arritt
| ESPNLosAngeles.com
1. That blowout victory against Tustin in Week 1 is looking even more impressive for Upland. After the Highlanders took out Tustin, 42-21, on Sept. 10, the Tillers turned around and knocked off Orange County powerhouse Orange Lutheran, 46-29, on Friday night. Heading into last weekend, Orange Lutheran was ranked No. 9 by ESPNLosAngeles.com. Upland fell out of the top 25 after a so-so performance in the season-opener against A.B. Miller of Fontana. Turns out, Miller is a pretty decent team. Upland still faces its biggest tests of the nonleague schedule, this Friday at home against No. 11 Norco and Oct. 1 against No. 21 Los Angeles Loyola at L.A. Valley College in Van Nuys.

2. Chino Hills redeemed itself with an impressive 14-13 victory Friday night against visiting Tesoro of Rancho Santa Margarita. The Huskies were ranked as high as No. 4 in the Southern Section Inland Division, then lost by 12 points September 10 at Corona Santiago. Tesoro is no slouch, owning a victory over Santa Margarita this season and remaining a viable playoff contender in the powerful South Coast League. Tesoro led, 13-0, early on, went scoreless for three quarters then missed a 47-yard field-goal attempt with 24 seconds remaining. The Huskies had taken the final one-point lead after junior quarterback Andrew Chavez scored on a one-yard keeper with 1:45 remaining.