Los Angeles Preps:

Riverside Poly
March, 26, 2012
3/26/12
4:27
PM PT
By
Dan Arritt
| ESPNLosAngeles.com
1. Etiwanda, 30-3: The Eagles finished with their third 30-win season in the last seven and should be in good shape for the next couple years with the return of sophomore point guard Jordan McLaughlin, who averaged a team-high 17.8 points. Etiwanda was taken out by Long Beach Poly in the Division 1AA semifinals for the second straight season, then fell to Loyola in a Southern California Regional second rounder.

2. Eisenhower, 20-8: The Eagles established their run-and-gun identity as the season moved along, and had one of the top players in the I.E. to facilitate that style in shooting guard Marvelle Harris, whose play helped him earn a scholarship from Fresno State in the process. Eisenhower's season ended with a close loss to Long Beach Poly in the quarterfinals.

3. Elsinore, 28-5: The Tigers came up short of their first section final appearance since 1974, losing by nine points to Mayfair in the Division 2A semifinals. They came back to beat Thousand Oaks in the program's first SoCal Regional appearance before losing to Inglewood in the second round of Division 2. E.J. Twyman played up to expectations entering his senior year, averaging 26.9 points.

4. Colony, 22-10: Two straight losses to end the season didn't dampen an otherwise strong run by the Titans. Their season was highlighted by a 73-71 victory against second-seeded Compton in a Division 2A quarterfinal. Colony then lost a back-and-forth game against Righetti to prevent the program from advancing to the championship game for the second time in four seasons.

5. Murrieta Valley, 25-3: Righetti took out the third-seeded Nighthawks the round before they beat Colony, ending an otherwise strong season. They won three tournaments prior to Southwestern League play, then defended that title. Darius Butler scored in double figures in every game en route to averaging a team-high 19.6 points, while Reid Shackelford proved to be one of the I.E.'s most improved players, averaging 16.8.


February, 24, 2012
2/24/12
11:29
PM PT
By
Tim Haddock
| ESPNLosAngeles.com


THOUSAND OAKS -- Who says the madness doesn't start until March?

The Thousand Oaks boys' basketball team sent its fans into a frenzy Friday night in the quarterfinals of the CIF-Southern Section Division 2AA playoffs.

Thousand Oaks eliminated eighth-seeded Riverside Poly, 54-38, to reach the semifinals of the Division 2AA playoffs. The 15th-seeded Lancers knocked out top-seeded Ocean View on Tuesday.

When asked if he expected his team to make it this far in the playoffs, Thousand Oaks coach Richard Endres said, "No."

"Primarily because we're all juniors," Endres said. "We struggled with some maturity issues. To be honest, I am surprised."

All five starters from Thousand Oaks are juniors. Only one of them scored in double figures against Riverside Poly. Jacob Lachina led the Lancers with 11 points, all in the second half.

He sparked a third-quarter surge that saw Thousand Oaks turn a one-point, halftime deficit into a six-point lead at the start of the fourth quarter.

Lachina scored six points in the third quarter, but the second half didn't start quite the way Endres wanted. Thousand Oaks committed three fouls in the first 45 seconds giving Endres cause for concern.


February, 5, 2012
2/05/12
10:53
PM PT
By
Dan Arritt
| ESPNLosAngeles.com
Most of the top teams in the I.E. held their ground last week, with several clinching outright league titles, or at least a share, heading into the final week of the regular season.

1. (1) Etiwanda, 24-1: Sam Flemming scored with 15 seconds remaining to lift the Eagles to a 70-69 victory Tuesday at Upland, keeping them perfect in Baseline League play. Etiwanda came back to win its 21ststraight game Friday night and clinch the outright league title at Los Osos. Next: Tuesday @ Alta Loma.

2. (2) Eisenhower, 16-7: The Eagles clinched their third consecutive outright Citrus Belt League title with victories last week against visiting A.B. Miller (79-49) and at Redlands East Valley (61-34). Eisenhower wasn't able to keep up with Fairfax on Saturday afternoon at the Nike Extravaganza at Mater Dei and lost, 73-67. Next: Wednesday @ Redlands.

3. (4) Elsinore, 22-3: The Tigers are well on their way to a fourth straight Sunbelt League title after defeating Temescal Canyon (64-57) and Perris (57-55) last week. Elsinore has won 29 consecutive league games. Next: Wednesday @ Heritage.

4. (5) Murrieta Valley, 21-2: The Nighthawks maintained their one-game lead on Vista Murrieta in the Southwestern League with wins last week at Great Oak (46-35) and Murrieta Mesa (60-39). Reid Shackelford sank five of seven three-pointers against Murrieta Mesa. Next: Tuesday vs. Vista Murrieta.

5. (3) J.W. North, 19-5: Last week began with another hiccup in Big VIII League play, an 11-point loss at Riverside Poly, but the Huskies came back with wins against visiting Roosevelt (64-49) and at Corona Santiago (53-48) to clinch at least a share of the league title with two games remaining. Next: Monday @ Riverside King.


January, 16, 2012
1/16/12
9:48
AM PT
By
Dan Arritt
| ESPNLosAngeles.com
The top seven teams from last week's rankings went unbeaten, while the Big VIII League did some reshuffling as J.W. North reemerged as the team to beat.

1. (1) Etiwanda, 17-1: Sophomore point guard Jordan McLaughlin continues to be the model of consistency, scoring 21 points in a 56-35 win at Glendora and 20 in a 61-43 victory against visiting Upland. Next: Tuesday vs. Los Osos.

2. (2) Murrieta Valley, 16-1: The Nighthawks opened Southwestern League play with victories last week against Temecula Valley and Great Oak. Reid Shackelford was the high scorer of the week with 25 points Thursday against Great Oak. Next: Tuesday vs. Murrieta Mesa.

3. (3) Elsinore, 13-2: The Tigers opened Sunbelt League play Wednesday with a 68-47 victory against Lakeside. E.J. Twyman and Lawrence Chamberlain scored 24 points each for Elsinore, which came back to defeat Temescal Canyon on Friday. Next: Monday vs. Leuzinger at St. Bernard HS.

4. (4) Eisenhower, 9-6: The Eagles are off to a 2-0 start in Citrus Belt League play after downing Yucaipa (59-48) and A.B. Miller (74-39) last week. Marvelle Harris scored 22 of his game-high 27 points in the first half Friday night against Miller. Next: Monday vs. Ayala at Los Osos HS.

5. (5) Summit, 13-6: Isaiah Taylor was the high scorer in victories last week against visiting Jurupa Valley and Bloomington. The 6-1 senior guard scored 22 in the 74-54 victory Wednesday against Jurupa Valley and 27 on Friday in the 87-43 win against Bloomington. Next: Wednesday at Norte Vista.


January, 8, 2012
1/08/12
6:26
PM PT
By
Dan Arritt
| ESPNLosAngeles.com
Six weeks into the boys' basketball season and the cream has risen to the top. Etiwanda and Murrieta Valley have been no surprise with their results thus far, but a few teams have emerged from the woodpile to steal a piece of the spotlight.

1. Etiwanda, 15-1 – The Eagles have won 12 straight since a loss to LaVerne Lutheran, the state's sixth-ranked team by ESPN coming into the season. Etiwanda won the Inland Empire Classic and Holiday Hardwood Classic, then beat L.A. Crenshaw on Saturday at the The Great Inland Empire Shootout at Eisenhower High. Next: at Glendora, Tuesday.

2. Murrieta Valley, 14-1 – The Nighthawks are off to another blistering start after beating Elsinore to win the Nighthawk Classic at Murrieta Valley and Sierra Canyon to win the Mayor's Division at the Torrey Pines Holiday Classic. Next: at Temecula Valley, Tuesday.

3. Elsinore, 13-2 – The Tigers are the only team to beat Murrieta Valley this season, scoring a seven-point victory 10 days after losing to the Nighthawks at their own tournament. They also captured the Paloma Valley Winter Shootout with a nine-point win against Vista Murrieta. Next: at Lakeside, Wednesday.

4. Eisenhower, 7-6 – The Eagles have played one of the tougher schedules among I.E. teams thus far, losing to Etiwanda by 21 and nine points but defeating local juggernauts Summit, Rancho Verde and Upland. Next: vs. Yucaipa, Wednesday.

5. Summit, 11-6 – The SkyHawks also experienced a pair of losses at the hands of Etiwanda's unrelenting man-to-man defense. They took care of business in victories against Cajon, Riverside King and Visa Murrieta. Narrow losses to Murrieta Mesa and Colony are keeping Summit out of the top five. Next: vs. Jurupa Valley, Wednesday.


October, 10, 2011
10/10/11
6:24
PM PT
By
Dan Arritt
| ESPNLosAngeles.com
How can one-loss Corona Centennial continue to be ranked No. 1 in the I.E. ahead of unbeaten Redlands East Valley, Upland, Vista Murrieta and Rancho Cucamonga? By ranking standards, Centennial's two-point loss to St. Bonaventure was a long time ago. The Huskies were breaking in a new quarterback and running back that night in early September, and they were facing their toughest nonleague opponent at their most vulnerable part of the schedule. Starting about the third quarter of their second game against Mater Dei, the Huskies have been playing like the team of last season, when they went all the way to the Division 1 state bowl game. Redlands East Valley, Upland and Vista Murrieta each had the luxury of building themselves up for their best nonleague opponents, all the while Centennial was getting better too. Not sure there are too many other teams in the Southern Section that have the firepower to build a 42-6 lead over J.W. North with 10 ½ minutes still remaining in the first half. That's the same J.W. North team that beat Alemany earlier this season.
What team should probably be in the I.E. top 10 but isn't?
This goes back to the first week of the season as well, but the big difference between Centennial and Summit's season-opening losses is Summit's relates to head-to-head competition. Summit lost to Etiwanda, 49-36, in Week 0, and Etiwanda went on to put a big scare into top 10 members Norco and Vista Murrieta before losing by less than a touchdown each time. Summit has steadily gotten better too, posting shutouts in its last three games while scoring 40-plus points, the latest a 49-0 road win against Southwestern League member Murrieta Mesa. If it's any consolation to the SkyHawks, Etiwanda also dropped out of the
top 10 this week
to make room for Corona Santiago, a 49-22 winner against previously No. 6 Norco. The Eagles will have a shot to get back into the top 10 when they host No. 3 Upland on Friday night in a Baseline League game. Summit, well, the toughest part of its schedule is in the rear-view mirror.
August, 10, 2011
8/10/11
9:42
PM PT
By
Dan Arritt
| ESPNLosAngeles.com
BIG VIII LEAGUE

Last season's results: Corona Centennial (14-1, 7-0); Roosevelt (9-3, 5-2); Norco (9-3, 5-2); Corona (5-6, 3-4); Corona Santiago (4-6, 3-4); Riverside King (4-6, 2-5); Riverside North (2-8, 2-5); Riverside Poly (3-7, 1-6).

Players to watch: The strength of Centennial lies in the trenches this season, and Milo Jordan can take much of that credit. He was the league's defensive co-most valuable player last season after helping the Huskies win the Inland Division title and advance to the Division 1 state bowl championship game. Jordan committed to Arizona State in June. Also returning to the Huskies' defensive front is Ngata Tuihalamaka, who led the Huskies with 4½ sacks last season. Centennial also returns three offensive linemen, led by senior tackle Lio Lafaele. Norco also returns most of its young offensive line from a season ago, as well as sophomore quarterback Coltin Gerhart. But no doubt the marquee player is outside linebacker Scott Starr, who committed to USC shortly after he was offered last spring. North should also improve behind senior quarterback/defensive back Justin Gheorghe, who was a first-team all-Big VIII selection on offense and defense last season. Gheorghe tasted success last spring as an outfielder for the North baseball team, which won the SS-Division 1 title at Dodger Stadium. Roosevelt, Santiago and Poly should also benefit from the return of their starting quarterbacks. Aaron Crone of Roosevelt threw for a league-leading 23 touchdown passes last season, Santiago junior Michael Darr averaged a league-best 206.1 passing yards a game and Steven Hamm returns behind center for Poly. Santiago might have the league's best offensive linemen in Isaiah Folasa, who committed to UCLA last month. Garry Lewis of Corona looks like the league's best athlete. The senior wide receiver had the second-fastest time in the 40-yard dash (4.41 seconds) at the Nike SPARQ Combine last spring in Long Beach.

Projected order of finish: Centennial, Norco, North, Santiago, Roosevelt, Poly, Corona, King.

Key games: Sept. 9 – Ventura St. Bonaventure @ Centennial; Los Angeles Crenshaw @ Norco; Sept. 16 – Centennial vs. Mater Dei @ Santa Ana Stadium; Sept. 23 – Upland @ Norco, Temecula Chaparral @ Centennial, North @ Fontana Kaiser; Sept. 30 – Norco @ Roosevelt; Oct. 7 – North @ Centennial, Santiago @ Norco; Oct. 14 – North vs. Poly @ Riverside College, Centennial @ Santiago; Oct. 21 – Norco @ Centennial; Oct. 27 – Santiago vs. North @ Riverside College; Nov. 4 – Centennial @ Roosevelt; Nov. 10 – Santiago @ Roosevelt; Nov. 11 – North @ Norco.

Alumni in the NFL: Lonie Paxton, Denver Broncos (Centennial '96); Toby Gerhart, Minnesota Vikings (Norco '06); Heath Farwell, Minnesota Vikings (Corona '00).

Fast fact: Centennial and Norco are intense rivals in the Inland Empire but a number of former players have gone on to become close teammates at Arizona State. Seven Centennial grads are listed on the 2011 roster, including four potential starters on defense, led by last season's Pac-10 Defensive MVP, linebacker Vontaze Burfict. Norco boasts six players on the Sun Devils roster, led by Garth Gerhart, the brother of Coltin and Toby Gerhart, considered one of the top centers in the NCAA.

On the clock: Citrus Belt League
May, 19, 2011
5/19/11
2:38
PM PT
By
Dan Arritt
| ESPNLosAngeles.com
SOUTHERN SECTION SOFTBALL PLAYOFFS

Division 1

Mater Dei at Riverside Poly, Thursday, 2:30 p.m.

These teams met in a season-opening tournament in Bullhead, Ariz. and Mater Dei won, 10-1. The Bears didn't finish off the regular season too well either, losing to Corona Santiago, 14-5, to miss out on a share of the Big VIII League title. The playoffs haven't gone well for Mater Dei lately. The Monarchs haven't advanced past the second round since 2005.

Yucaipa at Rancho Cucamonga Los Osos, Thursday, 3;15 p.m.

Los Osos proved it can play with any team in Division 1 by defeating second-seeded Etiwanda, 1-0, in a Baseline League game last week, though the Eagles had already clinched at least a share of the league title and the league's No. 1 seed for the playoffs. Yucaipa enters the playoffs on a six-game winning streak.

Division 2

Ontario Colony at Moreno Valley Valley View, Thursday, 3:15 p.m.

Colony advanced to the first round with a 7-4 wild-card victory Tuesday against visiting Norwalk. Valley View, the Inland Valley League champion, is led by freshman pitcher Ashley Birnie (8-1, 1.96 ERA).

Division 3

Manhattan Beach Mira Costa at Lake Elsinore Lakeside, Thursday, 3:15 p.m.

Tough draw for Lakeside as Mira Costa tied for the Bay League championship but lost the tiebreaker with co-champ Palos Verdes Peninsula and ended up as the league's No. 2 seed. Lakeside, the Sunbelt League champion, will count on junior pitcher Jasmine Smithson-Willett (18-6, 1.21).

Division 4

Riverside Patriot at La Quinta, Thursday, 3;15 p.m.

Patriot has no problem scoring runs, as evident by its 16-7 wild-card victory Tuesday against Redlands Arrowhead Christian. The question is, can the Warriors outscore the Blackhawks, who are averaging nearly eight runs a game this season?

Division 5

Temple City at Barstow, Thursday, 3:15 p.m.

This figures to be an offensive showdown between North Dakota-bound senior Jessica Loicano of Temple City and Taylor Purdy and Miranda Peralta of Barstow, all of whom are batting .500 or better this season.

Division 6

Rosamond at Yucca Valley, Thursday, 3:15 p.m.

Yucca Valley junior pitcher Felicia Gonzales (11-6, 2.51) has won her last eight decisions.

Division 7

Trona at Riverside Bethel Christian, Thursday, 3;15 p.m.

Jordan Ward leads Bethel Christian in both hitting and pitching.
November, 2, 2010
11/02/10
3:49
PM PT
By
Dan Arritt
| ESPNLosAngeles.com
Steven Hamm, Riverside Poly, Jr.

Set two school records in a 45-39 upset Friday against Riverside King in a Big VIII League game. Hamm finished with 373 passing yards and 476 total yards, both school records. He threw four touchdown passes and ran for the other two.

Cha Cha Willhoite, Palm Desert, Jr.

Shot a two-under par 70 at the Southern Section Eastern Division Championships on Thursday at Western Hills in Chino, helping the Aztecs win the team title by 27 strokes. On Monday, she tied for fourth at the Southern Section Individual Regional at El Dorado Park in Long Beach, shooting two-over 74. She qualified for the section's individual championships Nov. 8 at La Purisima Golf Course in Lompoc.
September, 27, 2010
9/27/10
10:00
AM PT
By
Dan Arritt
| ESPNLosAngeles.com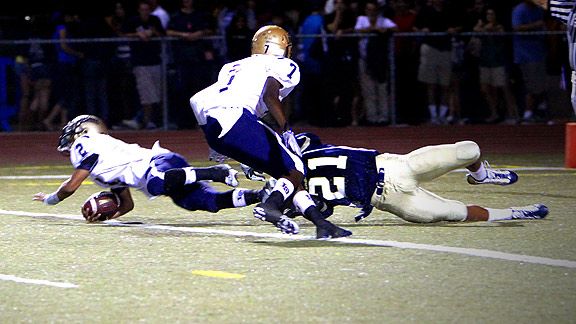 Courtesy of Charlene Bradley
Vista Murrieta sophomore linebacker Sua Cravens (21) takes down Los Osos quarterback Kori Grant for one of his six negative carries in a 30-7 victory by the Broncos.
1. The Big VIII League just finished demonstrating why it clearly has the strongest group of teams in the I.E. In the marquee game Friday night, Corona Centennial looked dominant – again – in a 45-12 victory against host Temecula Chaparral, the defending Southern Section Inland Division champion. Norco, ranked No. 4 in the same division, traveled to No. 3 Upland and easily won, 35-21. Riverside Poly defeated Perris Citrus Hill, ranked No. 8 in the Eastern Division, 32-22, and host Corona knocked off Palm Springs, ranked No. 1 in the Central Division, 35-14. The loss by Palm Springs, which ended an 11-game winning streak, was the most unexpected of the bunch. "They were faster than us, they were quicker than us and they were stronger than us," Palm Springs coach
Steve Fabian
told The Desert Sun. "But we made up for it by not tackling."
2. Corona Centennial and Vista Murrieta came into the season with experienced quarterbacks at the wheel of super-charged offenses. A note to future opponents: They can also play defense. Centennial has allowed just one offensive touchdown in each of its first three games, the last two against Mater Dei and Chaparral. Vista Murrieta has improved with each game, limiting Los Osos of Rancho Cucamonga to minus-2 yards rushing Friday night in a 30-7 victory. The Grizzlies scored their only touchdown on a 90-yard kickoff return and didn't cross the Broncos' 40-yard line until the fourth quarter.
September, 13, 2010
9/13/10
5:47
PM PT
By
Dan Arritt
| ESPNLosAngeles.com
1. Riverside Poly defensive back
Matt Peck
intercepted four passes in a 31-7 victory Friday night against Riverside Ramona. Peck, a 5-foot-10, 185-pound junior, picked off two passes in the second quarter and two more in the fourth. It's the most interceptions in a Southern Section game since
Martin Ciccolini
of Encino Crespi had four in 2004. The section record is five, held by six players.
2. Summit of Fontana was without two key players Friday night against Redlands, a game that ended in a 24-24 tie.
Devon Blackmon
, a heavily recruited all-purpose player for the SkyHawks, sat out because of an ankle injury he sustained in the first quarter of the season opener Sept. 2 against Etiwanda. Summit was also without running back
Montigo Alford
, who had a mild concussion. Another player, defensive back
Dante Jackson
, tore his rotator cuff against Etiwanda and is lost for the season.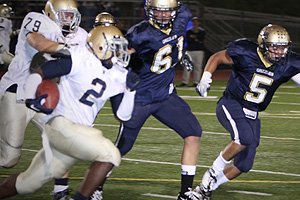 Courtesy of Charlene Bradley
Denzel Foster of J.W. North rushes for yardage against Los Osos.
3.
Mark Paredes
returned to the sidelines at J.W. North in Riverside on Friday night, a place from where he guided the Huskies to two Southern Section titles during an eight-year stint. He left North in 2001 to become an assistant at Riverside College. North sophomore running back
Denzel Foster
welcomed him back with a 92-yard touchdown run in the opening quarter against Los Osos of Rancho Cucamonga but was stopped on fourth down in the game's final minutes, spoiling Paredes' return in the 26-21 loss.
4. Upland looked more like a contender for the Baseline League title Friday night, getting three touchdown passes from quarterback
Justin Nunes
and turning three fumble recoveries into touchdowns in a 42-21 victory against visiting Tustin. A week earlier, the Highlanders returned two fourth-quarter fumbles for touchdowns to escape with a 21-16 victory against A.B. Miller of Fontana.
5. Roosevelt of Eastvale became just the fifth 11-man team from Riverside County to score at least 80 points in a game when it defeated host Torrance, 80-27 on Friday night. The Mustangs scored on every offensive possession in the first half while building a 41-13 lead.