Los Angeles Preps:

Robert Garrett
August, 31, 2011
8/31/11
9:39
PM PT
We catapult into the high school football season and bring you a preseason look at the top 10 teams in south Los Angeles County. Eight of the 10 were ranked in our final regional rankings last year -- St. John Bosco and Narbonne are the only newcomers. And although teams such as Lakewood, Serra, Crenshaw and West Covina graduated a ton of talent, they'll need to falter before they're bumped from the list. We'll release new rankings every Tuesday.
(Notes: Last season's records are in parentheses; this top 10 is independent of ESPNLA.com's prep football top 25 rankings).
1. Long Beach Poly (8-3)
Expectations are always high at Poly, but they're up near the moon this year. The Jackrabbits return a plethora of talent, including five players that are committed to Arizona State. Poly will go as far as senior quarterback
Chaiyse Hales
takes them. Up next: at Sacramento Grant, Friday.
2. Bishop Amat (9-2)
There might not be a team in the Southland more antsy to get on the field than Amat. The Lancers were a perfect 9-0 to start 2010 but faltered late, losing to Alemany in what amounted to a Serra League title game and stumbling against Tesoro in the first round of the Pac-5 playoffs. Up next: vs. Garfield, Friday.
3. St. John Bosco (5-5)
We present the best team that didn't make the postseason last season, an award coach Jason Negro would probably not be too happy with. On the bright side, the Braves are now a year wiser. The rest of the Trinity League should be on its toes. Up next: vs. Mission Hills, Friday.
4. Carson (11-3)
Someone might want to check Elijah Asante's sanity level. The second-year coach has lined up the area's most difficult nonleague schedule, undoubtedly trying to play the best to become the best. The Colts aren't shying away from anyone, that's for sure. Up next: vs. Mater Dei, Friday.
5. Dominguez (10-2)
A defense littered with college prospects, including cornerback
Brandon Beaver
and lineman
Damion Turpin
, promises to be this team's strength. The offense, meanwhile, will most likely run through top blocker
Lacy Westbrook
. Up next: vs. Crespi, Friday.
6. Lakewood (10-2)
New coach Vince Lobendahn takes over for the popular Thadd MacNeal with one clear objective: getting the ball to
Darius Powe
, the area's top uncommitted wideout. Big Red is rebuilding but Lobendahn thinks a Moore League title is within grasp. Up next: vs. Locke, Friday.
7. Serra (14-1)
The Cavaliers aren't as loaded as they have been recently, but they're still considered a contender in the Western Division. UCLA commit
Raymond Ford
has the tough task of filling George Farmer and Marqise Lee's big shoes. Up next: vs. Sherman Oaks Notre Dame, Friday.
8. Narbonne (6-6)
With junior Troy Williams, perhaps the top signal caller in the City Section, under center, the Gauchos have set their sights on making a trip to the Memorial Coliseum in December. The defense will be key. Up next: vs. Palos Verdes, Sept. 9.
9. Crenshaw (12-2)
Stud De'Anthony Thomas is
now in Eugene
, so the pizzazz might not be as high as it has been for the defending back-to-back City Section champs. Still, coach Robert Garrett figures to have his Cougars ready every week. Up next: vs. Alta (Utah) at Mission Viejo High, Saturday.
10. West Covina (13-1)
The Bulldogs are led by one of the better players you've never heard of, tailback/safety
Chris Solomon
. West Covina captured the Southeast Division crown last year and look like the early favorites again this fall. Up next: vs. Covina at Covina District Stadium, Saturday.
Five more to watch, in alphabetic order
: Charter Oak, Mira Costa, Monrovia, St. Paul, Venice.
Agree or disagree with the "L.A. South" preseason top 10? Did your favorite school get snubbed? Leave a comment on this post or contact ESPNLosAngeles.com preps writer Blair Angulo directly on his Twitter page.
December, 12, 2010
12/12/10
12:13
AM PT


LOS ANGELES -- Aesthetics are a matter of opinion. Things are more beautiful to some than they are to others.

But everyone in attendance at the Coliseum on Saturday would agree that countless penalties and 12 combined turnovers made for some ugly, sloppy football.

It was a beautiful sight in Crenshaw's eyes, though, as the Cougars captured their second straight City Section Division I title with a 45-7 win over Carson.

After all, championship trophies are always pretty.

Really, Crenshaw's defense was its best offense, scoring three touchdowns and forcing nine turnovers. The Cougars (12-2) didn't get an offensive score until the fourth quarter, when Jerry McConico found Reggie William for a seven-yard touchdown to make it 25-0.

The Cougars picked off Carson quarterback Justin Alo five times -- three of which were returned all the way back for scores.

Crenshaw star DeAnthony Thomas scored on one of his two interceptions and added a fancy touchdown run to push the lead to 31-0.

"I just try to be a big player, you know," said the 5-foot-9 Thomas, who cried after playing his final high school game.

Thomas will be back the Coliseum next fall, with many expecting him to be an immediate impact at USC. Despite concerns about his size, he plans on being a running back at the next level.

"I can make plays on the offensive side and defensive side," Thomas said. "I'm trying to go for the Heisman (Trophy), make plays and be a leader for USC."

Thomas and teammate Marquis Thompson got emotional near the end of the game, embracing each other without an attempt to fight back tears.

"This was a young team," Thompson said. "We had to pull it together. We had to make these young dudes work hard."

The hard work paid off. Alo threw two interceptions in the first quarter, while Myles Johnson and Dion Willis each lost fumbles. Both of Alo's interceptions were returned for touchdowns -- Thomas had one of 16 yards, Shaquille Shelton had the other for 43 yards.

The Cougars weren't much better in their attempt to move the ball, which kept Carson (11-3) within striking distance. Tracy Harris intercepted McConico twice -- once in the end zone, the other near the goal line -- in the first quarter. The Colts failed to capitalize.

Alo's third interception -- this one by Qujuan Floyd -- put Crenshaw inside the Carson 10 with 23 seconds remaining in the first half. But the Cougars settled for a Jose Arias 26-yard field goal when McConico missed his receivers on consecutive throws.

Crenshaw's offense didn't get many style points in this one, but that didn't seem to matter to coach Robert Garrett. When a few players tried to surprise him with the patented Gatorade bath, Garrett spotted them and opened his arms wide as if to say, "Come and get me."

Before the season, the Cougars had hoped to return to the CIF State Open Division Bowl game. Two losses to start erased those aspirations, but Thomas was proud of the way his team bounced back.

"I knew the first two games would be tough with a lot of sophomores on the team," Thomas said. "But they came through. By the sixth week we were rolling.

"A lot of us have been playing together since we were little. I'm glad we got this last win."
November, 13, 2010
11/13/10
4:52
PM PT
Crenshaw coach Robert Garrett thought the Cougars controlled their own destiny heading into Friday night's game against then-unbeaten Dorsey.

He was sure of it.

As it turned out, not even a 53-12 drubbing of rival Dorsey was enough for a No. 1 seeding in the City Section Division I playoffs. The coaches rewarded Marine League champ Carson (8-2) with the top seed Saturday morning. Crenshaw (8-2) got the No. 2 seed.

Western League winner Venice (6-4) is seeded No. 3, while Coliseum League runner-up Dorsey (9-1) is No. 4.

Carson's two losses came on back-to-back weeks, to Santa Margarita (8-2) and Mission Viejo (10-0). Crenshaw opened the season 0-2 with defeats at North Gwinnett (Georgia) and Norco (8-2). But, clearly, Carson's victories over Mater Dei, Fontana Miller, Narbonne and San Pedro were enough to convince the voters.

Crenshaw just didn't have a notable win before Friday night.

Postseason play starts Friday, with the winners advancing to the quarterfinals. The City Section Div. I championship is scheduled for Saturday, Dec. 11 at the Coliseum.

Friday's matchups, with seeds and regular-season records in parentheses:

No. 16 Sylmar (5-5) at No. 1 Carson (8-2)
No. 9 Kennedy (5-5) at No. 8 Garfield (6-4)
No. 12 West Adams (2-8) at No. 5 Taft (7-3)
No. 13 Gardena (2-8) vs. No. 4 Dorsey (9-1) at Rancho Cienega Park
No. 14 Locke (5-5) at No. 3 Venice (6-4)
No. 11 Westchester (6-4) at No. 6 San Pedro (7-3)
No. 10 L.A. Jordan (6-4) at No. 7 Narbonne (5-5)
No. 15 Granada Hills (4-6) at No. 2 Crenshaw (8-2)
November, 12, 2010
11/12/10
11:21
PM PT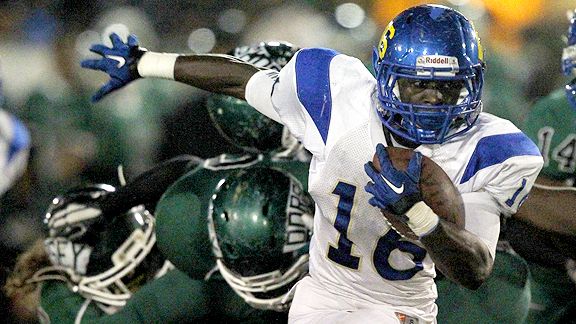 Alex Gallardo/Special to ESPNLA.comUS Presswire
Crenshaw's DeAnthony Thomas had 171 yards in offense in only 13 touches against Dorsey.
LOS ANGELES -- Crenshaw's message was loud and clear Friday night.
The city belongs to the Cougars and no one else after a 53-12 victory over Dorsey.
The clash between the top two City Section teams turned into a laugher quick, with No. 9 Crenshaw building a 34-0 lead after the first quarter. Just minutes later, it was 47-0.
This was one loud, cruel message: Los Angeles is not big enough for both Crenshaw and Dorsey. It's one or the other. And for the sixth straight year, it was all Cougars.
Blue and yellow might make green on the color wheel, but on Friday, that combination made green disappear.
Rancho Cienega Park's Jackie Robinson Stadium -- packed to the brim at kickoff -- thinned out during halftime. The music stopped playing. Fans behind Dorsey's bench traded in their dance moves for blankets. Much of the large crowd bolted before Crenshaw emerged with the one-sided victory and a probable No. 1 seeding for the City Section playoffs.
"We controlled our own destiny," Crenshaw coach
Robert Garrett
said. "There shouldn't be any question for the seeding."