Los Angeles Preps:

Ron Lee
March, 7, 2012
3/07/12
10:52
PM PT
By
Dan Arritt
| ESPNLosAngeles.com
The second-seeded Long Beach Poly boys' basketball team had to fight off a stiff test from No. 15 Capistrano Valley on Wednesday night in a Division 1 Southern California Regional first-round game before ultimately winning in overtime, 65-59.

The Jackrabbits finally took control by scoring the first six points of overtime while the Cougars were committing three turnovers. Capistrano Valley had led by as many as 13 points in the first half before Poly scored the final eight points of the second quarter to get back into the game.

The Jackrabbits will host seventh-seeded Orange Lutheran in Saturday's second round. The Lancers knocked off Dorsey, 64-57.

In other Division 1 games:

Etiwanda 57, Vista 50 – Sophomore point guard Jordan McLaughlin scored 18 points as the fifth-seeded Eagles overcame a four-point deficit at the start of the fourth quarter.

Mission Viejo 70, Torrey Pines 62 – The ninth-seeded Diablos surged to a 17-point lead after three quarters against No. 8 Torrey Pines.

Taft 84, Clovis West 54 – Anthony January, a 6-7 senior power forward for third-seeded Taft, scored 17 points as the Toreadors surged to a 26-12 lead after the opening quarter. Taft will host Fresno Bullard in Saturday's second round.

Fresno Bullard 68, Westchester 53 – The sixth-seeded Knights got 32 points and 15 rebounds from senior shooting guard Aaric Armstead. Westchester trailed by just five points heading into the final quarter but were outscored, 21-9.

In Division 2:

El Camino Real 71, Colony 63 – The ninth-seeded Titans led by two heading into the fourth quarter but No. 8 El Camino Real outscored Colony, 15-7, over the next four minutes to take the lead for good.

Elsinore 56, Thousand Oaks 46 – The fourth-seeded Tigers cut the deficit to two points at the end of the third quarter on a four-point play by E.J. Twyman at the buzzer and then outscored the 13th-seeded Lancers, 20-8, in the final quarter. Elsinore moves on to host fifth-seeded Inglewood, a 65-52 winner against Garfield.

Tulare Union 72, Righetti 71 – In the biggest upset in the division, the 11th-seeded Redskins knocked off No. 6 Righetti and advanced to play third-seeded San Diego Lincoln, a 76-64 winner against visiting Sunny Hills.

Fresno San Joaquin Memorial 51, Royal 43 – The 10th-seeded Highlanders went on the road and couldn't get past the seventh-seeded Panthers.


March, 3, 2012
3/03/12
1:47
PM PT
By
Sean Ceglinsky
| ESPNLosAngeles.com
ANAHEIM --
Marqueze Coleman
was not going to be denied.
The senior from Mission Hills Alemany skied over a pair of Oak Park defenders, snatched a rebound out of mid-air and followed with a one-handed put-back dunk during Saturday's Southern Section championship game. The highlight-reel worthy sequence in the fourth quarter was indicative of the type of game it was for Coleman & Co.
"It was one of those plays, I went up for the ball, didn't care who was in my may, and finished strong,'' said Coleman, who saluted the crowd after the athletic move at the rim and minutes later was celebrating a Division 3A championship as the top-seeded Warriors defeated the Eagles, 72-60, in a showdown at the Anaheim Convention Center Arena.
With a five-point lead at the half, the Warriors (28-4) did not take it easy. They opened the second half with a sense of urgency, Coleman in particular. The Nevada commit scored 12 points over an eight-minute stretch. The Eagles (24-8) had no answer for him as Alemany extended its advantage to 13 points at the start of the fourth.
Coleman finished with 23 points, eight rebounds and three blocks.
Ron Lee
scored 15 points in the first half. The junior from Oak Park, however, struggled thereafter. He picked up his fourth foul with 2:37 remaining in the third quarter and spent a significant amount of time on the bench. Lee came back into the game in the fourth quarter but fouled out with 5:59 left on the clock.
After failing to score in the first eight minutes of play,
Max Guercy
got things going in the second quarter. He scored 11 points before halftime to give the Warriors a 32-27 lead at intermission.
"It was my job to stop Lee. He fouled out, didn't he?'' said Guercy, who finished with 21 points, five rebounds and five assists. "Once we took him out of the game, we felt like we could take over.''
Lee played well early on against a defense designed to stop him. He scored six points in the first quarter to help Oak Park take a surprising 13-11 advantage at the end of one. Lee picked up right where he left off in the second quarter. He scored nine points to keep the Eagles somewhat close on the all-important scoreboard.
Lee had 19 points. His eight turnovers, however, were not desirable.
Sean Ceglinsky covers preps for ESPNLosAngeles.com. Follow him on
Twitter
.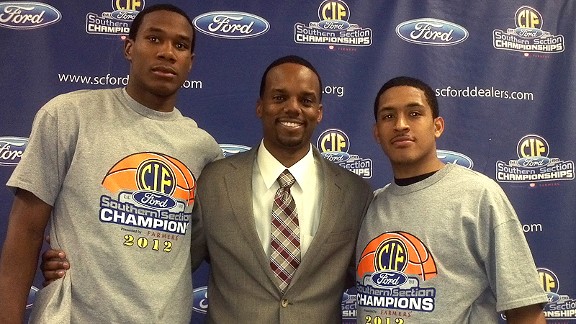 Sean Ceglinsky/For ESPNLA.comAlemany's Marqueze Coleman, left, coach Tray Meeks and Max Guercy join together after winning Saturday.
January, 22, 2012
1/22/12
8:30
PM PT
By
Tim Haddock
| ESPNLosAngeles.com
There is a new No. 1 in the L.A. North and a new team in the top 10. Woodland Hills Taft ground out another tight one, this time against Fairfax in a match-up of two of the top teams in the City Section.

Oak Park cracks the top 10 for the first time this season after beating Oaks Christian by one point on the road.

Westlake and Harvard-Westlake had some untimely losses. Westlake dropped to No. 8. The Wolverines have lost three of their past four games, including 77-68, to Alemany and were knocked out of the top 10.

Here is a look at the top 10 teams in the L.A. North:

1. (2) Woodland Hills Taft (17-3) – The Toreadors extended their winning streak to seven games including 44-38 over Fairfax in the Fairfax City Preview Classic. Taft also tallied West Valley League wins over Cleveland and Birmingham. Anthony January scored 20 points for Taft against Fairfax in a defensive tussle.

2. (1) Crespi (18-2) – The Celts lost for only second time this season and had their six-game winning streak snapped against Harvard-Westlake, 67-66, in a Mission League game on Friday night. London Perrantes scored 16 points in the loss.

3. (3) Alemany (16-3) – The Warriors won both of their Mission League games last week, both on the road. They beat Sherman Oaks Notre Dame, 85-62, and Harvard-Westlake, 77-68. Marqueze Coleman averaged 26 points in the games against Notre Dame and Harvard-Westlake, scoring 30 against the Wolverines.

4. (6) Royal (15-5) – The Highlanders won their sixth game in a row, 68-34, over Moorpark in a Marmonte League game. Max McCoy led Royal with 18 points and J.R. Powell scored 16.

5. (7) Calabasas (17-3) – The Coyotes won their second game in a row, 75-51, over Simi Valley. They have won five of their past six games. Jeremy Lieberman had a big game for Calabasas with 31 points against Simi.

6. (5) Providence of Burbank (17-4) – The Pioneers lost to Morningside, 71-70, in the Martin Luther King Shootout at Price High School, but rebounded nicely with a 73-66 win over Campbell Hall in the War on the Floor tournament at Taft High School. Freshman Marcus LoVett Jr. scored 45 points, 21 in the fourth quarter, for Providence against Campbell Hall.

7. (8) Canyon (19-1) – Canyon won its 12th game in a row, 68-34, over Golden Valley in a Foothill League game. The Cowboys are off to their best start in school history and can set the school record for longest winning streak against Saugus on Friday night. That is if Canyon beats Hart on Tuesday night.

8. (4) Westlake (16-7) – The Warriors were upset by Thousand Oaks, 53-46 in overtime, in a Marmonte League game last week. It was the only game Westlake played. Grant Lozoya scored 20 points for Westlake in the loss. Tanner Fanjoy had 22 points for Thousand Oaks.

9. (9) El Camino Real (12-6) – The Conquistadores won both their West Valley League games last week, but needed a buzzer-beater from Julian Richardson to beat Chatsworth, 57-55. El Camino Real has won three games in a row and four of their past five.

10. (NR) Oak Park (16-6) – The Eagles have won eight games in a row including all five of their Tri-Valley League games. They are coming off a 61-60 league win over Oaks Christian. Ron Lee scored 30 points, five in the final minute, and Oak Park held on after blowing a 17-point lead.