Los Angeles Preps:

Russell White
February, 21, 2012
2/21/12
11:47
PM PT
By
Tim Haddock
| ESPNLosAngeles.com
ENCINO -- There was some blood, plenty of sweat and a teardrop or two after the CIF-Southern Section Division 4AA playoff game between Crespi and Bishop Montgomery on Tuesday night.

Spinnin' wheel's spinnin' true.

In the fourth quarter, Crespi's Michael Avery had to change his uniform, from No. 4 to No. 1, because it had blood on it. Teammate London Perrantes had to carry his team in the fourth quarter after two Celts fouled out. Bishop Montgomery's Lamond Murray Jr. didn't feel much like talking after his team was eliminated from the playoffs.

Crespi won the game, 73-67, and advanced to the semifinals. The Celts will play La Verne Lutheran on Friday night at the University of La Verne.

After building a 21-point lead in the third quarter, Crespi, the No. 19 team in the ESPN Los Angeles basketball rankings, had to hold off a furious comeback by Bishop Montgomery, the No. 9 team in the ESPNLA rankings, in the fourth quarter.

"I'll take it," Crespi coach Russell White said. "As long as you're not trailing at the end."

Crespi led nearly all the way. Bishop Montgomery was up, 3-2, in the first quarter before Crespi went on a 10-2 run and never looked back. The Celts were up 15-8 after the first quarter and led 32-24 at halftime.

The Knights cut the Crespi lead to five points in the final period, but that was as close as they would get.

"We made some defensive stops," Murray said. "We played a lot harder than in the first half."


January, 26, 2012
1/26/12
10:20
AM PT
By
Tim Haddock
| ESPNLosAngeles.com


LA CANADA FLINTRIDGE – Crespi is finding out how important Michael Milligan Jr. is to its basketball team.

St. Francis found an offensive weapon in Tei Vanderford that might prove valuable as the season unfolds.

Vanderford scored a career-high 24 points to lead St. Francis to a 66-52 win over Crespi, the No. 6 team in the ESPN Los Angeles basketball rankings, at St. Francis High School on Wednesday night.

"He's a baseball player first. He did not play varsity basketball last year," St. Francis co-coach Ray O'Brien said. "He's just a great athlete that's great under pressure. He's gotten better every game. He's learned our system."

It was the third loss in a row for Crespi, playing without Milligan, the team's 6-feet-4 forward. He has missed the past two games with a concussion, but coach Russell White said he expects Milligan to return for Crespi's game against Sherman Oaks Notre Dame on Friday.

When asked if playing without Milligan makes that much of a difference, White said simply, "Apparently."

"I didn't know he was," White said. "The proof is in the pudding."


January, 10, 2012
1/10/12
5:29
PM PT
By
Sean Ceglinsky
| ESPNLosAngeles.com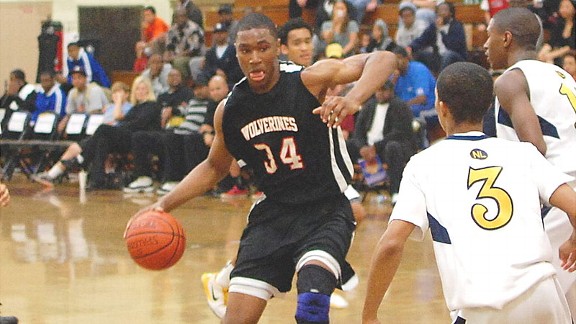 Courtesy of Dave KeeferZena Edosomwan is a 6-foot-8, 220-pound senior who some say still has his best basketball well ahead of him.
LOS ANGELES -- Since the day he set foot on campus at North Hollywood Harvard-Westlake, Zena Edosomwan has known there would be some rather sizable shoes to fill.
The San Fernando Valley powerhouse has been billed as one the Southland's hotbeds for talented post players. Succumbing to the seemingly constant pressure of living up to those lofty expectations lingered, but remarkably enough, never materialized.
Low and behold, four years later, Edosomwan has successfully followed in the footsteps of his many predecessors. Emerging as the go-to-guy in the middle for the Wolverines is one of those things that appeared to be in the cards for the highly-touted unsigned senior forward.
"I remember when we first got a good look at Zena, he had big hands, big feet and a big frame overall. We knew right then and there that he was a project worth putting some significant time into,'' Harvard-Westlake coach
Greg Hilliard
said. "We have been lucky to have a long line of quality big men here and he has done a good job of carrying the torch up to this point in time.''
At 6 feet 8, 220 pounds, Edosomwan is indeed heading in the right direction for the Wolverines (10-4 overall), who have a pair of particularly difficult Mission League games in the next couple of days. Visiting West Hills Chaminade is up first Wednesday and looming thereafter is a trip Friday to Loyola Los Angeles, No. 6 in the ESPNLosAngeles.com top 20 rankings.
His eyes are focused on the future, to be sure. Nevertheless, Edosomwan understands the importance of the history at Harvard-Westlake. The accomplishments of those came before him is well-documented. The reminders are constant, both on and off the court. One need not look any further than the multiple retired numbers on the wall of the Wolverines gym for proof.
Brothers
Jarron
and
Jason Collins
essentially put Harvard-Westlake on the map in the mid-1990s before college and life in the NBA. At the turn of the century,
Alex Stepheson
was the next big man to make a big name for himself with the Wolverines. Stints at the next level, with stops at North Carolina and USC along the way, followed suit.
Erik Swoope
and
Damien Cain
are the most recent individuals to prep at the school and both are playing college ball nowadays.
January, 4, 2012
1/04/12
11:06
PM PT
By
Tim Haddock
| ESPNLosAngeles.com


ENCINO -- Crespi's London Perrantes came through with one of the biggest shots in his high school career. His little jumper in the paint with 2.9 seconds left was the difference in Crespi's 75-73 win over Loyola in the Mission League opener at Crespi High School on Wednesday night.

Crespi (14-1) handed Loyola (11-1), winners of 11 games in a row to open the season, its first loss. Perrantes, who came into the game as the leading scorer on Crespi with 14.8 points per game, led four Crespi players in double figures.

Crespi coach Russell White said the plan was to let Perrantes decide the fate of the game.

"Get it in his hands and have him make a play," White said.

Crespi had to rally on its home court. Down by 10 points in the first half, Crespi battled back to tie the score at 62-62 midway through the fourth quarter.

"We left a lot of plays out there on the floor," Loyola coach Jamal Adams said. "Hopefully it will get our guys' attention. We have some things to work on."

Christian Johnson came up big for Crespi in the fourth quarter. He scored eight of his 15 points in the final period, draining five clutch free throws and hitting a crucial 3-pointer.

"It's a game. It has ebbs and flows," White said. "He made some big plays."


March, 10, 2011
3/10/11
9:41
PM PT
By
Sean Ceglinsky
| ESPNLosAngeles.com
LA CANADA FLINTRIDGE -- Matt Faber picked perhaps the most opportune time to have one the best games of his high school basketball career.

The senior scored 13 points and added 15 rebounds for host La Canada in Thursday night's Southern California Regional playoff game against Encino Crespi. And ultimately, his efforts proved to be just enough to guide the Spartans to a 43-42 Division III second-round victory over the Celts, who made things interesting from start to finish.

"Normally, I'm the fourth option on this team,'' Faber said. "All that I wanted to do tonight was step up for my team. I knew I needed to pick up the slack in a big game like this. We needed a lift. There was no way I was going to let everyone down.''

With less than five seconds left in the fourth quarter, the Celts (24-9) called a timeout and designed a play for Matt Mournier. The senior guard got the ball too. Unfortunately, his 3-pointer was off the mark as the final buzzer sounded.

"Matt got a pretty good look at the basket, but the shot did not fall, it was a tough way to lose a close game,'' Crespi coach Russell White said.

Faber delivered one of the more memorable highlights for the top-seeded Spartans (29-3), at the most important of times, of course.

He drove along the baseline with 6:02 remaining in the fourth quarter, elevated, and dunked over Chris Connelly to give La Canada a three-point lead.


February, 22, 2011
2/22/11
10:28
PM PT
By
Sean Ceglinsky
| ESPNLosAngeles.com
ENCINO -- This one was practically over before it even started.

The Crespi High boys' basketball team jumped out to a particularly comfortable 14-point advantage over visiting Lakewood Artesia by the end of the first quarter during Tuesday's Southern Section Division 3A quarterfinal playoff game.

The lead ballooned to 22 points by halftime, 27 in the third quarter and approached the 30-point plateau over the course of the final eight minutes of play.

In the fourth quarter, seemingly the only thing left to do for the Celts was to send their starters to the bench for some rest and let the reserves run out the rest of the clock, which they did, of course, en route to an impressive 70-42 victory

"We came out and dominated, we needed a win like this, we made a statement and let everyone know that we're for real,'' said Crespi's London Perrantes.

The second-seeded Celts (23-7) are indeed for real.

Count Artesia (14-14) as a believer.

"We came into this game tonight knowing that Crespi was tough team, there's a reason why they were the No. 2 seed,'' Artesia coach Greg Taylor said. "We needed a lot of things to go our way if we were going to have a chance to win and that didn't happen.''


December, 23, 2010
12/23/10
6:51
AM PT
By
Tim Haddock
| ESPNLosAngeles.com


MISSION HILLS -- The Crespi boys basketball team won the San Fernando Valley Invitational, beating Alemany, 78-53, in the championship game.

Crespi's Matt Mounier scored a game-high 24 points and earned tournament most valuable player. He made 12-of-12 free throws. Crespi was 31-of-36 from the free-throw line in the game.

Alemany (7-2) was down by four points, 34-30, at halftime. Crespi outscored Alemany, 21-11, in the third quarter to build a 14-point lead.

Crespi's Reggie Coates scored seven of his 12 points in the third quarter. He also had 15 rebounds in the game.

Crespi (7-3) extended its lead to 20 points, 61-41, after Mounier knocked down a pair of free throws with a little over six minutes to play in the fourth quarter.

London Perrantes scored 13 points and teammate Christian Johnson had 10 points for Crespi in the game against Alemany. Both were selected to the all-tournament team.

Alemany's Marqueze Coleman scored a team-high 22 points and had four steals. He and Jordan Fuller earned spots on the all-tournament team.

"I'm proud of the way my guys competed in this tournament," Alemany coach Tray Meeks said. "Being 7-2 is a good thing. I'm extremely proud of the way our guys competed."