Los Angeles Preps:

Ryan Jack
February, 2, 2011
2/02/11
12:56
PM PT
By
Dan Arritt
| ESPNLosAngeles.com
Below is an updated list of high school football recruits from the Inland Empire and where they're headed.
Tight end
Junior Pomee
and cornerback
Ryan Henderson
of Moreno Valley Rancho Verde are expected to announce their decisions at 5:30 p.m.
Reports
indicate they're headed to USC.
Corona Centennial quarterback
Michael Eubank
just announced he will stick with Arizona State. His decision will be broadcast on FS West at 7 p.m. He had also considered Pittsburgh and Utah.
Eubank committed to the Sun Devils in December but recently had taken a recruiting trip to Pittsburgh. Vista Murrieta quarterback
Derrick Brown
recently switched his commitment from Utah to Washington, which had opened a possible spot for Eubank.
UNDECIDED
Junior Pomee, TE, Moreno Valley Rancho Verde
Ryan Henderson, DB/RB, Moreno Valley Rancho Verde
ARIZONA STATE
Quinton Pedroza, WR/DB, Chino
Brent Walker, OL, Norco
Michael Eubank, QB, Corona Centennial
BOISE STATE
Jake Van Ginkel, K, Upland
BYU
Adam Pulsipher, LB, Temecula Valley
COLORADO
Greg Henderson, DB, Norco
COLORADO STATE
Nuuvali Faapito, F/LB, La Quinta
FRESNO STATE
Ejiro Ederaine, LB, Corona Santiago
February, 1, 2011
2/01/11
6:55
AM PT
By
Dan Arritt
| ESPNLosAngeles.com
With the National Signing Day set for Wednesday, a number of Inland Empire football players have given verbal commitments to various schools across the country. Nothing is official until the papers are signed and returned to the respective colleges, but San Diego State and Oregon have received the most pledges from I.E. athletes. Here's the list of players and where they've committed.

ARIZONA STATE
Michael Eubank, QB, Corona Centennial
Quinton Pedroza, WR/DB, Chino
Brent Walker, OL, Norco

BOISE STATE
Jake Van Ginkel, K, Upland

BYU
Adam Pulsipher, LB, Temecula Valley

COLORADO
Greg Henderson, DB, Norco

COLORADO STATE
Nuvali Faapito, F/LB, La Quinta

FRESNO STATE
Ejiro Ederaine, LB, Corona Santiago

HAWAII
Promise Amadi, Ath., Chino

IDAHO
Dion Bass, DB, Corona Centennial
Todd Handley, RB, Riverside King

IOWA STATE
David Irving, DE/TE, San Jacinto

MONTANA
Nate Harris, RB/DB, Chino Hills

NEVADA
Desman Carter, DB, Fontana Kaiser
Superrior Reid, RB, Riverside Arlington

OREGON
Devon Blackmon, WR, Fontana Summit
Rodney Hardrick, LB, Colton
Ifo Ekpre-Olomu, S, Chino Hills
Jamal Prater, OL, Etiwanda

OREGON STATE
Larry Scott, WR, Corona Centennial

SACRAMENTO STATE
John Taylor, OL, Colton
Blake Robertson, WR, Corona

SAN DIEGO STATE
Darius Guillory, LB, Temecula Chaparral
Jemond Hazely, WR, Corona Santiago
Ryan Jack, LB, Corona Centennial
Paul Pitts, WR, Los Osos
Paul Rodriguez, OL, San Bernardino San Gorgonio
Jonathan Sanchez, DL, Vista Murrieta
Jordan Taylor, OL, Redlands

SAN JOSE STATE
Simon Connette, DB, Corona Santiago
Tyler Ervin, RB, Colton
Sam Boyd, TE, Eastvale Roosevelt

STANFORD
Kelsey Young, RB, Norco

UTAH
Ryan Henderson, DB/RB, Moreno Valley Rancho Verde

USC
DeVante Wilson, DE, Corona

WASHINGTON
Derrick Brown, QB, Vista Murrieta

WASHINGTON STATE
Marcus Mason, RB, Etiwanda

WEBER STATE
Barrinton Collins, RB, Corona Centennial
January, 27, 2011
1/27/11
8:34
PM PT
By
Dan Arritt
| ESPNLosAngeles.com
The All-Southern Section 11-man football teams were released Thursday and, as expected, Corona Centennial had several players representing the Inland Division.
The Huskies had five players selected to the 22-man offensive team, including quarterback
Michael Eubank,
the division's offensive player of the year.
Eubank, who is
expected to sign
with Arizona State next week, threw for 2,831 yards and 22 touchdowns while leading Centennial to the Inland Division title and a Division I state bowl berth. Eubank also ran for 1,329 yards and 19 touchdowns.
Centennial defensive back
Chris Gonzalez
was named the division's defensive player of the year over San Diego State-bound teammate and leading tackler, linebacker
Ryan Jack
. Gonzalez led the Huskies with seven interceptions and was second on the team in tackles.
Milo Jordan
, a junior lineman and top recruit for next year, was the other Centennial player selected to the defensive team.
Matt Logan
completed the sweep for Centennial, winning coach of the year honors.
Inland Division runner-up Vista Murrieta had six selections and semifinalists Rancho Cucamonga and Chino Hills had five each.
Among the notable players not selected was Chaparral receiver
Antoine Arnold
, last season's co-offensive player of the year. Arnold played in all but two games this season but his numbers dropped significantly as the offense struggled to get him the ball. Corona defensive end
DeVante Wilson
, who is
expected to sign
with USC next week, did not return to the defensive team.
December, 9, 2010
12/09/10
7:06
PM PT
By
Dan Arritt
| ESPNLosAngeles.com
Corona Centennial and Vista Murrieta, who have emerged as two of the Inland Empire's strongest football powers in the last decade, will meet for just the second time Friday night in the Inland Division championship game at Centennial.

Kickoff is set for 7:30 p.m.

The only other time the teams played was two years ago in the semifinals. Centennial won, 41-14, behind three touchdown passes and two rushing by quarterback Taylor Martinez, now at Nebraska. That team went on to defeat Concord De La Salle in the CIF-Division I state bowl game and finish 15-0.

Offensively, the top-seeded Huskies (13-0) are very similar this season. They also feature a talented dual-purpose quarterback in Michael Eubank, a senior who has thrown for 2,532 yards and 21 touchdowns this season, with just three interceptions. On the ground, he has amassed 1,092 yards and 18 touchdowns, averaging 10.1 yards per carry.

The biggest difference between this season's offense and the 2008 version is running back Barrinton Collins, whose quick feet and explosiveness prevents defenses from focusing on Eubank. Collins has rushed for 2,026 yards (11.3 avg.) and scored 37 touchdowns.

Defensively, they're a plus-23 in turnover ratio. Ryan Jack, a San Diego State-bound linebacker, is the team's leading tackler.


November, 2, 2010
11/02/10
11:48
PM PT
By
Dan Arritt
| ESPNLosAngeles.com
Ryan Jack
is quiet, unassuming, a modern-day
Opie Taylor
if there ever was one.
He's also the face of the Corona Centennial defense.
Far and away the most efficient tackler for the Huskies, the 6-foot-1, 200-pound middle linebacker is averaging 10.1 takedowns a game, 4 ½ more than the team's next leading tackler. He's a big reason why the Huskies,
ranked No. 4
in the Southland by ESPNLA, have not allowed more than 13 points in a game while running their record to 8-0.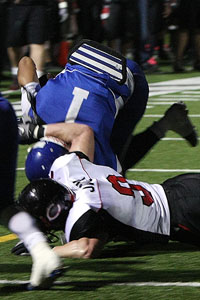 Courtesy of Paul Moureaux
Ryan Jack tackles Norco running back Kelsey Young, in blue, during last Friday's game.
He had a season-high five solo tackles in a 45-0 victory Friday against then-No. 13 Norco in a Big VIII League game, including the one pictured here.
On that play, Norco was inside the 20-yard line when Stanford-bound running back
Kelsey Young
took a direct snap, headed around the right end and then lowered his shoulder as he cut up field. Jack quickly closed the gap and slammed into Young, throwing him to the turf with a violent heave from his right arm.
"We knew it was coming," Jack said of the direct snap the Cougars employed in key situations.
With all the talent on the Centennial football team this season, Jack is still the only Husky committed to a Division I college program. He pledged to San Diego State last month, a school he followed since he was a youngster.
Jack had big shoes to fill last season when he took over the middle linebacker position previously occupied by
Vontaze Burfict
, a U.S. Army All-American selection who now anchors Arizona State's defense.
He filled them supremely, totaling 145 tackles and 2 1/2 sacks, and earning a spot on the All-Southern Section Inland Division team.
Jack hopes to play couple more games this season. The Huskies were eliminated in an Inland Division semifinal a year ago. This season, they are clear favorites to win the Inland Division title and possibly represent the South in the Division I state bowl game.
Here's what Jack had to say following the Huskies' victory over Norco.