Los Angeles Preps:

Ryan Tukua
November, 22, 2011
11/22/11
9:41
PM PT
By
Dan Arritt
| ESPNLosAngeles.com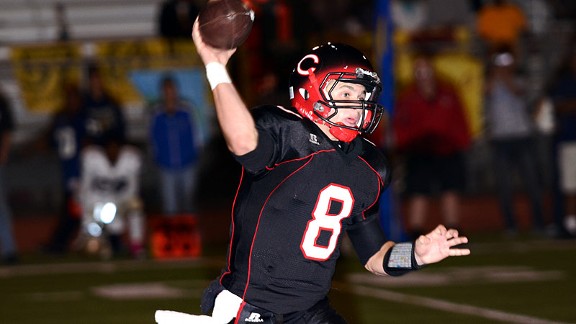 Courtesy of Joe WheatCentennial quarterback Hayden Gavett will be one of many players Chaparral will need to slow to have a chance.
Redlands may have provided a blueprint on how to score against Corona Centennial but other than Mother Nature, nobody has designed a way to stop its offense in recent years.
The latest coach to inherit that challenge is
Ryan Tukua
of Chaparral, whose Pumas are preparing to play the top-seeded Huskies in an Inland Division second-round game Friday night at Centennial.
While watching tape of the Huskies' 49-35 victory last week against Redlands, he nearly blistered his thumb hitting the pause button.
"Centennial did not get stopped one time on offense," Tukua said. "It seemed like they'd score within two minutes of getting the ball."
Of course, the Pumas (7-4) have a few things going for them; a solid defense, a defensive coordinator,
Stan Hunt
, who recently coached at Centennial (10-1) and a history of knocking the Huskies off their perch.
The teams first met five years ago, in the same round and the same spot of the Inland Division bracket. Centennial, undefeated and the top-seeded team at the time, had no answer for Chaparral running back
Talmadge Jackson
, who rushed for 313 yards and four touchdowns in the 42-28 upset.
Centennial eliminated the Pumas from the playoffs the next two seasons but Chaparral earned some payback in 2009. After upsetting top-seeded Redlands East Valley in the second round (the same spot of the bracket as this season), the Pumas beat Centennial in an overtime thriller, 43-35. They completed their magnificent playoff run with a 13-7 victory against Southwestern League rival Vista Murrieta in the championship game.
That was the last time the Pumas had anything to celebrate against Centennial, however. The teams have met in nonleague play the last two seasons, with Centennial winning by a combined score of 94-26.
September, 4, 2011
9/04/11
11:30
PM PT
By
Dan Arritt
| ESPNLosAngeles.com
1. Riverside Ramona is already the front runner for the comeback story of the season. The Rams won their opener Friday night against Riverside King, 28-7, their first victory since Oct. 30, 2009. Zack Lewis, fourth in the state in the 300 hurdles last June, scampered for 136 yards and two touchdowns, and quarterback T.J. Miller threw for two more. Ramona lost to King, 30-0, in last season's opener, setting the tone for an 0-10 season.

2. Corona Santiago also showed it's a much better team than a year ago. The Sharks disposed of visiting Dana Hills, 53-17, a far cry from last season's opener, when they lost to the Dolphins, 49-20. The biggest difference is likely the maturation of junior quarterback Michael Darr, who made his varsity debut in last season's game against Dana Hills. In the rematch, Darr was calm, cool and collected, rushing for 182 yards and a touchdown in 17 carries and throwing for 255 yards and three scores.

3. It's safe to say that San Bernardino Cajon out-coached Temecula Chaparral on Friday night. The Cowboys surprised the Chaparral coaching staff and players with a variety of offensive formations in the 30-14 victory, including the quarterback-less Wildcat. Damontae Kazee, who has committed to Washington, did most of the damage out of the Wildcat and finished with 169 yards rushing, including a 43-yard touchdown. Ryan Tukua was making his head coaching debut for the Pumas.

4. Kickers usually don't get much attention until it's time to win or tie a game. Matthew Sandoval of Moreno Valley Valley View came through when his team needed it most Friday night, booting a 38-yard field goal with five seconds remaining to lift his team to a 17-16 victory at Beaumont. Ontario Colony, meanwhile, was the beneficiary of a missed point-after attempt in the final seconds against West Covina South Hills, allowing the Titans to escape with a 30-29 victory.

5. One of the more surprising blowouts of the weekend was a 49-7 victory by Rancho Cucamonga Los Osos against visiting La Quinta. The Nighthawks are usually one of the better teams in the Coachella Valley, while Los Osos is trying to break in a number of new players. "We weren't ready to play," La Quinta assistant coach Dave Gurbada told The Desert Sun. "We have young guys we thought would play better and didn't." Isn't that the responsibility of the coaching staff?
August, 31, 2011
8/31/11
7:27
PM PT
By
Dan Arritt
| ESPNLosAngeles.com
Through out this season, ESPNLA plans to highlight the Inland Empire's top matchups of the week, whether it's two undefeated teams going head to head in league play, a beefy offensive line against a swarming defensive front, or an offseason transfer meeting up against his former team. And what's a good preview without a prediction?
Here's what to look for this weekend.
A-GAME
Fontana Summit vs. Etiwanda at Fontana A.B. Miller HS, Friday (7 p.m.)
-- One of the top passers in the Southern Section last season goes up against one of the best ball hawks.
Larry Cutbirth
of Etiwanda threw for 2,996 yards and 32 touchdowns last season, both stats among the top 10 in the state's biggest section. He'll have to contend with Boise State-bound senior corner
Donte Deayon
, who hauled in 10 interceptions as a junior, which tied for second in the section. The game was expected to mark the long-awaited return of Etiwanda senior linebacker
Chandler Scott
, who sat out last season because of a knee injury after leading the Baseline League in tackles as a sophomore, but he suffered another knee injury over the summer and is expected to miss the first two games.
Prediction: Summit 26, Etiwanda 21.
B-LIST
San Bernardino Cajon at Temecula Chaparral, Friday (7 p.m.)
-- Chaparral would very much like to spring from the blocks and start the season on a positive note for new coach
Ryan Tukua
. The matchup to watch here is also quarterback vs. cornerback.
Matt Morin
returns behind center for Chaparral and the San Diego State-bound left-hander will be trying to beat a Cajon secondary that includes
Damontae Kazee
, who has committed to Washington but has a brother,
Walter
, who plays running back for San Diego State. Kazee is also Cajon's biggest offensive threat at receiver, and he'll face a defense led by Chaparral strong safety
C.J. Dozier
, who has committed to Arizona State.
Prediction: Chaparral 20, Cajon 17.
Pomona Diamond Ranch at Chino, Friday (7 p.m.)
-- If nothing else, this game should be interesting to watch from a coaching perspective. Chino's balanced offense will stare down a defense coached by former Riverside North, USC and NFL defensive end
Chris Claiborne
, in his first season as defensive coordinator at Diamond Ranch. He'll have to find a way to stop Chino quarterback
Sean Molles
, who threw for 2,343 yards and 29 touchdowns last season, and running back
Xavier Browne
, who totaled 1,275 yards and 20 touchdowns. Claiborne was defensive coordinator the last two seasons at Corona High, where he developed defensive end
DeVante Wilson
, now at USC.
Prediction: Chino 28, Diamond Ranch 10.
La Quinta at Rancho Cucamonga Los Osos, Friday (7 p.m.)
--
Taylor Pope
might have to be a one-man band for La Quinta. The senior quarterback is the lone returning all-Desert Valley League selection from last season's team, and one of the key pieces on defense and special teams for the Blackhawks. Los Osos missed the playoffs last season for the first time since 2004 and returns just eight starters, but the Grizzlies have one of the area's better offensive guards to lean on in 6-4, 280-pound senior
Dylan La Frenz
.
Prediction: La Quinta 14, Los Osos 13.
August, 21, 2011
8/21/11
12:08
PM PT
By
Dan Arritt
| ESPNLosAngeles.com
Temecula Chaparral swallowed enough pride last season to feed an army. The Pumas came into the year
ranked 11
th
in the state by Cal-Hi Sports — ahead of such powerhouses as Mission Viejo, Corona Centennial and Oceanside — but quickly learned they were either very over-hyped or considerable underachievers.
Chaparral proceeded to lose its first four games and five of its first six and never lived up to expectations. The season bottomed out when the Pumas lost to Temecula Great Oak toward the end of Southwestern League play. Two months after the season ended, coach
Tom Leach
was fired by the school principal for reasons still unclear.
But the Pumas have a new coach and a new attitude this season, as well as some pretty good players who are eager to turn things around.
Here's a closer look at the Pumas:
Team:
Chaparral.
Coach:
Ryan Tukua, first season.
2010 Record:
4-7, lost to Upland in the first round of the Inland Division playoffs.
Returning starters:
12 total. Five on offense, seven on defense.
Key players on offense:
QB Matt Morin, RB Skyler Seibold, OL Matt Adamson, OL Pat Clifford, RB Justin Harris.
Key players on defense:
SS Curtis Dozier, LB Josh Ponder, LB Joe Robinson, DE Teddy Queen, LB Marquis Cobb.
Difference maker:
Morin seemed a bit out of sync early last season. The junior quarterback had transferred from Murrieta Valley and was taking over a team that was stacked with talent and moved with a heavy swagger. But the Pumas got off to the rocky start and Morin also struggled. The left-hander finally showed some moxie in 40-35 loss to Upland in the first round of the playoffs, throwing for 242 yards and two touchdowns. He then impressed enough at spring combines to generate a few scholarship offers, and committed to San Diego State earlier this month. Now a senior, Morin's performance could make or break the season.
Newcomers:
LB Tanner Ritayik, WR Chris Stratton.
Not to be missed:
at Corona Centennial, Sept. 23. These programs headed in opposite directions last season. Chaparral won the Inland Division title in 2009 and was expected to repeat, but instead it was Centennial that ran the table, including a 45-12 victory at Chaparral in Week 3. On paper, it appears the Pumas have re-closed the gap but this game won't be played on paper, rather the intimidating confines at Centennial.
Coach's comment:
"We're excited to compete and can't wait until Sept. 2," Tukua said of the season opener against visiting San Bernardino Cajon. "The players and coaches did a lot of hard work in the offseason."
Final analysis:
The Pumas are motivated to put last season in the rearview mirror. Following the dismissal of their popular head coach, the administration made a wise move and promoted Tukua from defensive coordinator. He inherited enough quality players to move Chaparral back atop the Inland Division, and won't have to guide the Pumas through such a cut-throat nonleague schedule as last season. That should allow his team to build confidence heading into Southwestern League play. With a staunch defense and an experienced quarterback, the Pumas might just reclaim their elite status.
May, 6, 2011
5/06/11
5:05
PM PT
By
Dan Arritt
| ESPNLosAngeles.com
After
another
24 hours of twists and turns,
Rick Bray
is back as head football coach at Colton High School.
Don Markham
, meanwhile, is staying at Compton High.
Bray took over the Colton program last May and led the Yellowjackets to their first Southern Section championship in 32 years, but the job was re-opened following the season to satisfy the Rialto Rule, which gives hiring preference to on-campus teachers.
Before taking over as head coach, Bray had been an assistant at the school for 21 of the previous 25 years but wasn't a certified teacher.
Markham, who has amassed 309 career victories while coaching at eight high schools, was teaching at Colton when he threw his name in the hat for the head coaching position, even though he had accepted the same job at Compton two months earlier.
According to
reports
, Markham began looking at the Colton position because he wasn't guaranteed an on-campus job at Compton. That changed this week when the Tarbabes placed him on staff as a weightlifting instructor.
With his employment at Compton secured and Bray the popular choice to retain his job, Markham reportedly pulled his name out of the running for the Colton position, leaving Bray as the only remaining candidate.
Bray was confirmed as head coach by a 7-0 vote during Thursday evening's Colton Joint Unified School District meeting.
For one of those rare occasions, it appears all sides came out a winner.