Los Angeles Preps:

Ryan Wolpin
December, 15, 2011
12/15/11
6:09
PM PT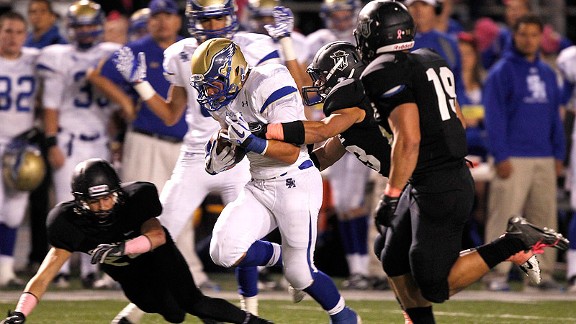 Alex Gallardo/For ESPNLA.comRunning back Ryan Wolpin tallied 27 touchdowns and rushed for 1,637 yards in 2011 and returns to a stocked Santa Margarita (Rancho Santa Margarita, Calif.) offense in 2012.
Santa Margarita (12-2) vs. San Jose Bellarmine Prep (12-1) at Home Depot Center, Friday, 8 p.m.
Santa Margarita is in a CIF State Bowl game for the first time after winning the Southern Section's Pac-5 Division, but coach
Harry Welch
is in his third; he has won with Canyon Country Canyon in the first Division I Bowl, and San Juan Capistrano St. Margaret's in the first Small Schools Bowl.
No team has played better opponents over the past six weeks than Santa Margarita: St. John Bosco (8-4), Servite (10-2), Bishop Amat (6-5), Long Beach Poly (10-2), Mission Viejo (10-3 and San Clemente (12-2). The only setback in that stretch was to Servite, 42-41, in overtime in the Trinity League finale; at the time, Servite was ranked No. 2 in the state and among the top 25 nationally.
Johnny Stanton
(9 TDs, 9 int.) continues to make big plays, even though they may not result in touchdown passes. Stanton makes things happen, and he is averaging 103 yards rushing per game. Servite couldn't stop him, Poly couldn't stop him, Mission Viejo couldn't stop him, and San Clemente couldn't stop him, so it's going to be a tall order for Bellarmine to do something that those school couldn't.
Ryan Wolpin
(27 TDs, 116 yards/game) is also effective behind the SMCHS offensive line. Led by USC-bound
Max Tuerk
(6-6, 296), who is one of two seniors in the starting lineup on offense, the line averages 299 pounds. By contrast, Bellarmine lists only one player bigger than 225 pounds.
The essence of this game boils down to the success of Bellarmine's offense against Santa Margarita's defense.
December, 10, 2011
12/10/11
11:35
PM PT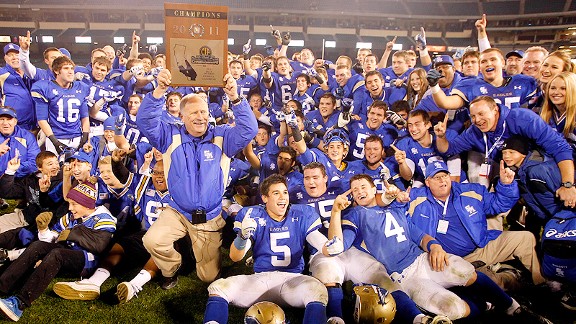 Alex Gallardo/ESPNLosAngeles.comCoach Harry Welch celebrates winning the Pac-5 title with his team at Angel Stadium.
ANAHEIM -- For the ninth time in his career,
Harry Welch
raised a championship trophy over his head. If he could, he would raise
Johnny Stanton
, too. But Stanton did his own carrying Saturday night at Angel Stadium, carrying the Eagles to the Southern Section Pac-5 title with a 27-13 victory over San Clemente.
Welch has had a lot of these moments -- five with Canyon Country Canyon, three with San Juan Capistrano St. Margaret's -- but when he grabbed the microphone after the game played in front of 14,424, he said "I have never been more proud than I am now."
The last three teams that Santa Margarita (12-2) defeated en route to their first championship since winning back-to-back in 1996-97 had only one loss; third-seeded Long Beach Poly (10-2), second-seeded Mission Viejo (11-2) and San Clemente (12-2).
If Welch loves this team, he'll love next year's too. Only two seniors start on offense, one of them being USC-bound lineman
Max Tuerk
. But the rest are underclassmen, including Stanton, the dual-threat quarterback who passed for 92 yards and ran for 148. His touchdown pass to
River Cracraft
with 11 seconds left in the first half gave Santa Margarita a 14-13 lead, and his two-yard score in the third quarter made it 21-13.
Then he engineered the drive of the game, one that covered 89 yards and consumed 9 minutes 56 seconds. It ended with
Ryan Wolpin's
second score, a three-yard run with 3:09 left in the game. It was at that point that San Clemente got its first possession of the fourth quarter. The Tritons had no more magic in what had been a magical season. Cracraft intercepted a
Travis Wilson
pass with 1:52 left in the game, and Santa Margarita ran out the clock.
November, 25, 2011
11/25/11
10:47
PM PT
By
Sean Ceglinsky
| ESPNLosAngeles.com

LONG BEACH -- Johnny Stanton did just about whatever he pleased on Friday night. The 6-foot-3 and 200-pound junior quarterback from Santa Margarita threw the ball well and picked up plenty of yards on the ground. And there was not much Long Beach Poly could do about it.

In the end, the Eagles prevailed with a 49-16 victory. But not before Stanton completed 11-of-17 passes for 105 yards. Can't forget to mention he gained 125 yards rushing and scored four times in a Southern Section Pac-5 Division quarterfinal game at Veterans Memorial Stadium.

"I don't feel like I had a target on my back, or anything. I knew that Long Beach Poly was prepared,'' Stanton said. "I felt pretty good overall. I mean, I'm sure I'll be sore in the morning. But it will be worth it. To come in here and get a victory like this gives us a lot of momentum.''

The Eagles (10-2) entered the showdown No. 10 in the ESPNLosAngeles.com rankings. Long Beach Poly (10-2, on the other hand, was ranked No. 4 in the most recent poll.

Stanton got stronger as the game went on. That was most evident at the start of the fourth quarter. He carried the ball multiple times and ended up scoring from five yards out on fourth down to increase the advantage to 28-16 with 11:50 remaining.

Santa Margarita did not let up. Ryan Wolpin scored two rushing touchdowns, a 60-yarder and a 10-yarder. Alex Suchesk added an eight-yard run for the final margin.

"Johnny was great, he carried us tonight, he had a heck of a game,'' Wolpin said. "He's our guy. He made a lot of critical plays at the biggest moments of this game.''


November, 4, 2011
11/04/11
11:33
PM PT
By
Dan Arritt
| ESPNLosAngeles.com


MISSION VIEJO -- The night was special for Johnny Stanton in more ways than one.

The Santa Margarita junior quarterback rushed for 173 yards and two touchdowns in a 28-20 victory Friday night against St. John Bosco, helping the Eagles take over sole possession of second place in the Trinity League heading into next week's showdown against first-place Servite.

Along the way at Saddleback College, Stanton established school records for single-game and season rushing yards by a quarterback. Stanton now has 845 rushing yards this season, bettering the previous mark of 801 set by Michael Angelo in 2003.

Stanton did most of his damage on quarterback draws, taking advantage of huge holes opened by his massive offensive line, led by USC-bound tackle Max Tuerk. His 43-yard touchdown run on a draw late in the third quarter gave the Eagles a 21-13 lead.

"We weren't expecting it to work that well," Stanton said. "But, when a play works that well, you've just got to keep going to it."

Santa Margarita coach Harry Welch says he thinks the play deserves another name.

"When you have Johnny Stanton, it's different," he said. "It's not a quarterback draw. It's Johnny Stanton up the middle."


October, 21, 2011
10/21/11
11:02
PM PT


MISSION VIEJO -- Do or die. If that wasn't the case when Santa Margarita faced Orange Lutheran on Friday, it's the case now for OLu.

Santa Margarita's 31-10 Trinity League victory at Saddleback College put the Lancers behind the 8-ball even though they came into the game ranked No. 17 in the Southland by ESPNLA. Last week, before losing to top-ranked Servite, they were No. 8.

That didn't matter to Johnny Stanton, who passed for one touchdown to close out the first half and ran for two touchdowns, both in the last five minutes of the game, to lead sixth-ranked Santa Margarita (6-1, 1-1) past the Lancers (5-2, 0-2).

Santa Margarita, ranked No. 2 last week before its stunning 21-14 defeat at the hands of Mater Dei, came into this contest and handled it like it was a playoff game. Coach Harry Welch said he didn't refer to it as a playoff game this week in practice, "but we did say we couldn't be in the playoffs if we didn't win this one."

If it wasn't a playoff game, it was a playoff caliber game.

Welch called Stanton "the engine that pulled us through" as Stanton rushed 13 times for 96 yards and completed nine of 14 passes for 139 yards.

"This game was really crucial," Stanton said. "We knew we were going to have to play a really tough OLu team this game, so we had to step it up in practice. We were all really focused."


September, 29, 2011
9/29/11
11:45
PM PT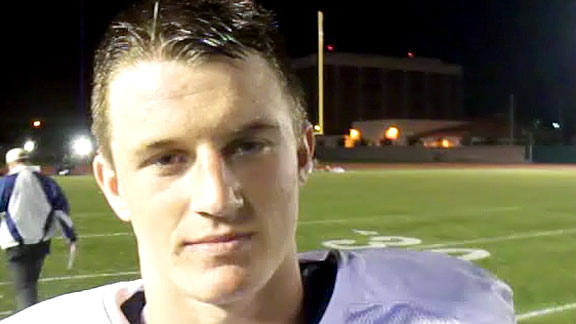 Martin Henderson for ESPNLA.comSanta Margarita quarterback Johnny Stanton combined for 301 total yards through the air and on the ground in the victory over Los Alamitos on Thursday.
LONG BEACH -- A week ago, when Los Alamitos was beating L.A. University by 56 points, coach
John Barnes
said he didn't really know how good his team was. The Griffins, ranked No. 25 this week by ESPNLA, hadn't played anyone who could mount a significant challenge, a team that could really test their mettle, a team that had the respect of the football community.
On Thursday, in the fifth game of the season, the Griffins finally faced that team.
And they learned they have some work to do.
Johnny Stanton
rushed for 147 yards and passed for 154, and
Ryan Wolpin
rushed for 214 as second-ranked Santa Margarita scored a 38-27 victory over Los Alamitos in the last nonleague game for both teams. Each begins league play in two weeks, with Los Alamitos playing its primary rival in the Sunset League, Edison; Santa Margarita plays against Mater Dei in the Trinity League opener.
Kicker
John McGrory
had a record-setting night, breaking the Southern Section record for most consecutive point-after touchdowns. McGrory kicked five, giving him 85 in a row.
Los Alamitos showed far more spark than it did in last year's 31-7 loss to Santa Margarita, which was one of the most listless performances ever by a team coached by Barnes. The Griffins were fighting until the end and did manage to make the game reasonably close.
Still, after a quick start, Los Alamitos was overmatched as Santa Margarita's sustained drives took a toll. The Griffins made it close in the fourth quarter when they scored two touchdowns in a 53-second span after scoring only two TDs in the first 43 minutes.
Santa Margarita held a 38-14 lead with 8:50 left after Wolpin scored from one yard, capping a 26-yard drive instigated by
Reid Andrew's
interception.
Stanton rushed for three touchdowns, including a 52-yarder on a draw, and Wolpin scored twice in a night in which he carried 33 times for 214 yards.
September, 19, 2011
9/19/11
4:18
PM PT
Alemany and Mater Dei were the only ranked teams to lose last week, so there aren't any newcomers to the latest ESPN Los Angeles prep football 25. There are six matchups between ranked teams this week, making for an intriguing slate of games as nonleague action winds down across the Southland. Here are our rankings heading into Week 3:

1. Servite (3-0)
Cody Pittman had 230 passing yards -- 147 going to favorite target Sam Hunt. But not all went well for the Friars, who will be without running back Charlie Etiaki (collarbone) for over a month. Last week: Beat La Habra, 24-16. Next: vs. Edison at Huntington Beach HS, Fri., 7 p.m.

2. Long Beach Poly (3-0)
The crowd's exhale at Veterans Stadium was clearly audible after the Jackrabbits survived a late charge by a City Section favorite Friday night. Coach Raul Lara had his defense to thank. Last week: Beat Narbonne, 19-16. Next: at Mission Viejo, Fri., 7:30 p.m.

3. Santa Margarita (3-0)
Ryan Wolpin carried 20 times for 133 yards and scored four touchdowns, and the Eagles picked off four passes to beat a neighboring school for the second straight week. Last week: Beat Trabuco Hills, 35-14. Next: at Carson, Fri., 7 p.m.

4. Mission Viejo (2-1)
The Diablos were obviously glad to be back in town following their humbling trip to New Jersey. Alex Bridgford, Jahleel Pinner and D.J. Wilson got the explosive offense back on track. Last week: Beat La Quinta, 47-21. Next: vs. Long Beach Poly, Fri., 7:30 p.m.

5. St. Bonaventure (2-0)
Give the Seraphs credit for not lollygagging through their Marmonte League opener. They could have easily overlooked Royal, instead setting their sights on this week's highly anticipated game. Last week: Beat Royal, 59-0. Next: at Oaks Christian, Fri., 7 p.m.

6. Corona Centennial (1-1)
There's no questioning the Huskies' heart, that's for sure. Hayden Gavett led a late charge to erase two-touchdown deficit, helping Centennial avoid what would have been a demoralizing 0-2 start. Last week: Beat Mater Dei, 28-20. Next: vs. Chaparral, Fri., 7 p.m.

7. Crespi (3-0)
Serra League coaches might have been jumping for joy after the graduation of Kenny Stenhouse, but Cody Cordell might cause some headaches this fall. The junior threw for five touchdowns in Fresno. Last week: Beat Clovis West, 42-28. Next: at Palisades, Fri., 7 p.m.

8. Oaks Christian (1-1)
Sophomore Brandon Dawkins threw the ball only six times in his varsity debut but half went for scores. Ishmael Adams added 121 rushing yards to help the Lions bounce back from their season-opening loss. Last week: Beat Agoura, 50-11. Next: vs. St. Bonaventure, Fri., 7 p.m.

9. St. John Bosco (3-0)
As expected, the Braves are spreading the ball around on offense, averaging nearly 38 points through three games. Cal-bound Bryce Treggs either beats defenses by himself or serves as a decoy. Last week: Beat Santa Fe, 51-0. Next: vs. Loyola at L.A. Valley College, Fri., 7 p.m.

10. Alemany (2-1)
In the biggest shocker so far, the Warriors blew a 14-point lead on the road Friday and lost, snapping their 15-game regular-season winning streak. The schedule doesn't get easier, either. Last week: Lost to J.W. North, 36-35. Next: at Chaminade, Fri., 7:30 p.m.


September, 20, 2010
9/20/10
3:58
PM PT
By
Martin Henderson
| ESPNLosAngeles.com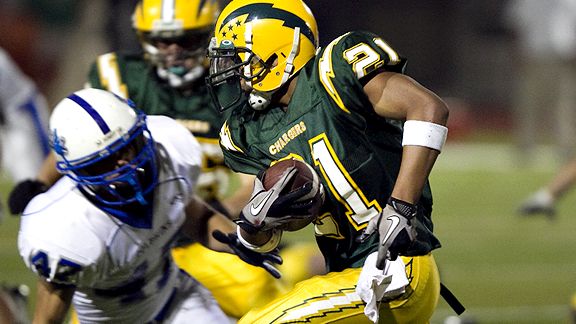 Courtesy of Tony Tribolet
With his performance against Dana Hills in a 27-21 victory, it appears Edison is in good hands with running back Nicholas Masaniai.
Some observations from the third weekend of high school sports in Orange County.
1. It's hard to imagine how good Edison would have been with
Davion Orphey
, the dynamic senior running back/defensive back who was ruled academically ineligible. Coach
Dave White
said Orphey's absence was probably more significant on defense than offense. However, we saw on Thursday against Dana Hills his replacement,
Nicholas Masaniai
, who carried 20 times for 134 yards. He's not as flashy and he's not going to take some plays to the house that Orphey would have, but he puts the Chargers in good hands. He had five carries of more than 10 yards: 24, 14, 18, 11 (for a touchdown) and 31 yards, and he's going to keep defenses honest as junior quarterback
Chase Favreau
develops.
2. Buena Park and Los Alamitos don't seem to have a lot in common except for 3-0 records. Los Alamitos is a well-respected program that contends for the Sunset League title every year, has one of the most dynamic players in the Southern Section in tailback
Nick Richardson
, and is coached by Orange County's all-time leader in victories,
John Barnes
. Buena Park has been a program that has not done much of anything over the past decade, and its three-game winning streak is much-needed good news for a program that had won only three games the last three years. Yet relative to its own strength, Buena Park -- which is badly in need of victories -- has actually played a tougher schedule this season than Los Alamitos. Based on the statistical ratings of team strength at Calpreps.com, Buena Park – with a rating of minus-2.8, has played teams that are 17.5, 27.2 and 12.3 points lower than the Coyotes; Los Alamitos has played teams that are 20.9, 25.6 and 29.5 points lower than the Griffins.