Los Angeles Preps:

Sacred Heart Cathedral
March, 24, 2012
3/24/12
6:43
PM PT
By
Tim Haddock
| ESPNLosAngeles.com


SACRAMENTO -- For a time, it looked as if Alemany might run out of players before the final seconds ticked off in the CIF State Division III boys' basketball final on Saturday.

Two players fouled out, but Alemany coach Tray Meeks said he wasn't concerned about how many players had to sit out the final minutes.

The first to go was Jerico Richardson. Next was Bear Henderson. But Alemany persevered, as Meeks said, and won its first CIF state championship, 71-67, over Sacred Heart Cathedral at Power Balance Pavilion.

"We hate to lose them, don't get me wrong," Meeks said. "We have enough talent on this team to persevere. It shows the heart of this team."

Down eight points at halftime, Alemany (33-4) rallied in the second half to take a four-point lead in the third quarter. The Warriors outscored Sacred Heart Cathedral, 22-11, and went on a 12-2 run in the third quarter.

"We lost to a very good team, a team that didn't quit," Sacred Heart Cathedral coach Darrell Barbour said. "The third quarter was critical. The first half, I thought we were the better team. That's basketball. You have two halves to play."

Alemany took the lead on a dunk by Marqueze Coleman with 2:30 in the third quarter. It gave Alemany a 50-49 lead, erasing the eight-point, halftime deficit, and came in the middle of the 12-2 run to end the third quarter.

Coleman scored a game-high 27 points and had nine rebounds. He was 9-for-17 from the field and 7-for-9 from the free-throw line.

Alemany point guard Max Guercy hit a 3-pointer during the third-quarter rally. He finished with 19 points and eight rebounds.

"It was a tale of two halves," Meeks said. "These guys just played their hearts out the rest of the way. We played how we wanted to play."


March, 22, 2012
3/22/12
5:21
PM PT
By
Tim Haddock
| ESPNLosAngeles.com
Need more CIF state high school basketball banter? Time Warner Cable has a show set up to discuss the CIF State basketball championships.
Alemany of Mission Hills is taking on Sacred Heart Cathedral in the Division III boys' basketball championship on Saturday in Sacramento.
Village Christian from Sun Valley is making its first CIF state championship game appearance in the Division V final against St. Joseph Notre Dame from Alameda, the alma mater of
Jason Kidd
.
Mater Dei from Santa Ana is seeking its third CIF state championship in a row against Sheldon of Sacramento in the Division I final.
Here is a link to the show.
March, 21, 2012
3/21/12
11:21
AM PT
By
Tim Haddock
| ESPNLosAngeles.com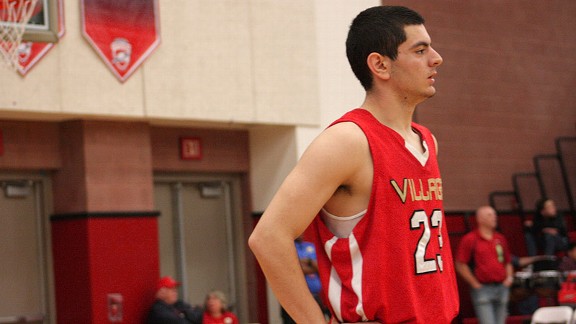 Tim Haddock / For ESPNLosAngeles.com
Joe Shashaty scored 10 points and was one of four players from Village Christian who scored in double figures against Renaissance Academy in the Southern California Regional Division V final.
Division I
Mater Dei of Santa Ana vs. Sheldon of Sacramento
Mater Dei (33-2) has a 20-game winning streak and hasn't lost since Jan. 7 to Gill St. Bernards from New Jersey. The Monarchs are the Southern Section Division 1A champions and won the Southern California Regional championship, 85-66, over the surprising Bullard team from Fresno. Mater Dei has won eight state championships and is in search of a record-setting ninth. Sheldon (29-5) has an 11-game winning streak and won the Sac-Joaquin Section Division 1 championship, 49-44, over Jesuit. Sheldon played Jesuit again in the Northern California Regional final and won 61-56, erasing a 17-point deficit in the second quarter.
Division III
Alemany of Mission Hills vs. Sacred Heart Cathedral of San Francisco
After losing its Mission League finale to Harvard-Westlake, Alemany (32-4) has won nine playoff games in a row, including the Southern Section Division 3A championship, 72-60, over Oak Park. The Warriors had to hold off St. John Bosco in the Southern California Regional Division III final, 62-61, to advance to their first state championship game in school history. Nevada-bound
Marqueze Coleman
scored 24 points against St. John Bosco and had 31 against Cathedral Catholic from San Diego in the Southern California Regional semifinal. Sacred Heart Cathedral (28-5), the top seed in the Northern California Regional playoffs, beat Bishop O'Dowd, 61-57, in the Division III championship game.
Josh Fox
scored 21 points and had 13 rebounds for Sacred Heart.
Taylor Johns
had a double-double as well with 15 points and 10 rebounds.