Los Angeles Preps:

Salamo Fiso
December, 20, 2011
12/20/11
5:55
PM PT
Here's an all-encompassing look at the top performers in south Los Angeles County for the 2011 prep football season.

MOST VALUABLE PLAYER

Troy Williams, Narbonne, Junior -– Williams was superb in managing Narbonne's no-huddle spread attack. He did it with his arm (3,247 passing yards, 34 touchdowns), he did it with his legs (587 yards, 11 scores), and he made the right decisions with the football. The junior quarterback guided the Gauchos to the City Section Division I title.

OFFENSIVE MVP

Robert Lewis, South East, Senior -– Opposing coaches schemed to stop Lewis but the electrifying tailback still averaged 10 yards per carry and amassed 2,023 yards and 30 touchdowns for the City Section Division II champs. Coach Derwin Henderson pegged him as the city's best all-around talent. Lewis has verbally committed to Southern Methodist.

DEFENSIVE MVP

Ellis McCarthy, Monrovia, Senior -– The mind-boggling numbers aren't quite there because the big guy faced double- and triple-teams on a weekly basis. Coach Ryan Maddox built his defense around the 305-pound defensive tackle and it paid off with Monrovia capturing its second straight Mid-Valley Division championship. McCarthy has offers from all over, including Cal, USC, Florida, Oregon and Washington.

SPECIAL TEAMS MVP

Jack Schneider, Charter Oak, Junior -– With 89 total points, Schneider was the region's top scorer among kickers. In 12 games he made 65 extra points for the Sierra League champions.

COACH OF THE YEAR

Manual Douglas, Narbonne –- By the end of the season, Douglas had his Gauchos playing as well as any team in the area. Narbonne finished 11-3 and reached its third City Section title game in the last four years. Douglas scheduled tough with games at Long Beach Poly and Tesoro, and the strategy paid dividends.

FIRST TEAM OFFENSE

QB – Steven Rivera, Arroyo, Sr. –- Rivera capped his stellar four-year stay at Arroyo by passing for 3,408 yards and 38 touchdowns, leading the Knights to the Mission Valley League title.

RB – Tray Boone, Narbonne, Sr. –- The shifty back rushed for six touchdowns in the City Section Division I title game to finish with 1,400 yards and 22 touchdowns. He did all of this in an offense that primarily throws the ball.

RB – Marquise Bias, Monrovia, Sr. -– The powerful Bias pounded his way to 260 yards and three touchdowns in the Mid-Valley Division title game, and finished with more than 1,500 yards for the season.

WR – Bryce Treggs, St. John Bosco, Sr. –- The Cal commit made Trinity League defenses look foolish, hauling in 11 touchdowns to go along with 1,377 receiving yards.

WR – Darreus Rogers, Carson, Sr. –- Rogers, a USC commit, was the City Section's leading receiver with 1,251 yards. He had a monster performance in the title game but it wasn't enough for the Colts.

WR – Alex Villalobos, San Gabriel, Sr. -– The slot-type Villalobos was the state leader with 2,001 receiving yards. He added 21 touchdowns for the Mid-Valley Division runner-up Matadors.

OL - Beau Leati, Narbonne, Sr. -- City Section coaches selected Leati as the lineman of the year and for good reason. He anchored a line that opened gaping holes for Boone and protected Williams.

OL – Lacy Westbrook, Dominguez, Sr. -– The UCLA commit was out when the Dons started the season with two losses, but his added a major spark to their ground attack.

OL – Beau Boyster, St. John Bosco, Sr. -– The Braves averaged more than 400 yards of offense per game and the Arizona commit was in the middle of it, with his protection of strong-armed Rene Medina.

OL – Gerrad Kough, Pomona, Sr. -– The Colorado commit spearheaded a Pomona running game that averaged more than 215 yards per game.

OL – George Castro, West Covina, Sr. -– West Covina was 25th in the state in rushing yards per game (332) and Castro was a big reason why.

PK – Mason Bryant, Monrovia, Jr. -– Bryant did it all for the back-to-back champion Wildcats as a receiver, defensive back and kicker, totaling 117 total points.

P - Conrad Ukropina, Loyola, Sr. –- Six of Ukropina's 25 punts were downed inside the 20-yard line, and he averaged 43 yards per punt, the best in the Pac-5 Division.

SECOND TEAM

QB – Travis Santiago, Charter Oak, Sr.
RB – Jimmy Frazier, West Covina, Sr.
RB – Kurt Scoby, Charter Oak, So.
WR – Richard Smith, Long Beach Poly, Sr.
WR - Antoine Anderson, Narbonne, Sr.
WR – Hunter Duran, Arroyo, Sr.
OL – Chase Eldredge, Palos Verdes, Sr.
OL – Chad Wheeler, Santa Monica, Sr.
OL – Justin Johnson, Dorsey, Sr.
OL – Alec Zenner, San Dimas, Sr.
OL – Nico Falah, St. John Bosco, Jr.
PK - Ret Tilman, Culver City, Sr.
P – Hayden Hunt, Long Beach Poly, Sr.

FIRST TEAM DEFENSE

DL – Demetric McKinney, West Adams, Sr. -– McKinney recorded a state-leading 26 sacks in only 12 games.

DL – Jeremiah Allison, Dorsey, Sr. -– Allison will be used as a linebacker in college but he was fierce coming off the three-point stance for Dorsey. Allison had 14 sacks for the Coliseum League champions, giving him 34 over his last two seasons.

DL – Jesse Ojeda, San Dimas, Sr. -– He only measures 5-feet, 7-inches but Ojeda was a force for the Saints, getting to the quarterback 17 times.

LB – Brett Walsh, Monrovia, Jr. -– Walsh was second in the entire Southern Section with 192 tackles, thriving behind McCarthy's havoc up front. He added eight sacks, and figures to garner attention during the offseason.

LB – Sergio Gonzalez, Ganesha, Jr. -– The outside linebacker led the Mid-Valley Division with 17 sacks.

LB – Nuoye Clemmons III, West Adams, Sr. -– Clemmons ranked second in the City Section with 146 tackles.

LB – Salamo Fiso, Long Beach Poly, Sr. -– The Arizona State commit spearheaded a strong Jackrabbits defense with 117 tackles.

DB – Kevin Page, Dorsey, Sr. -– Page intercepted six passes, including a big one on the road to clinch a victory at Alemany.

DB – Tyrone Taylor, Torrance, Sr. -– The Cal State Fullerton baseball signee had 190 tackles from the safety position.

DB – Shane Baumann, St. John Bosco, Sr. -– Baumann was in the middle of every defensive play, it seemed. He ranked fifth in the Pac-5 Division with 126 tackles and also had five interceptions.

DB – Mark Wright, Rolling Hills Prep, Sr. –- Wright had 10 interceptions in nine games, good for a tie for second place in the state.

SECOND TEAM

DL – Alonzo Williams, Long Beach Poly, Sr.
DL – Robbie Haines, Arcadia, Sr.
DL – Daniel Rios, Rosemead, Jr.
LB – Keishawn Haley, Culver City, Jr.
LB – Matt Rowe, Long Beach Poly, Sr.
LB – Jabari Ruffin, Downey, Sr.
LB – Thomas Brown, Gardena Serra, Sr.
DB – Trayvon Watson, West Adams, Sr.
DB – Gabriel Marks, Venice, Sr.
DB – Naijel Hale, Lakewood, So.
DB – Chris Solomon, West Covina, Sr.
September, 21, 2011
9/21/11
9:36
AM PT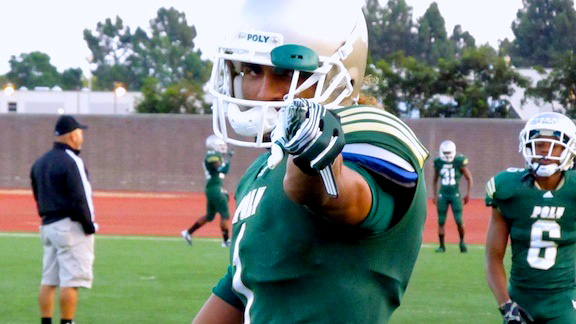 Blair Angulo for ESPNLA.comJosiah Blandin and the Long Beach Poly Jackrabbits still maintain their swagger despite some tough seasons by their standards.
Arrive at Veterans Stadium early enough and you'll hear rapper
Snoop Dogg
's ode to Long Beach Poly, his alma mater, loud and clear. It blares through the speakers as players, wearing brand-new uniforms provided by Snoop, bounce around the field in pregame warmups. The chorus is simple and catchy, to say the least:
Green and gold, together,
Lose to y'all? Never.
This eastside forever,
Long Beach Poly.
Some Poly players have the nearly five-minute-long track memorized, the others bob their heads as the beat builds between whistles and drills. Take one look around and you notice these Jackrabbits don't lack confidence. A pair of poor seasons in Long Beach -- a combined 15-8 record the last two years -- have done little to diminish their swagger.
"There's always something we've got to prove," senior receiver
Richard Smith
said.
Poly (3-0), the No. 2 team in the ESPN Los Angeles prep football Top 25 rankings, can make a loud statement Friday against powerhouse Mission Viejo, ranked No. 4. The Jackrabbits were dominated at home by the Diablos last season, 37-7, and coach
Raul Lara
hasn't let them forget it. He gathered his players after last week's 19-16 victory over visiting Narbonne, reminding them of last year's debacle.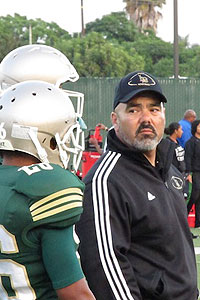 Blair Angulo/For ESPNLA.comPoly coach Raul Lara says his team is all about defense until the offense gets things going.
This squad's psyche isn't damaged, though, largely because its strong defense gives them a chance against
anyone
,
anytime
,
anywhere
.
"This is Poly High School," Lara said. "Poly's all about defense ... until our offense gets really clicking."
Balance makes Poly's unit difficult to scheme against. Looking to run between the tackles? You'll have to consider double-teaming senior defensive lineman
Alonzo Williams
, who is a handful up front. Planning to attack the edges? Physical linebackers
Salamo Fiso
and
Matthew Rowe
, both committed to Arizona State, are relentless in pursuit. Thinking about throwing the ball? Good luck against ASU-bound
Randall Goforth
, who has the speed and quickness to match up against the other team's best receiver.
Yet, in team sports especially, talent isn't enough.
Doubts about the Jackrabbits -- and whether or not they're truly back to elite status -- stem from their offensive struggles. And it isn't because of a shortage of weapons. Senior quarterback
Chaiyse Hales
had 18 touchdown passes last season and the ASU-bound tandem of Smith and
Josiah Blandin
are more-than-capable options at receiver. The ground attack has shown promise, too, with junior running backs
Manusamoa Luuga
and
Gerard Wicks
combining for more than 160 yards rushing per game so far.
For Lara, the challenge is getting the most from all facets in time for the Pac-5 Division playoffs. The defense appears be ready, the offense is a bit behind.
"Our defense goes really hard in practice," Smith said. "I expect them to stop teams all the time."
Friday night deep in Orange County, Lara and his 'Rabbits will get a better idea of how much they've improved. This much we do know: Poly has no troubles in the confidence department.
It's still green and gold, together.
Blair Angulo covers preps for ESPN Los Angeles. Follow him on Twitter.
August, 29, 2011
8/29/11
8:36
PM PT
By
Sean Ceglinsky
| ESPNLosAngeles.com
With regard to the No. 1 team in the ESPNLosAngeles.com rankings, plenty of consideration was given to Long Beach Poly. The roster, after all, is absolutely loaded with talent. This group is set up for success. You'll find a college-bound player at most every important position.
Then again, what else is new? The Jackrabbits are seemingly always stacked.
Looking good off the field, on paper as they sometimes say, and delivering a finished product on the field are two different stories. Nothing is given, Long Beach Poly must prove itself.
Here's a closer look at the Jackrabbits.
Team:
Long Beach Poly
Coach:
Raul Lara, 11th year.
2010 Record:
8-3, lost in first round of CIF-Southern Section Pac-5 Division playoffs.
Returning starters:
13 total. Seven on offense. Six on defense
Key players on offense:
WR Richard Smith (Arizona State), WR Josiah Blandin (Arizona State), WR Randall Goforth (Arizona State), QB Chaiyse Hales, TE Bradford Carter.
Key players on defense:
LB Matthew Rowe (Arizona State), Salamo Fiso (Arizona State), LB Jeremy Lutali, DL Jason Fao, DB Jeff Turley, DB David Price.
Difference maker:
All the pressure is on Hales, whether he likes it or not. The 5-foot-10, 200-plus pound senior has loads of talent surrounding him, namely three Division I caliber receivers to catch his passes. When it comes to getting the job done, there should not be any excuses here, especially if his offensive line holds up. Hales appears poised for a breakout effort.
Newcomers:
WR John Smith, WR Thomas Tucker.
Not to be missed:
at Mission Viejo, Friday, Sept. 23. This nonleague showdown with the Diablos, who figure to be ranked among the ESPNLosAngeles.com top 10 programs at the time, is the final tuneup for the Jackrabbits before the embark on Moore League play. A victory will provide a much-needed boost of momentum, perhaps enough to propel a prolonged postseason run.
Coach's comment:
"We started to re-evaluate things around here recently. It was something that needed to be done because we've had some of our seasons end earlier than we would have liked. We think we fixed the problems. We changed the atmosphere. Everyone is more committed now. The kids have responded and that's a good thing because we're setting the bar high.''
Final analysis:
It's difficult to imagine opponents being able to contain Smith, Blandin and Goforth for a sustained period of time. At some point, odds are, one of the wideouts is going to get loose and make a game-changing play. With that type of threat on the offensive side of the ball, the Jackrabbits figure to have a chance of winning each game they are in once the fourth quarter rolls around. If the defense holds up its end of the bargain, Long Beach Poly could contend for a title.
Sean Ceglinsky covers preps for ESPNLosAngeles.com. Follow him on
Twitter
.