Los Angeles Preps:

Salesian
March, 23, 2012
3/23/12
6:09
PM PT
By
Tim Haddock
| ESPNLosAngeles.com
SACRAMENTO -- Kelsey Plum tied a CIF Division IV championship game record with five 3-pointers in La Jolla Country Day's 72-41 blowout win over Salesian in the CIF State girls final at Power Balance Pavilion on Friday.

She scored 32 points, was 10-of-24 from the field and shot 45 percent from 3-point territory, hitting 5-of-11 3-pointers.

Teammate Maya Hood scored 19 points and had 13 rebounds for Country Day which won its third CIF state championship.

Plum tied the record for 3-pointers set by Country Day's Candice Wiggins in 2004. Mary Mott from Mission Prep in San Luis Obispo holds the CIF state record with six 3-pointers in the 1996 Division V championship game.

Mariya Moore scored 19 points for Salesian.
March, 23, 2012
3/23/12
5:06
PM PT
By
Tim Haddock
| ESPNLosAngeles.com


SACRAMENTO -- The Salesian boys' basketball team started out a little sluggish, but came away with the CIF State Division IV championship at Power Balance Pavilion on Friday afternoon.

Down 16-10 in the first quarter, Salesian came alive in the second quarter to take a one-point lead at halftime, build a double-digit lead in the fourth quarter and went on to win, 70-56, over Price.

Salesian from Richmond (34-2) won its second CIF state championship and was making its second state final appearance in a row. The Pride lost to Windward in last year's CIF State Division IV final. Coach Bill Mellis said playing in the championship game last year helped his players prepare for this year's game.

"All week long, we knew what we were up against," Mellis said. "We knew whoever came out of the south was going to be a tough challenge. The first half, they were getting the best of us."

Price (27-8), the No. 16 team in the ESPN Los Angeles rankings, took advantage of its size in the first half and outrebounded Salesian, 22-17. Second-chance points helped Price build an early lead. Price had 16 offensive rebounds to Salesian's nine.

But Salesian went to a zone defense and was able to keep Price off the boards in the second half, evening out the rebounds.

Price couldn't make free throws either. The Knights were 14-for-32 from the free-throw line. Salesian wasn't much better at 50 percent (14-for-28). When asked to comment on his team's free-throw shooting in the game, Price coach Michael Lynch responded, "Do I have to?"

Not only did Price shoot 44 percent from the free-throw line, the Knights missed the front ends of one-and-ones and a few technical free throws.

"That's how you get behind," Lynch said. "I don't know what happened tonight."

Salesian's Jabari Bird scored a game-high 24 points and was 10-of-16 from the field. Teammate Jermaine Edmonds was the only other player in double figures. He scored 10 points off the bench and played the fourth quarter with four fouls.

Khalil Johnson led Price with 17 points and was one of three players in double figures for the Knights. Trey Dickserson scored 15 points and Skylar Spencer had 14 points and nine rebounds.

Salesian capped a 27-game winning streak with the CIF state championship.
March, 21, 2012
3/21/12
11:21
AM PT
By
Tim Haddock
| ESPNLosAngeles.com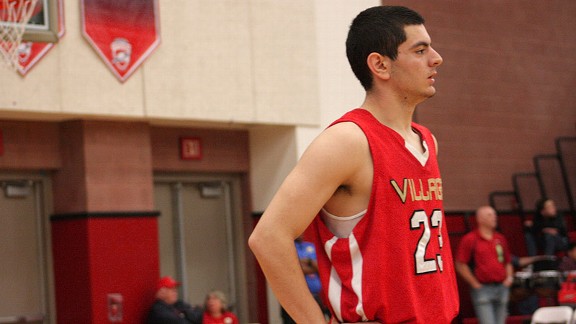 Tim Haddock / For ESPNLosAngeles.com
Joe Shashaty scored 10 points and was one of four players from Village Christian who scored in double figures against Renaissance Academy in the Southern California Regional Division V final.
Division I
Mater Dei of Santa Ana vs. Sheldon of Sacramento
Mater Dei (33-2) has a 20-game winning streak and hasn't lost since Jan. 7 to Gill St. Bernards from New Jersey. The Monarchs are the Southern Section Division 1A champions and won the Southern California Regional championship, 85-66, over the surprising Bullard team from Fresno. Mater Dei has won eight state championships and is in search of a record-setting ninth. Sheldon (29-5) has an 11-game winning streak and won the Sac-Joaquin Section Division 1 championship, 49-44, over Jesuit. Sheldon played Jesuit again in the Northern California Regional final and won 61-56, erasing a 17-point deficit in the second quarter.
Division III
Alemany of Mission Hills vs. Sacred Heart Cathedral of San Francisco
After losing its Mission League finale to Harvard-Westlake, Alemany (32-4) has won nine playoff games in a row, including the Southern Section Division 3A championship, 72-60, over Oak Park. The Warriors had to hold off St. John Bosco in the Southern California Regional Division III final, 62-61, to advance to their first state championship game in school history. Nevada-bound
Marqueze Coleman
scored 24 points against St. John Bosco and had 31 against Cathedral Catholic from San Diego in the Southern California Regional semifinal. Sacred Heart Cathedral (28-5), the top seed in the Northern California Regional playoffs, beat Bishop O'Dowd, 61-57, in the Division III championship game.
Josh Fox
scored 21 points and had 13 rebounds for Sacred Heart.
Taylor Johns
had a double-double as well with 15 points and 10 rebounds.
January, 20, 2012
1/20/12
11:47
PM PT
Gardena Serra (18-2) improved to 4-0 in Del Rey League play Friday night with a resounding 70-29 victory against Pasadena La Salle. Kajon Mack had 16 points, Dakarai Tucker had 12 and Ellis Salahuddin had 11 for the Cavaliers.

Serra hosts the Cavalier Classic on Saturday. The schedule:

12:30 p.m. - Locke vs. Salesian
2:00 p.m. - Hawthorne vs. Fremont
4:00 p.m. - Cantwell-Sacred Heart (18-2) vs. Renaissance Academy (16-2)
6:00 p.m. - Serra (18-2) vs. San Diego Hoover (19-2)
8:00 p.m. - Leuzinger (15-4) vs. Price (13-5)
January, 13, 2012
1/13/12
9:28
PM PT
There's a strong lineup scheduled to play in Saturday's Johnnie Cochran Basketball Classic at LACES, including Gardena Serra (15-1) taking on Los Angeles Price (11-5) in the headliner.

Among the teams competing in the all-day event: Brentwood (12-3), Fresno Central (12-3), Dorsey (14-5), LACES (16-6), Pacific Hills (14-3) and Renaissance Academy (14-2).

The full schedule:

10:00 a.m. - Salesian vs. LACES
11:30 a.m. - Diamond Ranch vs. Beverly Hills
1:00 p.m. - Las Vegas Legacy vs. Dominguez
2:30 p.m. - Las Vegas Durango vs. Dorsey
4:00 p.m. - Renaissance Academy vs. Brentwood
5:30 p.m. - Fresno Central vs. Washington Prep
7:00 p.m. - Ribet Academy vs. Pacific Hills
8:30 p.m. - Gardena Serra vs. Price
November, 28, 2011
11/28/11
4:44
PM PT
By
Tim Haddock
| ESPNLosAngeles.com


1. After a shaky first-round playoff game against Redondo, St. Bonaventure left no doubt in the quarterfinals against Canyon. The Seraphs, the third-seeded team in the Southern Section Northern Division playoffs, eliminated Canyon from the playoffs for the second year in a row and will face Oaks Christian, the reigning Northern Division champion, in the semifinals. The last time St. Bonaventure and Oaks Christian met was in the second week of Marmonte League play. Oaks Christian won 36-24, but the game was not without controversy. The lights went out at the Oaks Christian football stadium during a punt in the second half. St. Bonaventure was rallying and was about to take over possession. The lights went out at the stadium while the punt was in the air and the ball was downed on the St. Bonaventure one-yard line. Not only did St. Bonaventure have terrible field position to start its next drive, the game was delayed for nearly 30 minutes to restore the lights. St. Bonaventure's Montre Lee and Patrick Kenney, who each scored key touchdowns against Canyon, said a rematch with Oaks Christian has been a motivating factor for the team. But St. Bonaventure might not be at 100 percent. Running back Shaun Wick has been limited because of a calf injury in the two playoff games. He was the team's leading rusher after the first 10 games but has only carried the ball four times in the last two games. He did not have a carry against Redondo and gained 57 yards, including a 45-yard touchdown, in four carries against Canyon. While Wick has been sidelined, freshman Marcus Chambers has emerged as an effective back in the playoffs. He rushed for 47 yards and scored a touchdown against Redondo. He had 41 yards in eight carries against Canyon. He's also a player that Oaks Christian hasn't seen, so St. Bonaventure might have a bit of a surprise factor in the rematch.

2. On the other side of the Northern Division playoff bracket is Westlake, the newly dubbed No. 1 team in the ESPN Los Angeles Top 25 rankings, against a depleted Thousand Oaks team. It's an all-Marmonte League final four. Westlake is undefeated and has outscored its two playoff opponents, Eastside and Hart, 101-26. Thousand Oaks coach Mike Leibin said only 38 players dressed for last week's playoff game against Moorpark. The Lancers have won three games in a row, but the two playoff games have been challenging. Thousand Oaks traveled to Quartz Hill in the first round and beat the Rebels, 20-7. Against Moorpark, the Lancers needed two fourth-quarter touchdowns to beat the Musketeers, 21-14. If Thousand Oaks is to have any chance of pulling an upset over Westlake, the team will need big games out of Blake Howell and Nathan DeBeikes. Howell caught four passes for 133 yards and two touchdowns against Moorpark. DeBeikes rushed for 106 yards, taking all 26 carries for Thousand Oaks, and scored a touuchdown. Westlake, on the other hand, has a multitude of offensive weapons. The Warriors scored 28 points in the second quarter against Hart en route to a 42-14 win. Running back Dashon Hunt scored three touchdowns against Hart. Receiver Connor Cook caught two touchdown passes. Jarius Bishop scored a touchdown and rushed for 30 yards.


November, 13, 2011
11/13/11
4:34
PM PT
Defending division champion Bishop received the top seeding Sunday, fulfilling the preseason projections of the CIF-Southern Section poll. Here's a breakdown of the division:
The seeds:
No. 1 Bishop, No. 2 Rio Hondo Prep, No. 3 Boron, No. 4 Salesian.
Best first-round matchup:
Kern Valley (8-2) at Saddleback Valley Christian (9-1) -- Both teams will try to run the ball. Valley Christian, which averages more than 300 rushing yards per game, will have the advantage.
Toughest road:
No. 3 Boron (7-2) -- The lower bracket appears lethal, with six of the eight teams having at least seven wins to their name. Boron has a chance, but it will be tough.
Potential shocker:
Salesian vs. Bishop, semifinal round -- Salesian quarterback
Jihad Vercher
passes for more than 200 yards per game for an offense that averages 42.8 points. Bishop scores 44.2 on average behind dual-threat signal caller
Chance Callahan
.
Darkhorse:
No. 4 Salesian (8-2) -- The Mustangs put up 78 points in the finale. A team capable of such an output is considered dangerous.
Final analysis:
Given the distance between competing schools, long road trips might make for stiff legs and high-scoring games. Teams playing at home will have the advantage, but it will be the defenses that will decide this division.
Championship prediction:
Bishop vs. Rio Hondo Prep -- They say defense wins championships and these two have the best units in the bracket. That will go out the window in the title game. Final score: Bishop 42, Rio Hondo Prep 38.
Link to the Northeast Division bracket on CalPreps.com
August, 16, 2011
8/16/11
2:51
PM PT
By
Tim Haddock
| ESPNLosAngeles.com
Fulton Prep in Van Nuys, considered one of the top small-school football programs in the CIF City Section, has cancelled its season, according to a report in the Daily News.
Fulton Prep coach
Sean Jackson
told the
Daily News
his roster went from 40 players to 18 because some of the players were academically ineligible or injured.
A couple of athletes from Montclair Prep, which eliminated its sports programs because of budget constraints, have landed at neighboring schools in the San Fernando Valley and Southern California.
Amonte Dees
, a senior guard, has enrolled at Cleveland High School in Reseda, according to the Daly News.
Forward
Amir Lugo-Rodriguez
has enrolled at Salesian.
Follow Tim Haddock on Twitter
@thaddock
.
March, 26, 2011
3/26/11
2:36
PM PT



SACRAMENTO -- Windward basketball coach Miguel Villegas had done his best to maintain composure in the interview room at Power Balance Pavilion, answering questions with a stern look while his players smiled and giggled.

After five minutes, he could no longer fight the tears.

Villegas broke down, dedicating the Wildcats' 63-57 victory over Richmond Salesian in the CIF State Boys Division IV championship to Daniel Tan, a former Windward player who died in January of multiple sclerosis. Windward took turns carrying a sewn portrait of Tan, an avid supporter who graduated in 2007. The Wildcats captured their second state title in three years.

"There's nothing that we can't accomplish," Villegas said. "I think these kids definitely did that this year."

Harvard-bound forward Wesley Saunders led the way with 15 points and nine rebounds, but he didn't do it alone. Three other Windward (27-8) players scored in double figures: Nick Stover and Luke Silverman-LLoyd each had 13, Charles Dawson had 12.

The Wildcats' biggest lead was nine, early in the fourth quarter, following an emphatic dunk by Saunders. But he was called for a technical foul after saluting the Windward student section on his way back to the other end. Salesian (26-12) cut the deficit to three, but Stover's three-pointer with 1:23 left gave the Wildcats a nice cushion.

"It was kind of a dagger play," Salesian coach Bill Mellis said.

Windward's zone defense held Salesian to 34-percent shooting (21 for 62), including just five for 22 from beyond the arc. Jabari Bird, one of the top guards in the 2013 class, had a game-high 23 points, but Windward limited 310-pounder Freddie Tagaloa, a highly touted offensive lineman, to just six.

"I thought it was a good zone," Mellis said. "Windward is long, active and able to cover a lot of ground. I also thought they did a good job of taking away our inside game."
March, 25, 2011
3/25/11
4:12
PM PT
CIF STATE BOYS DIVISION IV

Matchup: Windward (26-8) vs. Richmond Salesian (25-11), Saturday, 11:15 a.m.

How they got here: Windward: beat Buckley, 76-55; Washington Union, 80-57; Oaks Christian, 58-52 to win the Southern California Regional.

Salesian: beat Orland, 68-20; Santa Cruz, 85-66; St. Mary's, 59-53 to win the Northern California Regional.

Key Players: Harvard-bound Wesley Saunders leads Windward with averages of 20.2 points and 10 rebounds. He, along with forward Nic Stover, the brother of UCLA center Anthony Stover, create a potent tandem up front. Salesian has been rolling ever since top player Jabari Bird was reinstated. He had been deemed ineligible due to a paperwork violation.

What to expect: These teams have been here before, so the butterflies should disappear quickly. Salesian is much better than the 25-11 record indicates. Salesian had to forfeit 16 wins before when Bird was ruled ineligible, then regained six of them upon his return. So really, Salesian is 35-1 as it chases its second state crown in three years (also won in 2009, beating Bishop Montgomery, 65-64). Windward has a state championship in its trophy case, too, ousting St. Joseph Notre Dame, 69-53, in 2009.
March, 12, 2011
3/12/11
8:39
PM PT
By
Scott French
| ESPNLosAngeles.com
Mark Johnson
couldn't have been happier with the way his Salesian High School boys' soccer team performed in the first half of their Southern California Regional Championship title-game clash Saturday.
He even used the "B" word. As in "Barcelona."
"That's what we talk about," Johnson said after the Mustangs captured their third Division III regional title in four seasons with 4-1 romp over San Diego's Francis Parker at Warren High School in Downey. "When we got to the half, we said, 'You know, we played like Barcelona that half. Let's keep it up."
Salesian (19-3-4) did keep it up, dominating their bigger foes with a possession game that led to dozens of chances.
Salesian, which has played in all four Division III finals and is the only school with more than one regional championship, went ahead on an eighth-minute own goal (with Parker's
Patrick Barba
superbly heading
Jose Avila
's free kick into his net), built a 3-0 advantage on strikes by
David Manrique
in the 27th and
Giovanni Reynaga
in the 43rd, then capped the triumph with
Ricardo Cardenas
' 60th-minute finale.
"We knew if we kept the ball on the ground and played our style of soccer, that we could take over the game, and I think from start to finish we really did that ...," said Johnson, who guided Salesian to the Southern Section Division 4 semifinals this season after winning three of the previous four Division 5 championships. "We lost a lot from last year's [regional winner], and I think at the beginning of the season we didn't expect to be back here, but we kept getting better and better as the year wore on.
"Today I thought we played some of our best soccer of the season."
They did so missing two starters, with only two seniors in the first XI and with diminutive playmaker
Gerardo Soto
-- "One of the best talents I've ever coached," Johnson says -- off the field much of the match with an injury. Both forwards and the entire starting defense will be back next year, and three starting backs return again the following season.
"It looks like the future will be bright, but we take it year to year …," Johnson said. "I always say I've got one of the easiest coaching jobs in soccer, because I've got so much talent on my team every year. All that talent really adds up and makes us a really dominant team."
In all, Southern Section teams won four of six regional titles, with San Diego schools capturing the other two. Since the first regional tournaments were held in 2008, Southern Section schools have won 18 of 24 championships.
In another final Saturday:
GIRLS DIVISION I
Torrey Pines (San Diego) 5, Bullard (Fresno) 2
UCLA-bound forward
Kylie McCarthy
scored four goals and
Katherine Trees
converted a penalty kick for her 28th goal of the season as the Falcons (23-2-4) gave the San Diego Section its first Division I title, boys or girls.
McCarthy scored in the seventh, 37th, 52nd and 56th minutes as Torrey Pines, San Diego's Division I champ, overcame two first-half deficits after defensive miscues provided Central Section champ Bullard (25-4-1) third- and 27th-minute goals.
January, 20, 2011
1/20/11
11:05
AM PT
By
Dan Arritt
| ESPNLosAngeles.com
1. Etiwanda (18-0, 3-0) at Rancho Cucamonga Los Osos (13-5, 2-1), Friday, 6:30 p.m. – Upland was expected to provide Etiwanda's biggest obstacle in its run to another Baseline League title, but Los Osos threw its name in the hat last week by knocking off the Highlanders, 68-63.

2. Eastvale Roosevelt (11-4, 6-0) at Corona Centennial (15-3, 6-0), Thursday, 7:30 p.m. – The Mustangs don't have any player averaging more than 12 points a game, but they're allowing just under 45 points a game as a team. Centennial is averaging just under 80 points, so something has to give.

3. Montclair (15-2, 4-0) at Ontario Colony (10-7, 4-0), Friday, 6:30 p.m. – Colony has won 54 consecutive Mt. Baldy League games, but the Titans will need to play a solid all-around game to get to 55. Montclair is riding a 10-game winning streak.

4. Rialto Eisenhower (11-6) vs. Richmond Salesian (16-1) at University of LaVerne, Saturday, 3:30 p.m. – Salesian is the top-ranked team in the Bay Area and one of the top teams in the state, but the Pride is coming off a 57-54 upset loss Wednesday against Alameda St. Joseph.

Looking ahead:

Fontana Summit at Riverside Patriot, Tuesday, 6:30 p.m.

Paloma Valley at Elsinore, Tuesday, 6:30 p.m.

Chino Hills Ayala at Chino Hills, Wednesday, 6:30 p.m.

Citrus Hill at San Jacinto, Wednesday, 6 p.m.

Chaparral at Murrieta Valley, Wednesday, 7 p.m.
January, 14, 2011
1/14/11
10:56
PM PT
By
Dan Arritt
| ESPNLosAngeles.com


REDLANDS — Keyon Sayles picked a good time to have the best game of his high school basketball career.

Sayles, a 6-foot-3 senior guard for Rialto Eisenhower, made seven three-point baskets and scored a career-high 37 points Friday night, leading the Eagles to a 96-78 victory against host Redlands East Valley in a key Citrus Belt League game.

"That was by far his best game of the year," said Eisenhower coach Steve Johnson. "He shot the ball really well. When he gets on a streak he can put it down. He can play with anybody."

Eisenhower improved to 10-6 overall, including 2-0 in league play. The Wildcats fell to 14-4, 1-1.

Sayles, a second-team all-Citrus Belt League selection last season, was overshadowed a year ago by teammates Alex Varner, the CBL most valuable player, and first-teamers Bryan Bock, Kirby Gardner and Bernard Ireland.

The Eagles went 29-6 last season and beat Pasadena for the Southern Section Division 2A title.

"He has been our team for three years, but he's never been the go-to guy," Johnson said of Sayles. "He has had some 20-point games but never where we run some [offense] through him."

Sayles made two three-pointers in the opening quarter as Eisenhower surged to a 30-19 lead. The Eagles extended their lead to 15 at the half and maintained a 17-point advantage heading into the fourth quarter.

Marvelle Harris contributed 27 points and Toriano Harris had 15 for Eisenhower, the four-time defending league champions.