Los Angeles Preps:

San Andreas League
February, 16, 2012
2/16/12
4:30
PM PT
By
Dan Arritt
| ESPNLosAngeles.com
With the best Inland Empire boys' basketball teams placed in the top four divisions of the Southern Section playoffs, here's a rundown of what to look for beginning with Friday's first-round games.

DIVISION 1AA

Background: The Inland Empire is well known in this division. The region has sent a representative to the championship game the last three years. Long Beach Poly beat Corona Centennial last season, Mater Dei toppled Etiwanda the year before and Riverside King upset Mater Dei in 2009.

Best Shot: If third-seeded Etiwanda is to continue that trend, the Eagles will likely need to find a way to beat second-seeded Long Beach Poly. They lost to the Jackrabbits in the Division 1AA semifinals last season and again nine days later in the second round of the SoCal Regional playoffs. There are few high school coaches who squeeze more out of their players than Dave Kleckner at Etiwanda, however.

Best first-round game: Highland at Silverado. A good old- fashioned high desert showdown as 11th-seeded Silverado brings a 16-game winning streak into the postseason. The Hawks will need to find a way to slow Highland senior guard Joseph Prince, who is averaging 23.4 points. Prince, who played the last two seasons at Glenbrook North High in Northbrook, Ill., scored a season-high 37 points in the regular-season finale last week against Lancaster.

Darkhorse: Rancho Verde didn't land on the same side of the bracket as top-seeded Mater Dei, so that can already be considered a victory. In the last three seasons, the Mustangs lost all four postseason meetings against Mater Dei, with three losses in the section playoffs and another in the SoCal Regionals. Rancho Verde is seeded 10th and drew a good challenge in the opener against visiting Montclair. A possible second-round game against seventh-seeded Eisenhower looms.

DIVISION 1A

Background: A team from the I.E. has qualified for the semifinals in this division the last three seasons, Redlands East Valley a year ago, Colony in 2010 and Chino Hills in 2009. In the last final appearance by an I.E. team, Riverside King beat Etiwanda in the 2008 championship game at Honda Center.

Best Shot: The I.E.'s streak of semifinalists could be in serious jeopardy. The highest-seeded teams in this division are No. 7 Chino Hills and No. 10 Vista Murrieta, and they would meet in the second round should they win their openers. The good thing is, one I.E. team would be guaranteed a trip to the quarterfinals.

Best first-round game: Corona at Arroyo Valley. Both these teams have held their own against good competition this season. Corona tied for fifth in the highly competitive Big VIII League and Arroyo Valley finished runner up in the San Andreas League, losing both games to league champion Cajon by a combined six points.

Darkhorse: Vista Murrieta has shown it can reach up and bite a good team if they're not paying attention. The Broncos beat Murrieta Valley by 13 points in a Southwestern League game last month and the Nighthawks are seeded third in Division 2A. Davin Guinn, a 6-5 senior forward for Vista Murrieta, is one of the top players in the division. He matched his season high with 32 points in the rematch against Murrieta Valley last week.


August, 16, 2011
8/16/11
10:02
PM PT
By
Dan Arritt
| ESPNLosAngeles.com
SAN ANDREAS LEAGUE

Last season's results: San Bernardino Cajon (10-3, 7-0); San Bernardino San Gorgonio (7-5, 6-1); Colton (11-3, 5-2); Rialto Carter (6-4-1, 4-3); San Bernardino Arroyo Valley (4-6, 3-4); Rialto (5-5, 2-5); San Bernardino (3-7, 1-6); San Bernardino Pacific (0-10, 0-7).

Players to watch: The San Andreas League made a strong impression during last season's SS-Central Division playoffs, finishing 6-3 and sending two unseeded teams to the semifinals, including eventual champion Colton. While the Yellowjackets will need to replace most of their leaders, the SAL features a busload of other returning talent. The most decorated athlete is Damontae Kazee of Cajon, a first-team all-league selection as a wide receiver and defensive back last season, and an all-Central Division selection on offense. Kazee committed to Washington last spring. Rialto and San Gorgonio also have a strong group of returners. Tyler Telphy of Rialto is the league's top returning rusher after totaling 970 yards and seven touchdowns last season. He'll be joined on offense by fellow first-team all-league offensive lineman Julian Ramos. On defense, Bernabe Orozco had 11 sacks for the Knights last season, and junior defensive back Bryan Davis had four interceptions. Rialto will also feature one of the top kickers in the I.E., senior John Pena, an all-Central Division pick. San Gorgonio features a returning all-Central Division player in wide receiver Brandon Charles, and running back Jamie Snowten made great strides in the second half of last season. On defense, the Spartans will lean on defensive end Ryan Hunter-Simms, who produced 13 sacks en route to making last season's all-Central Division squad. Hunter-Simms won a SS-Masters meet title in the discus last spring and finished third in state. Pacific went winless last season but should improve with the return of 6-5 senior receiver Haneef Hill, a first-team all-leaguer, as well as a number of other players with varsity experience. Another player to watch is Kris Brown of Carter, who swiped five interceptions last season.

Projected order of finish: San Gorgonio, Cajon, Rialto, Colton, Carter, Pacific, Arroyo Valley, San Bernardino.

Key games: Sept. 2 – Cajon @ Temecula Chaparral, San Bernardino @ Upland; Sept. 9 – San Gorgonio @ Moreno Valley Rancho Verde, Rialto @ La Quinta, Colton vs. Riverside North @ Riverside College, Arroyo Valley @ Palm Springs; Sept. 16 – Fontana Kaiser @ Cajon; Sept. 22 – Colton vs. Fontana Summit @ Fontana A.B. Miller HS; Sept. 30 – Rialto @ Colton; Oct. 7 – San Gorgonio @ Cajon; Oct. 21 – Cajon @ Rialto; Oct. 28 – Colton @ Cajon; Nov. 4 – Rialto @ San Gorgonio; Nov. 10 – San Gorgonio @ Colton.

Alumni in the NFL: Jimmy Smith, Baltimore Ravens (Colton '06); Shareece Wright, San Diego Chargers (Colton '06); Allen Bradford, Tampa Bay Buccaneers (Colton '06); Lonyae Miller, Dallas Cowboys (Rialto/Fontana Kaiser '06).

Fast fact: Three players who were seniors on the 2006 Colton team were selected in the NFL draft in June, the most players from the same high school in this year's draft. Jimmy Smith, a cornerback out of Colorado, is a safe bet to make the Baltimore Ravens. Shareece Wright, a cornerback out of USC, is in camp with the San Diego Chargers, and college teammate Allen Bradford is trying to secure a back-up running back role with Tampa Bay.

On the clock: Southwestern League.
November, 22, 2010
11/22/10
4:09
PM PT
By
Dan Arritt
| ESPNLosAngeles.com
1. The Baseline League went 3-0 in Inland Division play Friday night, while the Citrus Belt League was 0-3. The biggest upset victory in the division belonged to Etiwanda, the third-place team from the Baseline, which defeated CBL champion Redlands East Valley, 21-16. The Eagles have been forced to outscore teams this season because its defense had allowed an average of 35.6 points coming into the playoffs. The defense came through against REV, however, returning a fourth-quarter fumble 100 yards for a touchdown, stretching its lead to 21-10.

2. What a day for Ifo Ekpre-Olomu of Chino Hills. He began Friday by committing to play for Oregon, then went out that night and scored four touchdowns in a 70-42 victory against Corona in an Inland Division first-round game. Ekpre-Olomu had two touchdown runs of six yards, another for 53 and a 100-yard kickoff return for a score. As lopsided as the final score appears, the Huskies led only, 49-42, heading into the fourth quarter.

3. A more impressive fourth-quarter surge was delivered Friday night by Riverside La Sierra in a 54-49 loss to Palm Springs in a Central Division first-round game. The Eagles scored 32 points in the final quarter, turning a laugher into a nail-biter. "I started the night 57 years old and I ended it 83," Palm Springs coach Steve Fabian told the Desert Sun after the game. Fabian decided to rest star running back Nephi Garcia after taking a 37-point lead and nearly regretted it.


November, 4, 2010
11/04/10
2:42
PM PT
By
Dan Arritt
| ESPNLosAngeles.com
ESPNLA
finally gets to sort out the question for ourselves.
Just how good is Fontana Kaiser?
We hope to find out Friday night beginning at 7 p.m., when the Cats, ranked No. 15 in the Southland
by ESPNLA
, host Fontana Summit in a battle for first place in the Sunkist League.
Looking at Kaiser's results this season and it's clear there's something special under the hood.
The Cats (8-0, 3-0) shutout San Bernardino Cajon, 35-0, on Sept. 24. Cajon is ranked No. 5 in the Central Division and sits in sole possession of first place in the San Andreas League. A week later, they blew out No. 8 Palm Desert, 48-0, and prior to that shut out Big VIII League member Riverside North, 28-0.
Summit (6-1-1, 3-0) has been more streaky this season, but has the talent to make a run at Kaiser.
The SkyHawks opened the season with an impressive 42-35 victory against Etiwanda, then tied Redlands, 24-24, despite missing its best player,
Devon Blackmon
, due to an ankle injury. Blackmon, who plays defensive back and rotates among the skill positions on offense, is the
third-highest rated
recruit in the Southland by ESPNLA.
The SkyHawks were at full strength Oct. 1 against Victorville Silverado, but lost, 20-18, knocking them from their perch in the Eastern Division. Now that spot is occupied by the Cats, with Summit down at No. 4.
Three more to see:
La Quinta (7-1, 3-0) at Palm Springs (7-1, 3-0), Friday–This game has settled the Desert Valley League championship the last two seasons and this year appears no different. La Quinta defeated the Indians, 44-22, last season, but Palm Springs went on to win its first Southern Section title. La Quinta is ranked No. 2 in the Central Division, Palm Springs is No. 3. ESPNLA.com's pick: La Quinta 24, Palm Springs 17.
October, 11, 2010
10/11/10
8:00
AM PT
By
Dan Arritt
| ESPNLosAngeles.com
1. After an upset-filled weekend in the Big VIII League, only two of the eight teams remain unbeaten in league play. Corona Centennial and Corona are each 2-0, followed by Norco, Eastvale Roosevelt, Corona Santiago and Riverside King at 1-1. With only four teams receiving automatic qualifying berths into the Inland Division playoffs, the four teams tied for third are quickly facing must-win situations this week. The same goes for the eight-team San Andreas League, which is part of the Central Division. Colton and San Bernardino Cajon are 2-0, followed by four teams at 1-1.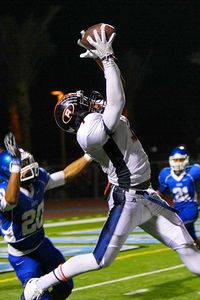 Courtesy of Paul Moureaux
Eastvale Roosevelt receiver Sam Boyd goes up for a catch Friday night during a 24-21 upset against host Norco in a Big VIII League game.
2. Payback was the theme in the Mt. Baldy League. Ontario ended a six-game losing streak against host Ontario Chaffey with a resounding 38-14 victory Thursday night in what is dubbed the annual Cat Bowl.
Joseph Davis
returned the opening kickoff for a touchdown and later caught a 72-yard scoring pass to lead the way for Ontario. The following night, Montclair ended a three-game losing streak to Chino Don Lugo with a 17-13 victory at Don Lugo.
3. Defensive effort of the week goes to Menifee Paloma Valley, which limited high-scoring Bloomington to just 151 total yards in a 38-14 victory Friday night at Bloomington, including only eight yards in the second half. The Bruins came in averaging 266 yards and 30 points a game.
Fahad Al-waiely
, a 5-foot-6, 190-pound linebacker, led Paloma Valley with 11 tackles and linebacker
Caleb Ennis
had seven tackles and 1 ½ sacks.