Los Angeles Preps:

San Diego State
June, 5, 2012
6/05/12
6:29
PM PT
Right-handed pitcher Chase DeJong of Long Beach Wilson was selected 81st overall by the Toronto Blue Jays on Tuesday in the second round of the MLB Draft.

DeJong, a USC signee, has some family history with the Blue Jays. His older cousin, Jordan DeJong, played briefly with Toronto in 2007. DeJong was 4-3 with a 0.82 ERA and 103 strikeouts in 76 2/3 innings in his senior season at Wilson.

Joe Muñoz, a shortstop from Los Altos who has signed with San Diego State, went 90th overall to the Arizona Diamondbacks.

Tyrone Taylor of Torrance was picked 92nd overall by the Milwaukee Brewers. Taylor, an outfielder who also starred on the gridiron, is a Cal State Fullerton signee.

Bishop Amat infielder Rio Ruiz, a two-sport star who was projected as a possible first-round selection before a blood clot sidelined him for most of his senior season, was taken by the Houston Astros with the first pick of the fourth round, 129th overall. Ruiz, a USC signee, was an AFLAC All-American selection and played on the U.S. youth national team last summer.

Kieran Lovegrove, a right-handed pitcher from Mission Viejo, was picked in the third round by the Cleveland Indians. He was the 110th overall selection.

In the sixth round, the Seattle Mariners selected Huntington Beach Edison shortstop Timmy Lopes, the 191st overall pick.

Ron Miller, a third baseman who left Gardena Serra after his junior season, was selected in the 10th round by the Miami Marlins.

Hunter Virant, a left-handed pitcher from Camarillo, was selected in the 11th round by the Houston Astros. He is committed to UCLA.

Trey Williams from Valencia High, a power-hitting shortstop, was picked in the 11th round by the St. Louis Cardinals. He hit .378 with five home runs and 24 RBIs in his senior season. Williams is committed to Pepperdine.

Jordan Guerrero, a left-handed pitcher from Moorpark High School, was selected in the 15th round by the Chicago White Sox.
March, 22, 2012
3/22/12
5:54
PM PT
By
Sean Ceglinsky
| ESPNLosAngeles.com
LOS ANGELES -- There was no shortage of high-profile post players in the Southland this season. The position, in fact, was seemingly the deepest it has been in recent years.
Attempting to determine who the best of the bunch was could prove to be a difficult task given the long list of candidates. A case can certainly be made for
Skylar Spencer
, considering the 6-foot-9, 220-pound senior from Los Angeles Price senior is the last man standing.
[+] Enlarge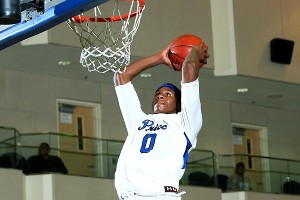 Courtesy of Nick KozaSkyler Spencer has been consistent in his play and that is a big reason Price finds itself in the state title game.
While most of his highly regarded peers sit at home on Friday afternoon and wonder about what could have been, Spencer will suit up for the Knights (26-8 overall) and likely be the difference between winning and losing in the CIF state championship game against Richmond Salesian (33-2). The opening tip is at 1:30 p.m. in Sacramento at Power Balance Arena.
"I wouldn't trade Skylar for anybody out here,'' Price coach
Michael Lynch
said. "He's our captain, our leader on the team, we've been on his back so many times this year.''
If given the chance, many would choose
Grant Jerrett
from La Verne Lutheran as the premier player in the greater Los Angeles area. The senior and Arizona commit, after all, was recently named the Gatorade State Boys' Basketball Player of the Year.
North Hollywood Harvard-Westlake's
Zena Edosomwan
deserves consideration with regard to being mentioned in the same sentence as some of the Southland's best bigs. Also worth mentioning is Woodland Hills Taft's
Anthony January
. Gardena Serra's
Daddy Ugbede
and La Verne Damien's
Chris Reyes
round out the well-rounded group.
Spencer can't be overlooked if winning is a criteria used in the conversation. The Knights were among the top programs in the ESPNLosAngeles Top 20 rankings this season with Spencer leading the way. Remember, Price played one of the more competitive schedules around.
"We did not back down from anyone, we'll play anyone, anytime, anywhere,'' Spencer said. "To be the best, you have to play the best. That's the way you have to think.''
January, 25, 2012
1/25/12
4:01
PM PT
By
Sean Ceglinsky
| ESPNLosAngeles.com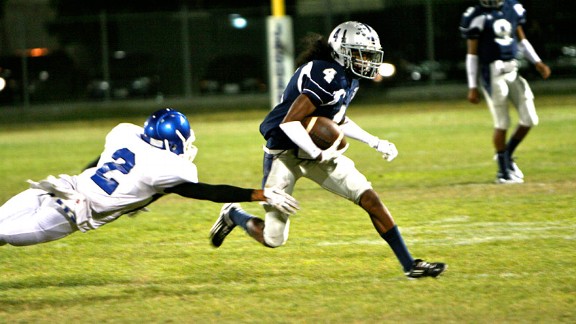 Courtesy of Jackie SattiSouth East's Robert Lewis says he will announce his college choice on Friday night.
LOS ANGELES -- It appeared as if
Robert Lewis
had, at long last, made up his mind about his final destination for college when the senior from South Gate South East gave a verbal commitment to Washington State a couple of weeks ago. Questions about the pledge, however, remain.
Lewis plans to put a stop to all of the second-guessing and make things official on Friday night when a ceremony will be held on his high school campus and the 5-foot-10, 160-pound running back will decide between his final three schools, Oregon, Southern Methodist and Washington State.
"I'm going to make my announcement this weekend at my school and pick the hat of my college choice in front of all my family and friends,'' Lewis said. "I'm still exploring all my options, but the recruiting process is almost over for me. Anything can happen in the next two days.''
There was some who thought San Diego State had recently emerged as a player. When Lewis decided to cancel a visit earlier this month, the talk about the Aztecs subsided.
Utah made a last ditch effort to lure him Salt Lake City. The same thing can be said about Texas Tech and the Red Raiders' desire to wow him with everything Lubbock had to offer.
"We've talked plenty about recruiting in the past, and I know Robert likes Washington State, but I don't think it's a lock that he'll commit to the Cougars,'' South East coach
Derwin Henderson
said. "He also likes SMU, that program has been high on his list since the beginning. We're all in the dark about his decision. I can tell you this, we'll find out on Friday night when he decides.''
The Mustangs and coach
June Junes
initially received a verbal commitment from Lewis in February. At the time, all signs pointed to the program, essentially, being the frontrunner.
March, 23, 2011
3/23/11
10:16
PM PT
By
Sean Ceglinsky
| ESPNLosAngeles.com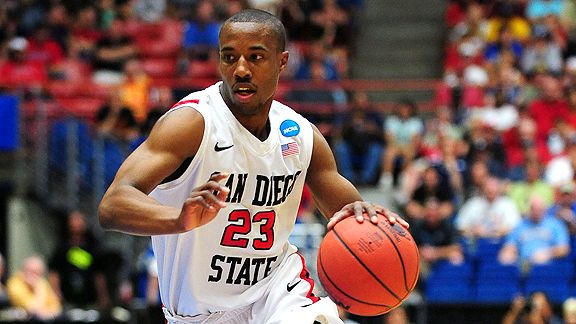 Jennifer Stewart/US PresswireD.J. Gay found that San Diego State turned out to be the perfect fit for his talents.
They said he was too small. His stature, or lack thereof, would eventually hurt him.
Unfortunately, too slow was another phrase that was, often times, tossed around.
But low and behold,
D.J. Gay
has proved his laundry list of naysayers wrong.
Over the course of the last four-plus years, the Sun Valley Poly High graduate has transformed himself from an underrated prep basketball prospect into a big-time college hoops contributor at San Diego State. For the nonbelievers out there, check out Gay & Co. play Connecticut on Thursday at 4:15 p.m. in the West Regional of the NCAA tournament at the Honda Center in Anaheim.
"D.J. always had a fire burning inside of him, and you know what, that was a product of people telling him that he couldn't do this or that,'' Poly coach
Brad Katz
said. "It never failed, there was always some kind of knock on him, a lot of times, the stuff came out of left field too.
"Say what you want about him, but there's one thing you can't take away from D.J. and that's his heart. Since he left us, he's put in a ton of work, more than people even know. He has quieted all of his critics in the process and I think that's the best part about his whole situation.''
Gay has indeed come a long way in relatively short period of time.
The 6-foot senior has been the starting point guard for San Diego State in each of the last two years. This season, however, Gay has taken his game to another level.
As a result, the Aztecs (34-2 overall) have emerged as one of more surprising stories in the Division I game. Named captain before things got started, Gay is averaging 11 points to go along with three assists and two rebounds in 35-plus minutes of action a night.
January, 25, 2011
1/25/11
10:55
PM PT
By
Sean Ceglinsky
| ESPNLosAngeles.com
PERRIS -- Welcome back.

Seemingly everyone at Citrus Hill High, even those closely associated with the boys' basketball program, is unaware of the fact that Anthony Rounds was born in the Southland. In Riverside, to be exact. Moreover, he grew up in Moreno Valley until he was 11-years old.

A family decision to move to Oklahoma, and Georgia thereafter, followed. That said, Rounds was a relative unknown commodity upon his recent return to the Inland Empire.

And when the Cubs' coach, Tim Hatch, learned that he was going to have the 6-foot-6 junior in the fold this season, all signs pointed to the head honcho hoping to have Rounds simply come in and contribute on some level. Expectations were tempered, at best. Rightfully so.

But surprise, Rounds has made it seem as if he never left this place.

"I've got to be honest with you, we didn't know much about him when he stepped foot on campus here, other than the obvious, his size. He's been a pleasant addition,'' Hatch said of Rounds, who leads Citrus Hill with averages of 18.5 points and 9.8 rebounds per game thus far.

Heading into Wednesday's showdown for sole possession of first place in the Mountain Pass League against host San Jacinto (10-11, 4-0), Rounds has finished with a double-double in 12 of 20 games for the Cubs (11-9, 4-0).


January, 20, 2011
1/20/11
7:12
PM PT
By
Sean Ceglinsky
| ESPNLosAngeles.com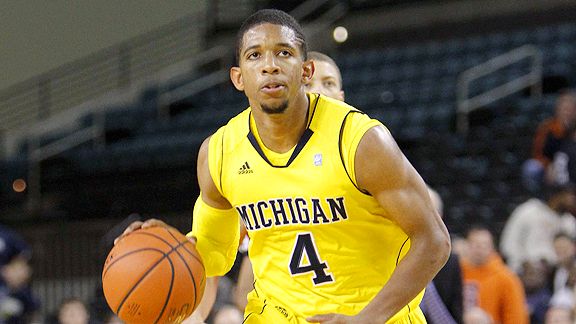 Jim O'Connor/US PresswireDarius Morris was a standout at Windward High School before moving to play at Michigan.
Year in an year out, the Southland sends a number of boys' basketball players to college with scholarship offers in hand.
Most move on and compete at the highest of levels -- Division I. Others continue honing their skill sets at institutions a notch below, whether that be Division II or III, or a smaller NAIA program.
Anyway, we figured it was time to check in and provide an update on some of the individuals who first made a name for themselves in this neck of the woods before ultimately deciding to take their talents elsewhere.
One problem, where to begin?
The options are many, seemingly too many to count.
Let's go ahead and start with
Darius Morris
. Just yesterday, it seems, the point guard was running the show at Los Angeles Windward High. It was actually 2009.
Things have certainly changed in a short period of time.
These days, Morris is the floor general for Michigan and it appears as if the Wolverines will go as far as the 6-foot-4 sophomore takes them. He leads the Big-10 Conference in assists per game with 7.28, a total that ranks fourth best in the nation.
"Going from high school to college, there's an adjustment process, but with each game I'm starting to feel more and more comfortable with my role here at Michigan,'' Morris said. "Expectations are high, I've always been that way. You must have a different kind of mindset to do well at this level, and now, I understand the mental aspect of the game, as well as the physical. That's been big for me.''
November, 2, 2010
11/02/10
11:48
PM PT
By
Dan Arritt
| ESPNLosAngeles.com
Ryan Jack
is quiet, unassuming, a modern-day
Opie Taylor
if there ever was one.
He's also the face of the Corona Centennial defense.
Far and away the most efficient tackler for the Huskies, the 6-foot-1, 200-pound middle linebacker is averaging 10.1 takedowns a game, 4 ½ more than the team's next leading tackler. He's a big reason why the Huskies,
ranked No. 4
in the Southland by ESPNLA, have not allowed more than 13 points in a game while running their record to 8-0.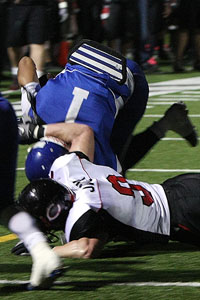 Courtesy of Paul Moureaux
Ryan Jack tackles Norco running back Kelsey Young, in blue, during last Friday's game.
He had a season-high five solo tackles in a 45-0 victory Friday against then-No. 13 Norco in a Big VIII League game, including the one pictured here.
On that play, Norco was inside the 20-yard line when Stanford-bound running back
Kelsey Young
took a direct snap, headed around the right end and then lowered his shoulder as he cut up field. Jack quickly closed the gap and slammed into Young, throwing him to the turf with a violent heave from his right arm.
"We knew it was coming," Jack said of the direct snap the Cougars employed in key situations.
With all the talent on the Centennial football team this season, Jack is still the only Husky committed to a Division I college program. He pledged to San Diego State last month, a school he followed since he was a youngster.
Jack had big shoes to fill last season when he took over the middle linebacker position previously occupied by
Vontaze Burfict
, a U.S. Army All-American selection who now anchors Arizona State's defense.
He filled them supremely, totaling 145 tackles and 2 1/2 sacks, and earning a spot on the All-Southern Section Inland Division team.
Jack hopes to play couple more games this season. The Huskies were eliminated in an Inland Division semifinal a year ago. This season, they are clear favorites to win the Inland Division title and possibly represent the South in the Division I state bowl game.
Here's what Jack had to say following the Huskies' victory over Norco.