Los Angeles Preps:

San Gabriel Valley League
November, 3, 2011
11/03/11
3:52
PM PT
Big league implications throughout the Southland this week. Here are Friday night's top five games in south Los Angeles County: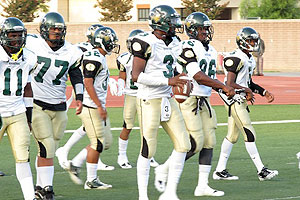 Blair Angulo/For ESPNLA.comNarbonne quarterback Troy Williams (3) looks to lead the Gauchos to a victory over undefeated San Pedro on Friday.
No. 19 Narbonne at No. 20 San Pedro, 7 p.m.
-- For quite a while now, Narbonne coach Manual Douglas has been eying the top seeding in the City Section Division 1 playoffs. The time has come for his Gauchos (6-2, 3-0) to prove they deserve it. The Marine League title goes to the winner. Narbonne's uptempo offense averages nearly 32 points, but San Pedro (8-0, 3-0) hasn't given up more than 20 in any game this season.
Damien at No. 23 Charter Oak, 7 p.m.
-- Head over to Covina if you want some touchdowns. Or stay away if you like defensive stops. Over their last six games, the Damien Spartans (6-2, 2-1 Sierra) have given up an average 27 points. That's music to quarterback Travis Santiago's ears, for sure. Charter Oak (7-1, 3-0) has one of the most explosive attacks in the region, averaging 42 points.
Garfield vs. Roosevelt at East L.A. College, 7:30 p.m.
-- The longtime rivals meet for the 77th time, and the game is expected to be played in front of another capacity crowd of 20,000. The East Los Angeles Classic is one of the area's most treasured traditions, dating to 1926 and spanning generations. It's really a toss-up this year: Garfield is 4-5 overall but 4-1 in the Eastern League; Roosevelt is 5-3 and 3-1.
La Puente at Duarte, 7 p.m.
-- With a win, the unblemished La Puente Warriors (8-0, 5-0) can intensify the magnitude of next week's gigantic matchup against three-time defending Montview League champion Azusa. The Warriors are led by quarterback Ivan Vasquez and his 19-1 touchdowns-to-interceptions ratio. Duarte (6-2, 4-1) is still mathematically in contention for the league title.
Downey at Dominguez, 7 p.m.
-- The streaking Dominguez Dons (6-2, 3-0) have won six straight, finding a groove that went missing in blowout losses to Crespi and Redlands East Valley. A win against Downey should set up a San Gabriel Valley League championship game next week at Paramount, which is favored against Warren.
October, 26, 2011
10/26/11
6:49
PM PT
Here are this week's top five games in south Los Angeles County:
No. 1 Servite at No. 16 St. John Bosco, Friday, 7:30 p.m.
-- A year older, wiser and better, the St. John Bosco Braves (6-1, 2-0 Trinity) hope they can pull off the shocker this time around. They held a brief lead against Servite (6-1, 2-0) last season before the Friars' experience -- and the Braves' inexperience -- took over. Junior tailback DaVonte Young's spectacular performance against Mater Dei last week was proof that Bosco has another wrinkle to its prolific spread offense. And the Braves were great on defense too, limiting the Monarchs to only a field goal. A Cody Pittman-led Servite attack is an entirely different test, though.
No. 15 Loyola at No. 14 Bishop Amat, Friday, 7 p.m.
-- Apparently, the return of hybrid receiver/tailback Zachary Shay (concussion) was exactly what Bishop Amat (6-2, 1-1 Serra) needed to rejoin the league race. After missing the previous five games, the senior had eight catches for 83 yards and a touchdown run in the Lancers' rather surprising 28-14 win at Crespi. If Shay can stay healthy, and if the defense holds up the way it did against the potent Celts, Amat can be a scary team. The Loyola Cubs (6-1, 1-0), meanwhile, haven't won a league road game since 2008, which also marks the last time they beat Amat. The game will be televised by Time Warner Cable on Channel 101 at midnight.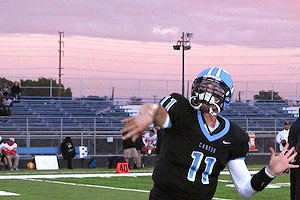 Blair Angulo/For ESPNLA.comThe play of Carson quarterback Kevin McMahon will be key against 7-0 San Pedro.
No. 22 San Pedro at Carson, Friday, 7 p.m.
-- Undefeated San Pedro (7-0, 2-0 Marine) finally gets to show that its record is no fluke. The Pirates have won their games by an average of 26 points behind senior quarterback Kenny Potter's 25 total touchdowns, but the combined record of their seven opponents is a woeful 16-33. That obviously hasn't earned them much respect. Carson (3-4, 1-1) comes in on the other side of the spectrum, having played a mini Pac-5 Division series against the likes of Mater Dei, Long Beach Poly, Santa Margarita and Mission Viejo. The Colts are motivated following last week's last-minute loss to rival Narbonne. Quarterback Kevin McMahon has to find a way to get the ball to top playmaker Darreus Rogers more consistently.
Gardena Serra at St. Paul, Friday, 7 p.m.
-- Yeah, the Serra Cavaliers (5-2, 2-0 Mission) are young and depleted, but they're still dangerous and a legitimate league contender. Just ask previously unbeaten St. Francis, which fell victim to the young Cavs and standout junior running back Anterio Bateman. St. Paul's only loss came to Chaminade, the league favorite and top-ranked team in the Western Division. "I know this league is awesome from top to bottom," Serra coach Scott Altenberg
told the Daily Breeze
following last week's victory against St. Francis. "We know how tough it's going to be week to week, and now we know how tough it's going to be half to half."
Gahr at Dominguez, Friday, 7 p.m.
-- These teams are heading in opposite directions. Gahr (5-2, 0-2 San Gabriel Valley) has dropped two straight after winning its first five; Dominguez (5-2, 2-0) lost its first two in lopsided fashion -- albeit to Crespi and Redlands East Valley -- but has since won five in a row.
October, 4, 2011
10/04/11
7:17
PM PT
California's leading passer is averaging 390 yards per game, has 19 touchdowns and ranks eighth in completion percentage. He spreads the ball around like an automated machine and directs a fast-paced offense that, for all intents and purposes, leaves opponents panting.
He's senior
Eric Richardson
of undefeated Gahr, and he doesn't have any scholarship offers.
"It'd be nice to get something," Richardson says. "I want to play at the next level. It doesn't matter where. I just want to go somewhere."
Richardson is on pace to finish with 3,900 passing yards and 47 touchdowns. College recruiters might be forced to take a close look if he stays on track.
For now, Richardson is just glad to be playing football. An injury to his throwing shoulder last year required surgery and Richardson missed the last eight games. While most top high school juniors were on the field making a name for themselves, gaining exposure and piling up written offers, Richardson was rehabbing.
"Yeah, it was frustrating," he said, "but it helped me see the game from the sideline. I prepared myself for this season knowing what I had to do to be a better player."
And if there was any doubt about Richardson's arm heading into this season, he wasted no time to dispel it by torching Long Beach Millikan for seven touchdown passes in the opener. Gahr (4-0) can claim its first San Gabriel Valley League title with Richardson calling the shots, and Pac-12-bound receivers
Delshawn McClellon
(Utah) and
Dwayne Washington
(Washington) hauling in his throws.
In the meantime, Richardson will continue to send schools his highlight tape, hoping someone,
anyone
, calls back.
"The only thing I can really do is go out, play this season and show why I can play college football," Richardson said. "Hopefully it will come."
Blair Angulo covers preps for ESPN Los Angeles. Follow him on Twitter.
September, 6, 2011
9/06/11
6:57
PM PT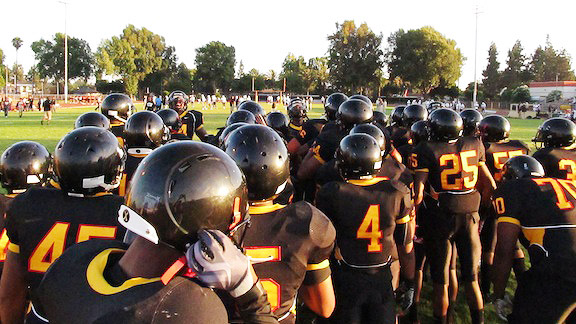 Blair Angulo for ESPN.comDominguez will need to regroup fast after suffering a humiliating loss to Crespi in its opener.
As Dominguez players walked off the field Friday night following their embarrassing 48-6 loss to visiting Crespi -- heads down, shoulders hanging -- you got the sense they weren't distraught about losing but, rather, how they lost. It was complete and utter domination by the boys in brown. Even a couple of surprised Crespi players admitted they expected more from a team with so many collegiate prospects.
A Dominguez starter I spoke to felt the same way. He was dumbfounded, unable to explain how Crespi dominated the way it did. In a postgame interview with the
Long Beach Press-Telegram
, Dons assistant coach
Willie Donerson
described the game as
"an atrocity."
So where does Dominguez, the No. 19 team in ESPNLA.com's prep football preseason rankings, go from here? And, better yet, how will the team respond after a 42-point rout? The Dons were ranked third in the CIF-Southern Section Western Division preseason poll for a reason -- there's talent and plenty of it.
Dominguez travels to the Inland Empire on Friday to play Redlands East Valley and still has nonleague games against Compton, Long Beach Jordan and San Diego Lincoln looming. They will have to get more out of their Wing-T offense and be more energetic on defense. Expectations at Dominguez remain sky high but the Dons have to put "The Ambush at Alondra" behind them.
August, 22, 2011
8/22/11
3:58
PM PT
Expectations are high in Compton, given the amount of experience Dominguez has coming back. The team returns both lines in full and eight starters from a defense that, on average, gave up less than 12 points per game last season.
Headlining that defense are seniors
Brandon Beaver
and
Alphonso Marsh
, arguably the best cornerback duo in the state. Beaver is the 20th-ranked corner nationally, according to ESPNU recruiting. Marsh isn't far behind at No. 34. Opponents will find it hard to throw the ball against the Dons.
"They're two lock-down corners," coach
Keith Donerson
said. "We've had a lot of corners that have gone on to the Pac-10 and played Division I. Brandon and Alphonso fall right into the same category. Those guys can shut down the outside receivers and that allows you to commit eight or nine guys to stopping the run."
Here is a closer look at the Dons:
Team
: Dominguez.
Coach
: Keith Donerson, 23rd season.
2010 Record
: 10-2, lost in second round of CIF Southern Section Western Division playoffs.
Returning starters
: 15 total. Seven on offense, eight on defense.
Key players on offense
: OL Lacy Westbrook, OL Dejon Allen (Arizona State commit), RB Daveyon Monette
Key players on defense
: CB Brandon Beaver, CB Alphonso Marsh, SS Lavell Sanders, DE Damion Turpin
Difference maker
: Replacing tailback Will Gregory (Hawaii) should be facilitated by the return of linemen Westbrook and Allen, and Donerson expects Monette to shoulder a heavier load this year. In a game which Gregory missed last season because of injury, Monette rushed for 153 yards and two scores in 17 carries.
Newcomers
: RB Michael Garrison (transfer from Morningside), FS Kalan Montgomery (transfer from Lakewood), RB Eric Black (up from junior varsity)
Not to be missed
: vs. Gahr, Friday, Oct. 28. The Dons captured the San Gabriel Valley League title last year for the first time since 2007. Gahr, meanwhile, figures to be the biggest threat to a Dominguez repeat.
Coach's comment
: "We're expecting to win a CIF [Western Division] championship just like we expected to last year. The expectation hasn't changed."
Final analysis
: Dominguez only lost one regular season game last season -- to Bishop Amat by a score of 21-15. The senior-led Dons should build off of that and, with nearby powerhouse Gardena Serra in somewhat of a rebuilding year, are a favorite in the race for the Western Division crown. If the old adage about defense leading to championships is true, then great things are on the horizon for this talented bunch.
Blair Angulo covers ESPNLosAngeles.com. Follow him on Twitter.