Los Angeles Preps:

San Jacinto
January, 9, 2012
1/09/12
9:23
PM PT
By
Dan Arritt
| ESPNLosAngeles.com
BASELINE LEAGUE

League openers: Tonight – Etiwanda @ Glendora; Upland @ Los Osos; Alta Loma @ Rancho Cucamonga.

Last year's finish: Etiwanda (9-1); Glendora (6-4); Upland (6-4); Los Osos (5-5); Rancho Cucamonga (4-6); Alta Loma (0-10).

Players to watch: Jordan McLaughlin (Etiwanda), 5-11, So., G; Sheldon Blackwell (Etiwanda), 6-4, Jr., F; Brandon Townes (Etiwanda), 6-2, Sr., G; Sam Flemming (Etiwanda), 6-0, Sr., F; Nick Colletta (Glendora), 6-5, Jr., F; Kyle Gordon (Glendora), 6-4, Sr., G; Myles Pearson (Upland), 5-10, Sr., G; Ferrell Marshall (Upland), 6-0, Sr., G; Malcolm Drumwright (Rancho Cucamonga), 6-1, Jr., G; Victor Joseph (Rancho Cucmamonga), 6-1, So., G; Adom Jacko (Alta Loma), 6-6, Sr., F; Jonathan Solomon (Los Osos), 6-3, Sr., F.

Predicted order of finish: Etiwanda, Glendora, Rancho Cucamonga, Upland, Los Osos, Alta Loma.

MOUNTAIN PASS LEAGUE

League openers: Tonight – Beaumont @ Citrus Hill; Hemet @ West Valley; Tahquitz @ San Jacinto.

Last year's finish: Citrus Hill (10-0); San Jacinto (8-2); Beaumont (5-5); Tahquitz (4-6); West Valley (2-8); Hemet (1-9).

Players to watch: Anthony Rounds (Citrus Hill), 6-7, Sr., F; Ralph Myles (Citrus Hill), 5-0, Sr., G; Dejon Brown (Beaumont), 6-2, Sr., G.; Andrew Walker (Beaumont), Jr.; Kris Acevedo (Hemet), 6-0, Sr., G; P.J. Murrieta (San Jacinto), 5-10, So., G; Roosevelt Adams (West Valley), 6-4, Sr., F; Robert Edwards (West Valley), 6-4, Jr., F; David Walker (Tahquitz), 6-1, Sr., G.

Predicted order of finish: Citrus Hill, Beaumont, San Jacinto, West Valley, Hemet, Tahquitz.


February, 10, 2011
2/10/11
3:43
PM PT
By
Dan Arritt
| ESPNLosAngeles.com
1. Corona Centennial (22-3, 13-0) at Eastvale Roosevelt (18-5, 12-1), tonight, 7:30 p.m. – Centennial's high-scoring offense will take on Roosevelt's stingy defense for the second time this season in a Big VIII League game. A win by the Mustangs and they'll share the league championship. Centennial won the first meeting, 59-56, on Jan. 20. Michael Caffey scored 25 points in that game, but has been hobbled with an ankle injury since last week. The Mustangs almost got caught looking ahead Tuesday before squeaking by Riverside King, 61-59. Udun Oskue, a 6-foot-5 senior forward for the Mustangs, is averaging 15 points in the last four games.

2. Riverside Patriot (22-4, 8-1) at Fontana Summit (20-6, 9-0), tonight, 6:30 p.m. – The SkyHawks won the first Sunkist League meeting, 64-50, at Patriot on Jan. 25, dominating the paint by scoring 24 of 27 field goals from within five feet. Summit point guard Montigo Alford did most of the dissecting that game, handing out 11 assists. The Warriors, who have finished runner-up in league the last three seasons, will need to count on shooters Bryan Saffel and Matt Scogebo if the they want to get over the hump.

3. Glendora (21-5, 6-3) at Upland (17-9, 5-4), tonight, 6:30 p.m. – Upland has bounced back from the brink to win its last two Baseline League games against difficult opponents and now sits in third place with one game remaining. Second-place Glendora beat the Highlanders by one point on Jan. 25.

4. San Jacinto (14-12, 8-1) at Perris Citrus Hill (16-9, 9-0), Friday, 7:30 p.m. – Oyintonye Akamande, a 6-foot senior guard for Citrus Hill, scored a season-high 23 points in the first Mountain Pass League meeting, a 60-55 victory by the visiting Hawks on Jan. 26. Anthony Rounds, a 6-6 junior forward, is usually Citrus Hill's leading scorer, averaging 19.4 points and 10.2 rebounds.

Looking ahead: Southern Section playoff selections, Sunday, noon-2 p.m.
November, 14, 2010
11/14/10
12:09
PM PT
By
Dan Arritt
| ESPNLosAngeles.com
INLAND DIVISION

Seeded teams:

1. Corona Centennial; 2. Vista Murrieta; 3. Rancho Cucamonga; 4. Chino Hills

At-large selection:

None

Best first-round game:

Temecula Chaparral (4-6) at Upland (7-3) – Chaparral is the defending Inland Division champion, while Upland won the Central Division title last season. Chaparral was the preseason favorite to repeat, but a 1-5 start ending any discussion of that. Still, the Pumas tend to get better as the season rolls along.

Best potential second-round game:

Vista Murrieta (9-1) at Norco (8-2) – Both of these teams should survive the first round to create a semifinal-type second-round matchup. Norco's upset loss to Eastvale Roosevelt on Oct. 8 ultimately dropped them into third place and created this nightmare matchup for Southwestern League champ Vista Murrieta.

Prediction:

Corona Centennial should walk through this division, especially with either Vista Murrieta or Norco getting knocked off in the second round. Corona Centennial 56, Norco 7.


November, 11, 2010
11/11/10
3:41
PM PT
By
Dan Arritt
| ESPNLosAngeles.com
The Inland Valley League showdown Friday night between Moreno Valley Rancho Verde and Riverside Arlington at Riverside Ramona High was expected to be an emotionally charged game, but that was taken to another level Monday when Arlington coach
Pat McCarthy
went into cardiac arrest before practice.
It was initially feared he had suffered a heart attack, but the Riverside Press-Telegram
reported
Wednesday that he has a severe infection that caused his pulse to weaken.
Rancho Verde (9-0, 6-0) has won 21 consecutive league games, but Arlington (8-1, 6-0) will be its toughest test of the season.
Kickoff is scheduled for 7 p.m.
Three others to see
:
Corona (5-4, 3-3) at Norco (7-2, 4-2), Friday – Corona can pass up Norco in the Big VIII League and finish third with a win, but will lose out on an automatic playoff berth with a loss and a victory Thursday night by Riverside King (4-5, 2-4) against visiting Riverside North (1-8, 1-5).
La Quinta (7-2, 3-1) at Palm Desert (6-3, 3-1), Friday – Palm Springs has already locked up the No. 1 playoff seeding from the Desert Valley League, but second and third will be settled here. La Quinta has won four straight against the Aztecs.
Perris Citrus Hill (6-3, 3-1) at San Jacinto (7-2, 3-1), Friday – The winner of this game is guaranteed a share of the Mountain Pass League title. That much is for certain. Beaumont (6-3, 3-1) and Hemet West Valley (5-4, 3-1) also play Friday night at San Gorgonio Middle School and the winner will also share in the league title. Figuring out the different playoff scenarios isn't so simple.
November, 8, 2010
11/08/10
3:58
PM PT
By
Dan Arritt
| ESPNLosAngeles.com
1. The most exciting finish occurred in the Citrus Belt League. Redlands took a 7-3 lead with just over two minutes remaining Friday night against A.B. Miller of Fontana, but the Rebels took it back on a five-yard touchdown run by quarterback Eric Shufford with 33 ticks left. Down three points again, the Terriers returned the ensuing kickoff to the Miller 11-yard line. With 11 seconds remaining, Redlands quarterback Mike Stallone rolled out looking to throw the ball, but instead ran and was tackled on the one-yard line as time expired. With the 10-7 win, Miller (5-4, 3-1) takes over sole possession of second place and can claim a share of the league title with a victory Thursday against visiting Redlands East Valley (7-2, 4-0).

2. Palm Springs put itself in good position to win its second Desert Valley League title in the last three years with a 16-7 victory against visiting La Quinta. The Indians (8-1, 4-0) just need to beat winless Cathedral City in its final regular season game Friday at Palm Springs High. Nephi Garcia continues to be primary cause of the Indians' success. He scored both touchdowns against La Quinta and kicked a 34-yard field goal, finishing with 101 rushing yards in 15 carries.

3. How tight is the Mountain Pass League race? Four teams begin the final week of the regular season with 3-1 records. The four-way tie was created Friday night when host Perris Citrus Hill knocked off first-place Hemet West Valley, 15-13. Beaumont and San Jacinto also won their games to move into a tie for first. The league race will be settled Friday night when Beaumont plays West Valley at San Gorgonio Middle School and Citrus Hill travels to San Jacinto. One of the losers will likely miss the playoffs.


November, 1, 2010
11/01/10
8:09
PM PT
By
Dan Arritt
| ESPNLosAngeles.com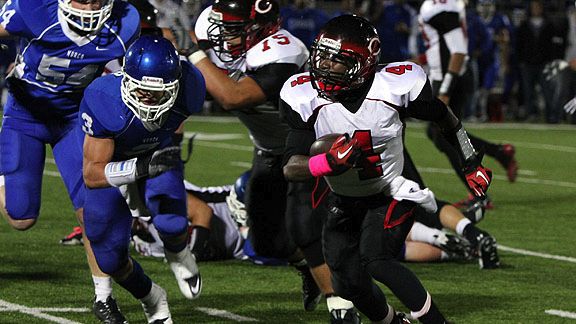 Courtesy of Paul Moureaux
Barrington Collins had five touchdowns in Centennial's 45-0 win over Norco.
1. Corona Centennial has a lot of people wondering just how good the Huskies are after they trampled Norco, 45-0, in a Big VIII League game Friday night at Norco. The Huskies came in
ranked No. 4
in the Southland by ESPNLA, but a closer looks indicates they might be a little under-rated. Centennial blew out Mater Dei, 44-13, in Week 2. Servite, ranked No. 1, escaped with a 21-14 victory over the Monarchs on Friday. And if that's not enough of an indicator, Centennial defeated Temecula Chaparral, 45-12, on Sept. 24. A week later, the Friars defeated the Pumas, 28-7, and Chaparral was without two of its best players. Another comparison will come this weekend when the Huskies travel to Corona. Mission Viejo, ranked No. 3, beat the Panthers, 56-34, on Sept. 16.
2. What happened to Riverside King? The Wolves were looking really good after defeating Corona Santiago and Corona on back-to-back weeks last month. All they had to do was defeat Riverside Poly and Riverside North and they were a lock for an automatic playoff berth out of the Big VIII League. But a not-so-funny thing happened on the way to the postseason, King was upset by Poly on Friday night, 45-39, dropping the Wolves into fifth place. The loss didn't completely blow their chances for an automatic playoff bid, however, as Corona (5-3, 3-2) still has Corona Centennial and Norco on its schedule, while King (4-4, 2-3) has Eastvale Roosevelt and North. If the Panthers lose their final two games, as they should, and King splits its final two, the Wolves win the tiebreaker based on their head-to-head result with Corona.
October, 28, 2010
10/28/10
1:56
PM PT
By
Dan Arritt
| ESPNLosAngeles.com
When you have a chance to beat Corona Centennial, it's important to take advantage of the opportunity.
Norco was in that situation last November, down a point after scoring a touchdown with 27 seconds remaining. Go for the win or the tie? In the mind of Norco coach
Todd Gerhart
, it was a no-brainer. He had a chance to beat the Huskies and wasn't about to let it pass him by.
The Cougars went for two and quarterback
Taylor Viloria
punched it in, giving Norco a 29-28 victory at Centennial and the Big VIII League title.
On Friday, the biggest rivalry in the Inland Empire moves to Norco High. The Cougars (6-1, 3-1) have already been dinged for a Big VIII loss by Eastvale Roosevelt, but a win against Centennial (7-0, 4-0) would drop them right back in the race.
And if the Cougars should be in the position to go for the win or tie down the stretch, you can bet they will make the most of their opportunity.
Kickoff is scheduled for 7 p.m.
Three more to see:
Upland (5-2, 2-0) vs. Rancho Cucamonga (6-1, 2-0) at Rancho Cucamonga Los Osos High, Friday – If you went to Upland or Rancho Cucamonga, or just follow the Baseline League, this game was probably marked on your calendar in July. Rancho Cucamonga won the Central Division title in 2008, the Highlanders took it home last season.
ESPNLA.com
's pick: Upland 24, Rancho Cucamonga 21.
Los Osos (4-3, 1-1) vs. Etiwanda (3-4, 1-1) at Ontario Colony High, Friday – Etiwanda quarterback
Larry Cutbirth
will meet his match against the Grizzlies. Cutbirth, who has thrown for just over 2,000 yards and 21 touchdowns, will meet a defense that has 18 sacks and 10 interceptions. ESPNLA.com's pick: Los Osos 30, Etiwanda 27.
San Jacinto (6-1, 2-0) at Hemet West Valley (4-3, 2-0) – San Jacinto quarterback
Kevin Clark
has been remarkably efficient, completing 65% of his passes with 10 touchdowns and no interceptions. West Valley is a newcomer to the Mountain Pass League this season, but hardly a pushover. ESPNLA.com's pick: San Jacinto 27, West Valley 20.
September, 22, 2010
9/22/10
3:38
PM PT
By
Dan Arritt
| ESPNLosAngeles.com
At least one team is celebrating in Romoland.
That would be Heritage High School, which opened three years ago on a 65-acre lot between Perris, Hemet, Lake Elsinore and Murrieta, better known as Romoland.
The Patriots are 3-0 for the first time in their short history, posting an impressive season-opening victory against San Jacinto and then knocking off Riverside Patriot and Beaumont.
If only the Dallas Cowboys and quarterback
Tony Romo
were so fortunate.
Heritage has been leaning on its running game this season and
Scott Benson
has been holding up. Most recently, the senior rushed for 205 yards and four touchdowns Friday night in a 35-14 victory against visiting Beaumont. It was his third straight 100-yard rushing game.
Here are
some highlights
of Benson doing his thing.
Without a doubt, the most impressive victory came in the season opener against San Jacinto, when Heritage rallied from a 10-point fourth-quarter deficit and then blocked a last-minute field-goal attempt to win, 34-31.
The Patriots, who moved to the Sunbelt League this season along with Lake Elsinore Temescal Canyon, will attempt to notch another win in their belt when they travel to Hemet Tahquitz on Friday night.