Los Angeles Preps:

Scott Altenberg
November, 12, 2011
11/12/11
12:21
AM PT


GARDENA -- As it turns out, stories about Serra's demise have been greatly exaggerated.

Yes, the Cavaliers graduated a boatload of talent and are still greener than broccoli, but there they were Friday night, storming the field after another Mission League championship win.

Young and inexperienced Serra held on to beat Chaminade, 35-29, in a thrilling game that featured five lead changes. A group of Cavaliers tried to douse coach Scott Altenberg with icy water but couldn't, proving how ripe they really are.

"That's our team in a nutshell," Altenberg said. "They tried to dump me with water, they tripped and dumped it on themselves."

It could have been easy for Serra (8-2, 5-0) to make excuses given the lack of star power. This team doesn't have the lucrative names like in years past. No Robert Woods, no Marqise Lee or George Farmer.

None of that mattered.

Ronnie Vaughn rushed for 221 yards and two touchdowns, and sophomore quarterback Jalen Greene had 217 total yards plus the go-ahead score in the fourth quarter to carry the Cavaliers. Chaminade (8-2, 4-1), ranked No. 15 in the ESPN Los Angeles Top 25, had the ball with 1:18 remaining and 90 yards to go but couldn't generate magic. Logan Scott's last-second heave from the Serra 37 sailed wide of the end zone, and Serra players stormed the field.

"A lot of things were going through my head," Greene said. "I was nervous and I didn't even want to watch the play, but I was just hoping, 'Please don't catch this ball, please pick it, just let us get this W tonight.' "

Vaughn's 23-yard touchdown run had given No. 25-ranked Serra a comfortable 35-22 advantage with 5:57 left. Less than 40 seconds later, Scott responded with a clutch 76-yard scoring pass to Kevin Lewallyn, cutting the deficit to 35-29. Chaminade caught Serra napping and recovered the ensuing onside kick but couldn't capitalize, turning the ball over on downs.

The Eagles had taken a brief lead on Terrell Newby's 47-yard touchdown run late in the third quarter.

The Cavaliers were without leading rusher Anterio Bateman, who was on crutches and had his left ankle in a cast. His absence didn't appear to affect the running game -- Greene, Vaughn and Malik Roberson combined for 224 rushing in the first half alone. Greene finished with 140 rushing yards in 13 carries.


October, 26, 2011
10/26/11
6:49
PM PT
Here are this week's top five games in south Los Angeles County:
No. 1 Servite at No. 16 St. John Bosco, Friday, 7:30 p.m.
-- A year older, wiser and better, the St. John Bosco Braves (6-1, 2-0 Trinity) hope they can pull off the shocker this time around. They held a brief lead against Servite (6-1, 2-0) last season before the Friars' experience -- and the Braves' inexperience -- took over. Junior tailback DaVonte Young's spectacular performance against Mater Dei last week was proof that Bosco has another wrinkle to its prolific spread offense. And the Braves were great on defense too, limiting the Monarchs to only a field goal. A Cody Pittman-led Servite attack is an entirely different test, though.
No. 15 Loyola at No. 14 Bishop Amat, Friday, 7 p.m.
-- Apparently, the return of hybrid receiver/tailback Zachary Shay (concussion) was exactly what Bishop Amat (6-2, 1-1 Serra) needed to rejoin the league race. After missing the previous five games, the senior had eight catches for 83 yards and a touchdown run in the Lancers' rather surprising 28-14 win at Crespi. If Shay can stay healthy, and if the defense holds up the way it did against the potent Celts, Amat can be a scary team. The Loyola Cubs (6-1, 1-0), meanwhile, haven't won a league road game since 2008, which also marks the last time they beat Amat. The game will be televised by Time Warner Cable on Channel 101 at midnight.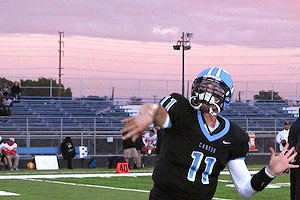 Blair Angulo/For ESPNLA.comThe play of Carson quarterback Kevin McMahon will be key against 7-0 San Pedro.
No. 22 San Pedro at Carson, Friday, 7 p.m.
-- Undefeated San Pedro (7-0, 2-0 Marine) finally gets to show that its record is no fluke. The Pirates have won their games by an average of 26 points behind senior quarterback Kenny Potter's 25 total touchdowns, but the combined record of their seven opponents is a woeful 16-33. That obviously hasn't earned them much respect. Carson (3-4, 1-1) comes in on the other side of the spectrum, having played a mini Pac-5 Division series against the likes of Mater Dei, Long Beach Poly, Santa Margarita and Mission Viejo. The Colts are motivated following last week's last-minute loss to rival Narbonne. Quarterback Kevin McMahon has to find a way to get the ball to top playmaker Darreus Rogers more consistently.
Gardena Serra at St. Paul, Friday, 7 p.m.
-- Yeah, the Serra Cavaliers (5-2, 2-0 Mission) are young and depleted, but they're still dangerous and a legitimate league contender. Just ask previously unbeaten St. Francis, which fell victim to the young Cavs and standout junior running back Anterio Bateman. St. Paul's only loss came to Chaminade, the league favorite and top-ranked team in the Western Division. "I know this league is awesome from top to bottom," Serra coach Scott Altenberg
told the Daily Breeze
following last week's victory against St. Francis. "We know how tough it's going to be week to week, and now we know how tough it's going to be half to half."
Gahr at Dominguez, Friday, 7 p.m.
-- These teams are heading in opposite directions. Gahr (5-2, 0-2 San Gabriel Valley) has dropped two straight after winning its first five; Dominguez (5-2, 2-0) lost its first two in lopsided fashion -- albeit to Crespi and Redlands East Valley -- but has since won five in a row.
October, 19, 2011
10/19/11
7:31
PM PT
Here are five of this week's must-see games in south Los Angeles County:
[+] Enlarge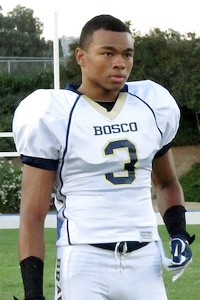 Blair Angulo for ESPNLA.com Bryce Treggs leads all Pac-5 Division receivers with 744 yards so far this season.
No. 25 Mater Dei at No. 19 St. John Bosco, Friday, 7:30 p.m.
-- They've been waiting for this in Bellflower for a while. The St. John Bosco Braves (5-1), playing at home for the first time in more than a month, can make a loud statement by beating revitalized Mater Dei (3-3), which is coming off a rather shocking upset of previously unbeaten Santa Margarita. A loss Friday would deal a major blow to Bosco's Trinity League hopes, a win would cement them as a serious contender for one of the league's three playoff spots. Cal-bound Bryce Treggs leads all Pac-5 Division receivers with 744 yards and ranks third with seven touchdowns.
Carson at No. 24 Narbonne, Friday, 7 p.m.
-- Think a fractured finger is going to keep Carson receiver Darreus Rogers out of this one? No chance. The USC commit suffered a hand injury in last week's 30-9 victory over rival Banning but that hasn't stopped him from
predicting a three-touchdown performance
Friday. The Carson Colts (3-3) have won 15 straight Marine League games, though that carries little weight against the confident Narbonne Gauchos (4-2) and talented quarterback Troy Williams. A possible No. 1 seeding for the City Section Division 1 playoffs is on the line.
Lakewood at Cabrillo, Friday, 7 p.m.
-- Quick, name the leading passer in the Pac-5 Division. It's not Utah-bound Travis Wilson (999 yards) of San Clemente or Conner Sullivan (1,193) of Orange Lutheran. It's not Crespi's Cody Cordell (1,354), St. John Bosco's Rene Medina (1,376) or even Mission Viejo's Alex Bridgford (1,724). The division's top passer? It's Cabrillo's Derek Stewart, who has 1,917 yards and 17 touchdowns for the upstart Jaguars (6-1). The Lakewood Lancers (5-2), behind standouts Darius Powe and Malik Gilmore, are hungry for a win after last week's loss to Moore League favorite Long Beach Poly.
St. Francis at Gardena Serra, Friday, 7 p.m.
-- It's a different feeling in Gardena, where the Serra Cavaliers (4-2) are, at least by their standards, on a down year. And even though they've lost two games in a season for the first time since 2007, don't count them out of the Mission League race just yet. Coach Scott Altenberg's bunch is a perfect 1-0 in league and a victory Friday against undefeated St. Francis (6-0) would speed up the rebuilding process. Dual-threat quarterback Jalen Greene, a sophomore who averages 185 yards of total offense per game, gives Serra hope.
San Dimas vs. Covina at Covina District Field, Friday, 7 p.m.
-- Opening weekend didn't unfold how these Valle Vista teams had hoped -- San Dimas lost to Bonita, Covina lost to West Covina. There's been nothing but wins since. The San Dimas Saints (5-1) have won five straight games, outscoring opponents 221-52 behind a strong Wing-T offense. Quarterback Billy Livingston (shoulder) was successful in his return to action last week for the streaking Covina Colts (6-1). A league title is at stake here, as well as serious consideration for a No. 1 ranking in the Mid-Valley Division.
August, 31, 2011
8/31/11
4:32
PM PT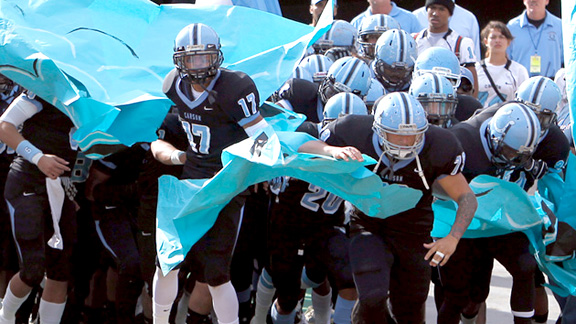 Alex Gallardo For ESPNLA.comCarson played in the City Section title game last season and is looking for big things in 2011.
Get your seat cushions and pom-pons ready, high school football is finally here.
And to get you even more prepared, we present this weekly feature that highlights five must-see games in south Los Angeles County. The opening week -- or zero week -- offers a handful of doozies. Keep in mind that some highly anticipated contests, such as Long Beach Poly at Sacramento Grant, are not included on this list because they are scheduled to take place outside the "L.A. South" boundaries.
Here they are, in no particular order:
Bonita vs. San Dimas at Citrus College, Thursday, 7 p.m.
-- This annual battle, locally pegged as the "Smudge Pot," might be as competitive as it has ever been. Bonita is coming off a runner-up finish in the Southeast Division but graduated a deep group of seniors. San Dimas lost to eventual Mid-Valley Division champion Monrovia in the semifinals last year and also looks to avenge a 41-20 defeat at the hands of the Bearcats. The Saints lead the all-time head-to-head series, 22-16-1. For more analysis on this game, check out the
San Gabriel Valley Tribune
's
"Two-Minute Drill."
No. 11 Crespi at No. 19 Dominguez, Friday, 7 p.m.
-- It's the classic offense versus defense matchup. Despite losing record-breaking quarterback Kenny Stenhouse and top receiver Devin Lucien (UCLA) to graduation, Crespi figures to feature a strong offensive attack. On the other side of things, Dominguez might have the best defense in the area, with highly touted defensive back Brandon Beaver leading the way. The Dons eked out a 14-11 win last season and we might be in for a repeat of that on Friday.
No. 12 Mater Dei at No. 9 Carson, Friday, 7 p.m.
-- Carson coach Elijah Asante knows that Mater Dei will be plenty motivated, given that the Colts upset the Monarchs, 14-10, in 2010. Asante's group is the early favorite in the City Section, and a favorable outcome here could validate expectations. Colts fans will get their first opportunity to catch a glimpse of Kevin McMahon, a senior quarterback transfer from South Torrance who Asante has dubbed "The Cannon." A win here gives Carson good momentum heading into difficult games against No. 4 Long Beach Poly, No. 6 Santa Margarita and No. 3 Mission Viejo.
Notre Dame at No. 25 Serra, Friday, 7 p.m.
-- Gone are standouts George Farmer (USC), Marqise Lee (USC) and Conner Preston (Southern Methodist). It doesn't end there, though. Cavaliers coach Scott Altenberg must fill a void at nearly
every
spot, with only five total returning starters. Serra undoubtedly begins a reloading phase, hoping to get back to a CIF State bowl game in the near future. This matchup serves as a solid first test. Can't make it out to Gardena? The game will stream live on
FOXSportsWest.com
as part of the website's
Prep Zone platform
.
Covina vs. West Covina at Covina District Field, Saturday, 7 p.m.
-- The lone hiccup for West Covina in 2010? A season-opening loss to Covina. How it went down is perhaps even more agonizing for the defending Southeast Division champion Bulldogs. West Covina led 21-2 late in the fourth quarter before Covina scored 25 unanswered points to pull off the improbable comeback. The Bulldogs reeled off 13 consecutive wins and captured the hardware, but the Colts have had area bragging rights for a year.
Don't agree with this list of top games? Does another game deserve more notoriety? Leave a comment on this post or contact ESPNLosAngeles.com preps writer Blair Angulo directly on his Twitter page.
August, 19, 2011
8/19/11
12:43
PM PT
By
Sean Ceglinsky
| ESPNLosAngeles.com
When it comes to talented prep football teams in the Southland, seemingly no group has enjoyed as much recent success as Gardena Serra. The roster this season, mind you, might not be loaded with multiple high-profile players, as it has been in the past. Nevertheless, the Cavaliers figure to build on their 44-4 record the last four years and be a force to be reckon with once again.
In order to maintain their reputation as one of the best around, Serra needs to find ways to keep
Raymond Ford
involved on the offense side of the ball. The senior receiver, after all, is the heir apparent to
George Farmer
, now at USC. Ford has the potential to be the playmaker Farmer was last season when he played alongside fellow wideout
Marqise Lee
, also currently with the Trojans.
One potential problem: There are lingering questions about who is going to get the ball into the hands of Ford.
It appears as if sophomore
Jalen Greene
is the front-runner to win the starting quarterback job. If he falters,
Ryan Barbarin
patiently waits in the wings and the junior would like nothing more than the opportunity to prove himself.
Here is a closer look at the Cavaliers:
Team:
Gardena Serra
Coach:
Scott Altenberg, 13th year
2010 Record:
14-1, won CIF Southern Section Western Division championship.
Returning starters:
Five total. Three on defense. Two on offense.
Key players on offense:
WR Raymond Ford (UCLA commit), RB Anterio Bateman.
Key players on defense:
S Patrick Wooten, DT Kris Cooper, DT Kache Palacio, LB Thomas Brown.
Difference maker:
It begins and ends with Ford, also a shut-down corner in the secondary. George Farmer and Marqise Lee are gone. A season ago, the seniors were the Southland's premier pass-catching tandem. Both are at USC now. Ford will be expected to fill the void left behind and the senior appears capable of handling the additional workload.
Newcomers:
Brown, a transfer from Long Beach St. Anthony. Palacio, a transfer from Los Angeles Westchester. QB Jalen Greene. QB Ryan Barbarin.
Not to be missed:
at West Hills Chaminade, Friday, Nov. 11. There will be tons of tests along the way, to be sure. None of those games, however, figure to be as important as the season finale in the San Fernando Valley in a showdown with Mission League title implications. The Eagles hope to make a statement with a win and will likely give Serra all it can handle in this one.
Coach's comment:
"We haven't lost many games around here in the recent past, and because of that, we have a target on our backs. Some people might think we don't have the big names anymore and there will be plenty of teams gunning for us. That's the way things work, it's the nature of the beast. Our job is to make sure there is not a huge drop off in our level of play."
Final analysis:
Replacing Framer and Lee will not be easy. QB Conner Preston also graduated, having moved on to SMU. Season-ending injuries to OLB Ardis Perez and MLB Malachi Mageo a couple of weeks ago certainly does not help matters. Bottom line: Ford must stretch the field vertically to keep opposing defenses honest and Bateman needs to take advantage of open running lanes when the situation presents itself. If that happens, Serra figures to be in position to make, yet another, postseason run.
Sean Ceglinsky covers preps for ESPNLosAngeles.com. Follow him on
Twitter
.
January, 28, 2011
1/28/11
4:19
PM PT
The following is a list of players and coaches who garnered top honors on All-CIF teams, sorted by division:
MID VALLEY DIVISION
Offensive player of the year: QB Nick Bueno, Monrovia
Defensive player of the year: LB Derrick Johnson, Monrovia
Coach of the year: Ryan Maddox, Monrovia
NORTHERN DIVISION
Defensive player of the year: DL J.R. Tavai, Mira Costa
NORTHWEST DIVISION
Defensive player of the year: Eric Capachione, South Torrance
SOUTHEAST DIVISION
Offensive player of the year: HB Chris Solomon, West Covina
Defensive player of the year: LB Maurice Dupleasis, West Covina
Coach of the year: Mike Maggiore, West Covina
WESTERN DIVISION
Offensive player of the year: WR George Farmer, Serra
Defensive player of the year: S Marqise Lee, Serra
Coach of the year: Scott Altenberg, Serra
For a list of all the All-CIF-Southern Section football teams, click
this link
.
December, 18, 2010
12/18/10
9:03
PM PT


CARSON -- It slipped away in the downpour.

Serra coach Scott Altenberg wouldn't use the rain as an excuse, but the wet conditions had an effect on his team.

The usually fleet-footed Cavaliers were forced to slow down. Folsom capitalized on a flurry of Serra mistakes, turning a tight contest into a resounding 48-20 win in the CIF Division II state championship Saturday at the Home Depot Center.

Serra trailed by one heading to the fourth quarter, but Folsom converted three turnovers into three touchdowns in a mere 1:14 for a 21-point lead.

"The conditions definitely affected us a little bit," Altenberg said. "But Folsom's a great football team. You don't take anything away from them. They played well."

The Cavaliers (14-1) committed five turnovers -- all in the second half. Dual-threat quarterback Dano Graves threw for three touchdowns, ran for three more and had 297 yards of total offense for Folsom (14-1).

"This is amazing," Graves said. "One of the best feelings of my life. We're going to Disneyland. I'm not kidding about that; we're really going to Disneyland."

Graves' play was magical throughout. Folsom took the opening kickoff 77 yards and claimed a quick 7-0 lead on an eight-yard touchdown pass from Graves to Tyler Trosin two plays later. The Bulldogs doubled their lead shortly after on another Graves-to-Trosin hookup, this one for 42 yards.

"We had a lot of momentum," Graves said.


December, 10, 2010
12/10/10
11:36
PM PT
By
Sean Ceglinsky
| ESPNLosAngeles.com
GARDENA -- Domonique Vaughn and Tavita Tua'au did their best to hide the oversized bucket of Gatorade from Scott Altenberg. And it nearly worked, that is, until the Serra High football coach saw the two lineman coming in his direction.
Altenberg avoided most of the messy downpour, but the celebration took place nonetheless after the Cavaliers defeated visiting Arroyo Grande with relative ease on Friday night, 35-10, to successfully defend their Southern Section Western Division title.
"I tried to dip and duck at the last second, but what the heck, a little Gatorade never hurt anyone,'' Altenberg said. "What a win. What a feeling.''
Serra's George Farmer was feeling pretty good during the postgame festivities as well. After all, the senior wide receiver, one of the top recruits in the country, committed to USC prior to the kickoff.
"USC is a good fit for me, the campus is right in my backyard and I feel comfortable with the coaching staff,'' Farmer said. "I spoke with Lane Kiffin before the game tonight and told him that I was a Trojan.''
Arroyo Grande's
Seth Jacobs
fumbled to open the fourth quarter and
Woodson Greer
recovered the ball at the Eagles' 30-yard line. And it didn't take long for Serra to score as
Conner Preston
connected with
Marqise Lee
on a 17-yard touchdown to give the Cavaliers a 35-3 lead with 8:34 remaining in the game.
With the game's outcome no longer in doubt,
Brent Vanderveen
threw a 23-yard touchdown pass to
Garrett Owens
to cut the insurmountable Serra lead to 25 points with 3:24 left in the fourth quarter.
"We came into this game knowing that we weren't going to lose,'' Farmer said. "Winning back-to-back titles was our goal all season and we finally accomplished it. We're the best, No. 1.''
Farmer appeared to score in a 60-yard punt return midway through the third quarter, but a penalty nullified the long touchdown. Instead, Serra started at its own 18-yard line and began mounting a drive that ultimately stalled when Preston was stopped on a fourth and seven at the Eagles 25-yard line.
Staked to 21-3 lead in the second quarter, the Cavaliers refused to slow down their high-powered offense. Accordingly, Preston found Lee wide open for a 15-yard touchdown to not only increase the lead to 25 points with 6:43 left in the first half, but also essentially break the spirit of Arroyo Grande.
"I mean, who goes out and wins two championships in-a-row? We do.'' Lee said. "We made sure to stay level-headed all year long, now it's time to enjoy things. Our hard work paid off.''
For as bad as things were for the Eagles in the first half, they could have been worse. The Cavaliers moved the ball down to the Arroyo Grande 10-yard line with less than a minute left in the second quarter, but they failed to capitalize on the opportunity when
Francisco Ollouqui
missed a 27-yard field goal.
When all was said and done, the Eagles had 48 yards of total offense and managed mere two first downs in the first half.
In comparison, Serra's
Shaquille Richard
gained 109 yards on the ground by himself over the course of the opening 24 minutes of play. Arroyo Grande had no answer for the senior.
"I owe a lot to my line, they were opening up the holes, all I had to do was run through them, it was that easy,'' said Richard, who finished with 162 yards on 23 carries.
Following a first quarter punt, Arroyo Grande received the ball back on the Serra 37-yard line. Three relatively unsuccessful running plays later, the Eagles faced a crucial fourth and two situation. Instead of going for the first down, they ended up letting the play clock run out and were assessed a 5-yard penalty.
It didn't matter, Owens trotted out and booted a 51-yard field that would have seemingly been good from 55 yards out to give Arroyo Grande a surprising 3-0 advantage with 6:23 remaining in the first quarter.
Serra answered, Richard in particular. The senior gained 47 yards on three carries to set up a 16-yard touchdown pass from Preston to Lee. And all of sudden, the lead was 7-3 with 4:16 left in the first quarter.
The Cavaliers were just getting started.
Farmer appeared to return a punt deep into Arroyo Grande territory. However, a pair of costly penalties backed Serra up to its own 13-yard line. Minutes later, Farmer was on the receiving end of a 59-yard touchdown pass from Preston to extend the advantage to 14-3 with :52 remaining on the first quarter clock.
On the ensuing kickoff, the Eagles'
L.T. Johnson
fumbled the ball.
Pete Lauderdale
was in the right place at the right time, scooped up the miscue and returned the ball 27 yards for a score to give the Cavaliers a 21-3 with :39 left in the first quarter.
Preston finished 9-of-20 for 155 yards. Lee had three receptions for 48 yards. Farmer ended up two catches for 64 yards.
November, 5, 2010
11/05/10
11:24
PM PT
By
Sean Ceglinsky
| ESPNLosAngeles.com
WEST HILLS -- It took quite a while for the Serra High football team to get its vaunted offense started. But once the unit finally figured things out, Chaminade had little chance.

Entering the fourth quarter Friday night, the visiting Cavaliers trailed by a touchdown. However, they scored 21 unanswered points the rest of the way to defeat the upset-minded Eagles, 35-21, and take over sole possession of first place in the Mission League.

"Chaminade gave us a scare, I can tell you that much,'' Serra coach Scott Altenberg said. "It took us a little while to get our offense going, but once we finally found our comfort zone, they couldn't stop us. Once we started clicking, it was pretty much over.''

Serra (9-0, 4-0), No . 5 in ESPNLosAngeles.com's Top 25 rankings, trailed for a majority of the first three quarters. As for the Eagles (8-1, 3-1), No. 24 in ESPNLA poll, they played with inspiration and created some doubt in the minds of their heavily favored opponent.

In the fourth quarter, Marqise Lee made sure to change of all that though. He scored on a 55-yard touchdown pass from Conner Preston to give Serra a 28-21 advantage with 3:25 left.

Any hopes Chaminade might have had at making an improbable comeback were all but ruined when Shaquille Richard scored on an 8-yard run to extend the lead to 35-21 with 1:54 remaining in the fourth quarter. The Eagles were demoralized, to be sure.


October, 10, 2010
10/10/10
5:48
PM PT
By
Sean Ceglinsky
| ESPNLosAngeles.com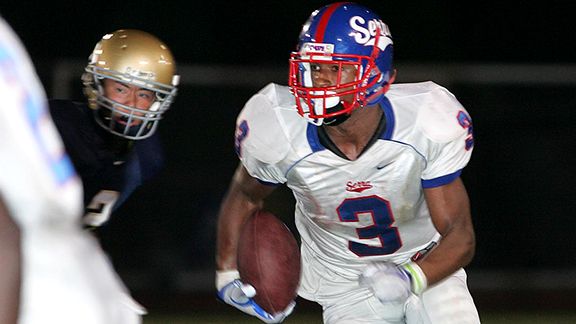 Courtesy of Anthony Watson
Teams have been paying extra attention to Serra's George Farmer this season, but that hasn't stopped the senior from having an impact in every game he plays.
As
George Farmer
breaks from the huddle at midfield, the Gardena Serra High receiver makes sure to take a quick glance downfield before lining up at his customary position on the outside. Sizing up the competition is necessary. In fact, it's a must considering he is one of the country's premier pass-catchers at the prep level and all too familiar with what awaits next.
A cornerback shadows him, quickly moving directly in front of Farmer before the ball is snapped, mere yards away, apparently hoping to rough him up a bit with some bump-and-run coverage. He notices a linebacker taking a big step to his left, as if to gesture that there's trouble looming ahead. Out of the corner of his eye, Farmer sees a safety rolling over to his side of the football field in what figures to be yet another attempt at double-teaming him over the top.
Following the snap of the ball, a quick stutter step at the line of scrimmage creates separation. A head-and-shoulders fake by Farmer freezes the would-be tackler at the second level. An uncanny burst of speed follows, enabling him to blow by the last line of defense in the secondary.
Nothing stands in between him and the end zone now. Nevertheless, the pass ends up in the hands of a teammate for a first down instead of going to Farmer for a touchdown. It's a scenario that has been played out time and again, thus all the extra attention being paid to the 6-foot-2, 200-plus pound senior.
Surely, Farmer would've liked to be on the receiving end of the completion for six points, similar to the way he has done many times in the past. However, he's smart enough to understand deflecting the spotlight on occasion isn't the worst thing in the world, and ultimately, it's his unselfishness that separates him from his peers.
"People might be surprised to hear a guy like George doesn't demand the ball on each and every play, he's one of the country's best players, most kids with that kind of status tend to have big egos," Serra coach
Scott Altenberg
said of Farmer, who ESPNU ranks as the nation's No.2 wideout and 13
th
prospect overall.
"George is different, he's very humble, he's a throwback kind of player in some ways. He knows we have 11 players on offense that are more than capable of contributing on any given Friday night. He gets it, he's unique in that sense. George is one of those guys who makes everyone around him better because he's willing to do the little things on the field that don't always show up in the box score at the end of games. He knows that there's bigger things than just personal statistics.''
October, 1, 2010
10/01/10
11:55
PM PT


GARDENA -- Marqise Lee spread his arms wide, slowly swaying his body from one side to the other as he glided toward the Serra sideline.

Four times he did it and four times he was interrupted mid-flight, elated teammates getting to him before he reached the bench. And with a never-ending stream of airplanes descending in the background all game long, Lee's gesture was only appropriate.

Lee caught four touchdown passes and had 184 yards receiving Friday night, helping No. 5 Serra fly past visiting Narbonne, 48-22.

"It was my first time doing it," Lee said of his celebration method. "I was so hyped for this game. We don't get to play against a City Section team often."

Lee made it count -- all but one of his grabs went for scores -- and exceeded even his own expectations.

"My mindset was to come out and get three (touchdowns) because Narbonne was doing some talking," Lee said.

His output became all the more important when fellow receiver George Farmer suffered a hip injury early. Farmer limped his way through the remainder of the first half and was held out once the Cavaliers raced out to a 34-0 halftime lead.