Los Angeles Preps:

Scott Starr
January, 31, 2012
1/31/12
3:34
PM PT
By
Dan Arritt
| ESPNLosAngeles.com
Less than 24 hours before national signing day and high school football recruits from the Inland Empire continue to sway on their decisions, or learn that a previous offer is no longer on the table.
UCLA and Colorado are two schools in the middle of some down-to-the-wire movement involving I.E. recruits.
Christian Powell
, the
third-ranked
fullback recruit in the nation, committed to UCLA earlier this month but switched to Colorado on Monday night, reports several outlets, including
Greg Biggins
of ESPN Recruiting Nation.
He would be the third player from Upland to be part of the Buffaloes' recruiting class, joining running back
Donte Abron, Jr
., and wide receiver/defensive back
Marques Mosley
. Powell, at 6 feet, 250 pounds, also played defensive line for the Highlanders, recording 15 sacks last season, but is expected to play fullback in coach
Eric Bienemy
's offense.
Corona Santiago offensive lineman
Isaiah Folasa
, also once a UCLA commit under former coach
Rick Neuheisel
, will reportedly sign with New Mexico State on Wednesday, according to Santiago coach
Jeff Steinberg
.
Folasa took a recruiting trip to Colorado the weekend of Jan. 21, but the Buffaloes were unable to accept his commitment because they had ran out of available scholarships for this class, Biggins reported. In addition to the Upland trio, Arlington defensive lineman
Samson Kafovalu
and Citrus Hill running back
Davien Payne
have also pledged to Colorado.
Here's the latest list of recruits from the I.E.
January, 7, 2012
1/07/12
12:13
PM PT
Pasadena Muir defensive back
Kevon Seymour
committed to USC on Saturday at the U.S. Army All-American Bowl game in San Antonio, Texas.
The four-star prospect also considered Cal, Oregon and UCLA. The 6-foot-1, 175-pound Seymour is the 19th-ranked player in California.
Seymour gives USC its 12th verbal commit, joining local standouts
Jabari Ruffin
(Downey),
Max Tuerk
(Santa Margarita),
Jordan Simmons
(Crespi),
Scott Starr
(Norco) and
Darreus Rogers
(Carson).
National signing day is Wednesday, Feb. 1.
Blair Angulo covers preps for ESPN Los Angeles. Follow him on Twitter.
December, 22, 2011
12/22/11
9:46
PM PT
By
Dan Arritt
| ESPNLosAngeles.com
Now that the high football season has ended, the recruiting period is in full swing. The Inland Empire, which has stockpiled a number of collegiate conferences over the years, has its share of blue-chip recruits again this season. Here's a list of seniors who have made non-binding verbal commitments to schools in advance of the national signing day in early February, followed by a list of those who are still undecided.

COMMITTED RECRUITS

QB -- Matt Morin, Chaparral (San Diego State); Austin Decoud, Redlands East Valley (Idaho).

RB -- Donta Abron, Jr., Upland (Colorado); Davien Payne, Citrus Hill (Colorado).

ATHLETE -- Damontae Kazee, Cajon (San Diego State); Bryan Harper, Colony (Washington); Jamaal Williams, Summit (BYU).

OL -- Lio Lafaele, Corona Centennial (Utah); Dylan LaFrenz, Los Osos (Arizona State); Isaiah Folasa, Corona Santiago (UCLA); Kyle Hart, Ridgecrest Burroughs (San Jose State).

DL -- Jeremy Castro, Vista Murrieta (Oregon); Teddy Queen, Chaparral (San Diego State); Samson Kafovalu, Arlington (Colorado).

LB -- Scott Starr, Norco (USC); C.J. Dozier, Chaparral (Arizona State); Darnell Murray, Citrus Hill (UTEP).

DB -- Donte Deayon, Summit (Boise State); Corbin McCarthy, Norco (Duke); Marques Mosley, Upland (Colorado).

UNDECIDED

ATHLETE -- Reshawn Hooker, A.B. Miller (Boise State, UCLA).

WR -- Kenny Lawler, Upland (UCLA, Oregon State, California, Michigan State).

DL -- Milo Jordan, Corona Centennial (USC, UCLA, Arizona State, Nebraska, Washington); Christian Powell, Upland (Washington, Nebraska, Texas A&M).

LB -- Joe Robinson, Chaparral (Nebraska, Arizona); Robert Wagner, Colony (Arizona, San Diego State); Nolan Peralta, Elsinore (Fresno State, San Jose State).
December, 19, 2011
12/19/11
11:34
AM PT
By
Dan Arritt
| ESPNLosAngeles.com
With the season officially over for Inland Empire football teams, it proved to be a memorable year with the parity that enveloped the area this season and a number of top players are expected back again next year. Here's a look at the top players in the I.E. from the 2011 season.

MVP

Su'a Cravens, Vista Murrieta, Jr., 6-2, 205 – Cravens was a game-changer on both sides of the ball for the Broncos and a big reason for their first Southern Section title this season. He scored touchdowns when the offense needed them most, and on defense took turns making plays in both the backfield and secondary. Cravens touched the ball 95 times on offense, averaged 10.5 yards a touch and scored 19 touchdowns. On defense, he had 11 sacks and three interceptions, one for a game-clinching touchdown against Chaparral.

OFFENSIVE MVP

Romello Goodman, Corona Centennial, Sr., 5-5, 165 – Goodman took advantage of the talent around him and rushed for 2,758 yards and a state-leading 44 touchdowns. He was at his best in the postseason, rushing for 1,170 yards and 17 touchdowns in four games.

DEFENSIVE MVP

Christian Powell, Upland, Sr., 5-10, 240 – Powell was a force on both sides of the ball but he was especially dangerous on defense, recording an Inland Division-leading 15 sacks. Nebraska, Texas A&M and Washington are among the colleges in pursuit of his services.

SPECIAL TEAMS MVP

Tyler Rausa, Vista Murrieta, Sr., 5-8, 170 – Rausa booted a Southern Section-leading 19 field goals in 14 games, an Inland Empire record for a single season. The Broncos were setting Rausa up for a game-winning kick in the Inland Division final against Centennial last week, but instead scored on 30-yard run in the 35-28 victory.

COACH OF THE YEAR

Coley Candaele, Vista Murrieta – Coming into the season, it didn't appear Candaele had much in the cupboard on offense, but he found ways to move the chains and get it into the end zone, most notably giving Cravens a chance to run and catch the ball. Junior quarterback Nicholas Stevens also appeared to gain comfort with Candaele's system as the season rolled along and, like Cravens, will be back next season for another run at the section title.


December, 10, 2011
12/10/11
5:41
PM PT
By
Sean Ceglinsky
| ESPNLosAngeles.com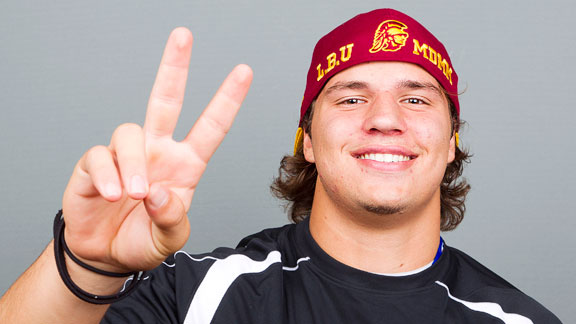 Miller Safrit/ESPN.comNorco's Scott Starr is headed to USC this fall as a linebacker
Scott Starr
stepped up to the podium on Friday afternoon, seemingly as proud as can be to accept his jersey for the Semper Fidelis All-American Bowl. It was the crowning achievement for a season's worth of diligent work from the senior from Norco.
For his efforts, the 6-foot-2 and 220-pound linebacker, will play in the inaugural game on Jan 3. in Phoenix. Once there, the USC-bound Starr will compete against 100 of the nation's premier prospects in the highly anticipated East vs. West showdown.
"It was definitely a cool experience to get that uniform in front of all of my close friends, family and teammates. It's an honor,'' Starr said. "Being named an All-American is something that I've dreamed about since I was a little kid. It's a reality now.''
The selection was indeed worthy given his resume.
Starr has been a starter at Norco for the last four years. He emerged as a legitimate prospect as a junior, however, and there's been no stopping him since then.
Starr had 96 tackles and six sacks this season for the Cougars, who finished with a 6-5 overall record. Undoubtedly, he opened the eyes of the powers that be, namely the Semper Fidelis All-American Bowl committee, with several standout individual efforts.
A 16-tackle effort against Corona Roosevelt back in late September was a sign of good things to come. Two weeks later, he had 13 stops against Riverside King. Not to be outdone, in mid-November, Starr finished with 15 tackles against Redlands East Valley.
"Scott Starr means a lot to this program, it's been that way for a while now, '' Norco coach
Todd Gerhart
said. "He gets the stats and headlines most of the time, but he also does other things for us, both on an off the field. He's a good representative of this school.''
November, 18, 2011
11/18/11
11:55
PM PT
By
Dan Arritt
| ESPNLosAngeles.com


REDLANDS -- No matter how difficult the challenge appeared heading into the Southern Section Inland Division first-round game Friday night, Norco wasn't about to go down easy.

Despite finishing fourth in the Big VIII League and getting blown out last week in the regular-season finale, the Cougars had not lost a first-round playoff game since 2002, holding a 20-6 record in the postseason over the previous eight years.

But the fourth-seeded Redlands East Valley football team also had something to prove and they showed their resiliency with a second-half comeback and late fumble recovery, which sealed a 20-15 victory against Norco at Redlands High.

The Wildcats (11-0) certainly did their part to keep the game close, losing three fumbles in the second half.

"If you can't play mistake-free football, then it's going to get ugly," said Redlands East Valley coach Kurt Bruich. "Thank God we're not turning our gear in."

The Cougars (6-5) were able to capitalize on the first turnover by REV, scoring on a 13-yard run by junior running back Joseph Ajeigbe, who then converted the two-point conversion for a 15-14 lead with 7:46 remaining in the third quarter.

Facing its most precarious moment, a third and eight from its own 38-yard line, REV quarterback Austin Decoud found Jesse Riley for a 41-yard completion to the Norco 21.

"I knew we needed to get the first," Decoud said. "I was getting ready to take a hit, but I knew I had to get the ball off, so I let it go and I knew he was going to be there."

Two plays later, Decoud hit Zach Brown in the end zone for a 19-yard touchdown pass and a 20-15 lead. Decoud could not convert the two-point run, but the Wildcats were back in front.

REV turned the ball over twice more in the second half but Norco was unable to convert. The Cougars started their final possession on their own 27-yard line with 3:17 remaining and crossed midfield just over a minute later, but Ajeigbe fumbled and REV linebacker Dylan Moi recovered on his own 42 with 1:56 remaining.

The Wildcats were glad to get the victory but were hardly celebrating their performance. In addition to the turnovers, they also lost starting right tackle Nelson Goins to a knee injury and starting running back Taylor Thompson was limited by a strained hamstring.

"What's irritating to me is, when our kids have to step on the gas, they do, but tonight they didn't want to keep going," Bruich said.

Norco outside linebacker Scott Starr played his final high school game before he's set to continue his career next season at USC. He recovered one of the fourth-quarter fumbles and sacked Decoud but could only watch from the sideline as the Cougars committed four turnovers.

"It just came down to execution," he said. "We all played our tails off tonight."

Unfortunately, the Wildcats are the ones still wagging theirs.
November, 17, 2011
11/17/11
3:46
PM PT
By
Dan Arritt
| ESPNLosAngeles.com
INLAND DIVISION

First round, Friday

Redlands (4-6) at No. 1 Corona Centennial (9-1), 7:30 p.m.

How they got here: Centennial won the Big VIII League championship; Redlands finished third in the Citrus Belt League:

Matchup to watch: Redlands junior running back Craig Lee (142-1,353, 15 TDs) vs. Centennial linebacker Edem Nassar (8.5 tackles per game).

Fast fact: Centennial has won six Southern Section titles since 2000.

Prediction: Centennial 49, Redlands 21.

Los Osos (6-4) at Chaparral (6-4), 7:30 p.m.

How they got here: Chaparral finished runner-up in the Southwestern League; Los Osos finished third in the Baseline League.

Matchup to watch: Arizona State-bound offensive tackle Dylan LaFrenz of Los Osos (6-4, 280) vs. Chaparral defensive end Teddy Queen (6-3, 240).

Fast fact: The last time these teams met was in the second round of the 2007 playoffs, when Chaparral kicked a 27-yard field goal with a little more than a minute remaining, leading to an ugly shouting match between a few Los Osos coaches and fans.

Prediction: Chaparral 24, Los Osos 20.

Chino Hills (6-4) vs. Rancho Cucamonga (9-1) at Los Osos HS, 7 pm.

How they got here: Rancho Cucamonga finished second in the Baseline League; Chino Hills finished runner-up in the Sierra League.

Matchup to watch: Chino Hills junior receiver Jack Austin (45-726, 10 TDs) vs. Rancho Cucamonga secondary (five interceptions).

Fast fact: Rancho Cucamonga is 8-2 in the playoffs over the last three seasons.

Prediction: Rancho Cucamonga 31, Chino Hills 14.


October, 6, 2011
10/06/11
4:11
PM PT
By
Dan Arritt
| ESPNLosAngeles.com
Is this the week that Redlands East Valley jumps into the mix with a huge upset against an out-of-county foe? Can J.W. North become just the second team to ever win a Big VIII league game against Corona Centennial? Will some key additions for Corona Santiago help the Sharks get over the hump against Norco? These are just a few of the questions awaiting Week 5.

A-Game

(ESPNLA top 25 rankings included)

No. 23 J.W. North (4-0, 1-0) at No. 6 Centennial (3-1, 1-0), Friday ( 7 p.m.) – Forget that little matchup over in Redlands, this game actually means something to the Inland Empire landscape. J.W. North shocked the Southland in Week 2 when the Huskies went for two in the final minute to topple Alemany, 36-35, the same night Centennial came from behind in the second half to beat Mater Dei, 28-20. Neither team has trailed since. Centennial quarterback Hayden Gavett has settled in as a first-year starter, and running back Romello Goodman is doing his best Barrington Collins imitation, picking up where last season's main ball carrier left off. Centennial hasn't faced a team as athletic as J.W. North. Justin Gheorghe is just the third Inland Empire quarterback to surpass 1,000 yards passing this season, and he has a sensational deep threat in 6-foot-3 senior receiver Aaron Peck, who is averaging just over 26 yards a catch with five touchdowns this season.

Calpreps.com computerized projection: Corona Centennial 42, J.W. North 26

ESPNLA: Corona Centennial 48, J.W. North 38

B-List

No. 2 Mission Viejo (4-1) vs. No. 21 Redlands East Valley (4-0) at University of Redlands, Friday (7:30 p.m.) – One of the surprise teams out of the gate has been Redlands East Valley, not so much that the Wildcats are still undefeated at this point, but how they got there. Three shutouts in four games and 12 points allowed overall will earn some attention, and a lot of folks in Mission Viejo are approaching this game with some concern. The Wildcats have a second-year quarterback in Austin Decoud, their leading rusher from last season in Jesse Riley, and four returning starters on the offensive line. They're just as stacked with experience on defense, especially up front with junior defensive lineman Kylie Fitts recording 4 1/2 sacks through three games, and senior strong safety Trevor Douglass having a hand in four of the team's 12 takeaways. Mission Viejo quarterback Alex Bridgford hasn't been flashy but he has been efficient, passing for at least 200 yards every game this season. The running game hasn't been slowed too much by the loss of Buzzy Yokoyama, out since Week 1 because of a foot injury.

Calpreps.com: Mission Viejo 17, Redlands East Valley 14

ESPNLA: Mission Viejo 28, Redlands East Valley 14


September, 28, 2011
9/28/11
4:33
PM PT
By
Dan Arritt
| ESPNLosAngeles.com
Grudge week arrives with a couple of heavy-hitting cross-section matchups and one long-awaited Big VIII League opener. The
Calpreps.com
computer is also looking to rebound from another tough loss last week to the human brain from ESPNLA.
A-Game
(ESPNLA top 25 rankings included)
No. 15 Loyola (4-0) at No. 21 Upland (4-0), Friday (7 p.m.)
– Upland has been a nightmare for defensive coordinators this season, averaging 46 points a game. The Highlanders exploded for 54 last week against Norco, led by by
USC-bound
inside linebacker
Scott Starr
. Upland will need to be even better this week. Against four quality offenses, Loyola is giving up an average of just under nine points a game. Keep an eye on
Chaz Anderson
of Loyola, a wide receiver/defensive back who has
committed
to Boise State. He caught two touchdown passes last week in a
28-14
victory against St. John Bosco and helped limit Bosco's talented passing game, led by
Cal-bound
wide receiver
Bryce Treggs
, to just 121 yards through the air.
Cameron Walker
also stepped into a two-way role last week following the ankle injury to starting running back
Wyatt Bradford
. Walker responded with 76 yards rushing and a touchdown and helped form the blanket in the secondary. The Cubs will be up against another Pac 12-bound receiver in
Kenny Lawler
(
Arizona State
), but they'll also need to keep an eye on shifty running back
Donta Abron
, who's plenty capable of inflicting damage of his own.
Calpreps.com computerized projection: Loyola 35, Upland 28
ESPNLA: Loyola 31, Upland 30
B-List
No. 17 Vista Murrieta (3-0) at No. 4 Crespi (4-0), Friday (7 p.m.)
– Vista Murrieta was coasting along this time last year, then the Broncos hosted Crespi and their defense suddenly turned into a wet paper bag and they lost, 45-31. Now it's Vista Murrieta's turn to make the long commute to Encino and face a team with 15 returning starters and a couple of high-profile transfers, including quarterback
Cody Cordell
(Oaks Christian). Crespi's most heavily recruited player is offensive lineman
Jordan Simmons
, ranked as the
No. 5 guard
in the nation by ESPN. He's part of an offensive line that averages 280 pounds. They'll get a nice push from Vista Murrieta's defensive front, led by
Washington-commit
Jeremy Castro
, who had 11 sacks in 14 games last season and two so far this year.
Calpreps.com: Vista Murrieta, 24, Crespi 21
ESPNLA: Crespi 27, Vista Murrieta 17
Norco (2-1) at Roosevelt (1-2), Friday (7 p.m.)
– Get ready for the longest-awaited payback in the Big VIII this season. Roosevelt toppled the Cougars,
24-21
, on Norco's home field last season, stopping them on fourth down with about 4 1/2 minutes remaining and putting a huge dent in their league title hopes. Roosevelt quarterback
Aaron Crone
threw for a league-leading 23 touchdown passes as a junior but hasn't played this season because of an injured throwing shoulder suffered in a preseason game. If he's still not ready to go, it could be a long night for the Mustangs.
Calpreps.com: Norco 35, Roosevelt 22
ESPNLA: Norco 42, Roosevelt 21
No. 23 Redlands East Valley (3-0) at Chino Hills (2-2), Friday (7 p.m.)
– Redlands East Valley might be looking to exact a bit of revenge as well. A year ago against Chino Hills, the Wildcats were dismal on offense, managing only one field goal in a
14-3
loss. The biggest hope for Chino Hills is that REV gets caught looking ahead to next week's game against No. 3 Mission Viejo. Chino Hills can move the ball with one of the I.E.'s top junior receivers in
Jack Austin
, and boasts a defense that held Pomona running back
Sir Darius Yarbrough
, a 600-yard rusher heading into the game, to 12 yards last week in a 37-6 victory. REV had a bit of a wakeup call the same night against Dorsey, hanging on for a 14-12 victory. The Wildcats dropped 10 passes in the last two weeks and can't afford those mistakes if they want to avoid getting embarrassed by Chino Hills again.
Calpreps.com: Redlands East Valley 26, Chino Hills 10
ESPNLA: Chino Hills 14, Redlands East Valley 13
Last week's picks:
Calpreps.com: 4-1.
ESPNLA: 5-0.
Overall:
Calpreps.com: 6-3.
ESPNLA: 8-1.
September, 20, 2011
9/20/11
4:44
PM PT
By
Sean Ceglinsky
| ESPNLosAngeles.com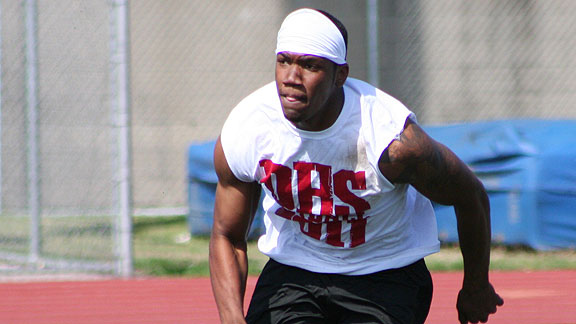 WeAreSC.comJabari Ruffin, who has committed to USC, is ranked the No. 4 prospect overall in California.
Defense, as the old adage states, wins championships. We've all heard it before.
If that's the case, the Southland appears to have more than enough talented players residing on the defensive side of the ball to make a decided difference for their respective teams.
With so many different individuals making crucial plays all over the field in the first two weeks of the season thus far, we figured that it might be a good idea to take an in-depth look at some of the premier prospects residing on the defensive side of the ball in the greater Los Angeles area.
That said, consider this as a who's who list of the more high-profile prospects around.
Defensive line: Monrovia's
Ellis McCarthy
. When it comes to the top recruits from these parts, few are better than the 6-foot-4, 305-pound senior. McCarthy is a force to be reckoned with every time he lines up. He's a run-stopping force. That's not to say the big man can't put pressure on the quarterback. McCarthy does it all, plain and simple. His top choices for college include USC, Cal, Florida, Washington and Oregon.
Defensive line: Westlake's
Justin Solis
. The top players in Ventura County typically do not receive nearly as much recognition as they deserve. Solis, however, is the exception to the rule. The 6-3, 285-pound senior was recruited by a handful of Pac-12 Conference programs. Ultimately, Colorado proved to be the best fit. Boise State, Georgia Tech and Iowa State also offered.
Defensive line: Irvine Woodbridge's
Kyle Kelly
. The 6-3, 225-plus pound senior is a pass-rushing specialist, a load to deal with from the edge. Kelly committed to Arizona despite having offers from Florida and Vanderbilt. Vista Murrieta's Jeremy Castro and Long Beach Poly's Alonzo Williams were also considered for this spot. In the end though, Kelly offers far too much upside.
Linebacker: Downey's
Jabari Ruffin
. ESPNU ranks him as one of Southern California's top recruits. Only San Clemente's Kyle Murphy is ahead of Ruffin. After watching the 6-3, 225-pound senior in action, it's blatantly obvious he is far more advanced than most of his peers. His game is tailor-made for the next level. USC landed a prized prospect when he committed in early March.
Linebacker: La Habra's
Aaron Porter
. Don't run the ball up the middle against this guy. And don't think your running back or tight end is going to break free in the middle of the defense when the 6-1, 230-pound senior is in uniform. Porter, heading to UCLA, is a jack-of-all trades. Opponents best know where he is on the field, at all times. Avoiding his general direction is recommended.
September, 14, 2011
9/14/11
4:49
PM PT
By
Dan Arritt
| ESPNLosAngeles.com
Nonleague play continues this week for Inland Empire teams, and some interesting matchups can be both in the region and beyond. Here's the best on tap.
A-Game
Corona Centennial (0-1) vs. Mater Dei (0-1) at Santa Ana Stadium, Friday (7:30 p.m.)
– Rarely would a matchup of winless teams draw this much interest, but the winning traditions built by these programs still qualifies this a can't-miss game. Mater Dei, ranked
No. 14
in the Southland by ESPNLA, had an extra week to either stew about its last-second
loss
to No. 12 Carson in Week 0, or get hyped for the seventh-ranked Huskies, who
tore apart
the Monarchs last season. Centennial is fresh off a two-point
loss
to No. 6 St. Bonaventure on its home field Friday night and can't afford another if it has any hope of getting back to the state bowl championships (it also doesn't help that the Huskies' strength of schedule is taking a beating, as their nonleague opponents are 1-3 so far). The key for Mater Dei will be getting the ball to 6-foot-4, 220-pound wide receiver
Thomas Duarte
, who should provide a significant matchup problem with his size and speed. Centennial needs to show more discipline and eliminate the penalties that were so costly against St. Bonaventure.
Calpreps.com computerized projection: Centennial 31, Mater Dei 14.
ESPNLA: Centennial 38, Mater Dei 24
B-List
Norco (1-0) vs. Etiwanda (1-1) at Colony HS, Friday (7 p.m.)
– This might be the toughest game to predict this weekend. Despite the outcomes, No. 17 Norco played ho-hum in a 21-20 victory Friday against L.A. Crenshaw, the same night Etiwanda earned more respect in a 31-28 loss to No. 21 Vista Murrieta. Etiwanda quarterback
Larry Cutbirth
has carved up two good defenses so far this season and Norco's weak link is its secondary. The Cougars will need USC-bound outside linebacker
Scott Starr
to make things difficult when Cutbirth's on the field, and hope the offense can sustain drives long and far enough to score points and keep Cutbirth on the sideline.
Calpreps.com: Etiwanda 35, Norco 28.
ESPNLA: Norco 35, Etiwanda 34.
Mission Hills Alemany (2-0) vs. J.W. North (1-0) at Riverside College, Friday (7 p.m.)
– Alemany, ranked No. 3 by ESPNLA, will get its first real test of the season against a much-improved team from J.W. North. The Warriors love to throw the ball and have a deep receiving corps led by junior
Steven Mitchell
, who has already picked up scholarship offers from UCLA and Washington. The Huskies will need a big game from quarterback/defensive back
Justin Gheorghe
, a first-team all-Big VIII League pick on offense and defense last season. Gheorghe threw four touchdown passes last week in a 48-10 victory against Colton.
Calpreps.com: Alemany 31, J.W. North 22.
ESPNLA: Alemany 21, J.W. North 17.
Upland (2-0) at Serrano (2-0), Friday (7 p.m.)
– For the fourth straight season these teams will get together and, if this game is anything like the last two, it should be very entertaining. Upland won, 21-18, in 2009 after an apparent fumble return for a touchdown by Serrano in the final minute was nullified by a premature whistle. The Diamondbacks traveled to Upland last season and lost, 14-7. The Diamondbacks will need to find some offense if they want to stay with Upland again this season. They've scored just four touchdowns in two games, while the Highlanders have 13.
Calpreps.com: Upland 28, Serrano 19.
ESPNLA: Upland 28, Serrano 10.
August, 22, 2011
8/22/11
6:37
PM PT
By
Dan Arritt
| ESPNLosAngeles.com
No team in the Inland Empire has a richer tradition or sustained streak of excellence than Norco. The Cougars have qualified for the Southern Section playoffs every season since 1987, winning five titles in that span and finishing runner up three other years.

Version 2011 should be no exception, as the Cougars return a number of key players from a team that won nine games with a freshman at quarterback and right guard. Throw in the addition of three quality starters who were ineligible last season and Norco might do more than just qualify for the postseason this year.

Here's a closer look at the team.

Team: Norco.

Coach: Todd Gerhart, eighth season.

2010 Record: 9-3, lost to Vista Murrieta in the second round of the Inland Division playoffs.

Returning starters: 11 total. Six on offense, five on defense.

Key players on offense: QB Coltin Gerhart, OL Roy Faulkinbury, OL Cory Roth, OL Dustin Stanton, RB Joseph Ajeigbe.

Key players on defense: LB Scott Starr, DB Corbin McCarthy, DE Jake Hinson, DT Jake Ackling.

Difference maker: Norco has been funneling players to Stanford and Arizona State in recent years, but Scott Starr didn't think twice when he was offered a scholarship to USC last spring. The 6-foot-4, 205-pound outside linebacker has 4.55 speed in the 40-yard dash, which allows him to track down opposing runners who dare round his corner. Once he puts a shoulder pad on an opponent, he seldom misses the tackle. The Cougars allowed at least 21 points in eight games last season, so those skills will be much needed if the Cougars want to cut down on their points-against average and take some pressure off the offense.

Newcomers: OL Artie Vasquez, WR Cameren Hemmings, LB Stephen Prescott, WR Marcus Jones, DB Justin Martin.

Not to be missed: at Corona Centennial, Oct. 21. The look on Todd Gerhart's face after Centennial routed Norco, 45-0, last season was one of shock and awe. As head coach at the school, Gerhart had never lost by such a large margin and he wasn't quite sure how to react. At least he wasn't alone last season. This season's matchup should be more rough-and-tumble, with both teams featuring hefty, experienced offensive lines. Norco's line averages about 280 pounds and they should be better equipped to handle the Huskies.

Coach's comment: "We're still young," Gerhart said. "We've got a sophomore quarterback and two sophomores on the offensive line, but it's a good group of guys. We'll score some points."

Final analysis: With a son in the NFL, another at Arizona State and his youngest playing quarterback for the Cougars this season, Gerhart will certainly have a lot to think about again this fall. But the Cougars are certainly in better shape than a year ago. Coltin Gerhart has a year under his belt behind center and three of his five offensive linemen are returning. The Cougars also are set to gain the services of Cameren Hemmings, Stephen Prescott and Marcus Jones, all of whom were ineligible last season after transferring to Norco. Throw in a defense led by a future member of the Trojans and Gerhart also has plenty smile about this season.
August, 10, 2011
8/10/11
9:42
PM PT
By
Dan Arritt
| ESPNLosAngeles.com
BIG VIII LEAGUE

Last season's results: Corona Centennial (14-1, 7-0); Roosevelt (9-3, 5-2); Norco (9-3, 5-2); Corona (5-6, 3-4); Corona Santiago (4-6, 3-4); Riverside King (4-6, 2-5); Riverside North (2-8, 2-5); Riverside Poly (3-7, 1-6).

Players to watch: The strength of Centennial lies in the trenches this season, and Milo Jordan can take much of that credit. He was the league's defensive co-most valuable player last season after helping the Huskies win the Inland Division title and advance to the Division 1 state bowl championship game. Jordan committed to Arizona State in June. Also returning to the Huskies' defensive front is Ngata Tuihalamaka, who led the Huskies with 4½ sacks last season. Centennial also returns three offensive linemen, led by senior tackle Lio Lafaele. Norco also returns most of its young offensive line from a season ago, as well as sophomore quarterback Coltin Gerhart. But no doubt the marquee player is outside linebacker Scott Starr, who committed to USC shortly after he was offered last spring. North should also improve behind senior quarterback/defensive back Justin Gheorghe, who was a first-team all-Big VIII selection on offense and defense last season. Gheorghe tasted success last spring as an outfielder for the North baseball team, which won the SS-Division 1 title at Dodger Stadium. Roosevelt, Santiago and Poly should also benefit from the return of their starting quarterbacks. Aaron Crone of Roosevelt threw for a league-leading 23 touchdown passes last season, Santiago junior Michael Darr averaged a league-best 206.1 passing yards a game and Steven Hamm returns behind center for Poly. Santiago might have the league's best offensive linemen in Isaiah Folasa, who committed to UCLA last month. Garry Lewis of Corona looks like the league's best athlete. The senior wide receiver had the second-fastest time in the 40-yard dash (4.41 seconds) at the Nike SPARQ Combine last spring in Long Beach.

Projected order of finish: Centennial, Norco, North, Santiago, Roosevelt, Poly, Corona, King.

Key games: Sept. 9 – Ventura St. Bonaventure @ Centennial; Los Angeles Crenshaw @ Norco; Sept. 16 – Centennial vs. Mater Dei @ Santa Ana Stadium; Sept. 23 – Upland @ Norco, Temecula Chaparral @ Centennial, North @ Fontana Kaiser; Sept. 30 – Norco @ Roosevelt; Oct. 7 – North @ Centennial, Santiago @ Norco; Oct. 14 – North vs. Poly @ Riverside College, Centennial @ Santiago; Oct. 21 – Norco @ Centennial; Oct. 27 – Santiago vs. North @ Riverside College; Nov. 4 – Centennial @ Roosevelt; Nov. 10 – Santiago @ Roosevelt; Nov. 11 – North @ Norco.

Alumni in the NFL: Lonie Paxton, Denver Broncos (Centennial '96); Toby Gerhart, Minnesota Vikings (Norco '06); Heath Farwell, Minnesota Vikings (Corona '00).

Fast fact: Centennial and Norco are intense rivals in the Inland Empire but a number of former players have gone on to become close teammates at Arizona State. Seven Centennial grads are listed on the 2011 roster, including four potential starters on defense, led by last season's Pac-10 Defensive MVP, linebacker Vontaze Burfict. Norco boasts six players on the Sun Devils roster, led by Garth Gerhart, the brother of Coltin and Toby Gerhart, considered one of the top centers in the NCAA.

On the clock: Citrus Belt League