Los Angeles Preps:

Sean DeRosa
October, 23, 2010
10/23/10
12:58
AM PT


NORWALK -- Malik Felton showed why he might be Servite's secret weapon -- as if the Friars needed more artillery.

With feature back Sean DeRosa making an in-game switch to safety, Felton rushed the ball 25 times for 211 yards and two second-half scores to carry the Friars -- ranked No. 1 by ESPNLA.com -- to a 32-24 Trinity League win against St. John Bosco at Cerritos College on Friday night. Servite actually trailed in the first half, but Felton's 163 yards in the second proved to be too much for the Braves' chances at an upset.

Sometimes, a little self-motivation goes a long way.

"It seemed like the fire just burned into me," Felton said. "I talked to myself and said, 'Alright, you've got to pick this up. Let's get this going. No problem, you've got this.' "

He was right: He did have it.

Felton, a hybrid receiver who had recently been getting more and more practice reps at running back, scored from 10 yards after a Karlton Dennis blocked punt that set up the Friars (7-0) in premium field position to start the second half. He added an 11-yarder early in the fourth quarter to make it a two-possession game.

"He was ready for this," Servite coach Troy Thomas said. "It isn't like he was playing receiver and not getting reps at running back. He's a running back that plays receiver sometimes."

Servite needed every bit of Felton, the running back.

Down by just eight, the Braves got the ball at their own 11 with just over a minute left. But Servite's defensive front was too powerful, sacking Ray Medina near the goal line to end Bosco's potential game-tying drive before it even began.

Of course, it wasn't all Felton. Quarterback Cody Pittman dinked and dunked his way to 132 yards and a touchdown.


October, 15, 2010
10/15/10
11:53
PM PT
By
Martin Henderson
| ESPNLosAngeles.com
MISSION VIEJO -- Another game, another workmanlike performance by Servite, the No. 1 team in the ESPNLA top 25.

Defense and special teams played a significant role in Servite's Trinity League opener, a 41-7 victory over previously undefeated JSerra.

Servite improved to 6-0, 1-0; JSerra is 5-1, 0-1.

Servite's first team defense shut down JSerra's offense and allowed only 81 yards before it went to the sidelines for the fourth quarter, having not only knocked the air out of the Lions' 42.6 scoring average, but also knocking starting QB Jake Hall out of the game with a possible concussion. The lone touchdown it allowed came after Servite fumbled the opening kickoff at the 22.

Joey Kimpler's touchdown gave JSerra a 7-0 lead. It was the first time this season that Servite has trailed in a game.

"When adversity strikes us," said Troy Niklas, a two-way starter on the line, "we hit it back in the face."

They do, and they hit hard. Servite is one of the most physical teams in the Southern Section and wore down the Lions as the game progressed.

Special teams also contributed in a big way, blocking two punts that led to touchdowns.


October, 2, 2010
10/02/10
11:44
PM PT
By
Dan Arritt
| ESPNLosAngeles.com
SANTA ANA -- Temecula Chaparral took on Servite without its two best players Saturday night and the result wasn't as bad as expected.
Servite won, 28-7, at Santa Ana Stadium, but needed to scratch and claw the entire game.
The Friars, ranked No. 1 in the Southland by ESPNLA.com, held a 14-0 lead at the half, stretched the lead to 21 in the third quarter but couldn't shake the Pumas, who were playing without standout wide receiver
Antoine Arnold
(groin) and safety
Darius Guillory
(shoulder).
Chaparral (0-4) cut the lead back to 14 points on a 15-yard touchdown reception by
Josh Harris
midway through the third quarter, but that's as close as the Pumas would get.
Servite's first score was set up by
this catch and run
by tight end
Ainslie Johnson
, which set up this
one-yard plunge
by
Jody Thomas
.
The second touchdown for the Friars (5-0) was set up by
this long run
down the Chaparral sideline by quarterback
Cody Pittman
, eventually leading to their
second touchdown
, a 34-yard scamper by
Sean DeRosa
.
This
long completion
by Pittman set up his second touchdown run,
a 12-yard burst
up the middle that gave Servite a 21-0 lead.
September, 17, 2010
9/17/10
11:48
PM PT
By
Martin Henderson
| ESPNLosAngeles.com
CERRITOS –
Ivory Sully
, the former NFL Ram who coaches linebackers for No. 1 Servite, walked over to head coach
Troy Thomas
45 minutes before the Friars took on No. 15 La Habra in a much-anticipated game between the North Orange County schools.
Thomas asked Sully how the warmups went. Sully leaned into Thomas. "The most focused they've ever been."
No kidding. The defense held La Habra to seven yards on its first possession, and then the offense went 65 yards in seven plays that required only 1 minute 55 seconds. It was a textbook drive, no frills, just seven points on its way to a 23-0 victory at Cerritos College.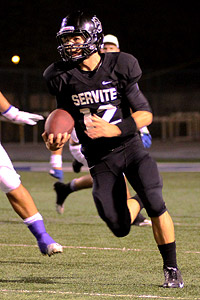 Laurence Martinez
Servite quarterback Cody Pittman, a junior, scrambles for yards in Servite's 23-0 victory over La Habra.

There was plenty of game to play, but last season's Pac-5 champion had delivered a message in the first five minutes.
Quarterback
Cody Pittman
, whose task is replacing the graduated
Cody Fajardo
, swung a pass to
Malik Felton
, whose task is replacing
Chris Nicholls
. It was a safe play, three yards. Then
Sean DeRosa
gained eight, Pittman ran for 17, and another short pass to Felton gained 16. Pittman rushed for 12, DeRosa gained eight and then kept churning into the line until he picked up the yard necessary for the score.
Pittman finished the game with nine carries for 56 yards and completed 14 of 16 passes for 96 yards and one interception. The defense, led by
Matt Inman
, limited La Habra to 148 yards, 37 of which came on one big pass late in the fourth quarter.