Los Angeles Preps:

Seth Jacobs
February, 1, 2012
2/01/12
7:24
PM PT
By
Sean Ceglinsky
| ESPNLosAngeles.com
The college destination of
Seth Jacobs
from Arroyo Grande was a hot topic on Wednesday morning and well into the afternoon, for that matter. The senior linebacker answered the lingering questions later in evening, however, when he picked Oklahoma State.
Jacobs announced his plans for the next level by choosing the hat of the Cowboys. Tough luck for both Arkansas and Colorado, the other programs in the final three for the 6-foot-1, 205-pounder. Signs point to playing the next four years in Stillwater as being the best fit.
"I picked Oklahoma State, my decision was tough, I'm glad it's over now,'' Jacobs said. "I had a great visit to the campus recently, liked all of the coaches and the facilities. I feel like it's a good place for me to be. I think I can come in and make an impact right away.''
The trip to Oklahoma State took place earlier this month. Before that, Jacobs visited Colorado and Arkansas. Another program in the mix appeared to be nearby UCLA. The Bruins, however, entered the picture too late. Jacobs' list had already been narrowed down.
"I thought about UCLA, and there were some things I liked. In the end, I didn't think it was a good fit,'' Jacobs said. "I appreciate the fact the Bruins recruited me though.''
Turns out, UCLA coach
Jim Mora
could not contend with the Cowboys. Once his mind was made up, there was no turning back for Jacobs. At least now, there will be no more questions about where he'll be playing. Oklahoma State was the answer people were looking for.
Sean Ceglinsky covers preps for ESPNLosAngeles.com. Follow him on
Twitter
.
January, 23, 2012
1/23/12
1:05
PM PT
By
Sean Ceglinsky
| ESPNLosAngeles.com
LOS ANGELES -- With football national signing day right around the corner, on Feb. 1, Seth Jacobs from Arroyo Grande (Calif.) has been about as busy as they come. Then again, the hectic schedule is something that simply comes along with territory when you are considered one of the country's top unsigned prospects.

The 6-foot-1, 205-pound senior has recently made his rounds and visited multiple colleges. Jacobs, of course, was able to gain a better understanding of what each program had to offer, and it appears as if the trips helped him narrow down his list to three schools, and perhaps a fourth.

"Right now, Arkansas, Colorado and Oklahoma State are in the lead and about even,'' Jacobs said. "I feel good about how the recruiting process has gone so far. I'm really glad I took my time and did not commit to anyone early. Rushing into a quick decision was not an option for me.''

While Jacobs maintains his final decision is in the works, one has to wonder if UCLA has a chance to make a late run for his services. The Bruins, after all, have made a strong push and he plans on making a visit to Westwood this weekend to meet with new coach Jim Mora and his staff.

"I like Coach Mora, he has a great resume and some great assistants around him. I've been talking with some of the people at UCLA for a few weeks now,'' Jacobs said. "I look forward to checking out the campus and meeting everyone from there. The Bruins could pop into my top three.''

Last weekend, Jacobs visited Colorado. The fact the Buffaloes are still a player in the grand scheme of things is somewhat puzzling considering the high-profile options he has to choose from. Staying close to home and playing in the Pac-12 Conference is something he considers important.

Oklahoma State hosted Jacobs two weeks ago. At the time, all signs pointed to the Cowboys emerging as his leader. But the talk about that whole scenario has subsided since then.

Shortly before that, Jacobs visited Arkansas, on Nov. 5.


December, 7, 2011
12/07/11
8:32
PM PT
By
Sean Ceglinsky
| ESPNLosAngeles.com
At the beginning of the football season, there were not many observers predicting that Arroyo Grande and Culver City would be meeting in Friday night's CIF-Southern Section Western Division title game.

Back in early September, the so-called experts and fair-weathered fans, alike, appeared to be under the assumption the championship would ultimately be decided in a matchup between perennial powerhouse Gardena Serra and the Cavaliers' heir apparent, West Hills Chaminade.

Sante Fe Springs St. Paul and La Canada St Francis were a pair of programs also considered as threats in the grand scheme. That is, of course, during the early stages of the year. Shortly thereafter, Santa Monica and Ventura emerged as players in the postseason race.

Nevertheless, Arroyo Grande and Culver City stayed the course. A victory is the only thing separating both programs from winning it all, and finally, silencing the skepticism.

In retrospect, perhaps the Eagles (12-1) should have been given a bit more credit. After all, they lost to Serra in the title game last season and returned several skill-position players.

It begins, and ends, with Brent Vanderveen. The 6-foot-4, 205-plus pound senior quarterback has completed more than 57 percent of his passes for 2,244 yards and 19 touchdowns. The Oregon State commit threw for 140 yards and three scores last week against Chaminade.

His main target has been Garrett Owens. The fellow upperclassman has 758 yards receiving and six touchdowns. Owens also plays on the defensive side of the ball. In addition, he is considered one of the Southland's top kickers. Several colleges are interested in his services.

On the ground, senior Henry Adelman has gained 1,120 yards rushing and scored 16 touchdowns. He is another one of the many Eagles players who plays on defense as well.


December, 1, 2011
12/01/11
1:40
PM PT
By
Tim Haddock
| ESPNLosAngeles.com
No. 7 Oaks Christian (10-2) vs. No. 8 St. Bonaventure (10-2) at Ventura High School, Friday (7 p.m.) – Oaks Christian is on the road for its Northern Division semifinal game against St. Bonaventure and coach Bill Redell probably prefers it that way. The two teams met in the second week of Marmonte League play at Oaks Christian and the game was delayed nearly 30 minutes when the lights went out at the football stadium in the middle of a punt in the second half. Redell said if his team faced St. Bonaventure again in the playoffs, he would like to play the game during the day and anywhere but at Oaks Christian. Even though Oaks Christian won by 12 points, the game was much closer than that. St. Bonaventure cut Oaks Christian's lead to three points, 27-24, in the fourth quarter before the lights went out. Oaks Christian scored the last nine points of the game on a safety and a 59-yard touchdown pass from Brandon Dawkins to Chris Davis. Oaks Christian had 400 yards of total offense to St. Bonaventure's 401. Dawkins passed for 177 yards. St. Bonaventure quarterback Marc Evans had 156 yards passing. Oaks Christian gained 223 yards on the ground to St. Bonaventure's 245. Oaks Christian running back Ishmael Adams had a big game with two rushing touchdowns and 77 yards on 11 carries.

No. 18 Chaminade (10-2) vs. No. 19 Arroyo Grande (11-1), Friday (7 p.m.) – Arroyo Grande eliminated Chaminade, 52-19, in the semifinals of the Western Division playoffs last year. Chaminade coach Ed Croson is not looking forward to a second long road trip in a row in the playoffs. His Eagles had to rally in the fourth quarter to beat San Luis Obispo in the quarterfinals. Arroyo Grande, on the other hand, is home for the third week in a row in the playoffs. Arroyo Grande is coming off a 49-28 win over St. Francis in the quarterfinals, but the game was much closer than the final score indicated. Arroyo Grande scored 25 points in the fourth quarter to turn a four-point deficit into a 21-point blowout. Two of the touchdowns Arroyo Grande scored were of the defensive variety. Garrett Owens intercepted a pass and returned it 32 yards for a touchdown. Seth Jacobs returned a fumble 55 yards for another touchdown. Chaminade running back Terrell Newby is closing in on 2,000 yards rushing for the season. He has 1,885 yards and 30 touchdowns and is coming off a 282-yard, three-touchdown performance against San Luis Obispo.

Canoga Park (8-4) vs. South East (11-1), Friday (7 p.m.) – Canoga Park, the fifth-seeded team in the City Section Division II playoffs, needed double overtime to eliminate Bell in the quarterfinals. Running back Khyree Morgan leads Canoga Park with 1,179 yards and 14 touchdowns, but was held to 39 yards in 16 carries against Bell. South East, the top-seeded team in the Division II playoffs, blew out Fremont, 42-19, in the quarterfinals. Running back Robert Lewis gained 157 yards and scored two touchdowns for South East against Fremont.

Granada Hills (7-5) vs. Marshall of Los Angeles (10-2), Friday (7 p.m.) – Granada Hills turned it on in the second half against Van Nuys in the quarterfinals of the City Section Division II playoffs. The Highlanders outscored Van Nuys 20-0 en route to a 44-22 win. Granada Hills had 290 rushing yards against Van Nuys. Brian Sanchez was the leading rusher with 181 yards and three touchdowns. Marshall was actually down 10-6 in the first quarter against Lincoln in its quarterfinal game before rattling off 43 unanswered points and winning 49-10. Marshall quarterback Anthony Benitez threw for 313 yards and five touchdowns, two to Jonathan Mina. He caught five passes for 113 yards.

Bishop Diego (11-1) vs. Sierra Canyon (12-0) at Granada Hills High School, Friday (7 p.m.) – Sierra Canyon eliminated Bishop Diego, 48-17, in the first round of the East Valley Division playoffs last year. They meet again in the East Valley Division semifinals. No. 1 seeded Sierra Canyon is coming off a 38-0 shutout over Ontario Christian. Bishop Diego has won 11 games in a row, including 21-14 over Twentynine Palms in the East Valley Division quarterfinals.

Paraclete (10-2) vs. Rim of the World (7-5), Friday (7 p.m.) – Fortune is smiling on Rim of the World in the East Valley Division playoffs. The Fighting Scots knocked third-seeded St. Margaret's out of the playoffs, 23-13, in the quarterfinals. They are home for their semifinal game against Paraclete, the reigning East Valley Division champion. Rim of the World running back Jacob Taylor is coming off a monster game. He rushed for 264 yards on 47 carries and scored three touchdowns. The Spirits eliminated Aquinas, 42-7, in the quarterfinals last week. Paraclete running back Ryan Davis scored two touchdowns and rushed for 73 yards. James Holland returned the opening kickoff 85 yards for a touchdown and Joshua Adams returned a fumble for a touchdown in the fourth quarter.
September, 20, 2011
9/20/11
4:44
PM PT
By
Sean Ceglinsky
| ESPNLosAngeles.com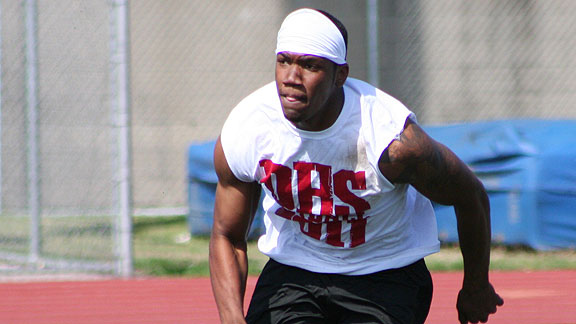 WeAreSC.comJabari Ruffin, who has committed to USC, is ranked the No. 4 prospect overall in California.
Defense, as the old adage states, wins championships. We've all heard it before.
If that's the case, the Southland appears to have more than enough talented players residing on the defensive side of the ball to make a decided difference for their respective teams.
With so many different individuals making crucial plays all over the field in the first two weeks of the season thus far, we figured that it might be a good idea to take an in-depth look at some of the premier prospects residing on the defensive side of the ball in the greater Los Angeles area.
That said, consider this as a who's who list of the more high-profile prospects around.
Defensive line: Monrovia's
Ellis McCarthy
. When it comes to the top recruits from these parts, few are better than the 6-foot-4, 305-pound senior. McCarthy is a force to be reckoned with every time he lines up. He's a run-stopping force. That's not to say the big man can't put pressure on the quarterback. McCarthy does it all, plain and simple. His top choices for college include USC, Cal, Florida, Washington and Oregon.
Defensive line: Westlake's
Justin Solis
. The top players in Ventura County typically do not receive nearly as much recognition as they deserve. Solis, however, is the exception to the rule. The 6-3, 285-pound senior was recruited by a handful of Pac-12 Conference programs. Ultimately, Colorado proved to be the best fit. Boise State, Georgia Tech and Iowa State also offered.
Defensive line: Irvine Woodbridge's
Kyle Kelly
. The 6-3, 225-plus pound senior is a pass-rushing specialist, a load to deal with from the edge. Kelly committed to Arizona despite having offers from Florida and Vanderbilt. Vista Murrieta's Jeremy Castro and Long Beach Poly's Alonzo Williams were also considered for this spot. In the end though, Kelly offers far too much upside.
Linebacker: Downey's
Jabari Ruffin
. ESPNU ranks him as one of Southern California's top recruits. Only San Clemente's Kyle Murphy is ahead of Ruffin. After watching the 6-3, 225-pound senior in action, it's blatantly obvious he is far more advanced than most of his peers. His game is tailor-made for the next level. USC landed a prized prospect when he committed in early March.
Linebacker: La Habra's
Aaron Porter
. Don't run the ball up the middle against this guy. And don't think your running back or tight end is going to break free in the middle of the defense when the 6-1, 230-pound senior is in uniform. Porter, heading to UCLA, is a jack-of-all trades. Opponents best know where he is on the field, at all times. Avoiding his general direction is recommended.
December, 10, 2010
12/10/10
11:36
PM PT
By
Sean Ceglinsky
| ESPNLosAngeles.com
GARDENA -- Domonique Vaughn and Tavita Tua'au did their best to hide the oversized bucket of Gatorade from Scott Altenberg. And it nearly worked, that is, until the Serra High football coach saw the two lineman coming in his direction.
Altenberg avoided most of the messy downpour, but the celebration took place nonetheless after the Cavaliers defeated visiting Arroyo Grande with relative ease on Friday night, 35-10, to successfully defend their Southern Section Western Division title.
"I tried to dip and duck at the last second, but what the heck, a little Gatorade never hurt anyone,'' Altenberg said. "What a win. What a feeling.''
Serra's George Farmer was feeling pretty good during the postgame festivities as well. After all, the senior wide receiver, one of the top recruits in the country, committed to USC prior to the kickoff.
"USC is a good fit for me, the campus is right in my backyard and I feel comfortable with the coaching staff,'' Farmer said. "I spoke with Lane Kiffin before the game tonight and told him that I was a Trojan.''
Arroyo Grande's
Seth Jacobs
fumbled to open the fourth quarter and
Woodson Greer
recovered the ball at the Eagles' 30-yard line. And it didn't take long for Serra to score as
Conner Preston
connected with
Marqise Lee
on a 17-yard touchdown to give the Cavaliers a 35-3 lead with 8:34 remaining in the game.
With the game's outcome no longer in doubt,
Brent Vanderveen
threw a 23-yard touchdown pass to
Garrett Owens
to cut the insurmountable Serra lead to 25 points with 3:24 left in the fourth quarter.
"We came into this game knowing that we weren't going to lose,'' Farmer said. "Winning back-to-back titles was our goal all season and we finally accomplished it. We're the best, No. 1.''
Farmer appeared to score in a 60-yard punt return midway through the third quarter, but a penalty nullified the long touchdown. Instead, Serra started at its own 18-yard line and began mounting a drive that ultimately stalled when Preston was stopped on a fourth and seven at the Eagles 25-yard line.
Staked to 21-3 lead in the second quarter, the Cavaliers refused to slow down their high-powered offense. Accordingly, Preston found Lee wide open for a 15-yard touchdown to not only increase the lead to 25 points with 6:43 left in the first half, but also essentially break the spirit of Arroyo Grande.
"I mean, who goes out and wins two championships in-a-row? We do.'' Lee said. "We made sure to stay level-headed all year long, now it's time to enjoy things. Our hard work paid off.''
For as bad as things were for the Eagles in the first half, they could have been worse. The Cavaliers moved the ball down to the Arroyo Grande 10-yard line with less than a minute left in the second quarter, but they failed to capitalize on the opportunity when
Francisco Ollouqui
missed a 27-yard field goal.
When all was said and done, the Eagles had 48 yards of total offense and managed mere two first downs in the first half.
In comparison, Serra's
Shaquille Richard
gained 109 yards on the ground by himself over the course of the opening 24 minutes of play. Arroyo Grande had no answer for the senior.
"I owe a lot to my line, they were opening up the holes, all I had to do was run through them, it was that easy,'' said Richard, who finished with 162 yards on 23 carries.
Following a first quarter punt, Arroyo Grande received the ball back on the Serra 37-yard line. Three relatively unsuccessful running plays later, the Eagles faced a crucial fourth and two situation. Instead of going for the first down, they ended up letting the play clock run out and were assessed a 5-yard penalty.
It didn't matter, Owens trotted out and booted a 51-yard field that would have seemingly been good from 55 yards out to give Arroyo Grande a surprising 3-0 advantage with 6:23 remaining in the first quarter.
Serra answered, Richard in particular. The senior gained 47 yards on three carries to set up a 16-yard touchdown pass from Preston to Lee. And all of sudden, the lead was 7-3 with 4:16 left in the first quarter.
The Cavaliers were just getting started.
Farmer appeared to return a punt deep into Arroyo Grande territory. However, a pair of costly penalties backed Serra up to its own 13-yard line. Minutes later, Farmer was on the receiving end of a 59-yard touchdown pass from Preston to extend the advantage to 14-3 with :52 remaining on the first quarter clock.
On the ensuing kickoff, the Eagles'
L.T. Johnson
fumbled the ball.
Pete Lauderdale
was in the right place at the right time, scooped up the miscue and returned the ball 27 yards for a score to give the Cavaliers a 21-3 with :39 left in the first quarter.
Preston finished 9-of-20 for 155 yards. Lee had three receptions for 48 yards. Farmer ended up two catches for 64 yards.