Los Angeles Preps:

Sharrief Metoyer
March, 10, 2012
3/10/12
11:35
PM PT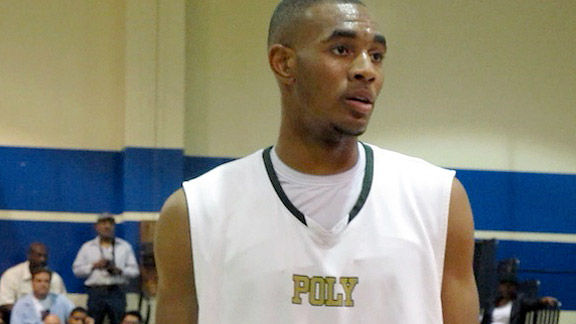 Blair Angulo for ESPNLA.comRoschon Price scored a game-high 29 points as Long Beach Poly knocked off Orange Lutheran.
LONG BEACH --
Roschon Prince
knew beating Orange Lutheran and star
Gabe York
wouldn't be as easy the second time around, so he planted his feet.
The versatile Prince was a force in the paint, leading Long Beach Poly to a 70-62 victory Saturday night at Jordan High School. The Jackrabbits advanced to the Southern California Regionals Division I semifinals, where they'll meet Fresno Bullard on Tuesday. Prince had a game-high 29 points without any makes from beyond the arc. He mostly played with his back to the basket.
"It's always the game plan to dominate the paint," the junior forward said. "I saw something and wanted to focus on being on the block and scoring easy."
Fellow junior
Jordan Bell
did the dirty work, grabbing 15 rebounds and blocking six shots to go along with eight points.
Reuben Strickland
added 10 points for second-seeded Long Beach Poly (28-2).
York, the sharpshooting Arizona signee, had 27 for Orange Lutheran (22-11). OLu had a disappointing regular season before capturing the Southern Section Division 1A title. At one point the Lancers lost eight of 10 games and finished third in the Trinity League. Their troubles were on full display against Poly at the Mater Dei Nike Extravaganza on Feb. 4 -- a game the Jackrabbits easily won by 22.
"It's the state payoffs and teams are better," Poly coach
Sharrief Metoyer
said. "They're champions. I knew this game wasn't going to be easy."
York had trouble with Poly's active defense last time. The guard finished with 23 points but never found his lethal touch from the perimeter, missing 14 of 19 shots.
"We didn't want to take them lightly just because we beat them by so much at the Extravaganza," Prince said. "We wanted to come out hungry, fight hard and put our will on them early so it wouldn't be a hard game."
February, 28, 2012
2/28/12
9:44
PM PT


ANAHEIM -- Make it four straight playoff wins for Long Beach Poly over familiar foe Etiwanda.

Defending CIF-Southern Section Division 1AA boys' basketball champion Long Beach Poly advanced to the title game once again Tuesday night, earning a semifinal victory over third-seeded Etiwanda, 56-47, at the Anaheim Convention Center Arena. After experiencing recent success against the Inland Empire power, Poly coach Sharrief Metoyer used a proven blueprint: Size.

"Another dogfight with Etiwanda," Metoyer said. "I think it was everything that everybody thought it would be. We played tough. Our goal was to dominate the paint."

The second-seeded Jackrabbits (27-1) did exactly that, holding a 43-23 rebounding edge behind the interior play of juniors Roschon Prince and Jordan Bell. Prince had 22 points and 10 boards; Bell had nine points, 12 boards and seven blocks.

Prince, coming off a career-high 40 points in the quarterfinals, was nearly uncontainable on drives to the basket and made 14 of 19 free throws, including 11 of 14 in the fourth quarter. Bell, meanwhile, made his presence felt on defense. His monstrous block on Jordan McLaughlin with just under two minutes left changed the momentum. Etiwanda could have pulled to within two but, instead, the Jackrabbits got two points at the other end and pulled away.

"It's a nice luxury when you've got a guy who can get off the floor and block shots," Metoyer said.


February, 4, 2012
2/04/12
9:32
PM PT
SANTA ANA -- Long Beach Poly forward Jordan Bell was in the middle of explaining his team's victory. Defense was suffocating. Role players did their part.

Then Orange Lutheran star Gabe York walked by and Bell, in mid-sentence, extended his left arm and patted him on the chest.

"And we shut down Gabe York," he said, smiling.

Frankly, that was the key to second-ranked Long Beach Poly's lopsided 67-45 win against Orange Lutheran in the Nike Extravaganza at Mater Dei. York, the region's premier guard and dynamic scorer, never found his lethal touch. Despite finishing with a team-high 23 points, the Arizona-bound York missed 14 of his 19 shots. He did his damage at the free-throw line and the Jackrabbits (21-1) could live with that.

"Our defense locked it down," said junior wing Roschon Prince, who had a game-high 25 points and nine rebounds. "We put pressure on Gabe."

Moore League leader Long Beach Poly won its 18th straight since losing to Loyola in the Pacific Shores Tournament final on Dec. 3. Last year the Jackrabbits won the CIF-Southern Section Division 1AA title, but were expected to drop off slightly following the loss of key players Ryan Anderson (Boston College) and Alexis Moore (USC) to graduation.

That hasn't been the case.


December, 6, 2011
12/06/11
6:20
PM PT
Loyola, Long Beach Poly and La Verne Lutheran are ranked in
the preseason POWERADE ESPNHS Fab 50 national rankings
, and they lead the way in our opening edition of the south Los Angeles County boys' basketball top 10:
1. Loyola (4-0)
Key players:
PG Parker Jackson-Cartwright, SG Justin Childress, SG Jacob Hazzard, SF Julian Harrell (Penn)
Last season:
The Cubs went 25-6 and won the CIF-Southern Section Div. I-A championship before losing by two to eventual state champion Mater Dei in regionals.
Why they're here:
Jackson-Cartwright, only a sophomore, is already considered the top point guard in the state. Mix in the shooting of Childress and Hazzard -- as well as the versatility of Harrell -- and the Cubs have a lineup that few can match.
2. Long Beach Poly (3-1)
Key players:
SF Roschon Prince, PF Jordan Bell, PG Chris Croom, SG Reuben Strickland
Last season:
The Jackrabbits posted a 30-2 record and captured the Division 1AA title in Anaheim before losing to eventual state champion Mater Dei in regionals.
Why they're here:
Poly coach Sharrief Metoyer lost his top two to graduation -- state player of the year Ryan Anderson (Boston College) and Alexis Moore (USC) -- but there's more than enough talent left. Prince and Bell might be the best one-two combination in the county.
3. La Verne Lutheran (4-0)
Key players:
PF Grant Jerrett (Arizona), SG Eric Cooper Jr. (Arizona), SF McKay Anderson, SG Cameron Osorno
Last season:
The Trojans overcame off-the-court adversity, finishing with a 25-5 mark and a second consecutive state championship.
Why they're here:
Jerrett, a long and lean power forward, is arguably the top prospect on the West Coast. Coach Eric Cooper Sr. returns nine letter-winners from last year's team, including son Eric Cooper Jr., a sharp-shooting junior who makes teams pay for double-teaming Jerrett down low.
4. St. John Bosco (4-0)
Key players:
SG Isaac Hamilton, PF Anthony January (UTEP), SF Darryl Matthews, SG Daniel Hamilton
Last season:
The Braves finished 21-9 and were eliminated in the quarterfinals of the CIF-SS Division 4AA playoffs.
Why they're here:
New coach Derrick Taylor, who built Woodland Hills Taft into a City Section power, has the Braves thinking about the Trinity League crown. Getting past defending state champion Mater Dei won't be easy, but Bosco has Isaac Hamilton, a transfer from Crenshaw who is one of the nation's top juniors.
5. Price (3-1)
Key players:
PF Skylar Spencer (San Diego State), PG Chance Murray, SG Chris Sandifer
Last season:
The high-flying Knights went 24-8 and fell just short against La Caņada in the CIF-SS Division 3AA championship game.
Why they're here:
Yes, Price lost guard Askia Booker (Colorado) and ultra athletic forward Norvel Pelle to graduation but don't dismiss coach Michael Lynch's bunch. Spencer is another high-soaring scorer who's lethal in fast break opportunities, and Murray, a junior, already has a scholarship offer from UCLA.
March, 10, 2011
3/10/11
10:37
PM PT


LONG BEACH -- Alexis Moore called it a preview of next season.

Long Beach Poly minus him.

It was just a sneak peek, though, as the top-seeded Jackrabbits survived without their senior leader, fending off a furious charge to beat Etiwanda, 66-63, before a packed gym at Long Beach City College. Poly advanced to the semifinals of the CIF Southern California Regional state playoffs and will play host to fourth-seeded Mater Dei on Saturday night.

Ninth-seeded Etiwanda used an 11-2 run at the start of the fourth quarter to climb back from a 14-point deficit. The Eagles trailed by five with just under two minutes remaining.

Then things got a bit fuzzy.

Moore nailed a clutch 3-pointer to put Poly up eight and celebrated emphatically as he backpedaled to the other end.

"I didn't say anything to the other players," Moore said. "I didn't say anything to the fans. It was just one of those in-the-moment things."

He raised his arms twice and looked over to Poly's supporters, but then a whistle blew.

"He tried to get the crowd involved," Poly coach Sharrief Metoyer explained. "I always thought taunting was player-to-player. He was excited, he had just made a big shot."

Play was stopped and Moore was called for an unsportsmanlike conduct technical. It was his fifth personal foul, so he had to watch the final minutes from the bench.

After a few moments of chaos, the USC-bound Moore grabbed his replacement, junior guard Chris Croom, and revved him up.

"I told him this was a preview for his senior year," Moore said. "Next year they're going to be looking on him to fill my role."


March, 8, 2011
3/08/11
11:13
PM PT


LONG BEACH -- Ryan Anderson had such an advantage down low that he could have posted huge numbers. Instead, he settled for something better: rest.

Anderson sat for most of the second half and still finished with 17 points and nine rebounds Tuesday night, leading Long Beach Poly to an easy 77-46 victory against Palisades Charter at Ron Palmer Pavilion. The top-seeded Jackrabbits (30-1) advanced to the second round of the CIF State boys' basketball Division I playoffs. They will play Etiwanda on Thursday in a rematch of last week's CIF-Southern Section Division 1AA semifinals.

"It was good to be able to get guys rest," Poly coach Sharrief Metoyer said. "The schedule is grueling this week if you're able to make it to Saturday. It was good to get our starters off their feet in the fourth quarter."

In reality, the game had been over for a while. Poly blitzed No. 16-seeded Palisades (18-14) and led 44-21 at halftime behind 15 points from Anderson. The remaining 16 minutes of play were a mere formality.

Anderson added a bucket in the third quarter and took his seat for good with more than 10 minutes remaining. Roschon Prince had 17 points and Chris Camper had 15 for the Jackrabbits. Palisades wing Ilya Ilyayev led all scorers with 20.


March, 8, 2011
3/08/11
11:24
AM PT
Long Beach Poly already accomplished Goal 1A, winning the CIF-Southern Section Division 1AA boys' basketball championship last week. Now the Jackrabbits set their sights on Goal 1B: a state title.
Star forward
Ryan Anderson
was
the only one jumping for joy
after Poly (29-1) claimed the sectional crown against Centennial at Anaheim Arena last Saturday. That was by design. Most of his teammates held off on the dance moves -- and won't do so until the Jackrabbits win state.
The journey to Sacramento begins Tuesday night at 7 p.m. when top-seeded Poly hosts Palisades (18-13) in the first round of the CIF State basketball championships.
Five keys to the game:
1. Palisades might want to avoid a slow start, which doomed them against Woodland Hills Taft in the CIF-City Section semifinals. Poly, meanwhile, jumped all over fast-paced Centennial and never let up, coasting to an uneventful championship win. Don't be surprised if Palisades coach
James Paleno
burns a few timeouts early to put an end to runs.
2. Yeah, the ultimate prize awaits in Sacramento, but Poly must maintain focus and not get ahead of itself. Championships aren't won in one night. Seniors
Alexis Moore
and
Alex Carmon
have fallen short before, so they know that. Anderson doesn't think focus will be a problem. "There's been a target on our back all season," he said. "We'll get everyone's best shot."
March, 5, 2011
3/05/11
9:41
PM PT


ANAHEIM -- The elation in Ryan Anderson was evident, his happiness blatant. And although he was the only one jumping for joy, Anderson celebrated enough for an entire team.

Seconds after Long Beach Poly claimed the CIF-Southern Section Division 1AA boys' basketball title with a 68-52 win over Corona Centennial at Anaheim Arena, Anderson leaned over and grabbed the game ball. He held it tight to his chest, closed his eyes.



Finally..

"I wanted this so bad," Anderson said, "because we've tried to get this the last two years and fell short. All the work we put in, the target has been on our back the whole year. To finally win is just a relief."

Anderson did his part with a game-high 18 points and 21 rebounds against an undersized front court. He was just too big, too determined. The Boston College-bound forward did fall just short of his pregame goal of 20 points, 20 rebounds.

Poly coach Sharrief Metoyer wasn't complaining. Centennial coach Josh Giles wasn't surprised.

"He's going to an ACC school for a reason," Giles said.

And there's a reason why Poly has been the state's top-ranked team all season long. The top-seeded Jackrabbits (28-1) had been doing just enough in the postseason, but finally put a full game together.

Defense, offense, rebounding, three-point shooting -- all facets were accounted for. Poly grabbed 43 rebounds, Centennial just 16.

"What you saw was our experience," Metoyer said. "We did a great job of finishing quarters."

A thunderous dunk by reserve Jordan Bell gave Poly a 16-point lead at halftime. The game was still in doubt, in large part due to third-seeded Centennial (27-4) and its patented pressure defense. The Huskies had reached the championship game by coming back from 15 down against second-seeded Mater Dei on Tuesday.