Los Angeles Preps:

Spud O'Neil
May, 31, 2011
5/31/11
8:32
PM PT
LONG BEACH -- The ball kept rolling, so
Evan Perez
kept running. Past second, wildly around third and, finally, to home plate.
The senior's dizzying, inside-the-park homer keyed J.W. North's explosive first inning in a 10-4 win Tuesday against Lakewood in a CIF-Southern Section Division 1 semifinal game. The Huskies moved on to Friday night's championship game at Dodger Stadium.
"My coach kept waving me in and I kept going," Perez said. "I wasn't going to stop."
North (26-7) had already scored three by the time Perez, the No. 7 hitter, stepped into the batter's box in the first inning. He launched a liner to the right-center field gap and the ball zipped past the outstretched glove of Lakewood's
Tyler Leidholdt
. It rolled and rolled, all the way to the wall, until it came to rest some 400 feet from home. The notoriously spacious grounds at Long Beach State's Blair Field were unforgiving.
"It was huge," North head coach
Steve Madril
said. "Against a team like Lakewood, every game is going to be close. For us to be up five runs and for them to make a couple of errors? Lakewood never makes errors. They're always so fundamental."
Lakewood (29-5-1) chipped away at the five-run deficit, scoring two in the second and one in the third. But North responded with a pair in the fourth, one in the sixth and two in the seventh. The Lancers had beaten North, 4-3, in the Anaheim Lions Tournament in early April. They were one of the hotter teams in the state after upsetting top-seeded Huntington Beach Edison, 3-1, at home last Friday.
"You can't give up five runs in the first to a team like this," Lakewood coach
Spud O'Neil
said. "North is very, very good. We didn't play well."
North, which shared the Big VIII League title with Riverside King, has not experienced much trouble in the playoffs. The Huskies won their three games by a combined score of 17-3. Second baseman
Adrian Anguiano
led the way Tuesday, going 3-for-5 with two RBIs.
"I love this team," said North pitcher
Jack Johnson
, who started and went six innings. "I love my players. I knew we could do it and now we've only got one game left."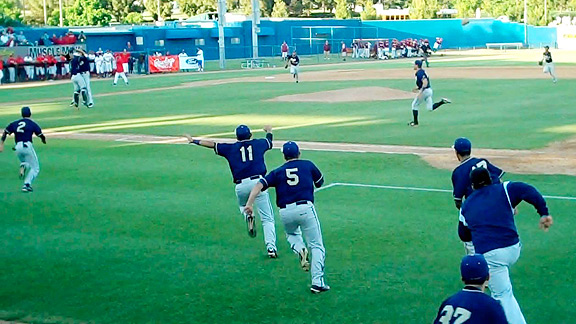 Blair Angulo for ESPN.comPlayers from J.W. North storm out of the dugout after defeating Lakewood at Blair Field.
May, 27, 2011
5/27/11
7:51
PM PT


LAKEWOOD -- Shane Watson was a mess earlier in the year. He smiles about it now because he can. Lakewood baseball coach Spud O'Neil jokes about it because it's true.

There was nothing messy about Watson's complete game performance Friday afternoon, as the ace guided Lakewood to an upset of top-seeded Huntington Beach Edison, 3-1, in the quarterfinals of the CIF-Southern Section Division 1 playoffs. Watson gave up just four hits, out-dueling top major league pitching prospect Henry Owens.

Not bad for a guy who is a few months removed from undergoing surgery to repair a broken shin.

"I wasn't raising my lower half," recalled Watson, who had a metal rod and three screws placed in his leg. "I wasn't getting a lot of strikes. I just kept practicing hard and working hard."

Watson shut down one of the state's top lineups, facing the minimum through three and giving up one hit through five. He improved to 10-2 on the season.

"He's not going to strike out as many guys as Owens," O'Neil said, "but he's got a very good defense behind him. He's been getting better every game. He's really become a leader on this team and you can see by today that he's a winner also."

Lakewood (29-4-1) scored twice in the third on back-to-back RBI doubles from J.P. Yakel and Jonathan Pasillas and, after Edison (25-4) cut the deficit in half, added an insurance run in the sixth on a Jimmy Gosano bunt single.

It was a methodical kind of play -- "small ball," per say -- that eventually doomed Edison, the team everyone expected to hoist the trophy at Dodger Stadium. This group of Chargers, led by Owens and projected draft picks Christian Lopes and Eric Snyder, were three-time league champions and tied the school record for most wins in a season.

"We lost to a team that won 28 ballgames," Edison coach Steve Lambright said. "I'm not bitter. Lakewood did a great job. They outplayed us. I wish them all the luck in the semifinals. ... I'm proud of my team. They have nothing to hang their heads about."