Los Angeles Preps:

St. Joseph Notre Dame
March, 24, 2012
3/24/12
2:47
PM PT
By
Tim Haddock
| ESPNLosAngeles.com


SACRAMENTO -- Jon Shaw has spent the past two weeks with a broken foot after coaching Village Christian through the CIF-Southern Section and state boys' basketball playoffs.

His players broke a leg in their opening act in the Division V playoffs, knocking off St. Joseph Notre Dame, 62-51, in a physical final at Power Balance Pavilion on Saturday.

Sophomore Bryan Alberts scored a game-high 17 points in an otherwise low-scoring affair. Village Christian won its first CIF state championship in its first trip. St. Joseph was denied its fifth state title in its eighth trip to the championship game.

Shaw said his players embraced the chance to play on the biggest stage in high school basketball. But he refrained from making any predictions about what the future holds for his team, even with two talented sophomores on his roster.

"Be happy with today," Shaw said. "Live in the moment. We are very blessed."

Geremy Givens scored 14 points and made four 3-pointers for St. Joseph Notre Dame. He had a different opinion about how the final scene of his team's season played out.

"I think we gave our all," Givens said. "We didn't get the movie ending that we wanted, but this ain't Hollywood."

Alberts was the scoring star for Village Christian, but it was Joe Shashaty's 3-point shooting that put St. Joseph Notre Dame away in the second half.

He scored 12 points, took only four shots, all 3-pointers, and came up with some big plays at key moments of the game.

He hit back-to-back 3-pointers in the fourth quarter. The first gave his team a 50-43 lead right after senior Marquis Salmon fouled out of the game.


March, 22, 2012
3/22/12
5:21
PM PT
By
Tim Haddock
| ESPNLosAngeles.com
Need more CIF state high school basketball banter? Time Warner Cable has a show set up to discuss the CIF State basketball championships.
Alemany of Mission Hills is taking on Sacred Heart Cathedral in the Division III boys' basketball championship on Saturday in Sacramento.
Village Christian from Sun Valley is making its first CIF state championship game appearance in the Division V final against St. Joseph Notre Dame from Alameda, the alma mater of
Jason Kidd
.
Mater Dei from Santa Ana is seeking its third CIF state championship in a row against Sheldon of Sacramento in the Division I final.
Here is a link to the show.
March, 21, 2012
3/21/12
11:21
AM PT
By
Tim Haddock
| ESPNLosAngeles.com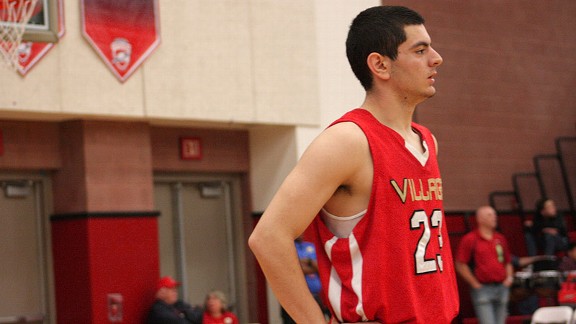 Tim Haddock / For ESPNLosAngeles.com
Joe Shashaty scored 10 points and was one of four players from Village Christian who scored in double figures against Renaissance Academy in the Southern California Regional Division V final.
Division I
Mater Dei of Santa Ana vs. Sheldon of Sacramento
Mater Dei (33-2) has a 20-game winning streak and hasn't lost since Jan. 7 to Gill St. Bernards from New Jersey. The Monarchs are the Southern Section Division 1A champions and won the Southern California Regional championship, 85-66, over the surprising Bullard team from Fresno. Mater Dei has won eight state championships and is in search of a record-setting ninth. Sheldon (29-5) has an 11-game winning streak and won the Sac-Joaquin Section Division 1 championship, 49-44, over Jesuit. Sheldon played Jesuit again in the Northern California Regional final and won 61-56, erasing a 17-point deficit in the second quarter.
Division III
Alemany of Mission Hills vs. Sacred Heart Cathedral of San Francisco
After losing its Mission League finale to Harvard-Westlake, Alemany (32-4) has won nine playoff games in a row, including the Southern Section Division 3A championship, 72-60, over Oak Park. The Warriors had to hold off St. John Bosco in the Southern California Regional Division III final, 62-61, to advance to their first state championship game in school history. Nevada-bound
Marqueze Coleman
scored 24 points against St. John Bosco and had 31 against Cathedral Catholic from San Diego in the Southern California Regional semifinal. Sacred Heart Cathedral (28-5), the top seed in the Northern California Regional playoffs, beat Bishop O'Dowd, 61-57, in the Division III championship game.
Josh Fox
scored 21 points and had 13 rebounds for Sacred Heart.
Taylor Johns
had a double-double as well with 15 points and 10 rebounds.
March, 25, 2011
3/25/11
4:26
PM PT


SACRAMENTO -- Brandon Randolph, like many basketball players, has imagined the scenario countless times: clock winding down, ball in his hands, everything in slow motion, crowd goes wild.

It nearly came to fruition Friday afternoon, but the St. Bernard sophomore guard simply ran out of time, as the Vikings fell to St. Joseph Notre Dame, 47-44, in the CIF State Boys Division V championship at Power Balance Pavilion. Randolph had 1.7 seconds to release a potential tying shot, but the buzzer sounded before he let the ball go. His attempt missed by inches, off the front of the rim.

"I think it would have counted if I had made it," Randolph said. "It felt good off my hands. Like a regular shot."

Randolph had only four points in the second half but still finished with a team-high 14. Thurman Thomas, whose heroics in last week's Southern California Regionals got the Vikings (26-9) to Sacramento, finished with 10 points and 10 rebounds. Jacari Whitfield led St. Joseph with 15 points, all coming from beyond the arc.

St. Bernard was 3 for 16 from three-point range and managed only 16 points in the second half. Still, neither team led by more than five.

"I understand we're in the arena setting," St. Bernard coach Reggie Morris said, "but 44 points is probably not going to get it done."

Whitfield sank a deep three with 58 seconds left to break a tie and give the Pilots (27-8) a 45-42 lead. St. Bernard trailed by three when Whitfield missed the first of a one-and-one, setting up Randolph's dream-like situation.

"We've got to come back," Randolph said, "work hard and try to get it again next year."

Said Morris: "We definitely will be one of the bigger programs in Southern California, not just on the Division V level but period. We want to stand up and be a powerhouse along those big-name schools."
March, 24, 2011
3/24/11
5:48
PM PT
CIF STATE BOYS DIVISION V

At Power Balance Pavilion, Sacramento

Matchup: Playa del Rey St. Bernard (26-8) vs. Alameda St. Joseph Notre Dame (26-8), Friday, 1:30 p.m.

How they got here: St. Bernard: beat Redlands Adventist Academy, 81-37; Flintridge Prep, 68-54; Montclair Prep, 64-53; Sierra Canyon, 61-59 to win the Southern California Regional.

St. Joseph Notre Dame: beat Ripon Christian, 53-32; Vacaville Christian, 75-71 (OT); San Francisco University, 61-43 to win the Northern California Regional.

Key Players: Super sophomore Brandon Randolph leads St. Bernard with averages of 18.5 points and 6.5 rebounds. Teammate Thurman Thomas, who sank the game-winner as time expired in the regional final, averages 15.7 points. St. Joseph Notre Dame captain Brendan Keane, who is heading to Northern Colorado, had 17 points and seven rebounds to get the Pilots to Sacramento.

What to expect: Don't be surprised if St. Bernard coach Reggie Morris zeroes in on Keane, a 6-10 center who has four inches on the Vikings' tallest player. The Pilots had four players with at least seven boards in the clincher last week, meaning St. Bernard will have to be aggressive in attacking the glass. This will be St. Joseph Notre Dame's sixth appearance in the state title game and first in Division V. The most recent trip came in 2009, when the Pilots fell to champion L.A. Windward, 69-53.