Los Angeles Preps:

Stanford
January, 17, 2012
1/17/12
7:11
PM PT
By
Sean Ceglinsky
| ESPNLosAngeles.com
LOS ANGELES --
Julian Harrell
is not one of those flashy type of basketball players. Fundamentally sound more accurately describes his repertoire on the hardwood, a rare trait in this day and age when most individuals are trying to become the next Internet sensation.
[+] Enlarge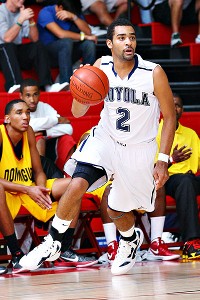 Courtesy of Nick KozaJulian Harrell has Loyola off to a 14-2 start and already has committed to the University of Pennsylvania.
The senior from Los Angeles Loyola understands the nuances of the game and does the little things that don't necessarily show up in the box score. Hustling and diving for loose balls comes naturally. Another redeeming quality is a no-nonsense approach to playing defense.
Rest assured, Harrell can also stuff the stat sheet. One need not look any further than his team highs in number of different categories this season for proof. Whenever the Cubs need a big bucket, someone to crash the boards or a timely assist, they typically turn to him.
Considering everything that Harrell brings to the table, you begin to understand why the University of Pennsylvania commit is regarded as one of the Southland's premier players and why Loyola is thought to be one the premier programs in the greater Los Angeles area.
"Julian, we like to call him Ju Ju, has done some extraordinary things in his time here with us, that's no exaggeration either,'' Loyola coach
Jamal Adams
said. "He's not going to end up on some And1 mix-tape or anything like that. His highlight film is done differently, and if you ask me or any other hoops fan, his moves are just as entertaining as anyone else out there.
"He's a throwback in a lot of ways. Ju Ju is well-rounded and can do just about anything asked of him. He's played all five positions on the floor for me. He's versatile. I love his game. He's efficient. There's not a lot of wasted movement. All of the intangibles are there. He's a coach's dream. We are going to miss him once he graduates and moves on the next level.''
In the meantime, its business as usual for Harrell & Co.
Loyola (14-2 overall) got off to somewhat of a slow start this season with a couple of surprising losses in the traditionally tough Mission League. The setbacks are nothing more than a distant memory for the Cubs, No. 5 in the ESPNLosAngeles.com top 20 rankings.
Next up: Two important league games, the first on Saturday night at La Canada St. Francis. Thereafter, a showdown at home against Encino Crespi, No. 4 in the recent ESPNLosAngeles.com rankings, looms large on Jan. 23. Harrell will be expected to carry the load for the Cubs, of course, similar to how the 6-foot-5 shooting guard has done so many times in the recent past.
March, 24, 2011
3/24/11
11:17
PM PT
By
Sean Ceglinsky
| ESPNLosAngeles.com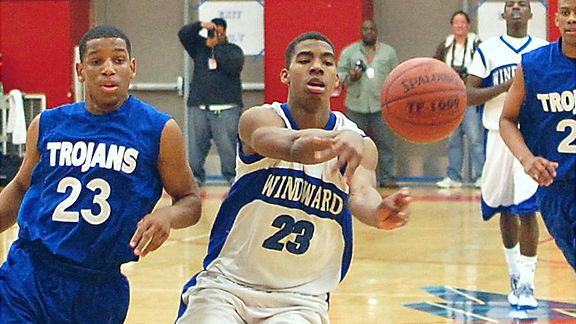 Dave KeeferWesley Saunders leads Windward in nearly offensive and defensive category this season.
LOS ANGELES -- When talk typically takes place about some of the Southland's premier prep basketball players, the name
Wesley Saunders
is mentioned. And rightfully so, considering the 6-foot-5 senior forward from Los Angeles Windward High is one of best around.
Make no mistake, hitting jumpers from the perimeter, battling for position underneath the basket for rebounds, handing out assists to wide-open teammates and elevating high above the rim to block opponents shots are skills that separate Saunders from his peers.
His undeniable talents on the hardwood, however, do not define him.
As good he is on the court, Saunders is equally talented off the court.
Finding a balance between basketball and the books might be difficult for some, but not Saunders. He has proven to be the consummate student-athlete this season and is largely responsible for guiding the Wildcats (26-8 overall) to the CIF Division IV State championship game against Richmond Salesian (25-11) on Saturday at Power Balance Pavilion in Sacramento. The opening tipoff is for 11:15 a.m.
"Wesley is special, a ball and a hoop aren't the only things that matter to him. Education comes first and that's different in this day and age,'' Windward coach
Miguel Villegas
said.
Saunders carries a high grade-point average and he scored more than 1800 on the SAT.
On all-important game days, Saunders is similarly focused.
October, 7, 2010
10/07/10
5:24
PM PT
By
Dan Arritt
| ESPNLosAngeles.com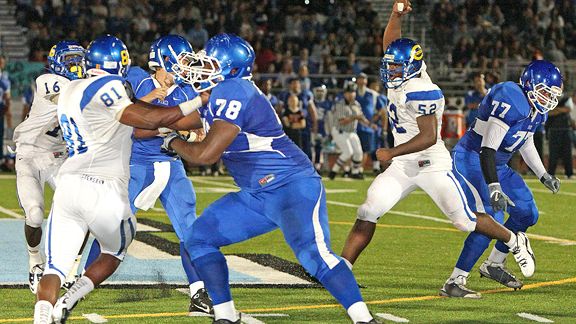 Courtesy of Rob Helfman
Norco lineman Brent Walker (78) has been a key to the Cougars' success on the ground this season.
In just its fourth varsity season, Eastvale Roosevelt has quickly become Norco's rival.
Two years ago, Roosevelt scored the game's first 21 points and held on to upset Norco, 21-13, in their first Big VIII League meeting. A year ago, the Cougars stopped Roosevelt on the two-yard line as time expired to preserve a 30-27 victory.
The matchup moves to Norco High for the first time, where the Cougars have won seven straight games. Norco (4-0) is ranked No. 2 in the Inland Empire by ESPNLA.com, Roosevelt (3-1) is No. 10.
Roosevelt junior quarterback
Aaron Crone
has been solid this season, throwing eight touchdowns with just one interception.
Sam Boyd
, a rugged 6-foot-3, 230-pound tight end, has been his favorite target, snaring 14 passes for 340 yards and five touchdowns.
Norco will continue to lean on Stanford-bound running back
Kelsey Young
, who is regaining his step after playing on a sore ankle the last two weeks. Offensive lineman
Brent Walker
, who is reportedly leaning toward accepting a UCLA scholarship offer, usually leads the way.
Kickoff is set for 7 p.m.
Three more to see:
Colton (3-1) at San Bernardino Arroyo Valley (2-2), Friday – Arroyo Valley is hoping to get quarterback
Michael Yearwood
back on the field for this key San Andreas League game. He sat out the first two games waiting for his transfer from Los Angeles University to be approved, then injured his knee in his first offensive series back against Rialto Eisenhower and was forced to sit last week. Before transferring from Arroyo Valley to University last spring, Yearwood accounted for 3,433 total yards and 36 touchdowns last season. ESPNLA.com's pick: Colton 35, Arroyo Valley 24.
Riverside Norte Vista (2-2) at Lake Elsinore Temescal Canyon (2-2), Friday – Get ready for two teams that rely heavily on the run game. Temescal Canyon is led by running back
Michael Shepherd
, who was handed the ball 48 times last week and totaled 237 yards and two touchdowns in a 28-14 victory against Chula Vista Otay Ranch. Norte Vista running back
Ryan Ruiz
rushed for 124 yards in 33 carries last week and scored three touchdowns in a 38-35 victory against Hemet West Valley. ESPNLA.com's pick: Temescal Canyon 30, Norte Vista 28.
Ontario (2-2) at Ontario Chaffey (1-4) – Ontario has lost six straight Mt. Baldy League games to Chaffey, but this might be its chance to end that skid in a few years. The Jaguars have already doubled their win total from a year ago. Chaffey has lost four straight games to quality opponents, but still has a formidable offensive line that averages 268 pounds. ESPNLA.com's pick: Chaffey 27, Ontario 16.