Los Angeles Preps:

Steve Hagerty
October, 21, 2011
10/21/11
11:01
PM PT
By
Sean Ceglinsky
| ESPNLosAngeles.com
ENCINO -- Rio Ruiz is known as a baseball player, first and foremost. More than a few scouts project him as a first-round draft pick in the 2012 MLB Draft.

Friday night, however, the senior from La Puente Bishop Amat played the part of football player. And then some. Ruiz completed 19-of-25 passes for 236 yards and pair of touchdowns to guide the visiting Lancers to a 28-14 Serra League victory over Crespi.

"Every week, this is what we get from Rio, he's a gamer,'' Bishop Amat coach Steve Hagerty said. "We know baseball is his first priority, we have no problems with that. We're just happy to have him around during football season. We'll go as far as he takes us.''

That was apparent from start to finish against the Celts (6-2, 1-1), no. 14 in the ESPNLosAngeles.com rankings. Ruiz was on point for the No. 14 Lancers (6-2, 1-1).

"Baseball is my first love, but I'm a competitor, that's why I play football,'' Ruiz said. "Tonight, I would not have been able to do anything without my offensive line. They rewarded me with time, I rewarded them with touchdowns. Things worked out good for all us.''

The fact the Celts had four turnovers didn't help their cause.

Crespi's Corey Peoples suffered what appeared to be a stinger at the 5:49 mark of the fourth quarter. A 30-minute delay followed because of the injury. He had use of his lower extremities, but was taken in an ambulance to a nearby hospital as a precautionary measure.

Once play resumed, Bishop Amat scored again. Jalen Moore took off on an 18-yard touchdown run to extend the advantage to 28-14 with 5:14 remaining in the game.

When all was said and done, Moore had 157 total offensive yards.


October, 10, 2011
10/10/11
6:20
PM PT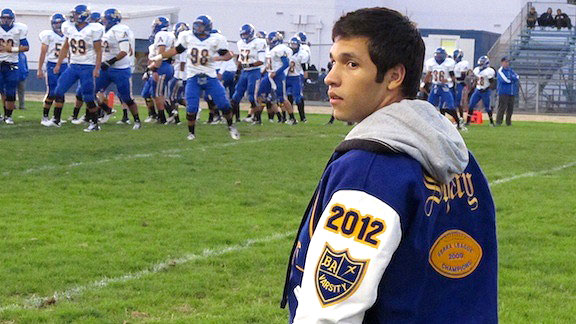 Blair Angulo/For ESPNLA.comBishop Amat's Zachary Shay has been out since suffering a concussion Sept. 9. He hopes to be back Friday.
Zachary Shay
looked on helplessly during pregame warmups Thursday. He asked for a football and started tossing it around. Moments later he was catching practice punts.
All while wearing a letterman jacket and pair of slacks.
The senior has been sidelined since suffering a concussion Sept. 9 in Bishop Amat's 49-14 loss to Servite. Shay is hopeful for a return to the field Friday night when Amat (5-1) opens Serra League play at home against defending league champion Alemany. Needless to say, the Lancers could use No. 5's services.
"At least [the concussion] happened early in the season," Shay joked prior to Amat's 38-35 win at Venice last week.
Shay would know about long layoffs. A severely sprained ankle forced him to miss the final five games last season. He had been one of the team's most productive players before the injury, scoring seven touchdowns and amassing 907 total yards in a versatile role.
"I don't know if you replace him, but we're trying to figure it out," Lancers coach
Steve Hagerty
said. "We're like a step off. We're trying to find that little step."
Senior tailback
Jalen Moore
has answered the call, rushing for 847 yards and 12 touchdowns in the last four games. "Zach is always telling me what I need to do better, what's there and what's not," Moore said. "Zach is still a big part of this team."
Even when Shay's in slacks.
Blair Angulo covers preps for ESPN Los Angeles. Follow him on Twitter.
October, 6, 2011
10/06/11
11:10
PM PT


VENICE -- Bishop Amat coach Steve Hagerty trusted the process, which included giving Jalen Moore his carries. And more carries. And then some more.

The senior tailback rushed for 214 yards in a whopping 38 carries Friday night, scoring three touchdowns to help the Bishop Amat Lancers fend off a pesky Venice team, 38-35. Moore's final score gave Amat a 10-point lead with 2:11 to go. It took Venice only 52 seconds to respond, with standout receiver Gabriel Marks hauling in a 25-yard touchdown pass to make it a three-point game.

The Lancers covered up the onside kick and Moore, rather fittingly, milked the clock with a handful of bruising runs.

When informed that he had 38 carries on the night, Moore's eyes got big.

"I like that. No, I love that," he said.

Hagerty did too.

"Gosh," Hagerty said. "I just know he runs the ball hard. He's our guy, I guess. He always comes up big for us. Thank God we have him."

Amat (5-1), the No. 8 team in the ESPN Los Angeles prep football Top 25 rankings, was in trouble when it trailed 21-7 late in the first half. Marks, verbally committed to play at Southern Methodist, lined up behind center, in the wildcat formation, and blew through a hole for a scintillating 89-yard score that gave the Gondoliers (1-4) a two-touchdown edge.

The large Amat crowd was silent but it was as close as Venice got to the upset.

Moore scored from five yards out with 36 seconds remaining in the first half to give his team momentum heading into the locker room. Receiver Adam Sanchez tied it, 21-21, early in the third quarter on his second reverse run of the game.


September, 13, 2011
9/13/11
10:46
AM PT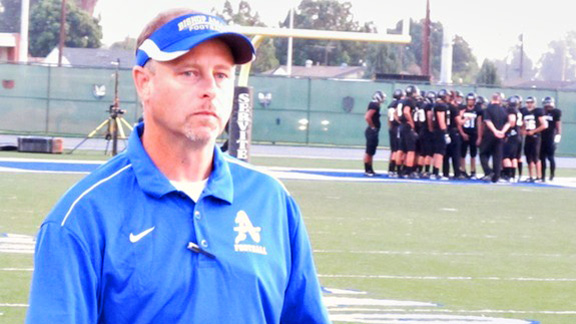 Blair Angulo/For ESPNLA.comBishop Amat coach Steve Hagerty hopes playing a tough schedule will be worthwhile in the end.
At least Bishop Amat football coach
Steve Hagerty
can't fault the energy. He can't blame the Lancers' concentration level or even their will to win. For what it's worth, they looked plenty motivated before their humbling 49-14 loss to top-ranked Servite on Friday night.
Amat simply couldn't hang, though, and now must turn a demoralizing five-touchdown loss into a learning experience.
"Even if it's on the humiliation side of things, we're playing a quality team and the CIF champions and that's why they're good," Hagerty said. "That's why we have to expose ourselves to it. It's risky but hopefully it's worthwhile in the end."
It might not get any easier, either. Amat (1-1) is the only Serra League team to have lost so far -- Alemany, Crespi, Loyola and Sherman Oaks Notre Dame are each 2-0. Only the top three in the final league standings earn bids to the Pac-5 Division playoffs.
The Lancers, ranked No. 11 in the ESPNLA.com prep football Top 25, have games against La Mirada, Damien, Cathedral and Venice before they start league play.
"We've got a long season ahead of us," Hagerty said. "[Friday night] is not everything. It was an indication but it's not everything."
September, 12, 2011
9/12/11
11:14
AM PT
A handful of games involving ranked teams last week made for some movement in our latest south Los Angeles County top 10. Three of our top five teams stumbled, though two of those came against teams ranked ahead of them. Long Beach Poly held its ground against City Section favorite Carson, Bishop Amat received a wake-up call from Pac-5 powerhouse Servite and Trinity League sleeper St. John Bosco overcame some sloppiness at Lakewood.
(Notes: Last week's rankings are in parentheses.)
1. (1) Long Beach Poly (2-0)
Coach Raul Lara has got to be happy with his defense. The Jackrabbits returned two interceptions for touchdowns and recovered a crucial fumble to pull away from a good Carson team. Last week: Beat Carson, 38-18. Next: vs. Narbonne at Veterans Stadium, Friday.
2. (4) St. John Bosco (2-0)
Cal-bound Bryce Treggs' supporting cast played a lead role, with Rene Medina throwing for four touchdowns, DaVonte Young amassing 106 rushing yards and Dalis Bruce hauling in nine catches. Last week: Beat Lakewood, 35-31. Next: vs. Santa Fe, Friday.
3. (2) Bishop Amat (1-1)
Uh-oh. Coach Steve Hagerty's preseason concerns were on full display against the area's top-ranked squad. The defense was helpless, appearing weak against the run and slow against the pass. Last week: Lost to Servite, 49-14. Next: vs. La Mirada, Friday.
4. (3) Carson (1-1)
Another impressive week for USC-bound Darreus Rogers, who had 210 receiving yards and a pair of touchdowns. The problem? Only 18 of those yards came after the break. Last week: Lost to Long Beach Poly, 38-18. Next: vs. Santa Margarita, 9/23.
5. (5) Lakewood (1-1)
The Lancers can at least keep their heads high after hanging with a talented Trinity League team. Brock Dale threw for 253 yards even with the absence of injured Darius Powe. Last week: Lost to St. John Bosco, 35-31. Next: vs. Mayfair at Bellflower High, Friday.
6. (6) Narbonne (1-0)
Gauchos quarterback Troy Williams, one of the top junior prospects in the area, ran for two scores and threw for another as Narbonne opened with a hard-fought win. Last week: Beat Palos Verdes, 34-32. Next: vs. Long Beach Poly at Veterans Stadium, Friday.
7. (7) Serra (1-1)
A positive sign for these young, inexperienced Cavaliers, who rebounded well from the opening upset loss that ended their 36-game regular-season win streak. Last week: Beat Redondo Union, 21-0. Next: vs. Mira Costa, Friday.
8. (8) West Covina (1-1)
The injuries are piling up fast for the Bulldogs, whose 14-game win streak ended. Reigning Southeast Division player of the year Chris Solomon (ankle) and quarterback Jon Najera (concussion) sat out. Last week: Lost to Loyola, 35-7. Next: vs. South Hills, Friday.
9. (10) Monrovia (1-0)
The defending Mid-Valley Division champs kicked it into high gear after a sluggish start. Defensive tackle Ellis McCarthy gets most of the pub but linebacker George Frazier is just as important. Last week: Beat Glendora, 29-16. Next: at Arcadia, Friday.
10. (NR) Charter Oak (2-0)
Quarterback Travis Santiago, who threw for 2,418 yards as a junior in 2010, might not be blowing out opponents but he's buckling down in crunch time. Last week: Beat Corona Roosevelt, 35-28. Next: at Esperanza, Friday.
Dropped out
: Dominguez (9)
Five more, in alphabetic order
: Crenshaw, Gahr, Mira Costa, St. Paul, Venice.
Agree or disagree with the "L.A. South" preseason top 10? Did your favorite school get snubbed? Leave a comment on this post or contact ESPNLosAngeles.com preps writer Blair Angulo directly on his Twitter page.
September, 9, 2011
9/09/11
11:50
PM PT


NORWALK -- Cody Pittman says he's hungry but, judging by how he looked Friday night, the senior quarterback might be selling himself a bit short.

Starving seems more appropriate.

Pittman threw for 139 yards, ran for 75 more and had three total touchdowns, leading top-ranked Servite to a 49-14 drubbing of Bishop Amat at Cerritos College. The Friars did what the Friars do, feasting on a helpless opponent by controlling the trenches.

"When we come out and play our game," Pittman said, "this should be the outcome against most of these teams we've got coming up. ... I want to get back to that point that we were at last year. I want to prove to everyone that last year [against De La Salle] was an upset, that we can bounce back from it."

The Lancers, a trendy Pac-5 Division sleeper pick and the No. 7 team in ESPNLA.com's Top 25 football rankings, were supposed to give Servite a tough test. It never truly materialized, with the Friars (2-0) pulling away to a 28-7 halftime lead. A noticeable amount of Bishop Amat fans filed out of the stadium at the start of the fourth quarter when things appeared meager, but what else did they expect?

"Well, I don't know exactly what went wrong," Lancers coach Steve Hagerty said. "I'll have to look at [the tape] and see. I think they're physically better than us up front, bigger and stronger. Our kids are fighting the good fight but sometimes it's not the best thing."

There wasn't much doing on either side of the ball for Amat (1-1). Senior quarterback Rio Ruiz was just 8 of 17 passing for 73 yards, throwing for a touchdown but, also, two interceptions. One of his picks set Servite up nicely near the goal line, the other came inside the red zone when the game was still within reach.

Amat's only score of the first half was a beauty, with Ruiz hitting Adam Sanchez for a 31-yard touchdown on a crucial fourth and 12. Ruiz beat triple coverage, hitting a diving, sprawling Sanchez in the back of the end zone. The touchdown made it 14-7.

It was all Servite from there.

Friars tailback Charlie Etiaki eased his way through monstrous holes, running for 114 yards on just nine carries. He had two touchdowns, one through the air and another through the ground. Andrew Moore also approached the century mark and had a score.

"The running attack starts with our offensive line and they were getting a push," Pittman said. "When you have that and you have the running backs that we have, it's going to be unstoppable."

Seventh-year coach Troy Thomas was all smiles after the game, complimenting his defense for the job it did against Ruiz and tailback Jalen Moore (20 carries, 73 yards). And, perhaps most notably, the Friars proved they're capable of returning to the Home Depot Center come December, maybe for a rematch against Northern California powerhouse De La Salle.

"We don't really gear ourselves to winning a championship or anything like that," Thomas said. "We're just trying to be champions in our lives. We believe champions win championships. When you do that, then you have a chance in the end."

And, if Pittman has anything to say about it, a little hunger won't hurt either.
September, 7, 2011
9/07/11
11:52
AM PT
Friday night's attractive matchup between Servite and Bishop Amat has all the makings of a classic. It's the best team in Orange County against the best in the San Gabriel Valley, a possible Pac-5 Division playoffs preview and arguably the top game across the Southland.
And, sure, Lancers coach
Steve Hagerty
is quick to point out that it's just one of the six non-league games his team has to play. But, after saying that, Hagerty slightly drifts from the comforts of common coach spiel.
"Anytime you get a chance to play the Friars, the CIF Southern Section champions, and anytime we get a chance to play against a quality opponent like that, it's awesome," said Hagerty, who anticipates a special atmosphere at Cerritos College on Friday. "Our kids are going to be fired up to do it. I think Servite's whole mystique and the all-black uniforms -- that's great for high school football. We've got to get our kids to see through that."
Bishop Amat and Servite last met in 2005, a game the Friars won 37-5 behind the likes of
Chris Galippo
,
D.J. Shoemate
and
Dan Klein
. Servite (1-0), No. 1 in the ESPNLA.com prep football rankings, opened with a 20-0 victory at Oceanside on Thursday.
The Lancers (1-0) head into it on the other side of the spectrum, having dodged a disaster by beating Garfield, 14-0. But maybe Hagerty didn't want to show too much of his offense on film.
"You can't help but notice they're the most successful program," Hagerty said of Servite. "They're the program we're all trying to become. We relish the opportunity to play them and we're looking at that as great measuring stick for us."
Blair Angulo covers preps for ESPNLosAngeles.com. Follow him on Twitter.
August, 30, 2011
8/30/11
3:32
PM PT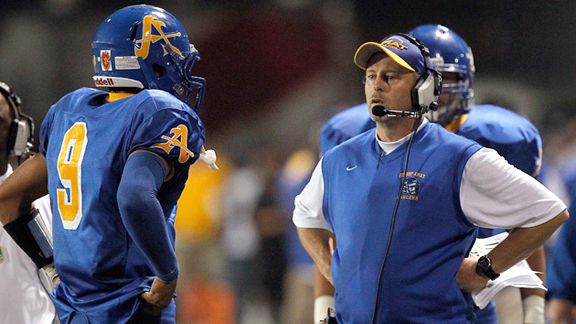 Alex Gallardo for ESPNLA.comBishop Amat coach Steve Hagerty, right, will have plenty of experienced players at his disposal this season, including quarterback Rio Ruiz.
LA PUENTE -- With seven returning starters on each side of the ball, Bishop Amat is one of the most experienced teams in the Southland. In other words, there shouldn't be many surprises when the Lancers take the field Friday night against Garfield. By now, there's plenty of film floating around for Amat's opponents to dissect.
So, when it comes to filling the vacancies on the roster, coach
Steve Hagerty
is not looking for a dramatic game changer. Or, maybe, he's keeping hush on potential sleepers.
"I hope some kids are going to make contributions, but we don't quite know," said Hagerty, who enters his fourth season at the helm. "We have a lot of healthy competition going on right now and that's a good thing for us because high school kids, when they get complacent, they feel like things are theirs. We have a good culture here of making sure that kids earn theirs. Nothing is handed out."
Last season, quarterback
Rio Ruiz
threw for 2,000 yards and tailback
Jalen Moore
ran for 1,634 and 23 touchdowns.
Zachary Shay
accumulated 907 yards of total offense in five games before suffering a season-ending ankle injury. Bishop Amat's junior varsity team went 7-3.
"I know a lot about the kids that played on JV last year and we're hoping that they'll make a splash, but we're pretty much an experience-oriented team," Hagerty said. "The experienced players are going to be the playmakers and the ones that carry us through the year."
The Lancers went 9-0 to start the 2010 season but lost to Alemany in the Serra League title game and then to Tesoro in the first round of the Pac-5 Division playoffs. Amat is No. 7 in ESPNLA.com's preseason rankings.
Blair Angulo covers preps for ESPNLosAngeles.com. Follow him on Twitter.
August, 28, 2011
8/28/11
3:22
PM PT
Zachary Shay
made one cut on the dewy grass and a collective cringe soon followed from those at Bishop Amat's Kiefer Stadium. Shay had suffered a nasty ankle sprain on the fifth play from scrimmage, leaving Amat without one of its top playmakers. The Lancers still had enough firepower to defeat Crespi on Oct. 15 last year, but the injury proved to be a downer the rest of the way.
After a 9-0 start to the season, Bishop Amat lost to Alemany in the Serra League title game and fell at home to Tesoro in the first round of the Pac-5 Division playoffs.
Shay, who had seven touchdowns and accumulated 907 total yards before the season-ending injury, is back for his senior season and, if he maintains a clean bill of health, should form a powerful tandem with quarterback
Rio Ruiz
and tailback
Jalen Moore
.
Here's a closer look at the Lancers:
Team
: Bishop Amat.
Coach
: Steve Hagerty, fourth season.
2010 Record
: 9-2, lost in first round of the CIF Southern Section Pac-5 Division playoffs.
Returning starters
: 14 total. Seven on offense, seven on defense.
Key players on offense
: QB Rio Ruiz (USC baseball commit), RB Jalen Moore, RB Zachary Shay, WR Joseph Cook
Key players on defense
: DB Rio Ruiz, DB Ajee Montes, DB Adam Alcantara, LB Jalen Moore
Difference maker
: Ruiz, a top baseball prospect who will miss three nonleague games while he plays for the U.S. youth national team, is arguably the best quarterback in the San Gabriel Valley. He's expected to build off the 19 touchdowns and 2,000 yards he threw for last season. Moore, who rushed for 1,634 yards and 23 touchdowns as a junior, will have to carry a heavier load during Ruiz's absence.
Newcomers
: To be determined, according to Hagerty.
Not to be missed
: vs. Alemany, Friday, Oct. 14. This matchup will likely decide the Serra League, and Bishop Amat doesn't want a repeat of last year's disheartening 38-30 loss in the final week. The Lancers pretty much have the same team coming back, so you figure players will be mentally prepared.
Coach's comment
: "I think we do a good job as a staff of evaluating things day to day and that's what we'll continue to do," Hagerty said. "I know newspaper guys don't like that. You want predictions and all that stuff, but I know we'll be fine. Our kids play hard, are aggressive and are going to be physical. We're going to have a shot to win every game we play this year, with or without Rio."
Final analysis
: The Lancers return major contributors from an offense that averaged 35 points per game last season. Barring any injuries, expect something in the same neighborhood from this group. Amat's overall success, though, appears to hinge on defensive improvement and minor contributions from role players. The Lancers have the potential to duplicate last year's No. 4 seeding in the Pac-5 Division bracket, but it's expected that they actually advance out of the first round this season.
Blair Angulo covers preps for ESPNLosAngeles.com. Follow him on Twitter.
October, 15, 2010
10/15/10
11:59
PM PT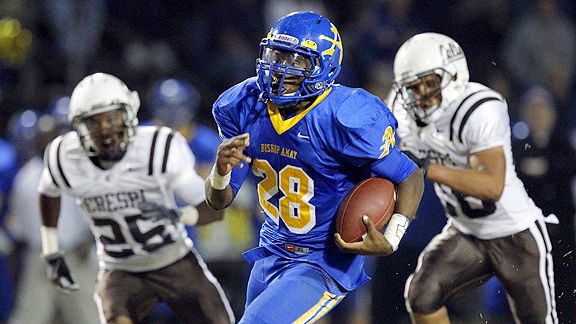 Alex Gallardo/Special to ESPNLA.com
Bishop Amat's Jalen Moore's 270 rushing yards and two touchdowns led the Lancers over Crespi.
LA PUENTE -- When things seemed bleak, all Bishop Amat needed was more of
Jalen Moore
. And them some more.
The tailback was a workhorse Friday night, carrying the ball 32 times for 270 yards and two scores in No. 6 Bishop Amat's 31-28 win against No. 9 Encino Crespi. Moore scored both of his touchdowns in the fourth quarter, helping the Lancers (7-0) erase a 21-17 deficit.
Zachary Shay
, Amat's other top playmaker, suffered an ankle injury on the fifth play from scrimmage and did not return. That left Moore as the only backfield threat, but Crespi's defense still wasn't able to slow him down.
Legs grew weary. Arm tackles just wouldn't do.
"Jalen was running with some good tilt," Bishop Amat coach
Steve Hagerty
said.
The Lancers, who jumped out to a 17-0 lead in the first half, needed as much tilt as they could manage after the Celts scored 21 unanswered points to assume a fourth-quarter lead.
"I was glad we had adversity," Hagerty added. "We faced it, we dealt with it. They found a way to pull it out and finish."
Quarterback
Kenny Stenhouse
, who had broken Crespi passing records on consecutive weekends, threw for 242 yards and two touchdowns on 21 for 34 passing. His goal-line sneak midway through the third quarter put Crespi (5-2) ahead, quieting the large home crowd.
September, 4, 2010
9/04/10
2:00
AM PT
By
Scott French
| ESPNLosAngeles.com
Bishop Amat's Zachary Shay led the big-play Lancers with two long punt returns and a 68-yard touchdown jaunt in a 23-0 victory over Garfield at East L.A. College on Friday.

Bishop Amat, with USC-bound baseball star Rio Ruiz playing his first game at quarterback since he was with the freshman team two years ago, struggled to move the ball against an aggressive and athletic Garfield defense, but got all the points it needed on a blocked punt just 80 seconds into the game.

Aaron Bowens took the ball off Garfield punter Victor Carillo's foot near the goal line and stepped into the end zone for a 7-0 lead. Shay returned punts 54 and 65 yards, but Amat capitalized only on the second, which led to Andrew Carillo's 23-yard field goal to make it 17-0 in the third quarter.

Ruiz completed 10 of 17 passes for 164 yards and two touchdowns, but the longest pass play was a short throw to Shay, who caught the ball at the line of scrimmage, stepped through a hole and outran the Garfield defense for Amat's second TD.

The last score, an 11-yard Ruiz-to-Anthony Carillo pass, was set up by Nick Casarez's 92-yard interception return to the Garfield 8.

The Lancers totaled just six first downs and 27 yards rushing.

Garfield, much better than the score suggests, was led by quarterback Leandro Vaal (14 of 28 for 117 yards, connecting with seven receivers) and fullback Danny Vargas (62 yards rushing on 10 carries).

The defensive star was Amat defensive end Julian Gener, who sacked Vaal twice, pressured the QB all night and repeatedly made tackles at the line of scrimmage.

Garfield had 13 first downs and outgained Amat, 212-191.

Bishop Amat coach Steve Hagerty: "We need to keep practicing. We've got a lot of young kids, and we made an awful lot of mistakes. But I'm sure we'll look at the film, and we'll correct things. The biggest improvement, I think, on most teams is from week one to week two. I think our kids will have a little better perspective at practice. And we'll figure out it isn't that easy to be really good. We've got to keep working at it."