Los Angeles Preps:

Steve Jones
February, 25, 2012
2/25/12
10:11
PM PT
CARSON -- Jason Hart didn't know any of his players when he stepped into the Woodland Hills Taft gym for the first time last summer. All he knew, really, was that he had big shoes to fill after longtime coach Derrick Taylor left for St. John Bosco.

It's safe to say Hart, in his first year coaching high school basketball, knows his team well now. The 33-year-old coach -- who wears cardigans, jeans and sneakers on the sideline -- has picked up right where the successful Taylor left off.

Top-seeded Taft advanced to its fifth consecutive CIF-Los Angeles City Section Division I championship game Saturday, hanging on to beat fifth-seeded Crenshaw, 64-63, at the Torodome on the campus of Cal State Dominguez Hills.

"I think this proves that a young coach can get the job done if they know what they're doing," Hart said. "This team was brand new to me. This means a lot, not just for me but the kids. They fought hard. They're the ones that deserve the credit."

Taft (27-3), the defending section champion, clicked quickly following Taylor's departure. The Toreadors bought into Hart's philosophy. They believed in him.

"That's why we're in the championship game." said Hart, who played nine seasons in the NBA.

Senior forward Anthony January dunked his way to a game-high 24 points, and also pulled down 10 rebounds. Guards Steve Jones and Kris Yanku each had 14 points in support.

The Toreadors built a 21-point lead but carelessness allowed Crenshaw (24-5) to chop away. A 3-pointer from Brandon Baker pulled the Cougars to within five with 45 seconds remaining, Crenshaw got another defensive stop and a spectacular left-handed scoop shot from Andre Edwards, and the Taft lead was trimmed to three with 15 seconds left.


February, 2, 2012
2/02/12
9:48
AM PT
By
Tim Haddock
| ESPNLosAngeles.com


With the score tied 61-61, Birmingham's Andrew Estes launched a half-court shot for Birmingham that banked in to beat Chatsworth in a West Valley League game Wednesday night.

In other West Valley League games, Woodland Hills Taft beat Granada Hills, 69-52. Steve Jones scored 14 points for Taft.
El Camino Real beat Cleveland of Reseda, 62-52. Julian Richardson scored 25 points and had 10 rebounds for El Camino Real.
January, 11, 2012
1/11/12
11:01
PM PT
By
Tim Haddock
| ESPNLosAngeles.com


WOODLAND HILLS -- The El Camino Real boys' basketball team forced Woodland Hills Taft into a half-court offense and slowed the game to a grinding pace, but came up a point short against its West Valley League rival.

Taft (12-3), the No. 9 team in the ESPNLA Top 20 basketball rankings, gutted out a 45-44 win at El Camino Real High School in a game that was scoreless for the final two minutes. Brandon Perry hit the game-winning shot for Taft, then the Toreadors stymied El Camino Real to hold on to its slim lead.

Perry scored a team-high 15 points for Taft, but this game was all about defense and stops. It was definitely not the type of game Taft fans are used to seeing nor the players are used to playing.

First-year Taft coach Jason Hart said his team is still searching for an identity.

"We don't have a style yet," Hart said. "Our style is winning games."

El Camino Real (9-6) jumped out to an 11-4 lead in the first quarter and was up 14-9 after one period.

But Taft went on an 11-0 run to open the second quarter and took a 20-14 lead. El Camino Real came alive at the end of the period to cut the lead to one point, 22-21, at halftime.

Still El Camino was 3-for-10 from the field in the second quarter while Taft started spreading the ball around.

Kris Yanku hit a 3-pointer and scored the first five points for Taft to open the second quarter. Perry ended the 11-0 run with a pair of free throws.


January, 3, 2012
1/03/12
3:53
PM PT
By
Sean Ceglinsky
| ESPNLosAngeles.com
LOS ANGELES -- There has never been much doubt about
Anthony January
's talent on the basketball court. But questions about his work ethic off the hardwood, particularly in the classroom, surfaced with regularity in the not-so-distant past.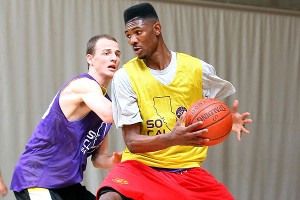 Nick Koza for ESPNLosAngeles.com
Anthony January is among Taft's leaders in scoring, averaging more than 19 points.

That is, until now. It appears as if January's priorities, at long last, are in order.
The highly-touted senior from Woodland Hills Taft is on the right track this season after a recent transfer to the Toreadors following three years at Compton.
"I had to get my studies right and get more focused,'' January said. "I've got nothing against Compton; it's where I'm from. I needed to switch things up though, you know, a fresh start. Things are going great right now. The move to a new school has been a positive thing for me.''
The change of scenery has indeed done wonders for him and Taft (10-3 overall), which figures to be among the top teams in the ESPNLosAngeles.com rankings this season. Having the UTEP-bound January on the roster and constantly in the mix certainly helps matters.
Before play in the Los Angeles City Section begins next week, the Toreadors figure to face a difficult test in a nonleague game against host San Diego Lincoln on Saturday.
"Anthony is a hybrid forward, he can play the three or four, it does not matter. We're talking about an elite-level high school player here,'' Toreadors coach
Jason Hart
said. "He is one of those players who comes around every 5-to-10 years and is capable of making an impact at the next level right away. We are happy he is here at Taft. Anthony has done a good job of fitting in.''
January's path up to this point has been filled with ups-and-downs.
Due in large part to his sheer athleticism and long frame as a freshman -- he was right around 6-foot-4 and growing -- January opened plenty of eyes at Compton. He worked his way into the lineup and averaged 15 points and close to 10 rebounds per game.
An encore effort was expected as a sophomore. January did not disappoint, taking the next step in his development. Already an established post presence, his perimeter game became a bit more polished and he shot close to 60 percent from the field.
January fulfilled his promise, initially, as a junior. He had a pair of 30-plus point efforts early in the season and was averaging 22 points a night before things went awry. His grades were poor and the family made the decision to have him home-schooled.
"I'm not really sure what happened," Compton coach
Tony Thomas
said about the January scenario at the time. "He told me he was going to be home-schooled, then he was excited to play for us [again]. Then, he's going to be home-schooled [again]. That's all I know."
An overdue, renewed focus followed. "I think it was time to take care of business,'' January said.