Los Angeles Preps:

Tairen Owens
November, 13, 2011
11/13/11
4:19
PM PT
Defending champion West Covina is in prime position for a repeat after receiving the division's top seeding Sunday. The Bulldogs (9-1) didn't go undefeated because, really, they wanted to test themselves against Loyola, a Pac-5 playoff team. Coach
Mike Maggiore
hopes that loss pays dividends. Here's a breakdown of the division:
The seeds:
No. 1 West Covina, No. 2 Santa Fe, No. 3 Burbank Burroughs, No. 4 La Mirada.
Best first-round matchup:
Bonita (6-4) at Arcadia (8-2) -- Tailback
Cameron Griffin
is running the ball well for Bonita. Arcadia has the weapons -- namely
Myles Carr
and
Taylor Lagace
to be a scary team.
Toughest road:
La Mirada (6-4) -- If the La Mirada Matadores make it past Crescenta Valley -- and that's a big if -- they'll have to fend off either Bonita or Arcadia in the second round. That's the epitome of a grueling draw.
Potential shocker:
Muir (6-4) at No. 2 Santa Fe (6-4), first round -- It might not be that big of a shocker, given that Muir has the star power with
Kevon Seymour
, rated as one of the top athletes in the area, and running back
Tairen Owens
, a Washington commit.
Darkhorse:
Bonita (6-4) -- The Bearcats have won four straight and gave Hacienda League foe West Covina all it could handle in last year's championship game. Griffin is averaging 125 yards rushing over the last four games.
Final analysis:
The division breaks down quite simply -- there's West Covina and there's everybody else. Talented teams abound, but no one is as physical as Maggiore's bunch. Tailback/safety
Chris Solomon
, the reigning division player of the year, could very well take the honor again this season.
Championship prediction:
West Covina vs. Burroughs – Solomon isn't the only capable runner in West Covina's backfield.
Jimmy Frazier
has rushed for over 1,000 yards and
Aaron Salgado
is also approaching the four-digit mark. Unless Burroughs' running back
Zander Anding
can pull off another 300-yard game, there's too much power here for the Bulldogs not to make it two straight titles. Final score: West Covina 33, Burroughs 27.
Link to Southeast Division playoff bracket on CalPreps.com
November, 1, 2011
11/01/11
5:54
PM PT
By
Sean Ceglinsky
| ESPNLosAngeles.com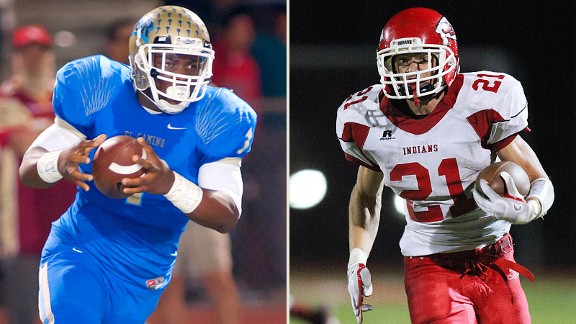 Dustin Jack Photography, Courtesy of Dwight KimRunning back Kawan Rally, left, of El Camino Real, and Zander Anding of Burroughs, are gaining attention with their big numbers.
LOS ANGELES --
Kawan Rally
who?
Zander Anding
what?
If their names sound unfamiliar, fear not. You are not alone.
Make no mistake, both running backs are not nearly as well-known as some of their more high-profile peers from the Southland. Nevertheless, Rally from Woodland Hills El Camino Real and Anding from Burbank Burroughs are a pair of seniors worth remembering.
In terms of statistical performances this season, each is in the midst of an eye-opening effort. Rally and Anding, in fact, are on the verge of stealing the spotlight from their more publicized counterparts at the position.
"People don't talk about me all the time, but that's cool, I go out there and let my play do the talking for me. That's how you get everyone's attention,'' Rally said.
All signs point to his strategy paying off. Eventually.
Rally leads California in rushing, having surpassed the 2,000-yard plateau with 327 yards on the ground and four touchdowns in last week's 49-20 victory over Chatsworth. The 5-foot-10, 220-plus pound tailback has 2,033 yards in 193 carries this season, a 10.5 yards-per-carry average. He also has 27 touchdowns.
September, 14, 2011
9/14/11
6:17
PM PT
The third week of high school football brings a solid collection of matchups, including another intersectional battle involving No. 2-ranked Long Beach Poly. As part of our running feature, here are this week's five must-see games in south Los Angeles County, in no particular order:
Narbonne vs. No. 2 Long Beach Poly at Veterans Stadium, Friday, 7 p.m.
-- The Jackrabbits (2-0) took care of one Marine League team last week and now turn their attention to another. Narbonne (1-0), a serious contender in the City Section, tests its rising quarterback prospect, junior Troy Williams, against a Poly defense that seems to get better by the quarter. Defending Moore League champion Poly held off the Gauchos with
a last-minute defensive stand last year
.
[+] Enlarge
Blair Angulo For ESPNLA.comMonrovia's De'Shawn Ramirez practiced with Arcadia for a brief time this summer.
Monrovia at Arcadia, Friday, 7 p.m.
-- Defending Mid-Valley Division champion Monrovia (1-0) kicked off its title defense with a victory behind the strong play of George Frazier and De'Shawn Ramirez. Ramirez, coincidentally,
practiced with Arcadia early in the summer
while his status at Monrovia was being sorted out. He was reinstated and, now, figures to play a key role Friday against his brief practice mates. The Wildcats beat Arcadia (0-1), 34-7, last year.
No. 15 Rancho Cucamonga at Muir, Friday, 7 p.m.
-- Talented Muir defensive back Kevon Seymour could get tested by Rancho Cucamonga quarterback Dimitri Morales, who has 500 passing yards and six touchdowns through two games. On offense, the Muir Mustangs (2-0) are led by tailback Tairen Owens, a Washington commit who has totaled 215 all-purpose yards. Rancho Cucamonga (2-0) could be on upset alert, especially if Seymour forces Morales and Co. to become one-dimensional.
No. 19 Lakewood vs. Mayfair at Bellflower High, Friday, 7 p.m.
-- Another chapter will be written in this fierce rivalry. The Lancers (1-1) have won the last four battles for the "Milk Bucket," retaining the trophy last year with a surprisingly close 24-14 victory. The Monsoons (1-1) look to regroup following a dizzying 56-21 loss to Los Alamitos and you can bet those wounds would heal quickly if they were to capture the bucket Friday.
Mira Costa at Serra, Friday, 7 p.m.
-- Both teams got back on track in Week 1 after tripping in their respective openers. The Mira Costa Mustangs (1-1) blanked Inglewood, 17-0; the Serra Cavaliers (1-1) did the same to Redondo Union, 21-0. And, even though it's not as lucrative as it may have been in recent years, this game has the potential to be the topic of choice across South Bay breakfast tables on Saturday morning. Can't make it out? The game will stream live on
FOXSportsWest.com
as part of the website's
Prep Zone platform
.
Don't agree with this list of top games? Does another game deserve more notoriety? Leave a comment on this post or contact ESPNLosAngeles.com preps writer Blair Angulo directly on his Twitter page. Follow @ESPNLAPreps for live in-game updates, final scores and news.
August, 19, 2011
8/19/11
6:10
PM PT
With the start of the high school football season less than two weeks away, we give you a list of the top 15 returning rushers in south Los Angeles County, sorted by last year's totals.
Robert Lewis
, a senior at South East, is ranked No. 12 on this list but is more than just a ball carrier. Lewis, the top-rated senior running back in the area according to ESPNU recruiting, is committed to Southern Methodist. He's a dynamic playmaker that should build on a solid junior season. West Covina's
Chris Solomon
ranks second on this list, even though he's projected as a safety at the next level.
Rank / Name (Year, School) / Yards / Touchdowns
1. Giovanni Rivera (Senior, Sierra Vista): 2,304 yards - 14 TD
2.
Chris Solomon
(Senior, West Covina): 1,790 yards - 20 TD
3.
Jalen Moore
(Senior, Bishop Amat): 1,634 yards - 23 TD
4.
Jamel Hart
(Senior, South Hills): 1,318 yards - 17 TD
5. Marquise McGuire (Junior, Long Beach Jordan): 1,200 yards - 3 TD
6. Michael Ortega (Senior, St. Paul): 1,196 yards - 7 TD
7.
Walter Moctezuma
(Senior, Marshall): 1,190 yards - 15 TD
8. Tony Botello (Senior, Pioneer): 1,189 yards -- 12 TD
9. Michael Wimberly (Senior, West Adams Prep): 1,026 yards - 9 TD
10. Darrell Santiago (Junior, San Pedro): 965 yards - 15 TD
11.
Thomas Brown
(Senior, Serra): 960 yards - 6 TD
12.
Robert Lewis
(Senior, South East): 901 yards - 11 TD
13.
Kori Garcia
(Senior, Santa Monica): 856 yards - 9 TD
14.
Tairen Owens
(Senior, Muir): 822 yards - 10 TD
15. Anterio Bateman (Junior, Serra): 783 yards - 5 TD
August, 18, 2011
8/18/11
12:38
PM PT
With the start of the high school football season two weeks away, we give you a list of the top 45 senior prospects in south Los Angeles County, according to
ESPNU recruiting rankings
. (Notes: player's verbal college commitment in parentheses).
ATHLETES
Jabari Ruffin
, Downey (USC)
Kevon Seymour
, Muir
Jaydon Mickens
, Dorsey (USC)
QUARTERBACKS
Myles Carr
, Arcadia
TAILBACKS
Robert Lewis
, South East (Southern Methodist)
Tairen Owens
, Muir (Washington)
Ryan McDaniel
, North Torrance
Jeffrey Coprich
, Palisades
RECEIVERS
Darius Powe
, Lakewood
Derrick Woods
, Inglewood
Bryce Treggs
, St. John Bosco (California)
Richard Smith
, Long Beach Poly (Arizona State)
Randall Goforth
, Long Beach Poly (Arizona State)
Malik Gilmore
, Lakewood (Oregon State)
Josiah Blandin
, Long Beach Poly (Arizona State)
Gabriel Marks
, Venice (Southern Methodist)
Dwayne Washington
, Gahr (Washington)
Delshawn McClellon
, Gahr (Utah)
Taylor LaGace
, Arcadia (Washington)
Darreus Rogers
, Carson (USC)
OFFENSIVE LINEMAN
Lacy Westbrook
, Dominguez
Gerrad Kough
, Pomona (Colorado)
Chase Eldredge
, Palos Verdes (Oregon State)
Chad Wheeler
, Santa Monica (Arizona State)
Justin Johnson
, Dorsey
Beau Boyster
, St. John Bosco (Arizona)
DEFENSIVE LINEMAN
Ellis McCarthy
, Monrovia
Damion Turpin
, Dominguez
Kristopher Cooper
, Serra
Dejon Allen
, Dominguez (Arizona State)
LINEBACKERS
Salamo Fiso
, Long Beach Poly (Arizona State)
Matt Rowe
, Long Beach Poly (Arizona State)
Jeremiah Allison
, Dorsey
Khalil Pettway
, Culver City
C.J. Dozier
, St. John Bosco (Arizona State)
Thomas Brown
, Serra
DEFENSIVE BACKS
Brandon Beaver
, Dominguez
Alphonso Marsh
, Dominguez
Raymond Ford
, Serra (UCLA)
Dalis Bruce
, St. John Bosco
Devian Shelton
, Inglewood
Patrick Wooten
, Serra
Chris Solomon
, West Covina
KICKERS
Osborn Umeh
, Mayfair
Alex Boy
, Lakewood