Los Angeles Preps:

Taylor Martinez
January, 24, 2012
1/24/12
5:26
PM PT
By
Dan Arritt
| ESPNLosAngeles.com
Nebraska has been mining the Inland Empire the last few years and may have found another nugget in Vista Murrieta offensive lineman Corey Whitaker.

Whitaker, listed at 6 feet 4, 255 pounds, committed to Nebraska during an official visit over the weekend, according to the online publication, Huskers Illustrated, becoming the second member of last season's Inland Division championship team to veer away from Oregon heading into national signing day Feb. 1.

Vista Murrieta defensive lineman Jeremy Castro switched from Oregon to UCLA after visiting the Westwood campus last weekend.

"I was leaning toward Oregon and halfway through the visit I was thinking 'Wow, Nebraska is steering me away from the dream school,' " Whitaker told Huskers Illustrated. "That's when I started to know that the team I thought was my dream team, wouldn't be the team for me."

Whitaker was not listed on scout.com as having a scholarship offer from the Ducks. He had taken visits to Nevada and San Jose State since the season ended and was also listed as having offers from San Diego State, Idaho and Fresno State.

Nebraska has done well with its recruits from the I.E.

Taylor Martinez, who graduated from Corona Centennial in 2009, was a third-year starting quarterback for the Huskers last season, helping them to a 9-4 record and a trip to the Capital One Bowl. Quincy Enunwa, a junior-to-be wide receiver from Rancho Verde in Moreno Valley, should be one Martinez's top targets next season.


October, 11, 2011
10/11/11
4:12
PM PT
By
Dan Arritt
| ESPNLosAngeles.com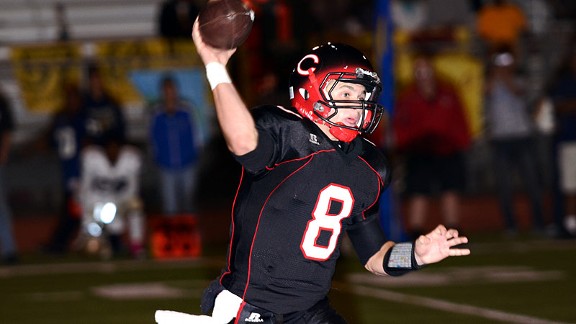 Courtesy of Joe WheatCorona Centennial Hayden Gavett is putting up similar numbers to those of Michael Eubank last season.
CORONA -- The question marks have been replaced by exclamation points.
Many wondered how the Corona Centennial football team would proceed this season without a Division 1-caliber quarterback running the offense.
They're wondering no more.
Hayden Gavett
has taken over where
Michael Eubank
(Arizona State) left off last season, and where
Taylor Martinez
(Nebraska) shined before that.
He has led the Huskies to a 4-1 start through the halfway point of the regular season, throwing for 870 yards and eight touchdowns, while being intercepted just twice. On the ground, he has kept the ball for 472 yards and five touchdowns, averaging 8.9 yards a carry.
"He's a heckuva player," Centennial coach
Matt Logan
said. "He's a very smart kid, works hard and is a great athlete. To top it all off, he's a good kid, so that makes it fun."
Gavett's offensive numbers are very similar, if not better than those put up by Eubank through five games last season, though Gavett has needed to play all 48 minutes in two more games than Eubank did.
Gavett's coaches and teammates might be the only ones not surprised by his success as a first-year senior starter.
"I played with Hayden since I was little, so I've always known the player Hayden can be," said running back
Romello Goodman
, who has teamed with Gavett to account for 85 percent of Centennial's offense, despite sitting out approximately 3 1/2 quarters while holding big leads. "He has come out and shown he can be that type of player. It's his time to shine."
December, 9, 2010
12/09/10
7:06
PM PT
By
Dan Arritt
| ESPNLosAngeles.com
Corona Centennial and Vista Murrieta, who have emerged as two of the Inland Empire's strongest football powers in the last decade, will meet for just the second time Friday night in the Inland Division championship game at Centennial.

Kickoff is set for 7:30 p.m.

The only other time the teams played was two years ago in the semifinals. Centennial won, 41-14, behind three touchdown passes and two rushing by quarterback Taylor Martinez, now at Nebraska. That team went on to defeat Concord De La Salle in the CIF-Division I state bowl game and finish 15-0.

Offensively, the top-seeded Huskies (13-0) are very similar this season. They also feature a talented dual-purpose quarterback in Michael Eubank, a senior who has thrown for 2,532 yards and 21 touchdowns this season, with just three interceptions. On the ground, he has amassed 1,092 yards and 18 touchdowns, averaging 10.1 yards per carry.

The biggest difference between this season's offense and the 2008 version is running back Barrinton Collins, whose quick feet and explosiveness prevents defenses from focusing on Eubank. Collins has rushed for 2,026 yards (11.3 avg.) and scored 37 touchdowns.

Defensively, they're a plus-23 in turnover ratio. Ryan Jack, a San Diego State-bound linebacker, is the team's leading tackler.