Los Angeles Preps:

Teara Laudermill
March, 14, 2011
3/14/11
4:42
PM PT
By
Dan Arritt
| ESPNLosAngeles.com
ESPNLA plans to take a closer look this week at the Inland Empire basketball teams that qualified for the Southern California Regional championship games Saturday at USC's Galen Center. First up, the Canyon Springs girls' basketball team in Division 1.

CANYON SPRINGS (30-3)

Location: Moreno Valley.

League: Inland Valley.

Resume: The Cougars opened the season ranked fourth in the Southern Section Division 1AA coaches' poll behind Mater Dei, Brea Olinda and Long Beach Poly. One of its two regular seasons losses came against Long Beach Poly, and Canyon Springs was later beaten by Brea Olinda in a Division 1AA semifinal. Payback came Saturday night in a regional semifinal, when the third-seeded Cougars stunned the Ladycats, 63-53, in Brea's gym. For their efforts, they earned a date with top-seeded Mater Dei in Saturday's final at 6 p.m.

Roster: What makes Canyon Springs difficult to match against is its 1-2-3 punch of 5-9 senior guard Tear'a Laudermill, 5-11 junior wing Jasmine Johnson and 6-2 senior forward Sophia Ederaine. Laudermill, who has signed with Nebraska, is averaging 16.7 points, 5.3 assists and 3.6 steals. She has struggled with her shot the last two games, however, missing 19 of her last 26 field-goal attempts. Ederaine, who has signed with University of San Diego, provides a staunch presence in the middle that will be key against Mater Dei. She's averaging 11.9 points, 9.7 rebounds and 7.2 blocks with five triple-doubles this season. Johnson is averaging 13.5 points and eight rebounds. In three regional playoffs games, she's averaging 17 points.

Reality: Canyon Springs could be catching the Monarchs at the right time. Jordan Adams and Alexas Williamson, the starting backcourt for Mater Dei, are reported to be out for the season. Adams, a 6-foot junior point guard, injured her left shoulder in a quarterfinal victory against Santa Monica and did not play in the semifinal win against Harbor City Narbonne. Williamson, a 5-9 junior shooting guard, underwent appendectomy surgery last week and missed the last three games. Alexyz Vaioletama picked up some of the slack against Narbonne, totaling 29 points and 19 rebounds. Vaioletama, a 6-1 center who has signed with USC, will meet her match in Ederaine.

Result: Canyon Springs 67, Mater Dei 65.
March, 9, 2011
3/09/11
4:57
PM PT
By
Dan Arritt
| ESPNLosAngeles.com
Before the Etiwanda boys' basketball team could prepare for the rematch, the Eagles had to take care of the mismatch.

They marched to Fresno on Tuesday and knocked off Central Section champion Bullard, 69-49, setting up a second-round game Thursday at Long Beach Poly.

Etiwanda lost to the Jackrabbits by seven points last week in a Southern Section Division 1AA semifinal. A year ago, the Eagles beat Poly in the section semifinals, only to lose in regional playoff rematch.

Byron Wesley led the way against Bullard, totaling 18 points and 11 rebounds.

It's the fifth straight season the Central Section Division 1 champion has lost to a visiting team from Southern California in the regional opener.

Summit climbs over Narbonne

The Fontana Summit boys' basketball team returned from 10 days off to win its Southern California Regional Division 2 first-round game Tuesday night, taking down host Harbor City Narbonne in overtime, 72-70.

The seventh-seeded SkyHawks fell behind by 11 points in the first half but made up the deficit behind 22 points from senior point guard Montigo Alford. Still, they were on the verge of falling behind with 6.1 seconds remaining in regulation after Shailo Leafa was fouled while making a lay up. He missed the free throw, however, and the game went to overtime.

Summit (25-8) took the lead for good when 6-6 senior forward Dorian Cason made one of two free throws with 26.6 seconds remaining. Narbonne, which won the City Section Division 2 title Saturday, then missed their final three field-goal attempts.

The SkyHawks will head back on the road Thursday, traveling to second-seeded Ventura for a second-round game.

Palm Springs cooled off

The Palm Springs boys' basketball team ran into a hot team, and an even hotter player.

The Indians couldn't stop Chatsworth and sharp-shooting guard Derrick Hector, who made eight of nine three-point attempts and scored 30 points in the 74-66 victory at Chatsworth High.

In the City Section Division 3 championship game Saturday, Hector scored 21 of his 26 points in the second half to lift the Chancellors to a 66-61 victory against L.A. Garfield.

Palm Springs, playing its first state playoff game in school history, received 21 points and nine rebounds from 6-9 center Dillon Floyd, 20 points from Marcus Hall and 11 from Thaddeus Gray.


February, 14, 2011
2/14/11
9:19
PM PT
By
Dan Arritt
| ESPNLosAngeles.com
The Southern Section girls' basketball playoff pairings were released Sunday and a number of top Inland Empire teams are massed in Division 1AA, with a few others scattered elsewhere. First-round games begin Thursday. Here's a rundown:

Division 1AA

Moreno Valley Canyon Springs enters the playoffs as the fourth-seeded team in this division. The Cougars lost two games during the regular season and one was against second-seeded Long Beach Poly, 64-37, back on Dec. 2. Canyon Springs is led by Nebraska-bound guard Tear'a Laudermill, who is averaging 16.6 points. The division is loaded with other top I.E. teams, including fifth-seeded San Bernardino Cajon, sixth-seeded Etiwanda, eighth-seeded Fontana Summit and ninth-seeded Corona Santiago, all coming off league championships. Summit and Santiago face a potential second-round match up Saturday.

Division 1A

Rancho Cucamonga ended Etiwanda's 66-game Baseline League winning streak this season but couldn't hold on for the league title. The Cougars are seeded fourth in this division, two spots ahead of Big VIII League runner-up Corona Centennial. Sierra League champion Chino Hills is seeded seventh and opens Thursday against visiting Redlands East Valley.

Division 2AA

Rialto ended Cajon's 85-game league winning streak this season and went on to share the San Andreas League title with the Cowgirls. For their efforts, the Knights are the top-seeded team in this division. Rialto has an interesting first-round match up Thursday, hosting at-large selection Santa Margarita, which won the Division 3A title last season. Another team to watch is eighth-seeded Norco.

Division 2A

Indio went 23-2, including 12-0 in the Desert Valley League, and is seeded fourth in this division. The Rajahs only losses came against Division 1AA qualifiers Temecula Great Oak and Temecula Chaparral. Indio's first-round opponent, Riverside North, finished 4-20 and lost its last 12 games. Citrus Belt League champion Rialto Eisenhower is seeded seventh.

Division 3A

Sunbelt League champion Lake Elsinore Temescal Canyon enters as the sixth-seeded team in this division. The Titans open against Murrieta Mesa (3-22). De Anza League champion Yucca Valley is seeded eighth.
October, 6, 2010
10/06/10
10:00
PM PT
By
Dan Arritt
| ESPNLosAngeles.com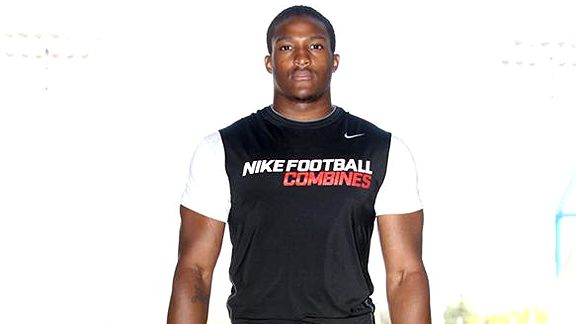 Tom Hauck
Todd Handley of Riverside King has proved to be one of the most elusive ball carriers around.
Few athletes can claim a 44-inch vertical leap. Those that do are usually found on the basketball court, or near the high jump pit.
LeBron James
reportedly has a 44-inch vertical leap, so did
Michael Jordan
.
Kobe Bryant
? He comes in a bit lower at 38.
Todd Handley
, a 5-foot-8 senior running back for Riverside King, hit that mark in April at the Nike combine at USC, placing him among the best leapers in the nation in SPARQ testing.
But the three-year starter is just as impressive moving horizontal. He clocked a school-record 10.98 seconds in the 100 meters during last spring's track and field season, and went 4.54 seconds in the 40-yard dash at the Nike combine.
It's no wonder that Handley has proved to be one of the more elusive ball carriers in the Inland Empire, totaling 552 rushing yards and seven touchdowns through four games this season. As a junior, he ran for 1,343 yards and scored 15 touchdowns in 10 games.
He had 206 rushing yards and a touchdown last Friday in a one-sided loss to Corona Centennial, the top-ranked team in the Inland Empire.
On Thursday night, he'll be counted on to carry the load against visiting Corona Santiago, a team that's ranked No. 5 in the I.E. but has shown a weakness on defense, allowing an average of 28 points a game.
Still without a scholarship offer, you can bet Handley will be giving it his all against the Sharks.