Los Angeles Preps:

Temescal Canyon
March, 13, 2012
3/13/12
6:30
PM PT
By
Dan Arritt
| ESPNLosAngeles.com
The meat of the high school baseball season is upon us, with several teams beginning league play this week. Here's a look at the programs who've established themselves as the best in the Inland Empire so far, led my J.W. North, the defending Southern Section Division 1 champion. A list of the top players from the region follows, one for those playing high school baseball and another for the handful who have opted to train with
ABD Academy
in San Bernardino, and the dates for the start of league play are listed at the bottom.
Top 10 teams
1. J.W. North
– The Huskies have picked up where they left off, winning their first six games, including a 3-0 victory against Temescal Canyon in the final of the Redlands Invitational.
2. Indio
– The Rajahs are off to an 8-0 start and they're not piling up wins against cream puffs. They've beaten Granite Hills, Temecula Valley, Norco, Palm Springs and meet Chino on Tuesday in the championship game of the Chino tournament.
3. Redlands East Valley
– The Wildcats only blemish is a 4-2 loss against J.W. North. They might have the talent to make a run at the top of this list, but still need to gain some quality victories.
4. Granite Hills
– Hailing from Apple Valley, the Cougars aren't much of a household name. They soon could be, however, posting early-season wins against Chino Hills, Valley View, Oak Hills and Canyon Springs and holding their own in three-run losses to J.W. North and Indio.
5. Temescal Canyon
– The Titans are another team whose only setback came against J.W. North. They came into the season ranked fifth in the Southern Section Division 3 preseason coaches' poll and have shown they belong.
January, 9, 2012
1/09/12
9:23
PM PT
By
Dan Arritt
| ESPNLosAngeles.com
BASELINE LEAGUE

League openers: Tonight – Etiwanda @ Glendora; Upland @ Los Osos; Alta Loma @ Rancho Cucamonga.

Last year's finish: Etiwanda (9-1); Glendora (6-4); Upland (6-4); Los Osos (5-5); Rancho Cucamonga (4-6); Alta Loma (0-10).

Players to watch: Jordan McLaughlin (Etiwanda), 5-11, So., G; Sheldon Blackwell (Etiwanda), 6-4, Jr., F; Brandon Townes (Etiwanda), 6-2, Sr., G; Sam Flemming (Etiwanda), 6-0, Sr., F; Nick Colletta (Glendora), 6-5, Jr., F; Kyle Gordon (Glendora), 6-4, Sr., G; Myles Pearson (Upland), 5-10, Sr., G; Ferrell Marshall (Upland), 6-0, Sr., G; Malcolm Drumwright (Rancho Cucamonga), 6-1, Jr., G; Victor Joseph (Rancho Cucmamonga), 6-1, So., G; Adom Jacko (Alta Loma), 6-6, Sr., F; Jonathan Solomon (Los Osos), 6-3, Sr., F.

Predicted order of finish: Etiwanda, Glendora, Rancho Cucamonga, Upland, Los Osos, Alta Loma.

MOUNTAIN PASS LEAGUE

League openers: Tonight – Beaumont @ Citrus Hill; Hemet @ West Valley; Tahquitz @ San Jacinto.

Last year's finish: Citrus Hill (10-0); San Jacinto (8-2); Beaumont (5-5); Tahquitz (4-6); West Valley (2-8); Hemet (1-9).

Players to watch: Anthony Rounds (Citrus Hill), 6-7, Sr., F; Ralph Myles (Citrus Hill), 5-0, Sr., G; Dejon Brown (Beaumont), 6-2, Sr., G.; Andrew Walker (Beaumont), Jr.; Kris Acevedo (Hemet), 6-0, Sr., G; P.J. Murrieta (San Jacinto), 5-10, So., G; Roosevelt Adams (West Valley), 6-4, Sr., F; Robert Edwards (West Valley), 6-4, Jr., F; David Walker (Tahquitz), 6-1, Sr., G.

Predicted order of finish: Citrus Hill, Beaumont, San Jacinto, West Valley, Hemet, Tahquitz.


September, 19, 2011
9/19/11
9:29
PM PT
By
Dan Arritt
| ESPNLosAngeles.com
Q: Which I.E. team has improved the most since last season?

A: That question was a little tougher to answer following Week 1, but after upsetting Alemany last weekend, J.W. North might be on the verge of one of the greatest one-year turnarounds in I.E. history. The Huskies, who finished 2-8 last season, improved to 2-0 with a 36-35 victory Friday night against Alemany, which entered the game ranked No. 3 in the Southland by ESPNLA. North could have played for the tie after scoring with 53 seconds remaining, but who wants to see a tie? Instead, coach Mark Paredes opted to try for the two-point conversion and the Huskies punched it in to the roar of the crowd at Riverside College. By the time he graduates, Justin Gheorghe might end up with a statue on the front lawn at North. Back in June, he helped the Huskies win their first section title in baseball since 1994, and Friday night he threw for 216 yards, completing all three passes on the game-winning drive and carrying the ball twice for 40 yards.

Q: Which team has been the most surprising?

A: Cajon was expected to be good this season, but not this good. The Cowboys had their way with Kaiser on Friday night, building a 24-point halftime lead on their way to a 52-7 victory, the most points allowed by Kaiser in program history. Probably most impressive is Cajon's offensive balance and its ability to pinprick their opponent's weaknesses. Edwin Morales threw for 171 yards and two touchdowns against Kaiser, and the running game accounted for 224 yards and five scores. Defensively, the Cowboys held Kaiser to 171 total yards and zero through the air. Just as important, Cajon isn't beating itself, committing just one turnover this season.

Q: Which program has gone backward the furthest?

A: Roosevelt earns that distinction after another defensive meltdown Friday night against Murrieta Valley. The Mustangs led by 10 points at the half but couldn't hold on against the Nighthawks and lost, 35-34, to fall to 0-2. Roosevelt defeated Murrieta Valley, 33-12, last season en route to finishing 9-3, including 5-2 in the Big VIII League. In the rematch, the Mustangs were expected to get quarterback Aaron Crone back from an injury to his throwing shoulder, but he wasn't ready and sat for the second consecutive week. Still, that doesn't excuse the defense for allowing five touchdowns for the second straight game. During the offseason, some suggested the Mustangs would be hurt by the departure of several key players and it appears they were correct.


August, 22, 2011
8/22/11
9:07
PM PT
By
Dan Arritt
| ESPNLosAngeles.com
SUNBELT LEAGUE

Last season's results: Romoland Heritage (11-1, 5-0); Elsinore (12-2, 4-1); Lake Elsinore Temescal Canyon (6-5, 3-2); Menifee Paloma Valley (4-6, 2-3); Lake Elsinore Lakeside (1-9, 1-4); Perris (1-9, 0-5).

Players to watch: After knocking off Fontana Summit last December in the SS-Eastern Division final to win the program's first section title in the school's 83-year history, Elsinore is in good position to make it two in a row. The Tigers return four of their best defenders from last season, led by senior tight end and linebacker Nolan Peralta, the Eastern Division defensive player of the year. Peralta, the son of coach Tony Peralta, was the team's second-leading tackler and receiver last season. Also returning are a pair of all-Eastern Division defensive backs, Allan Stubbs and Daniel Rodriguez, and the team's leading tackler, linebacker Jose Banda. Rodriguez also emerged as a valuable running back late last season, combining for 303 rushing yards and three touchdowns in the final two playoff victories. After beating the Tigers in Sunbelt League play, Heritage lost to Summit in the section semifinals. Heritage returns senior quarterback Chad Virgil and junior running back Jamaal Morrow, who rushed for 731 yards and eight touchdowns while spelling Scott Benson last season. Morrow will be asked to do a lot this season, as he was also one of the team's top defensive players while patrolling the secondary a year ago. He'll team nicely with one of the division's top defensive players, senior linebacker Tony Hifo, a returning all-Eastern Division pick. The next biggest challenger for the league title is Paloma Valley. The Wildcats return the Eastern Division's second-leading passer last season, senior Logan Tutwiler, who threw for 2,022 yards and 18 touchdowns. He should benefit from having his two favorite targets back this season. Anthony Johnston led the league with 937 receiving yards and scored nine touchdowns, and Patrick Santhavisouk was second in the league with 461 yards and six touchdowns. On defense, Nico Caramella led the league with six interceptions. Temescal Canyon will try to win games on the ground behind running back Michael Shepherd, who rushed for a league-leading 1,887 yards and scored 21 touchdowns. Lakeside also returns their top rusher in Ryan Byrd, who totaled 1,112 yards and 13 touchdowns, as well as junior quarterback Dakota Wilson.

Projected order of finish: Elsinore, Heritage, Paloma Valley, Temescal Canyon, Lakeside, Perris.

Key games: Sept. 2 – Fontana A.B. Miller @ Lakeside; Sept. 16 – Perris vs. Moreno Valley Canyon Springs @ Moreno Valley HS; Sept. 23 – Moreno Valley Rancho Verde @ Heritage, Temecula Valley @ Elsinore; Sept. 30 – Paloma Valley @ Temecula Valley; Oct. 14 – Temescal Canyon @ Heritage; Oct. 21 – Heritage @ Paloma Valley, Temescal Canyon @ Elsinore; Oct. 28 – Paloma Valley @ Temescal Canyon; Nov. 4 – Heritage @ Elsinore; Nov. 10 – Elsinore @ Paloma Valley.

Fast fact: The new coach at Lakeside this season is Kitrick Taylor, who previously assisted at Lakeside, Pomona High School and Chaffey College. He's probably best known, however, for catching Brett Favre's first game-winning touchdown pass in the NFL. Taylor was a member of the Green Bay Packers in September 1992, when he caught a 35-yard touchdown pass from Farve with 13 seconds left, lifting Green Bay to a 24-23 victory against the Cincinnati Bengals. It was also the first victory for Mike Holmgren as an NFL head coach.

On the clock: Sunkist League.
May, 10, 2011
5/10/11
12:16
PM PT
By
Dan Arritt
| ESPNLosAngeles.com
As the final week of the regular season winds down, a number of league titles in the I.E. are still up for grabs. Here's a look at the major races still left to be settled.

BASELINE

Glendora (10-3), Wed. @ Upland, Fri. vs. Upland

Los Osos (9-4), Wed. @ Rancho Cucamonga, Fri. vs. Rancho Cucamonga.

*Glendora owns tiebreaker vs. Los Osos

BIG VIII

J.W. North (9-3), Tues. vs. Santiago, Thurs. vs. King

King (9-3), Tues. vs. Roosevelt, Thurs @ North

Santiago (7-5), Tues. @ North, Thurs. vs. Poly

Norco (7-5), Tues. vs. Poly, Thurs. @ Corona

*North won first meeting vs. King, 3-0

CITRUS BELT

Redlands (10-3), Tues. vs. Fontana, Thurs. @ Fontana

Yucaipa (9-4), Tues. @ Eisenhower, Thurs. vs. Eisenhower

Redlands East Valley (8-5), Tues. vs. Miller, Thurs. @ Miller

*Redlands owns tiebreaker vs. Yucaipa

DESERT VALLEY

Palm Desert (9-1), Tues. vs. Palm Springs, Thurs. @ Palm Springs

Indio (8-2), Tues. vs. La Quinta, Thurs. @ La Quinta

La Quinta (8-2), Tues. @ Indio, Thurs. vs. Indio

*Palm Desert's only league loss vs. Indio

INLAND VALLEY

Canyon Springs (10-3), Wed. @ Arlington

Vista del Lago (10-3), Wed. vs. La Sierra

La Sierra (9-4), Wed. @ Vista del Lago

*Canyon Springs owns tiebreaker vs. Vista del Lago

MOUNTAIN PASS

Hemet (11-2), Wed. @ Tahquitz, Fri vs. Tahquitz

Tahquitz (11-2), Wed. vs. Hemet, Fri. @ Hemet

*Hemet won first meeting vs. Tahquitz, 6-2

MOUNTAIN VALLEY

Citrus Valley (12-1), Wed. @ at Notre Dame, Thurs. @ Notre Dame

Notre Dame (10-3), Wed. vs. Notre Dame, Thurs. vs. Notre Dame

*Citrus Valley won first meeting vs. Notre Dame, 3-2

MT. BALDY

Colony (9-2), Wed. vs. Ontario

Chino (9-2), Wed. @ Don Lugo

Don Lugo (8-3), Wed. vs. Chino

*Colony owns tiebreaker vs. Chino

SAN ANDREAS LEAGUE

Colton (12-1), Wed. vs. San Gorgonio

Rialto (11-2), Wed. vs. Pacific

San Gorgonio (10-2), Wed. @ Colton, Friday @ Pacific

*Colton and Rialto split season series

SIERRA

Chino Hills (10-3), Tues. @ Ayala, Thurs. vs. Ayala

South Hills (10-3), Tues. vs. Charter Oak, Thurs. @ Charter Oak

Damien (8-5), Tues. @ Claremont, Thurs. vs. Claremont

*Chino Hills owns tiebreaker vs. South Hills

SUNBELT

Temescal Canyon (10-3), Tues. vs. Lakeside, Thurs. @ Lakeside

Paloma Valley (8-5), Tues. vs. Elsinore, Thurs. @ Elsinore

Lakeside (7-6), Tues. @ Temescal Canyon, Thurs. vs. Temescal Canyon

Heritage (7-6), Tues. vs. Perris, Thurs. @ Perris

*Paloma Valley owns tiebreaker vs. Temescal Canyon

SUNKIST

Kaiser (10-3), Tues. vs. Summit, Thurs. @ Bloomington

Summit (8-5), Tues. @ Kaiser, Thurs. @ Patriot

Patriot (7-6), Tues. vs. Jurupa Valley, Thurs. vs. Summit

Bloomington (7-6), Tues @ Norte Vista, Thurs. vs. Kaiser

*Kaiser and Summit split previous two meetings
February, 14, 2011
2/14/11
9:19
PM PT
By
Dan Arritt
| ESPNLosAngeles.com
The Southern Section girls' basketball playoff pairings were released Sunday and a number of top Inland Empire teams are massed in Division 1AA, with a few others scattered elsewhere. First-round games begin Thursday. Here's a rundown:

Division 1AA

Moreno Valley Canyon Springs enters the playoffs as the fourth-seeded team in this division. The Cougars lost two games during the regular season and one was against second-seeded Long Beach Poly, 64-37, back on Dec. 2. Canyon Springs is led by Nebraska-bound guard Tear'a Laudermill, who is averaging 16.6 points. The division is loaded with other top I.E. teams, including fifth-seeded San Bernardino Cajon, sixth-seeded Etiwanda, eighth-seeded Fontana Summit and ninth-seeded Corona Santiago, all coming off league championships. Summit and Santiago face a potential second-round match up Saturday.

Division 1A

Rancho Cucamonga ended Etiwanda's 66-game Baseline League winning streak this season but couldn't hold on for the league title. The Cougars are seeded fourth in this division, two spots ahead of Big VIII League runner-up Corona Centennial. Sierra League champion Chino Hills is seeded seventh and opens Thursday against visiting Redlands East Valley.

Division 2AA

Rialto ended Cajon's 85-game league winning streak this season and went on to share the San Andreas League title with the Cowgirls. For their efforts, the Knights are the top-seeded team in this division. Rialto has an interesting first-round match up Thursday, hosting at-large selection Santa Margarita, which won the Division 3A title last season. Another team to watch is eighth-seeded Norco.

Division 2A

Indio went 23-2, including 12-0 in the Desert Valley League, and is seeded fourth in this division. The Rajahs only losses came against Division 1AA qualifiers Temecula Great Oak and Temecula Chaparral. Indio's first-round opponent, Riverside North, finished 4-20 and lost its last 12 games. Citrus Belt League champion Rialto Eisenhower is seeded seventh.

Division 3A

Sunbelt League champion Lake Elsinore Temescal Canyon enters as the sixth-seeded team in this division. The Titans open against Murrieta Mesa (3-22). De Anza League champion Yucca Valley is seeded eighth.
January, 18, 2011
1/18/11
3:36
PM PT
By
Dan Arritt
| ESPNLosAngeles.com
1. The Victorville Victor Valley boys' basketball team came down the hill Saturday and took on host Villa Park in a nonleague game. The Jackrabbits came in favored but still pulled off a stunner, rallying from 13 points down with four minutes remaining to win, 75-73. Isaiah Kepley converted a three-point play with 34 seconds remaining to tie the score, 73-73. The Jackrabbits then forced a turnover and Zeke DeBlase scored a layup with 3.4 seconds left for the winning margin. Victor Valley (15-3) entered last week ranked No. 5 in Southern Section Division 2AA, Villa Park was No. 7.

2. The Etiwanda boys' basketball team is still on track to better its 23-0 start from three years ago. The Eagles (18-0, 3-0) cleared a couple of major hurdles over the long weekend, defeating host Upland, 53-40, in a Baseline League game Friday night, then scoring with 9.9 seconds remaining Monday to defeat Ventura, 52-51, at the Martin Luther King Shootout at Rancho Cucamonga Los Osos. Etiwanda travels to Los Osos (12-5, 2-1) for a league game Friday, then plays Ontario Colony (10-7, 4-0 in the Mt. Baldy League) on Saturday at the Azusa Pacific Shootout.

3. Chino Hills had never lost to La Verne Damien until Friday night. However, the Huskies (15-4, 1-1) couldn't control Damien in transition, in particular 6-foot-7 forward Chris Reyes, and lost the Sierra League game, 59-50, on their home floor. The victory ended a six -game winning streak against the Spartans (15-1, 2-0). Jon Richman scored 15 points to lead Chino Hills, which defeated Rancho Cucamonga at the Los Osos showcase and returns to action Wednesday against visiting West Covina South Hills.


October, 7, 2010
10/07/10
5:24
PM PT
By
Dan Arritt
| ESPNLosAngeles.com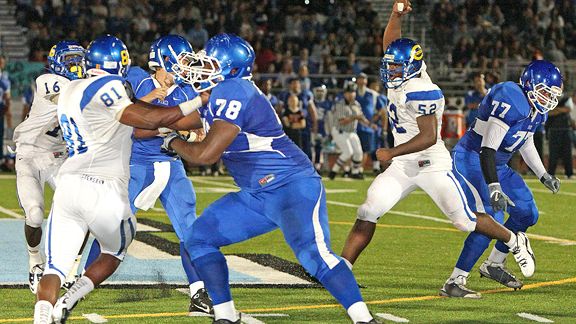 Courtesy of Rob Helfman
Norco lineman Brent Walker (78) has been a key to the Cougars' success on the ground this season.
In just its fourth varsity season, Eastvale Roosevelt has quickly become Norco's rival.
Two years ago, Roosevelt scored the game's first 21 points and held on to upset Norco, 21-13, in their first Big VIII League meeting. A year ago, the Cougars stopped Roosevelt on the two-yard line as time expired to preserve a 30-27 victory.
The matchup moves to Norco High for the first time, where the Cougars have won seven straight games. Norco (4-0) is ranked No. 2 in the Inland Empire by ESPNLA.com, Roosevelt (3-1) is No. 10.
Roosevelt junior quarterback
Aaron Crone
has been solid this season, throwing eight touchdowns with just one interception.
Sam Boyd
, a rugged 6-foot-3, 230-pound tight end, has been his favorite target, snaring 14 passes for 340 yards and five touchdowns.
Norco will continue to lean on Stanford-bound running back
Kelsey Young
, who is regaining his step after playing on a sore ankle the last two weeks. Offensive lineman
Brent Walker
, who is reportedly leaning toward accepting a UCLA scholarship offer, usually leads the way.
Kickoff is set for 7 p.m.
Three more to see:
Colton (3-1) at San Bernardino Arroyo Valley (2-2), Friday – Arroyo Valley is hoping to get quarterback
Michael Yearwood
back on the field for this key San Andreas League game. He sat out the first two games waiting for his transfer from Los Angeles University to be approved, then injured his knee in his first offensive series back against Rialto Eisenhower and was forced to sit last week. Before transferring from Arroyo Valley to University last spring, Yearwood accounted for 3,433 total yards and 36 touchdowns last season. ESPNLA.com's pick: Colton 35, Arroyo Valley 24.
Riverside Norte Vista (2-2) at Lake Elsinore Temescal Canyon (2-2), Friday – Get ready for two teams that rely heavily on the run game. Temescal Canyon is led by running back
Michael Shepherd
, who was handed the ball 48 times last week and totaled 237 yards and two touchdowns in a 28-14 victory against Chula Vista Otay Ranch. Norte Vista running back
Ryan Ruiz
rushed for 124 yards in 33 carries last week and scored three touchdowns in a 38-35 victory against Hemet West Valley. ESPNLA.com's pick: Temescal Canyon 30, Norte Vista 28.
Ontario (2-2) at Ontario Chaffey (1-4) – Ontario has lost six straight Mt. Baldy League games to Chaffey, but this might be its chance to end that skid in a few years. The Jaguars have already doubled their win total from a year ago. Chaffey has lost four straight games to quality opponents, but still has a formidable offensive line that averages 268 pounds. ESPNLA.com's pick: Chaffey 27, Ontario 16.