Los Angeles Preps:

Thadd MacNeal
August, 24, 2011
8/24/11
4:19
PM PT
Lakewood was already in reloading mode last spring when popular coach
Thadd MacNeal
left town to take the same position at Carlsbad. Suddenly, the Lancers weren't just looking to replace their two leading rushers, their quarterback and an entire defensive line, but also scrambling for a new coach.
As it turns out, Lakewood didn't have to search far, hiring
Vince Lobendahn
, who had served as MacNeal's defensive line coach for two years. Replacing MacNeal from within made sense, if only for the fact that the Lancers were 45-15 in MacNeal's five years at the helm. Continuity and familiarity figure to be important for a team that, in recent years, has raised expectations.
Big Red might not be as publicized, or feared, as it has been but there is enough talent coming up from the lower levels for Lakewood to be a dark horse pick in the Pac-5 Division.
Team
: Lakewood.
Coach
: Vince Lobendahn, first season.
2010 Record
: 10-2, lost in the CIF Southern Section Pac-5 Division quarterfinals.
Returning starters
: Seven total. Three on offense, four on defense.
Key players on offense
: WR Darius Powe, WR Malik Gilmore (Oregon State commit), WR X'avier Shepherd, K Alex Boy
Key players on defense
: DB Darius Powe, DB Daylon Cason, DL Anthony Davis
Difference maker
: The spotlight figures to shine bright on Powe after the Lancers' loss of tailback Rashad Wadood (Arizona State) and tight end/defensive tackle Todd Barr (California) to graduation. Powe, the No. 13-ranked receiver in the 2012 class according to ESPNU, caught 43 passes for 822 yards and six touchdowns last season, garnering first-team All-Moore League honors.
Newcomers
: QB Brock Dale (transfer from Peninsula), DL Anthony Davis (up from junior varsity), RB Kendall Rodgers (up from junior varsity), DB Jaleel Wadood (up from freshmen team)
Not to be missed
: vs. St. John Bosco, Friday, Sept. 9. Matching up against a highly-regarded Trinity League contender might allow us to gauge the Lancers' 2011 capabilities. In fact, you could make the case that even a small-margin defeat would be viewed in a positive light, given the Braves' potent offensive attack and deep stable of returning players. Either way, Lakewood's John Ford Stadium promises to be electric on this night, as Bosco looks to avenge last season's loss.
Coach's comment
: "We want to show everybody that we didn't just drop off the map. We want to capture that Moore League and work our way through the CIF playoffs."
Final analysis
: A running game that lost more than 60 percent of yardage gained will rely on the inexperienced duo of Keith Franklin and Rodgers, a 5-foot-10 tailback who averaged 10 yards on 32 carries as a sophomore last year. If opposing defenses concentrate on stopping the two-headed monster that is Powe and Gilmore, then it isn't too farfetched to think that the Lancers can have success on the ground. The big key will be line play, both defensively and offensively. And as far as Moore League aspirations go, Lobendahn thought his squad held its own against defending champion Long Beach Poly during the summer 7-on-7 passing circuit. The Lancers would like nothing more than to take back what they captured in 2009.
Blair Angulo covers preps for ESPNLosAngeles.com. Follow him on Twitter.
August, 10, 2011
8/10/11
9:10
PM PT
Things got a little emotional in Lakewood when beloved coach Thadd MacNeal left for Carlsbad, his alma mater, in the spring. MacNeal had built a mini powerhouse, raised expectations and, perhaps most notably, knocked off Long Beach Poly for the Moore League championship in 2009. He led the Lancers to a 45-15 mark in five years after replacing Mike Christensen.

Lakewood hired Vince Lobendahn, who had coached the defensive line for the last two years under MacNeal. Lobendahn's focus shifted quickly, from working on defensive schemes to keeping the staff intact.

"It got pretty emotional," Lobendahn said. "I had to find out if any of our coaches were going to stay. We tried to keep as many as possible and that became an issue. I had to hire a lot more than I thought I was going to need to."

Among the coaches Lobendahn brought on is Chad Manis, a former Utah linebacker and Cerritos College quarterback. He will aid offensive coordinator Zach LaMonda.

"I feel like the marriage there is really good," Lobendahn said. "Manis brings the ideal from those successful Los Alamitos teams."

Lakewood's offense must replace leading rushers Rashad Wadood (Arizona State) and Allie Long, tight ends Todd Barr (California) and Dupree Jordan-Roberts (UNLV), and quarterback Tyler Schultz.

The Lancers do boast one of the better receiver tandems in Darius Powe and Malik Gilmore.
February, 3, 2011
2/03/11
7:41
PM PT
By
Greg Biggins
| ESPNLosAngeles.com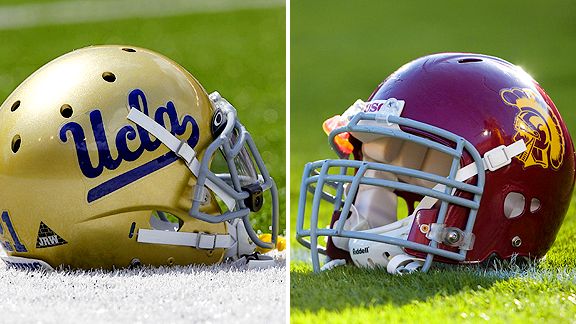 Getty Images, Icon SMI

The saga of Crenshaw High's De'Anthony Thomas stole most of the headlines on signing day Wednesday, but the recruitment of Lakewood offensive lineman Torian White was a fascinating story to follow in its own right.

In a nutshell, White went from being a strong UCLA commit, to shocking everyone by picking USC during a made-for-TV event, to ultimately signing with UCLA by day's end.

But it was hardly that simple. And the agony and emotional pain White endured began long before the whirlwind of events that took place Tuesday and Wednesday.

As a junior, White had a sports hernia and sat out the season. In the world of recruiting, that's usually a death sentence. The way recruiting has been sped up the last five years, players are offered scholarships almost solely on junior-season performance as well as summer camps. What a player does as a senior has completely been minimized with players jumping on early scholarship offers and coaches just not having time to evaluate players who are not already on their radar.

White attended UCLA's lineman camp last summer and so impressed that he was immediately offered a scholarship and accepted. He then went out and had a dominant senior year and other schools soon took notice. One of those schools was USC and the Trojans made White a priority.

"[USC coach] Lane Kiffin called me during the season and said he watched Torian's first five games and he was the best lineman he had seen in the state this year," Lakewood coach Thadd MacNeal said. "I've known Lane forever, so I know he wasn't just B.S.-ing me. Coach O [Ed Orgeron] called me too and said, 'Thadd, we got to have this kid, he needs to be a Trojan.'

"I talked to the family and they said they were solid with UCLA but were open to being recruited by other schools. Torian wanted to take his visits and make sure he was doing the right thing. He committed so early that he wanted to make sure he was doing the right thing and making the right choice for himself."


November, 27, 2010
11/27/10
12:13
AM PT
LAKEWOOD -- Alemany had the game on ice, but you couldn't tell by listening to Vernon Adams.

The Warriors' buses warmed up in the parking lot, the cold air making their fumes clearly visible from a distance. Meanwhile, Alemany's cheering section chanted, "We want Servite!" And still, Adams stayed on his teammates. He wanted their collective attention.

"It's not over," Adams yelled. "Let's go!"

He was right: Alemany's season is not over. The No. 3-seeded Warriors beat Lakewood, 42-21, Friday night to move on in the Pac-5 Division playoffs. Adams was behind it, throwing for two touchdowns and running for another. The senior quarterback finished with 206 yards on 12 for 19 passing.

"If Vernon was two inches taller, everyone in the country would want him," Alemany coach Dean Herrington said. "He's a special player. He'll be a coach one day, he's just so smart out there. He's the heart and soul of our team."

Adams made sure the Alemany faithful got their wish. The Warriors play No. 2-seeded Servite next week.

It was a difficult ending for Lakewood coach Thadd MacNeal's squad, which was doomed by Adams' Houdini-like escapes.

The greatest came during Alemany's first drive of the second half. Leading by just seven, Adams used his legs to evade tacklers and pick up a first down on a third-and-long. He avoided a sack on the very next play and found Jerico Richardson for a 24-yard touchdown. It turned out to be the game winner.

"Lakewood came out hard," Adams said. "We just came out harder."


November, 25, 2010
11/25/10
9:08
PM PT
Lakewood will have the services of
Allie Long
when it hosts No. 3-seeded Alemany in the second round of the Pac-5 Division playoffs on Friday night. The senior tailback left last week's 24-7 home win over San Clemente holding his left wrist and watched the final three quarters with a bag of ice on his hand.
Rashad Wadood
picked up the slack, fighting through a sprained ankle that held him out of No. 11 Lakewood's final three Moore League games. He rushed for 201 yards after Long left the game. Lancers coach
Thadd MacNeal
said Wadood's ankle has improved, which should be a good sign for Lakewood (10-1) fans.
But will two good ankles -- plus Long's participation -- be enough to upset No. 5 Alemany (11-0)? Can Lakewood's stingy defense contain Warriors quarterback
Vernon Adams
?
"Adams is a dynamic guy," MacNeal said. "He throws the ball as well as he runs the ball, makes a lot of plays. When things break down he seems to have an answer."
Things seem to break down more often than not when Lakewood's
Todd Barr
has his way up front. The highly touted defensive tackle missed the second half of last week's game after receiving a crunching helmet-to-helmet hit while playing tight end. Barr sat out practice early this week, MacNeal said he has recovered fully. He has 17 1/2 sacks this season.
Kickoff is scheduled for 7:30 p.m. Follow the action at
twitter.com/bangulo
for periodic updates.
Three more to see
:
City Section Div. I: Taft (8-3) vs. No. 4 Dorsey (10-1) at Rancho Cienega Park, Friday, 7:30 p.m.
Taft hopes its season doesn't end the way it began: with a loss at Dorsey. The Dons scored the game's first 20 points back on Sept. 9, getting three touchdown passes from quarterback
Joseph Gray
on their way to a 37-24 win. The 24 points were a season-low for the Toreadors, who have won six straight.
Western Division: Inglewood (9-2) vs. No. 4 Paso Robles (9-2) at Flamson Middle School, Friday 7 p.m.
Will Inglewood take Interstate 5 or the more scenic Route 101 to Paso Robles? Regardless, it will take more than four hours and 200 miles to get there. Barring a wild, multi-overtime thriller, Inglewood will spend more time on the bus than it will playing the game. Paso Robles, winners of eight straight, will welcome them with open arms.
Mid-Valley Division: No. 4 Covina (10-1) vs. Whittier Christian (10-1) at Whittier College, Friday, 7 p.m.
Valle Vista League champion Covina made easy work of La Canada last week, but faces stiffer competition this week. Whittier Christian has only once allowed 27 points this season -- and that came in a 35-28 loss at Montebello Cantwell-Sacred Heart. Reason for concern? Half of Covina's wins have come when scoring 27 or less.
November, 20, 2010
11/20/10
12:29
AM PT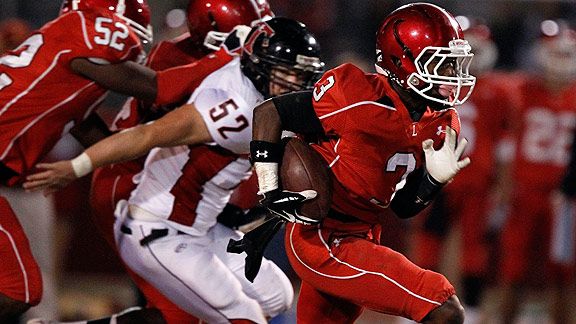 Alex Gallardo/Special to ESPNLA.com
Rashad Wadood of Lakewood rushed for 201 yards against San Clemente after hardly practicing during the week because of an injured ankle.
LAKEWOOD -- While the rest of his teammates fine-tuned the playbook,
Rashad Wadood
lined up at the five-yard line and sprinted past the back of the end zone. No footballs involved. He turned around and raced back, repeating the sequence a few more times as he tested the sprained ankle that had kept him out of Lakewood's final three Moore League games.
For Lakewood, they were the most important minutes in its 24-7 victory over visiting San Clemente on Friday night -- even if they occurred half an hour before kickoff.
Wadood barely practiced during the week, but he and his ankle were forced into duty when workhorse
Allie Long
left the game in the first quarter because of a left wrist injury. Wadood and his ankle responded well, piling up 201 yards rushing on 34 carries and scoring a touchdown to pace Lakewood's offense.
Not bad for someone who Lakewood coach
Thadd MacNeal
didn't think would play.
"Honestly, he barely practiced all week," MacNeal said. "We got him a nice tape job and a spat. He did a fantastic job. What a burst -- it was great. With Allie going down we sure needed him."
October, 13, 2010
10/13/10
12:19
AM PT
October, 8, 2010
10/08/10
11:59
PM PT


LONG BEACH -- Proper order has been restored -- at least if you're from Long Beach Poly.

Long Beach Poly redeemed last year's loss to Lakewood -- its first Moore League loss in 15 seasons -- with a resounding 27-14 upset of the No. 4 Lancers at Veterans Stadium on Friday night. Quarterback Chaiyse Hales rushed for a score and threw for two more, helping the No. 22 Jackrabbits regain bragging rights.

"This is the best feeling in the world," Hales said. "They took the Moore League title away from us and we planned on taking it away from them. We got it."

While Hales threw for 189 yards, tailback Keltain Malveaux took it to the touted Lakewood front line, piling up 94 yards rushing on 23 carries. It was boom, boom, pass for the Poly offense, which has apparently forgotten about the ugly losses to St. Bonaventure and Mission Viejo.

"We came in here expecting a dog fight and that's what we got," Malveaux said. "Like they say, when you get a dog and you beat him until he can't be beat no more, they just give up. We did that -- Poly."

Poly coach Raul Lara received the customary Gatorade bath at the conclusion. For Lakewood's Thadd MacNeal, it was a different story.


September, 13, 2010
9/13/10
6:52
PM PT
Blair Angulo/For ESPNLA.com
It doesn't seem as if Lakewood's football team has many weaknesses.
Some observations from Week 1 in the South Los Angeles region.
1. There may not be a better defensive team than Lakewood. Coach
Thadd MacNeal
is thrilled with the Lancers' run defense -- and for good reason. Lakewood was downright stingy at St. John Bosco on Friday, allowing the only score on a reverse wideout pass at the end of the first half. If there's a cause for concern, it would be the special teams, which missed a pair of easy field-goal attempts and muffed a punt.
2. It's a shame we're not headed for an undefeated showdown between Moore League rivals Long Beach Poly and Lakewood. The Jackrabbits suffered an ugly 32-7 loss to visiting Ventura St. Bonaventure on Friday. Perhaps the Seraphs are as good as the score indicates, or maybe Poly's passing attack isn't as refined as originally thought.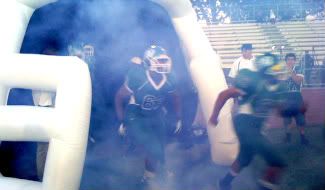 Blair Angulo/For ESPNLA.com Dorsey came out firing on Thursday.
3. Don't be too alarmed by Crenshaw's 0-2 start. The defending state runner-up Cougars are good, having lost both road games by a combined nine points. But good may not be good enough -- they needed to be great to get back to the state title game.
4. Watch out for Dorsey if
Joseph Gray
gets into a rhythm. The senior quarterback started hot, cooled off, then turned it on in a win Thursday over Woodland Hills Taft. A deep corps of receivers -- led by speedster
Marvin Hall
-- gives Gray enough options to spread it around in Dorsey's no-huddle offense.
5. Venice running back
Teondray Caldwell
is opening some eyes early.
Click here
for a quick feature on what he's done so far, including a seven-touchdown performance against Harvard-Westlake.
September, 10, 2010
9/10/10
11:28
PM PT


BELLFLOWER -- Lakewood coach Thadd MacNeal already knew it, but he was reminded of it over and over again on Friday night.

The No. 4 Lakewood Lancers have some defense -- the type that wins championships. A 27-7 win at St. John Bosco on Friday night makes MacNeal a believer.

"We can compete in the Pac-5," he said.

Through two games, the Lancers (2-0) have outscored their opponents 76-7. For those keeping tabs at home, that's one touchdown in 96 minutes. The defensive showcase got going early Friday, with safety Shane Watson picking off St. John Bosco's Raymond Medina on the game's opening drive.