Los Angeles Preps:

Tim Hatch
February, 10, 2012
2/10/12
5:09
PM PT
By
Sean Ceglinsky
| ESPNLosAngeles.com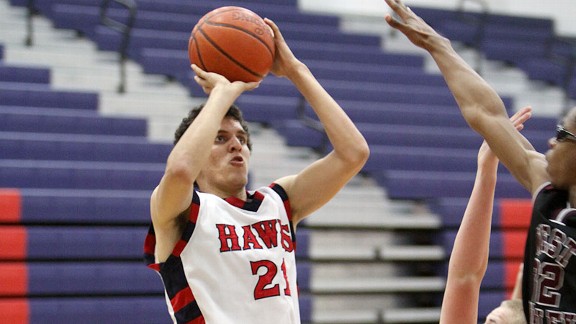 Citrus Hill HSAnthony Rounds was born in the I.E., but moved to the Midwest and elsewhere before returning to SoCal.
PERRIS -- Chances are not many Southland prep basketball followers have heard of
Anthony Rounds
. The senior from Citrus Hill, after all, has not been considered a household name in prep circles.
His days of being a relative unknown on the local landscape, however, appear to be coming to an end. Rounds has developed into a legitimate prospect and the Hawks figure to be a dangerous opponent in CIF-Southern Section postseason play next week as a result.
"Anyone familiar with our program knows that everything runs through Anthony; he's proven capable of shouldering the heavy burden,'' Citrus Hill coach
Tim Hatch
said. "It's one of those good news and bad news deals. He's not on many people's radar, but once they see him play, the perception about him changes. It's happened more times than I count, actually.''
His numbers this season are comparable to those of his much more well-known counterparts from the greater Los Angeles area. At 6 feet 7, 210-plus pounds, Rounds averaged 18 points, 12 rebounds and nearly three blocks per game in the regular season. Capable of playing in the post or on the wing, he's also contributed close to a pair of assists and steals per night.
Nevertheless, higher-profile peers such as Santa Ana Mater Dei's
Katin Reinhardt
and
Xavier Johnson
typically receive most of the recognition. The same thing can be said about Woodland Hills Taft's
Anthony January
and Los Angeles Windward's
Nick Stover
. Rightfully so considering each individual is worthy of such praise given their respective bodies of work.
"Lack of attention always makes me work harder, I don't mind, that stuff doesn't bother me, it keeps me motivated,'' Rounds said. "When people don't talk about me, it just makes me hungry to succeed, to go out and prove everyone wrong. I can play with the best. I think that I have been sneaking up on some people for while. I feel like I'm ready to finally breakout.''
Behind Rounds, the Hawks (15-10 overall) won a share of the Mountain Pass League title and signs point to them being prepared for the Division 3-AAA playoffs. If Citrus Hill manages a way to find some success in the first couple of rounds and makes a run toward quarterfinals or semifinals, several interesting showdowns could end up materializing for Rounds.
February, 18, 2011
2/18/11
11:13
PM PT
By
Dan Arritt
| ESPNLosAngeles.com


GARDEN GROVE – Perris Citrus Hill coach Tim Hatch was feeling pretty good about the situation, then everything changed in an instant.

The visiting Hawks had a cut a 10-point fourth-quarter deficit to one with 16.2 seconds remaining Friday night against Garden Grove Pacifica in the Division 3A second-round game. The Mariners were intentionally fouled, but before they could step to the free-throw line, Hatch called timeout.

That's when he received some very shocking news.

His team had just been assessed a technical foul for calling a timeout it didn't have. Instead of shooting two foul shots, Pacifica was awarded four and possession of the ball. The Mariners made three, went to the line again after getting fouled on the ensuing inbounds pass and made another.

Without a tick of the clock, a one-point deficit had turned to five and the 11th-seeded Hawks never got off another shot in the 60-55 loss at Pacifica.

Hatch screamed at the scorer's table and flung his arms in anger. He paused to shake hands and congratulate the sixth-seeded Mariners, then headed off the floor, wondering how a watershed season could end in such frustrating fashion.

According to the Hawks, the confusion began after Citrus Hill made a three-point basket with 28 seconds remaining, cutting the deficit to 56-54. The clock operator never stopped the clock after the conversion and the scoreboard operator accidentally gave the points to Pacifica.

Play was stopped to correct the clock and scoreboard, and that's when the Hawks say the official scorer marked them for a timeout they never called. Hatch said he checked with the table before calling his final timeout and was informed he still had one left.

"All of a sudden, it disappeared," Hatch said. "I dispute that. My book guy is on it, he has the times written down … they get the ball plus the four free throws. That's down the stretch, that's huge."


January, 25, 2011
1/25/11
10:55
PM PT
By
Sean Ceglinsky
| ESPNLosAngeles.com
PERRIS -- Welcome back.

Seemingly everyone at Citrus Hill High, even those closely associated with the boys' basketball program, is unaware of the fact that Anthony Rounds was born in the Southland. In Riverside, to be exact. Moreover, he grew up in Moreno Valley until he was 11-years old.

A family decision to move to Oklahoma, and Georgia thereafter, followed. That said, Rounds was a relative unknown commodity upon his recent return to the Inland Empire.

And when the Cubs' coach, Tim Hatch, learned that he was going to have the 6-foot-6 junior in the fold this season, all signs pointed to the head honcho hoping to have Rounds simply come in and contribute on some level. Expectations were tempered, at best. Rightfully so.

But surprise, Rounds has made it seem as if he never left this place.

"I've got to be honest with you, we didn't know much about him when he stepped foot on campus here, other than the obvious, his size. He's been a pleasant addition,'' Hatch said of Rounds, who leads Citrus Hill with averages of 18.5 points and 9.8 rebounds per game thus far.

Heading into Wednesday's showdown for sole possession of first place in the Mountain Pass League against host San Jacinto (10-11, 4-0), Rounds has finished with a double-double in 12 of 20 games for the Cubs (11-9, 4-0).