Los Angeles Preps:

Tim Salter
November, 25, 2011
11/25/11
11:51
PM PT


UPLAND -- With his team uniting for the postgame huddle near midfield, Kenny Lawler looked up over his left shoulder, and uttered a rhetorical question.

"You guys see a 40 up on the scoreboard?" Lawler asked.

The answer: Yes, because Upland, No. 8 in the ESPN Los Angeles prep football rankings, blew past No. 17-ranked Charter Oak, 51-13, Friday night to advance to the Inland Division semifinals. The other answer: No, because Charter Oak -- which like Upland was averaging exactly 44 points heading into the game -- didn't hold up its end of the deal. The No. 3-seeded Highlanders will face No. 2-seeded Vista Murrieta, which handled Riverside J.W. North, 58-14.

"Charter Oak was putting points up on everybody," Upland coach Tim Salter said. "That got us excited."

Upland (12-0) got balanced production on offense, led by Lawler's 195 receiving yards and three touchdowns. Tailback Donta Abron Jr. rushed for 191 yards and four touchdowns in 32 carries and quarterback Nate Romine passed for 291 yards in only 15 attempts.

"We have a lot of talent across the board," Abron Jr. said. "Other teams don't know what we're going to throw at them."

The explosiveness was supposed to go both ways but, instead, a running clock was used at the start of the fourth quarter. Really, it was an unexpected one-sided affair. The Upland defense came up with a safety midway through the third quarter and, on the very next play from scrimmage, Romine threw it up to Lawler for a 48-yard touchdown and comfortable 30-6 lead.

Knockout punch delivered.

"They had a better football team than us," Charter Oak coach Lou Farrar said.


November, 22, 2011
11/22/11
10:16
PM PT
By
Sean Ceglinsky
| ESPNLosAngeles.com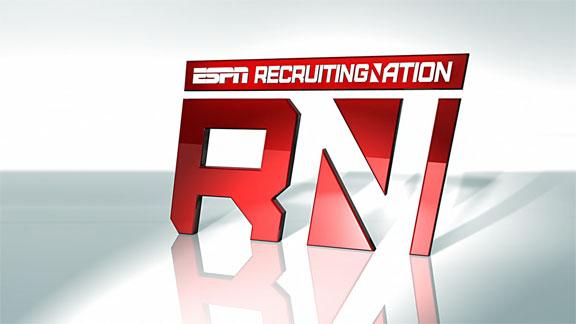 UPLAND --
Kenny Lawler
emerges from the huddle at midfield, and immediately, the receiver hustles over to his position on the outside. The first order of business for the senior from Upland is taking a quick glance through his facemask to see what the defense has in store for him.
A cornerback moves right up in front of Lawler, seemingly with the intent to somehow disrupt the route with bump-and-run coverage. A linebacker takes a step to the immediate left, presumably in an effort to help slow down the burst of speed he possesses. A safety proceeds to roll over to his side of the field as well, in what figures to be an attempt to double-team him over the top.
[+] Enlarge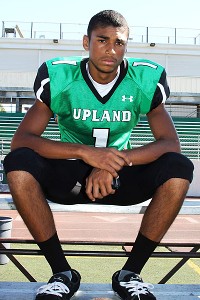 Upland High School Kenny Lawler committed to Arizona State months ago, but is still taking recruiting trips.
No big deal. Lawler has seen plenty of this pre-snap shuffling in the not-so- distant past. Gimmick-type schemes designed around stopping him is something that simply comes along with territory, especially when you are considered as one of the Southland's premier players at the position.
"I don't think anything surprises me anymore. Honestly, nothing does,'' Lawler said.
With the ball set in motion, a stutter step at the line of scrimmage creates much-needed separation. A head-and-shoulders fake by Lawler freezes the would-be tackler at the second level. A sprint toward the end zone follows as he blows by the last line of defense in the secondary.
Lawler is celebrating seconds later, having hauled in another highlight-reel worthy touchdown catch. The opponent looks on, of course, wondering about what could have been.
Odds are, the 6-foot-3 and 185-pound senior will be in a similar situation in Friday's Southern Section Inland Division playoff game against Covina Charter Oak. And if the Highlanders hope to make a postseason run, Lawler must continue to excel in his role of being the difference-maker.
"I know I have a target on my back, I'm cool with that, it's a sign of respect,'' Lawler said. "My goal is to work hard, and when teams try to stop me, that's motivation. Nothing in life is easy. You'll never be able to accomplish anything if there isn't some kind of challenge put in front of you.''
Overcoming obstacles has become commonplace for Lawler considering playing time on the varsity level was difficult to come by in his first two years with the Highlanders. They were loaded with talent during his freshman and sophomore seasons. Nevertheless, Lawler managed to persevere.
When the opportunity to contribute on a more consistent basis presented itself as junior, he made sure to take advantage. And then some. Lawler emerged as the go-to-guy for Upland and finished with 42 catches for 887 yards, a 21 yards-per-catch average. He also had nine touchdowns.
October, 21, 2011
10/21/11
11:55
PM PT
By
Dan Arritt
| ESPNLosAngeles.com


UPLAND—Upland took a lot tougher road to its Baseline League showdown Friday night against visiting Rancho Cucamonga.

The Highlanders took on Loyola, Serrano and Tustin -- programs that are just as used to winning as themselves.

The experience seemed to pay off against the Cougars, as Upland played well in every facet of the game and came away with a 31-17 victory in a match up of unbeaten teams.

"The schedule paid off," said Upland wide receiver Kenny Lawler, who caught a 65-yard touchdown pass midway through the third quarter to help his team maintain a 14-point lead.

The Highlanders (7-0, 2-0) took a 14-0 lead late in the first quarter and never lost their edge.

The Cougars (6-1, 1-1) appeared on the verge of tying the score with just under four minutes remaining in the first half, but they botched a hand off at the Upland four-yard line and linebacker Bennie Robinson recovered for the Highlanders.

Upland regained its two-score advantage, 17-7, on a 46-yard field goal by Sean Aspinall as the first half expired.


October, 17, 2011
10/17/11
6:05
PM PT
By
Dan Arritt
| ESPNLosAngeles.com
Su'a Cravens of Vista Murrieta is the best football player in the Inland Empire, really?
When it comes to game-changing abilities on both sides of the ball, it's a no contest. Though just a junior, Cravens looks like a college player on the football field, from his physical characteristics to his instincts to his advanced athletic abilities. Cravens pretty much
single handedly
defeated Chaparral, 27-10, in a Southwestern League opener Friday night. He scored on a 17-yard catch and run on third and 16 to give the Broncos a 14-10 lead in the third quarter, caused and recovered a fumble at the Vista Murrieta seven-yard line with the Broncos still clinging to a four-point lead with about four minutes remaining in the game and then intercepted a pass on Chaparral's next possession and returned it 27 yards for a game-sealing touchdown. He could probably boot long field goals too, but the Broncos are pretty well set in that department (see below).
Which teams in the I.E. combined to set a state record last weekend?
Big Bear and Desert Hot Springs needed eight overtimes to settle their De Anza League game Friday night in the desert. Big Bear finally won, 56-50, when
Lucas Jenkins
scored on a nine-yard run after Desert Hot Springs failed to get points on its previous possession. The score was tied, 22-22, after four quarters. The previous state record for overtimes was seven in 1991, when Perris defeated Palm Springs, 70-62. The national record is 12 overtime periods. It just so happens Big Bear was also involved in one of the state's longest softball games. The Bears needed 30 innings over two days to defeat San Jacinto, 3-2, in 2001.
What was the next-best game in the I.E. last weekend?
Serrano and Apple Valley needed just one overtime in their Mojave River League game, but it was a classic matchup of undefeated High Desert teams. Serrano, the two-time defending league champion, scored on a 39-year field goal by
Leo Farias
with 7.5 seconds remaining in the fourth quarter to tie the score, 17-17. Apple Valley, which was seeking its first victory over the Diamondbacks since 2006, had to settle for a 46-yard field goal by
Jonathan Gonzales
on the first overtime possession. Serrano then handed the ball to
Adarius Hogan
on five consecutive snaps and he scored on a one-yard run on the final carry for the game-winning touchdown.
September, 26, 2011
9/26/11
4:43
PM PT
By
Jim Barrero
| ESPNLosAngeles.com
In arguably the biggest week of the season in terms of matchups, there were major shifts in the latest ESPN Los Angeles prep football Top 25 rankings, including a couple of newcomers and a few who dropped out. In all, there were six matchups involving top 25 teams and seven teams from the list who lost. Here are our rankings heading into Week 4:

1. Servite (4-0)
All the Friars do is keep winning, making it 30 in a row over teams from the Southland, including a victory last week over the last team from this region to hand them a loss -- Edison in 2009. Last week: beat Edison, 27-14. Next: at Bishop Gorman, Fri., 7 p.m.

2. Santa Margarita (4-0)
Junior QB Johnny Stanton shows his value with his arm and his legs by surpassing 100 yards in both passing and rushing, including three TDs on the ground in a rout of a good Carson team. Last week: beat Carson, 39-21. Next: vs. Los Alamitos at Veterans Stadium, Thu., 7:30 p.m.

3. Mission Viejo (3-1)
Prep football Twitter wars? Well, not exactly, but the Diablos responded to Snoop Dogg's disparaging tweets during the week in the best way any team can, by being able to point to the scoreboard.
Last week: beat Long Beach Poly, 17-12. Next: at Carson, Fri., 7:30 p.m.

4. Crespi (4-0)
The Celts take advantage of all the week's power matchups by doing what they're supposed to do: overpower an overmatched opponent to jump up three spots in the rankings. Last week: beat Palisades, 40-0. Next: vs. Vista Murrieta, Fri., 7 p.m.

5. Oaks Christian (2-1)
The night the lights went out in ... Westlake Village? The Lions take the early lead in the Marmonte League race after a contentious victory over the league's other private school power. Last week: beat St. Bonaventure, 36-24. Next: vs. Calabasas, Fri., 7 p.m.

6. St. Bonaventure (2-1)
The Seraphs had all the momentum when a power outage at Oaks Christian stalled the game in the fourth quarter for nearly 25 minutes. In the end, Bonny dug too deep a hole. Last week: lost to Oaks Christian, 36-24. Next: vs. Simi Valley at Ventura HS, Fri., 7 p.m.

7. Corona Centennial (2-1)
We know on the surface it seems unfair for the Huskies to have dropped a spot after a one-sided win, but we couldn't in good conscience rank them ahead of a team -- St. Bonaventure -- they already had lost to. At least not yet. Last week: beat Chaparral, 49-14. Next: vs. Riverside Poly at Riverside Ramona HS, Thu., 7 p.m.

8. Long Beach Poly (3-1)
If it wasn't clear already, the defense is going to keep the Jackrabbits in every game this season. But the offense will need to catch up if a sustained postseason run is in order. Last week: lost to Mission Viejo, 17-12. Next: at Compton, Fri., 7 p.m.

9. Alemany (3-1)
So was the loss to J.W. North an aberration? The Warriors answer in a most definitive way with an impressive display against a strong Chaminade team behind Steven Mitchell's two touchdown catches.
Last week: beat Chaminade, 38-14. Next: vs. Dorsey, Fri., 7 p.m.

10. Bishop Amat (3-1)
It was the Jalen Moore show for the second week in a row. A week after rushing for 303 yards, the senior gets 191 and two touchdowns to lift the Lancers to a big second half. Last week: beat Damien, 28-7. Next: vs. Cathedral, Fri., 7 p.m.


October, 22, 2010
10/22/10
11:14
PM PT
By
Dan Arritt
| ESPNLosAngeles.com


UPLAND -- Upland did everything possible to keep Etiwanda quarterback Larry Cutbirth off the field Friday night and the strategy worked as the Highlanders pulled away for a 53-34 victory in a Baseline League game at Upland High.

Donta Abron rushed for 170 yards and a touchdown in 20 carries, and backfield mate Cole Chapman had 164 rushing yards in 22 carries and scored two touchdowns to lead Upland.

The Highlanders attempted just eight passes.

After taking a 15-12 lead on a 20-yard touchdown run by slot receiver Kenneth Lawler, the Highlanders (5-2, 2-0) attempted a successful onside kick. Abron then followed with a 60-yard touchdown run.

Cutbirth threw his fourth touchdown pass of the first half to cut the deficit to 29-28 with 5:31 remaining, but Upland reeled off 24 consecutive points to put the game out of reach.

Cutbirth, a junior, completed 23 of 33 passes for 436 yards, including 357 in the first half.

"We wanted him to watch the game instead off playing the game," Upland coach Tim Salter said of Cutbirth, who has now thrown 21 touchdown passes this season.

The Eagles fell to 3-4, 1-1 in league.

Up next for Upland is a key game against Rancho Cucamonga. In the videos after the jump, Salter and Chapman discuss the victory against Etiwanda and the upcoming game against Rancho Cucamonga.