Los Angeles Preps:

Tim Tucker
March, 3, 2012
3/03/12
5:35
PM PT
By
Sean Ceglinsky
| ESPNLosAngeles.com
ANAHEIM -- As cliche as it sounds, defense does win championships. And perhaps no one understands the motto better than the boys' basketball players from Pasadena.
The Bulldogs held Arroyo Grande to one basket in the first quarter during Saturday's Southern Section playoff game at the Anaheim Convention Center Arena.
They were just getting started, mind you.
The Eagles scored eight points in the second quarter, and with an insurmountable lead, Pasadena had little problem thereafter in a 50-35 victory in the Division 3AAA title game.
"Good defense leads to better offense,'' Bulldogs coach Tim Tucker said.
Apparently so.
On the offensive end of the floor, Pasadena (26-6) did a good job feeding the ball inside to
Brandon Jolley
, particularly in the second half. The 6-foot-5 junior scored 12 of his game-high 18 minutes in the final 10 minutes of play. He finished 7-of-15 from the field with a 4-of-4 clip from the free-throw line.
"I felt good out there today,'' Jolley said. "This was a big game, I wanted to do well, there were not going to stop me from helping us get the job done and win a title.''
Arroyo Grande (22-9) made things somewhat interesting in the third quarter.
Brent VanderVeen
scored six points, added three rebounds and the Eagles were down, 27-23, to start the fourth.
Blake Hamilton
started to warm up late in the game. He scored five points in the fourth quarter as the Bulldogs maintained a double-digit lead. Hamilton ended up with 10 points and 15 rebounds.
The Bulldogs did not have anyone emerge as the main scoring threat in the first half. It was a group effort, to be sure. Jolley had six points. Hamilton and
Ajon Jefferson
had five points each. The gameplan worked out well as Pasadena took what proved to be an commanding 10-point advantage at the break.
The Eagles appeared to have some jitters early on. They scored once in the first quarter, on a basket by VanderVeen. Things did not get much better thereafter, unfortunately.
Gunnar Gomez
had eight points in the second quarter for Arroyo Grande. Problem was, none of his teammates scored. As a result, the Eagles went into intermission trailing, 20-10.
In the end, the Bulldogs were just that, Bulldogs on defense.
Sean Ceglinsky covers preps for ESPNLosAngeles.com. Follow him on
Twitter
.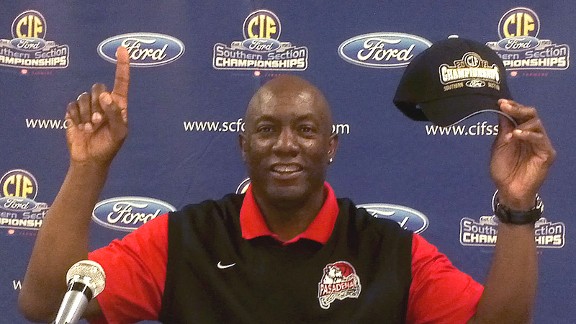 Sean Ceglinsky for ESPNLA.comPasadena coach Tim Tucker knows his team is No. 1 in Division 3AAA after winning the title Saturday.
February, 9, 2012
2/09/12
9:03
PM PT
PASADENA --
Brandon Jolley
had some fun with the Rose City rivalry Thursday night, blowing kisses toward the opposing fans after nearly every made basket in the second half.
It didn't matter who scored; Jolley blew kisses, each more exuberant than the last. And when it was time for seriousness, Jolley was there too.
Nine-time Pacific League champion Pasadena had been dethroned by Muir earlier in the week, and, earlier in the season, beaten by its neighboring rival for the first time in over a decade. Jolley made sure to avenge the loss and regain pride, leading Pasadena to a 71-53 road victory against Muir in the regular-season finale.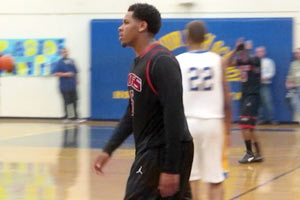 Blair Angulo/For ESPNLA.comBrandon Jolley's 26 points were the difference as Pasadena avenged an earlier loss to Muir.
"When they beat us at our house [last month] we underestimated them, we didn't really care about them," said Jolley, who poured in a game-high 26 points and grabbed eight boards. "We had to take them more seriously."
Pasadena (19-7) galloped into the Mustangs' gym, opening a 23-9 lead after the first quarter behind Jolley's energy down low. The Bulldogs began with a sizzling 14-2 run, and the highly anticipated rematch never lived up to the hype.
"There's a lot of talk in this town, and Jolley was one who felt there was too much talk going on," Pasadena coach
Tim Tucker
said. "I think people got it confused that we're the second team in the city. We're not the second team in the city. We might have some blips and a little bad luck, but we're five points away from being undefeated [in league] this year. We know how good we are. Jolley knows how good he is. We came out to prove it."
Muir's bumpy beginning, meanwhile, coincided with coach
Gamal Smalley
's decision to honor his seniors by fielding an all-senior lineup. The group of non-starters stayed on the floor for almost two minutes.
"We were in foul trouble in the first game so we couldn't play Pasadena defense," Tucker said. "We got down, slapped the floor and said 'We're not giving them anything.' We got out to an early lead and built on it."
January, 20, 2012
1/20/12
9:07
PM PT


PASADENA -- There's a new force in the Rose City.

Muir beat rival Pasadena for the first time in more than a decade Friday night, 64-60, and grabbed the top spot in the Pacific League. When the final buzzer sounded, visiting Muir fans stormed the court at Pasadena's Tom Hamilton Gym.

A frantic altercation soon followed: Pasadena's Brandon Jolley suffered a cut on his hand while going after Muir's Jelani Mitchell, bloodying the walls in the hallway leading into the locker rooms. Police were called in to clear the area, and cooler heads prevailed. Muir players were escorted by police from the locker room to their bus in the parking lot, where a large crowd still remained about a half hour following the game's conclusion.

"This is tremendous," Mitchell said before the altercation. "Pasadena has been the best team in this league for a long time. We beat them. And we beat them at their house."

Mitchell sank two clutch free throws with seven seconds remaining to put Muir (18-1, 7-0 Pacific) up by four. Pasadena missed a jumper at the other end, the final seconds ticked off the clock and the drought was over. Half of the gym erupted.

"I'm really excited for the guys and happy for the program," Muir coach Gamal Smalley said. "It's a big hurdle but now we have the rest of the race. I told the guys it's only one game. As much as we're happy and celebratory, we have to now stay focused. To turn the corner as a program, consistency is a major issue."

Pasadena (13-6, 6-1) has claimed the league title nine straight years, but that streak is now in serious jeopardy. Muir's lone loss came against two-loss Village Christian in the championship game of the La Salle/Temple City Tournament.

Muir's Tevin Polk scored a team-high 16 points off the bench, though he is normally a starter. Smalley's game plan to use Polk in a substitute role worked. Jolley had 16 for Pasadena and coach Tim Tucker said his hand injury was not serious.

"He doesn't like to lose," Tucker said of Jolley.


January, 3, 2011
1/03/11
6:49
PM PT
By
Sean Ceglinsky
| ESPNLosAngeles.com


PASADENA -- There was a time, not too long ago, when it was thought that Steven Adams might not ever have the opportunity to step foot out on the basketball court and play again.

Approximately two years ago, unexpected spells of double-vision and headaches signaled significant problems for the promising young prospect from Pasadena High. A pair of visits to the family physician as a precautionary measure followed and revealed Adams had a life-threatening situation developing internally, dangerously close to his brain, of all places.

Emergency surgery was necessary, and fortunately, successful.

The rehabilitation process thereafter was long and arduous.

His desire, however, to get back on the hardwood never wavered.

Close to a full recovery these days, Adams recently made a triumphant return to the starting lineup and is consistently contributing for the Bulldogs. Furthermore, the 6-foot-9 and 250-plus pound senior post player is beginning to show flashes of his former self.

"Life was hard at first, after the surgery,'' Adams said. "I couldn't walk, couldn't talk, I had to learn how to feed myself again, tie my shoes and brush my teeth. Play basketball too. But I'm feeling good again, especially on the court. I'm just trying to get my handles back, my jumper back, my agility, my timing. Good thing is, it's coming, I can feel everything coming back.''

Adams first noticed signs of trouble back in mid-January of 2009. He was hustling to get back on the defensive end of the floor against crosstown rival Muir, and suddenly, felt a bit different. Adams wasn't winded or necessarily tired. Nevertheless, something was amiss.