Los Angeles Preps:

Todd Handley
February, 2, 2011
2/02/11
12:56
PM PT
By
Dan Arritt
| ESPNLosAngeles.com
Below is an updated list of high school football recruits from the Inland Empire and where they're headed.
Tight end
Junior Pomee
and cornerback
Ryan Henderson
of Moreno Valley Rancho Verde are expected to announce their decisions at 5:30 p.m.
Reports
indicate they're headed to USC.
Corona Centennial quarterback
Michael Eubank
just announced he will stick with Arizona State. His decision will be broadcast on FS West at 7 p.m. He had also considered Pittsburgh and Utah.
Eubank committed to the Sun Devils in December but recently had taken a recruiting trip to Pittsburgh. Vista Murrieta quarterback
Derrick Brown
recently switched his commitment from Utah to Washington, which had opened a possible spot for Eubank.
UNDECIDED
Junior Pomee, TE, Moreno Valley Rancho Verde
Ryan Henderson, DB/RB, Moreno Valley Rancho Verde
ARIZONA STATE
Quinton Pedroza, WR/DB, Chino
Brent Walker, OL, Norco
Michael Eubank, QB, Corona Centennial
BOISE STATE
Jake Van Ginkel, K, Upland
BYU
Adam Pulsipher, LB, Temecula Valley
COLORADO
Greg Henderson, DB, Norco
COLORADO STATE
Nuuvali Faapito, F/LB, La Quinta
FRESNO STATE
Ejiro Ederaine, LB, Corona Santiago
February, 1, 2011
2/01/11
6:55
AM PT
By
Dan Arritt
| ESPNLosAngeles.com
With the National Signing Day set for Wednesday, a number of Inland Empire football players have given verbal commitments to various schools across the country. Nothing is official until the papers are signed and returned to the respective colleges, but San Diego State and Oregon have received the most pledges from I.E. athletes. Here's the list of players and where they've committed.

ARIZONA STATE
Michael Eubank, QB, Corona Centennial
Quinton Pedroza, WR/DB, Chino
Brent Walker, OL, Norco

BOISE STATE
Jake Van Ginkel, K, Upland

BYU
Adam Pulsipher, LB, Temecula Valley

COLORADO
Greg Henderson, DB, Norco

COLORADO STATE
Nuvali Faapito, F/LB, La Quinta

FRESNO STATE
Ejiro Ederaine, LB, Corona Santiago

HAWAII
Promise Amadi, Ath., Chino

IDAHO
Dion Bass, DB, Corona Centennial
Todd Handley, RB, Riverside King

IOWA STATE
David Irving, DE/TE, San Jacinto

MONTANA
Nate Harris, RB/DB, Chino Hills

NEVADA
Desman Carter, DB, Fontana Kaiser
Superrior Reid, RB, Riverside Arlington

OREGON
Devon Blackmon, WR, Fontana Summit
Rodney Hardrick, LB, Colton
Ifo Ekpre-Olomu, S, Chino Hills
Jamal Prater, OL, Etiwanda

OREGON STATE
Larry Scott, WR, Corona Centennial

SACRAMENTO STATE
John Taylor, OL, Colton
Blake Robertson, WR, Corona

SAN DIEGO STATE
Darius Guillory, LB, Temecula Chaparral
Jemond Hazely, WR, Corona Santiago
Ryan Jack, LB, Corona Centennial
Paul Pitts, WR, Los Osos
Paul Rodriguez, OL, San Bernardino San Gorgonio
Jonathan Sanchez, DL, Vista Murrieta
Jordan Taylor, OL, Redlands

SAN JOSE STATE
Simon Connette, DB, Corona Santiago
Tyler Ervin, RB, Colton
Sam Boyd, TE, Eastvale Roosevelt

STANFORD
Kelsey Young, RB, Norco

UTAH
Ryan Henderson, DB/RB, Moreno Valley Rancho Verde

USC
DeVante Wilson, DE, Corona

WASHINGTON
Derrick Brown, QB, Vista Murrieta

WASHINGTON STATE
Marcus Mason, RB, Etiwanda

WEBER STATE
Barrinton Collins, RB, Corona Centennial
January, 5, 2011
1/05/11
9:03
PM PT
By
Dan Arritt
| ESPNLosAngeles.com
Oregon snared one of the Southland's top football recruits Wednesday night when Devon Blackmon of Fontana Summit committed to the Ducks at the Under Armour All-American Game in St. Petersburg, Fla.

Blackmon, who is expected to play wide receiver at the college level, chose Oregon over locals USC and UCLA. Oregon will play in the BCS National Championship game Monday against Auburn in Glendale, Ariz.

A number of other Inland Empire football players have also committed to college programs since the end of the season.

Corona Centennial quarterback Michael Eubank, who led the Huskies to the Inland Division championship and the Division 1 state bowl game, pledged to Arizona State.

Corona defensive end DeVante Wilson committed to USC, Colton linebacker Rodney Hardrick committed to Oregon, and Riverside King running back Todd Handley committed to Idaho.
October, 21, 2010
10/21/10
4:01
PM PT
By
Dan Arritt
| ESPNLosAngeles.com
The Baseline League has been a breeding ground for top quarterbacks lately.

Richard Brehaut of UCLA (Rancho Cucamonga Los Osos), Josh Nunes of Stanford (Upland), Angel Santiago of Army (Etiwanda) and Greg Watson of Fresno State (Rancho Cucamonga) have all recently flipped their tassels.

Upland and Etiwanda are continuing the tradition.

The Highlanders (4-2, 1-0 in league), who are hosting Etiwanda in a key Baseline League game Friday night at 7 p.m., is led by Josh's brother, Justin Nunes, who committed to UC Davis last month.

Nunes broke out of three-game stretch without a touchdown pass last weekend, throwing four in a 56-16 victory against Mira Loma Alta Loma.

Etiwanda (3-3, 1-0) leans on the right arm of Larry Cutbirth, who is emerging as one of the top junior quarterbacks in the region. Cutbirth has thrown 17 touchdowns this season, which is tied for seventh in the Southern Section.

Three more to see:

Riverside King (4-2, 2-1 in the Big VIII League) at Norco (5-1, 2-1), Friday – The four teams locked in a second-place tie meet up this weekend and this one figures to be the best. King running back Todd Handley and Norco running back Kelsey Young are two of the top ball carriers in Southern California and both should be handed the rock frequently. ESPNLA.com's pick: Norco 31, King 30.

Corona (4-2, 2-1 in the Big VIII) at Eastvale Roosevelt (5-1, 2-1), Friday – Eric Kyle is quietly averaging nearly 130 rushing yards a game for Corona. Roosevelt running back Joey Legere has scored 15 touchdowns, which leads the Inland Division, and quarterback Aaron Crone has completed 60% of his passes this season, with just two interceptions. ESPNLA.com's pick: Roosevelt 24, Corona 13.

San Bernardino Cajon (4-2, 3-0 in the San Andreas League) at Colton (5-1, 3-0), Friday – These teams have combined to win the last five SAL titles and it appears this season will be no different. Cajon will rely on dual-threat quarterback Thomas Carter. He'll be up against one of the top defenses in the Southland, anchored by linebacker Rodney Hardrick and defensive back Devan Hussey. ESPNLA.com's pick: Colton 30, Cajon 20.
October, 15, 2010
10/15/10
11:38
PM PT
By
Dan Arritt
| ESPNLosAngeles.com


CORONA -- The Riverside King football team needed a lift Friday night. Branden Alcantar and Todd Handley provided the leverage.

Alcantar blocked a Corona punt in the end zone with about 10 minutes remaining to give the Wolves a safety, and Handley returned the ensuing kick for a touchdown, giving King the lead for good in a 35-28 victory against host Corona in a Big VIII League game.

"I knew what I had to do," Alcantar said. "I shot through the gap."

King (4-2, 2-1 in the Big VIII League) had fallen behind, 28-20, with four minutes left in the third quarter, but stopped Corona (4-2, 2-1) on downs early in the fourth. With Corona forced to punt from its own end zone, Alcantar found an opening in the middle of the Corona line and swatted the punt into the grass.

The Corona punter illegally kicked the ball a second time after the block, giving King a safety and forcing Corona to punt the ball back to the Wolves. Handley, who was forced out of the game in the second quarter with an ankle sprain, found room down the sideline and scored the go-ahead points with 10:29 remaining in the game.

King got the ball back two minutes later and Handley followed with a 49-yard touchdown run to give the Wolves a 35-28 lead.

"We always talk about taking advantage of their mistakes," Handley said. "I wanted to capitalize on it."
October, 7, 2010
10/07/10
11:20
PM PT
By
Dan Arritt
| ESPNLosAngeles.com
RIVERSIDE -- Todd Handley couldn't be stopped for Riverside King on Thursday night. Neither could teammate T.J. Hickman.
Together they combined for 367 rushing yards and all six touchdowns as the Wolves knocked off Corona Santiago, 42-35, in a Big VIII League game at King High.
Handley finished with his third 200-yard effort of the season, totaling 223 yards in 28 carries and scoring four touchdowns. Hickman had 129 of his 144 yards and both touchdowns in the second half.
The Wolves (4-2) appeared to have the game in hand after 21 unanswered points in the second half to take a 35-14 lead with 11 minutes remaining in the game.
However, the Sharks didn't fold, scoring three touchdowns in a three-minute span late in the fourth quarter to pull to within seven points. Handley then fumbled for the second time with 1:17 remaining and Santiago took over at its own 38-yard line.
The Sharks,
ranked fifth in the Inland Empire
by ESPNLA.com after wins this season against Chino Hills and Eastvale Roosevelt, drove to within striking distance, but Handley intercepted a pass in the end zone as time expired to seal the victory.
Santiago sophomore quarterback Michael Darr did not start the game because he missed practice all week because of flu, Santiago coach Jeff Steinberg said, but he entered late in the second quarter and led the Sharks on a scoring drive that tied the score, 14-14.
Darr finished 20 for 37 for 274 and two touchdowns.
The Sharks (2-3) were also without one of their best defenders, linebacker Ejro Ederaine, who had to sit out because he was ejected from last week's game against Roosevelt.
*****
The video highlights above include a pair of long runs by Handley and Hickman. Handley also discusses the victory, how his 44-inch vertical leap came in handy and his recruiting situation.
October, 6, 2010
10/06/10
10:00
PM PT
By
Dan Arritt
| ESPNLosAngeles.com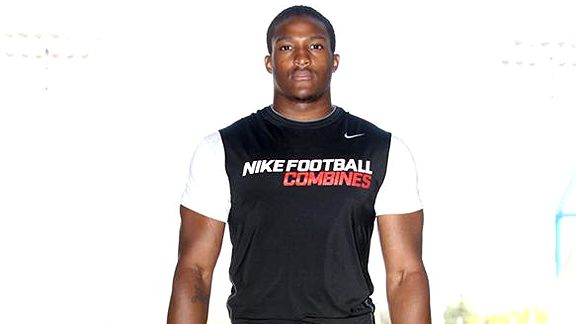 Tom Hauck
Todd Handley of Riverside King has proved to be one of the most elusive ball carriers around.
Few athletes can claim a 44-inch vertical leap. Those that do are usually found on the basketball court, or near the high jump pit.
LeBron James
reportedly has a 44-inch vertical leap, so did
Michael Jordan
.
Kobe Bryant
? He comes in a bit lower at 38.
Todd Handley
, a 5-foot-8 senior running back for Riverside King, hit that mark in April at the Nike combine at USC, placing him among the best leapers in the nation in SPARQ testing.
But the three-year starter is just as impressive moving horizontal. He clocked a school-record 10.98 seconds in the 100 meters during last spring's track and field season, and went 4.54 seconds in the 40-yard dash at the Nike combine.
It's no wonder that Handley has proved to be one of the more elusive ball carriers in the Inland Empire, totaling 552 rushing yards and seven touchdowns through four games this season. As a junior, he ran for 1,343 yards and scored 15 touchdowns in 10 games.
He had 206 rushing yards and a touchdown last Friday in a one-sided loss to Corona Centennial, the top-ranked team in the Inland Empire.
On Thursday night, he'll be counted on to carry the load against visiting Corona Santiago, a team that's ranked No. 5 in the I.E. but has shown a weakness on defense, allowing an average of 28 points a game.
Still without a scholarship offer, you can bet Handley will be giving it his all against the Sharks.
September, 6, 2010
9/06/10
3:32
PM PT
By
Dan Arritt
| ESPNLosAngeles.com
All of the weightlifting sessions, 7-on-7 passing league games, two-a-day practices and motivational speeches seemed to take a back seat to first-game jitters last week.

As a number of Inland Empire high school football teams began play, just holding onto the ball seemed like a tall order.

Los Osos of Rancho Cucamonga fumbled the snap from center on five of its first six plays from scrimmage Friday night, all while inside the Colony five-yard line. Fortunately, the Grizzlies took the lead for good on an interception return and went on to win, 20-7.

The same night, A.B. Miller High of Fontana gave away a potential upset against Upland by fumbling twice in a 75-second span in the fourth quarter, leading to two touchdowns and a 21-16 victory by the Highlanders.

Great Oak of Temecula was shaky from start to finish against Redlands, finishing with eight turnovers in a 23-16 loss, including two on its first three plays from scrimmage.

A number of Inland Empire teams don't begin play until this week, so it will interesting to see if the trend continues.