Los Angeles Preps:

Tony Barile
October, 25, 2010
10/25/10
6:30
PM PT
By
Sean Ceglinsky
| ESPNLosAngeles.com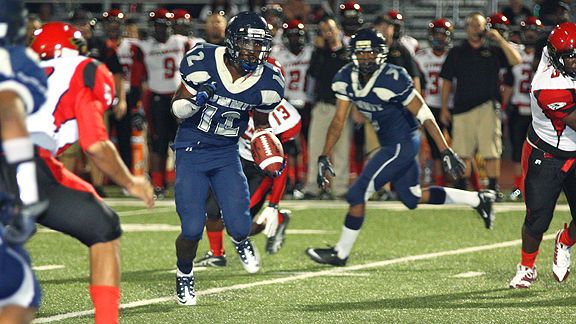 Courtesy of Manuel Parra
The more Devon Blackmon has the ball in his hands, usually the better for the Summit High football team.
Line up
Devon Blackmon
underneath center, odds are he'll make the right read and throw an accurate strike for a touchdown pass. Hand the ball off to the senior and he's more than capable of gaining the necessary yardage on the ground to keep the chains moving for the Fontana Summit High football team. Split him out wide, he just might run by the defense en route to the end zone.
Make no mistake, Blackmon's effectiveness isn't merely limited to life on the offensive side of the ball. Far from it, in fact.
Put him on an island at cornerback, chances are he'll lock down the opponents top pass-catcher. Stick him at safety, Blackmon is liable to deliver a game-changing hit and force a fumble. Allow him to return punts and kickoffs, there's a good possibility he's going to give his team the ball back in good field position.
Blackmon is a jack-of-all-trades, he plays a number of positions, each of them equally well. Moreover, he rarely spends much, if any, time on the sidelines. And perhaps his versatility and ability to excel in most any situation best explains why the 6-foot, 180-pounder is not only one of the nation's top all-around prospects, but also one of the country's more sought-after unsigned recruits.
"We use Devon everywhere out on the field, all of the time, teams we play know this but they still have a tough time stopping him,'' Summit coach
Tony Barile
said. "He makes an impact in so many ways, it's unbelievable.
"Every coach I talk to, before and after games, they always seem to bring up Devon. It's like clockwork, it really is. The main topic of conversation is always about No. 12 and one or two of the plays he made over the course of the game. Bottom line, when the ball is in hands, good things tend to happen for us.''
Blackmon is a playmaker indeed, Barile isn't the only believer. Several of the nation's top recruiting services are enamored with him. There is, after all, plenty to like. For example, ESPNU ranks him as the third best player in California, the fourth-best athlete in the country and No. 39 overall prospect overall.