Los Angeles Preps:

Tony Thomas
January, 3, 2012
1/03/12
3:53
PM PT
By
Sean Ceglinsky
| ESPNLosAngeles.com
LOS ANGELES -- There has never been much doubt about
Anthony January
's talent on the basketball court. But questions about his work ethic off the hardwood, particularly in the classroom, surfaced with regularity in the not-so-distant past.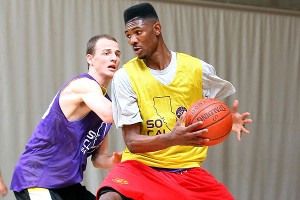 Nick Koza for ESPNLosAngeles.com
Anthony January is among Taft's leaders in scoring, averaging more than 19 points.

That is, until now. It appears as if January's priorities, at long last, are in order.
The highly-touted senior from Woodland Hills Taft is on the right track this season after a recent transfer to the Toreadors following three years at Compton.
"I had to get my studies right and get more focused,'' January said. "I've got nothing against Compton; it's where I'm from. I needed to switch things up though, you know, a fresh start. Things are going great right now. The move to a new school has been a positive thing for me.''
The change of scenery has indeed done wonders for him and Taft (10-3 overall), which figures to be among the top teams in the ESPNLosAngeles.com rankings this season. Having the UTEP-bound January on the roster and constantly in the mix certainly helps matters.
Before play in the Los Angeles City Section begins next week, the Toreadors figure to face a difficult test in a nonleague game against host San Diego Lincoln on Saturday.
"Anthony is a hybrid forward, he can play the three or four, it does not matter. We're talking about an elite-level high school player here,'' Toreadors coach
Jason Hart
said. "He is one of those players who comes around every 5-to-10 years and is capable of making an impact at the next level right away. We are happy he is here at Taft. Anthony has done a good job of fitting in.''
January's path up to this point has been filled with ups-and-downs.
Due in large part to his sheer athleticism and long frame as a freshman -- he was right around 6-foot-4 and growing -- January opened plenty of eyes at Compton. He worked his way into the lineup and averaged 15 points and close to 10 rebounds per game.
An encore effort was expected as a sophomore. January did not disappoint, taking the next step in his development. Already an established post presence, his perimeter game became a bit more polished and he shot close to 60 percent from the field.
January fulfilled his promise, initially, as a junior. He had a pair of 30-plus point efforts early in the season and was averaging 22 points a night before things went awry. His grades were poor and the family made the decision to have him home-schooled.
"I'm not really sure what happened," Compton coach
Tony Thomas
said about the January scenario at the time. "He told me he was going to be home-schooled, then he was excited to play for us [again]. Then, he's going to be home-schooled [again]. That's all I know."
An overdue, renewed focus followed. "I think it was time to take care of business,'' January said.
March, 20, 2010
3/20/10
7:37
PM PT
By
Pedro Moura
| ESPNLosAngeles.com
Compton coach Tony Thomas wasn't pleased with his team's energy level in the Tarbabes' 60-52 loss to San Diego Lincoln in the Division-II regional final at the Galen Center. But afterward, Thomas did say he was impressed by the Tarbabes' resiliency in coming back a rebuilding year last season. Two years ago, Compton relied on star DeMar DeRozan, who has since moved on to USC and the NBA. Thomas said he knew his team would get back to regional power status, but he didn't know it would be this soon:



Meanwhile, San Diego Lincoln coach Jason Bryant mentioned the matchup problems Compton presented to his team, while praising his Hornets' perserverance. The Hornets trailed 28-22 at the half before a dynamic third quarter in which they outscored the Tarbabes 27-10. Here's some of what Bryant had to say:



San Diego Lincoln guard Norman Powell, who had 15 pounds, nine rebounds and four blocks while playing the entire game, said the only difference between the Hornets' play in the first and second halves was an increased level of confidence:


March, 18, 2010
3/18/10
4:45
PM PT
To say that Compton is a surprise participant in the Division III Southern California regional final would be an understatement.

This is a team that finished last season 10-18 and 4-8 in the Moore League and was 3-9 this season when the calendar switched to 2010, yet will face second-seeded San Diego Lincoln Saturday at 4 p.m. at the Galen Center with a spot in the state final on the line.

Coach Tony Thomas said the team, which features only two seniors in its regular rotation, simply grew up.

"A lot of our guys are new to the varsity level," he said. "We always had the talent and the potential, we just took time figuring out how to put it all together."

Compton went 9-1 in January and finished second to Long Beach Poly in the Moore League, yet still had trouble attracting believers. They were seeded seventh in the Southern Section Division 2AA playoffs, yet advanced to the final before losing to Murrieta Valley, 50-44.

For the state playoffs, the Tarbabes (21-13) were seeded fifth in Southern California, yet have defeated fourth-seeded San Diego Hoover and top-seeded Rialto Eisenhower en route to the regional final.

"Everybody is surprised, but I'm not," Thomas said. "They look at our record and say we have 13 losses. But they don't realize that five of those losses are to CIF champions and nine of them are to teams that made the state playoffs."

Part of the problem was a gym that needed repairs and had to be shut down for two weeks in December.

"We weren't practicing regularly," Thomas said. "We weren't working on things that needed work."

The development of junior point guard Allan Guei has been instrumental in the turnaround, Thomas said. Guei was a shooting guard the past two seasons but has learned the new position and is now a Division I recruit as a point guard.

"He started out with a scoring mentality, but his all-around game has developed very quickly," Thomas said. "I trust him out there and trust what he's doing with the ball and that allows me to coach areas of the floor away from the ball. I don't have to be watching the ball all the time. That's huge."

Lincoln (27-2), the San Diego Section Division II champion, is on a 22-game winning streak. Their last loss was an 87-68 setback to Compton Centennial on Dec. 30. Compton defeated Centennial, 67-60, on Jan. 18.

"We don't put too much into that," Thomas said. "They lost to Centennial early in the year. We know how much things can change from the beginning to now."