LOS ANGELES -- There has never been much doubt about Anthony January's talent on the basketball court. But questions about his work ethic off the hardwood, particularly in the classroom, surfaced with regularity in the not-so-distant past.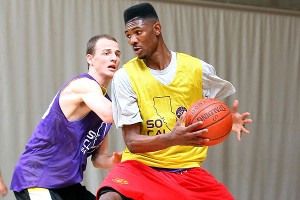 Nick Koza for ESPNLosAngeles.com
Anthony January is among Taft's leaders in scoring, averaging more than 19 points.
That is, until now. It appears as if January's priorities, at long last, are in order.
The highly-touted senior from Woodland Hills Taft is on the right track this season after a recent transfer to the Toreadors following three years at Compton.
"I had to get my studies right and get more focused,'' January said. "I've got nothing against Compton; it's where I'm from. I needed to switch things up though, you know, a fresh start. Things are going great right now. The move to a new school has been a positive thing for me.''
The change of scenery has indeed done wonders for him and Taft (10-3 overall), which figures to be among the top teams in the ESPNLosAngeles.com rankings this season. Having the UTEP-bound January on the roster and constantly in the mix certainly helps matters.
Before play in the Los Angeles City Section begins next week, the Toreadors figure to face a difficult test in a nonleague game against host San Diego Lincoln on Saturday.
"Anthony is a hybrid forward, he can play the three or four, it does not matter. We're talking about an elite-level high school player here,'' Toreadors coach Jason Hart said. "He is one of those players who comes around every 5-to-10 years and is capable of making an impact at the next level right away. We are happy he is here at Taft. Anthony has done a good job of fitting in.''
January's path up to this point has been filled with ups-and-downs.
Due in large part to his sheer athleticism and long frame as a freshman -- he was right around 6-foot-4 and growing -- January opened plenty of eyes at Compton. He worked his way into the lineup and averaged 15 points and close to 10 rebounds per game.
An encore effort was expected as a sophomore. January did not disappoint, taking the next step in his development. Already an established post presence, his perimeter game became a bit more polished and he shot close to 60 percent from the field.
January fulfilled his promise, initially, as a junior. He had a pair of 30-plus point efforts early in the season and was averaging 22 points a night before things went awry. His grades were poor and the family made the decision to have him home-schooled.
"I'm not really sure what happened," Compton coach Tony Thomas said about the January scenario at the time. "He told me he was going to be home-schooled, then he was excited to play for us [again]. Then, he's going to be home-schooled [again]. That's all I know."
An overdue, renewed focus followed. "I think it was time to take care of business,'' January said.
He ended up at Taft, presumably because of former Toreadors coach Derrick Taylor and the success he had building the San Fernando Valley program into a force to be reckoned with. Taylor, however, decided to take over as head honcho at Bellflower St. John Bosco this season.
With the transfer paperwork already started, the only real option remaining for January was to continue with the Toreadors. Luckily for him, he landed in the ideal spot, considering Hart's no-nonsense approach to the game and vast experience. The Los Angeles native played his college ball at Syracuse and spent almost 10 years in the NBA, including a couple of stints with the Clippers.
"I'm glad that Anthony has got everything together these days, anything that happened to him before this season started here at Taft is irrelevant,'' Hart said. "He has a clean state now, that's what is most important about his whole story. It's time we all move forward.''
With the past behind him, but also cognizant of what can potentially happen if he does not pay attention to his responsibilities, January is taking care of business again.
He has made a seamless transition at Taft. Senior point guard Steve Jones and upperclassman forward Brandon Perry have undoubtedly made things much easier for him. As a result, January is among the team leaders in scoring, averaging more than 19 points per game.
"Everything is coming together for us and having Anthony around is like adding another piece of the puzzle,'' Perry said. "He is great player and does a lot of things well. With him in the lineup, I think we can make a run at this thing and win a City Section championship.''
Whether that happens remains to be seen. One thing is certain: Throughout the process of figuring out what was best for him, Division I college coaches and scouts have made sure to keep a watchful eye on January.
Given the immense potential he has seemingly possessed since Day One, keeping tabs on the 6-foot-6 versatile wing appeared to be one of those forgone conclusions.
ESPN Recruiting ranks January among the top 10 prospects that the Southland has to offer. Despite committing to UTEP in mid-July, he has received recruiting interest from more than a few Pacific 12 Conference programs, including nearby UCLA and USC.
January maintains his pledge to the Miners is intact. The plan, however, is to listen to what some of the nation's other schools have to offer and make a decision at some point later. In the meantime, his focus remains on the court. And in the classroom, more importantly.
"Things happen for a reason and I've learned from mistakes,'' January said. "I got off track. I'm back now. I'm ready to do my thing, show people what I can do.''
Sean Ceglinsky covers preps for ESPNLosAngeles.com. Follow him on Twitter.