Los Angeles Preps:

Travis Wilson
December, 10, 2011
12/10/11
11:35
PM PT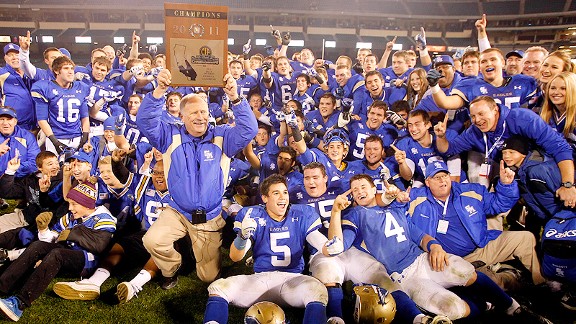 Alex Gallardo/ESPNLosAngeles.comCoach Harry Welch celebrates winning the Pac-5 title with his team at Angel Stadium.
ANAHEIM -- For the ninth time in his career,
Harry Welch
raised a championship trophy over his head. If he could, he would raise
Johnny Stanton
, too. But Stanton did his own carrying Saturday night at Angel Stadium, carrying the Eagles to the Southern Section Pac-5 title with a 27-13 victory over San Clemente.
Welch has had a lot of these moments -- five with Canyon Country Canyon, three with San Juan Capistrano St. Margaret's -- but when he grabbed the microphone after the game played in front of 14,424, he said "I have never been more proud than I am now."
The last three teams that Santa Margarita (12-2) defeated en route to their first championship since winning back-to-back in 1996-97 had only one loss; third-seeded Long Beach Poly (10-2), second-seeded Mission Viejo (11-2) and San Clemente (12-2).
If Welch loves this team, he'll love next year's too. Only two seniors start on offense, one of them being USC-bound lineman
Max Tuerk
. But the rest are underclassmen, including Stanton, the dual-threat quarterback who passed for 92 yards and ran for 148. His touchdown pass to
River Cracraft
with 11 seconds left in the first half gave Santa Margarita a 14-13 lead, and his two-yard score in the third quarter made it 21-13.
Then he engineered the drive of the game, one that covered 89 yards and consumed 9 minutes 56 seconds. It ended with
Ryan Wolpin's
second score, a three-yard run with 3:09 left in the game. It was at that point that San Clemente got its first possession of the fourth quarter. The Tritons had no more magic in what had been a magical season. Cracraft intercepted a
Travis Wilson
pass with 1:52 left in the game, and Santa Margarita ran out the clock.
December, 8, 2011
12/08/11
9:54
PM PT
As backstories go, there are some intriguing ones in the Pac-5 championship game Saturday night at Angel Stadium.

San Clemente (12-1) has a balanced, high-powered offense that has reached the finals for only the second time in its long history with an interim coach.

Santa Margarita (11-2) has a balanced, high-powered offense that has a second-year coach going for his ninth section title.

No matter who wins, there should be plenty of angles. A couple weeks before the season began, San Clemente's longtime coach Eric Patton was removed for his role in an alleged kickback scheme involving a local apparel company. Enter Jon Hamro, the school's athletic director, who found the Triton players rallying together and being of one focus, one purpose.

Apart from one hiccup, a disastrous first half against South Coast League rival Mission Viejo that cost San Clemente a perfect season, the Tritons have been fantastic. They have ripped through playoff opponents like they were JV teams with an average score of 45-15. Utah-bound quarterback Travis Wilson (24 TDs, 7 int., 163 yards/game) can not only pass, but is an outstanding situational runner and has nine rushing touchdowns; at 6 feet 6 and 215 pounds, he's not easy to bring down.

Behind tackle Kyle Murphy and an offensive line that is among the best in the state, the Tritons also have a tough ground attack led by Mike Elespuru (14 TDs, 118 yards/game), and a big-play threat in receiver Christian Tober, who scored three touchdowns last week -- one a kickoff return -- on plays of 70 yards or more.

They, along with a defense led by linebackers Herbert Gamboa, Chad Foster, Landon Cook and Nico Ruberti, will try to bring San Clemente its first championship; they lost in their only other appearance in 1979.

San Clemente hasn't faced a league champion or seeded team in its playoff run. After beating second-place Lakewood, the Tritons defeated third-place teams St. John Bosco and Tesoro. But in Santa Margarita, the Tritons will be facing a second-place team that played even with top-seeded Servite before losing in overtime, 42-41, in the Trinity League finale and has since scored playoff victories over Bishop Amat, third-seeded Long Beach Poly and second-seeded Mission Viejo, 21-20.


November, 18, 2011
11/18/11
8:00
AM PT
Tesoro (6-4) vs. Edison (8-2) at Orange Coast College, Friday, 7 p.m.
If the team that showed up two weeks ago against Mission Viejo shows up against Edison, then Tesoro might deliver one of the upsets of the night against the Sunset League champion. If the team that showed up last week against San Clemente shows up against Edison, it could be a long night for the South Coast League's third-place team. Running back Nate Tago (12 TDs, 110 yards/game) and quarterback Matt Adam (7 TDs, 5 int.) have to find a way against an Edison defense that doesn't get the recognition it deserves: it has allowed more than 14 points only twice this season, a 22-20 loss to Mater Dei on the last play of the game, and a 27-14 setback to top-seeded Servite. The offense is led by quarterback Chase Favreau (15 TDs, 5 int., 169 yards/game), who is a serious running threat; he averaged 81 yards against four of Edison's five best opponents, Mater Dei, Huntington Beach, Newport Harbor and Los Alamitos. But he gained only one yard against Servite. That might be the kind of effort necessary for Tesoro, which has 16 underclassmen in the starting lineup, to advance past the first round of the Pac-5 Division.

Huntington Beach (8-2) vs. Loyola (8-2) at L.A. Valley College, Friday, 7 p.m.
Huntington Beach hasn't had a football team this formidable since Tony Gonzalez was an Oiler in the early 1990s. The question is, in this battle of second-place teams, can the public school knock out the private one? Michael Chislock (23 TDs, 5 int., 195 yards/game) will have something to say about it. Chislock leads an HB offense that's averaging 35 points, and the defense held opponents to two touchdowns or less six times. No matter how good Chislock is, he will likely need significant support from running back Nolan Biegel in order to keep Loyola's defense honest. Even though Loyola is averaging nine points fewer, the Cubs have played a significantly tougher schedule heading into the Pac-5 playoffs. They beat Newport Harbor by 27 points while HB won by 28. Also Loyola has a 28-14 victory over St. John Bosco, the kind of signature victory that Huntington Beach is hoping to pick up.

Lakewood (7-3) at San Clemente (9-1), Friday, 7:30 p.m.
Can Lakewood go deep into Orange County and emerge victorious? Any team that can hang with St. John Bosco -- as the Lancers did in a 35-31 loss -- should be able to represent in the Pac-5. Brock Dale (26 TDs, 5 int.) has averaged 189 yards passing and the offense has scored fewer than 31 points only once, a 38-21 loss to fourth-seeded Long Beach Poly (9-1). This may be San Clemente's best team ever, which means this is the year to make some playoff noise. They have the quarterback in Utah-bound Travis Wilson (16 TDs, 6 int., 159 yards/game), running back in Mike Elespuru (12 TDs, 120 yards/game), and a first-rate offensive line led by one of the nation's top prospects, Kyle Murphy. The defense is allowing less than two touchdowns per game. Both teams have a common opponent in Long Beach Cabrillo; San Clemente won its opener, 35-6, and Lakewood won three weeks ago, 31-6. One of Lakewood's losses was a forfeit to Compton (3-7), a team that it beat 54-0.

Esperanza (7-3) vs. El Toro (9-1) at Trabuco Hills HS, Friday, 7 p.m.
Only three players in Orange County have rushed for more yardage than Troy Poole's 1,584 -- which he did in only nine games. That's what makes this the game of the night in the Southwest Division, the clash of styles. Esperanza's running game against El Toro's passing game led by Conner Manning (26 TDs, 4 int.), whose 271.1 yards per game is second to Northwood's Ricky Bautista (283.5). Jacob Funari has also rushed for 1,002 yards and 15 TDs. Esperanza has its own passing threat in Mike Tumlinson (21 TDs, 11 int., 191.1 yards/game), who is completing 66 percent of his passes during the regular season. Espy averages 36 points and El Toro 41; this has shootout written all over it.

Laguna Hills (7-2) vs. Cypress (8-2) at Western HS, Friday, 7 p.m.
Laguna Hills was undefeated before losing its last two games heading into the Southwest Division playoffs. The Hawks -- selected as an at-large team -- have something to prove. Wanting to do it, and doing it, are different things and Vincent "Bug" Rivera may have something to say about it. The running back for fourth-seeded Cypress is a difference maker; his 31 touchdowns are second only to Saddleback Valley Christian's John Curran (38), and Rivera is averaging 9.0 yards per carry. Believe it or not, both teams have only one victory over an opponent with a winning record.

Woodbridge (5-5) vs. Rancho Alamitos (9-1) at Bolsa Grande HS, Friday, 7 p.m.
For winning the Garden Grove League, Rancho Alamitos was rewarded with the third-place team from the Southern Division's best league, one that lost to second-seeded Corona del Mar, 31-30, three weeks ago. Derek Calderon (13 TDs) leads Woodbridge with 136.6 yards/game, while Brett Hurley (21 TDs) paces Rancho Alamitos at 131.9. This could go to the wire, which would be familiar territory for Woodbridge: two of its last three games have been decided by one point.
November, 8, 2011
11/08/11
6:02
PM PT
By
Sean Ceglinsky
| ESPNLosAngeles.com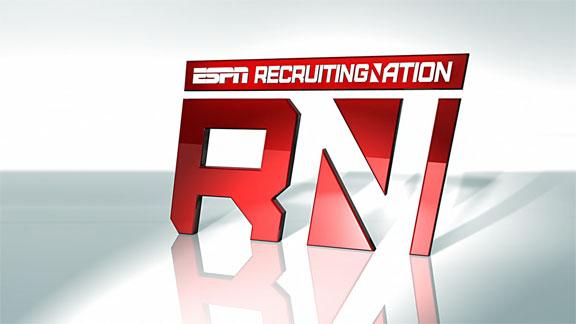 SAN CLEMENTE -- It's the same routine each and every time. Like clockwork.
Kyle Murphy
makes his way toward the line of scrimmage and the highly-touted offensive tackle from San Clemente checks out the opposing defense shuffling directly in front of him.
Locating where the pass-rushing specialist on end is positioned is the first order of business. Glancing nearby in the direction of the nose guard follows. Getting an all-important read on what the linebacking corps have in store, accurate or not, essentially prepares him for what comes next.
Murphy proceeds to set up in his standard three-point stance.
The snap awaits, mere seconds way. He lives for these moments.
"It gets ugly out there on the football field sometimes, because if you get in the way of Kyle Murphy, you're just asking for trouble,'' San Clemente coach
John Hamro
said.
With the ball set in motion, Murphy explodes from his customary crouch. Anyone standing in his way at the point of attack is left irrelevant. A devastating pancake block at the second level brings the crowd to its feet and clears a wide-open path for a teammate's run to the end zone.
It's the same routine each and every time. Like clockwork. Murphy's preparation is key. The senior rarely, if ever, takes a play off. And his determination this season has enabled him to emerge as one of the most sought-after unsigned recruits in the country.
"I play the game at full speed, all the time, it's the only way to get things done,'' Murphy said. "I have worked to get to this point, and with my size and strength, I feel like I can do things other players can't. I want to prove that I can go hold my own every time I step out on the field.''
October, 28, 2011
10/28/11
11:26
PM PT
By
Martin Henderson
| ESPNLosAngeles.com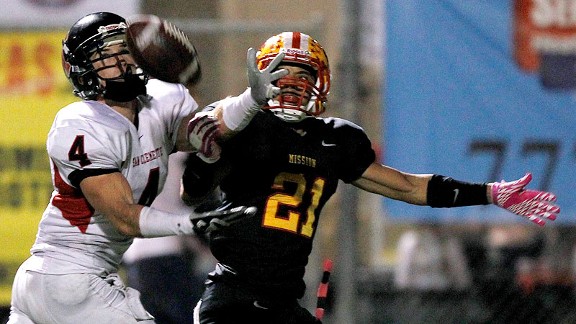 Alex Gallardo for ESPNLosAngeles.comMission Viejo cornerback Anthony Pierce breaks up a pass intended for San Clemente wide receiver Christian Tober during the second half. Mission Viejo won 29-21.
MISSION VIEJO -- San Clemente had threatened in previous years to beat Mission Viejo, but the Tritons had never had the kind of advantages that they took into Friday night's showdown.
But if ever a team is snake-bit against another, it almost assuredly is San Clemente against Mission Viejo.
ESPNLA No. 8 Mission Viejo answered the challenge in resounding fashion by shutting down No. 9 San Clemente and scoring a 29-21 South Coast League victory before about 4,000.
The score was closer than the game. Mission opened a 23-0 lead at halftime -- after
Doug Ruggles
returned a fumble 37 yards -- and fought off the yawns in the second against an opponent that had averaged 37.6 points.
The defense, led by
Ryan Harris
and
Anthony Pierce
, limited San Clemente to 80 yards rushing though the Tritons had averaged 251; San Clemente's
Mike Elespuru
carried 19 times for only 48 yards.
October, 3, 2011
10/03/11
11:29
PM PT
1. If you want to know how tough it is to play a difficult schedule, one needs to look no further than La Habra, which lined up No. 1 Servite, No. 10 Orange Lutheran and No. 14 St. John Bosco in consecutive weeks ending Friday. The Highlanders played the first two games tough, then got pasted against Bosco in a home game, 41-6, in which they scored on the last play of the game on a short pass from
Sean Sparling
to
Gabriel Sahegian
. The physical pounding, not to mention the talent of the skill players, and the mental duress, add up even for a program that has won four consecutive Division VI-level championships. A year ago, the Highlanders played the same three teams, but in games 1, 3 and 5; La Habra lost to Orange Lutheran, 21-17; Servite, 23-0; and Bosco, 35-17. It's that week after week after week pressure -- which can really take its toll in the third week -- that makes the gauntlet so hard. It brings into sharper focus the performance of a program such as Servite over the past 2 1/2 years in which it has had an all-comers type of schedule.
2. It was a very uncharacteristic performance by Servite, which for the last two seasons would be hard-pressed to find a game in which it lost the battle of special teams or gave up back-to-back scores in the waning moments of the half. Yet that's what happened Friday at Las Vegas Bishop Gorman; ranked No. 10 in the nation in the
ESPN Rise Powerade Fab 50
, the host Gaels scored one touchdown on a kickoff return to open the game, and scored two touchdowns in the final two minutes of the first half. Servite may give up one score late in the half, but two? Never happens. Well, not until now. Add to that the game-winning 39-yard field goal with 1:03 remaining, and that accounts for 24 points in a 31-28 loss. Very uncharacteristic, even against a national power. Servite, by the way, went into the game ranked No. 13 but dropped to 28th.
3. Has the offense at Mission Viejo caught up to the defense? Without
Jahleel Pinner
in the lineup because of an ankle injury, the Diablos ripped off 31 points against then-No. 22 Carson. Although it ended up being a blowout, Carson hung tough through the first half, trailing 10-0. But touchdown passes from
Alex Bridgford
-- 74 yards to
Max Redfield
and 75 yards to D.J. Wilson -- on his first two completions of the second half broke the game open. In consecutive games against Long Beach Poly and Carson, the Diablos have not allowed an offensive touchdown.
September, 19, 2011
9/19/11
4:18
PM PT
Alemany and Mater Dei were the only ranked teams to lose last week, so there aren't any newcomers to the latest ESPN Los Angeles prep football 25. There are six matchups between ranked teams this week, making for an intriguing slate of games as nonleague action winds down across the Southland. Here are our rankings heading into Week 3:

1. Servite (3-0)
Cody Pittman had 230 passing yards -- 147 going to favorite target Sam Hunt. But not all went well for the Friars, who will be without running back Charlie Etiaki (collarbone) for over a month. Last week: Beat La Habra, 24-16. Next: vs. Edison at Huntington Beach HS, Fri., 7 p.m.

2. Long Beach Poly (3-0)
The crowd's exhale at Veterans Stadium was clearly audible after the Jackrabbits survived a late charge by a City Section favorite Friday night. Coach Raul Lara had his defense to thank. Last week: Beat Narbonne, 19-16. Next: at Mission Viejo, Fri., 7:30 p.m.

3. Santa Margarita (3-0)
Ryan Wolpin carried 20 times for 133 yards and scored four touchdowns, and the Eagles picked off four passes to beat a neighboring school for the second straight week. Last week: Beat Trabuco Hills, 35-14. Next: at Carson, Fri., 7 p.m.

4. Mission Viejo (2-1)
The Diablos were obviously glad to be back in town following their humbling trip to New Jersey. Alex Bridgford, Jahleel Pinner and D.J. Wilson got the explosive offense back on track. Last week: Beat La Quinta, 47-21. Next: vs. Long Beach Poly, Fri., 7:30 p.m.

5. St. Bonaventure (2-0)
Give the Seraphs credit for not lollygagging through their Marmonte League opener. They could have easily overlooked Royal, instead setting their sights on this week's highly anticipated game. Last week: Beat Royal, 59-0. Next: at Oaks Christian, Fri., 7 p.m.

6. Corona Centennial (1-1)
There's no questioning the Huskies' heart, that's for sure. Hayden Gavett led a late charge to erase two-touchdown deficit, helping Centennial avoid what would have been a demoralizing 0-2 start. Last week: Beat Mater Dei, 28-20. Next: vs. Chaparral, Fri., 7 p.m.

7. Crespi (3-0)
Serra League coaches might have been jumping for joy after the graduation of Kenny Stenhouse, but Cody Cordell might cause some headaches this fall. The junior threw for five touchdowns in Fresno. Last week: Beat Clovis West, 42-28. Next: at Palisades, Fri., 7 p.m.

8. Oaks Christian (1-1)
Sophomore Brandon Dawkins threw the ball only six times in his varsity debut but half went for scores. Ishmael Adams added 121 rushing yards to help the Lions bounce back from their season-opening loss. Last week: Beat Agoura, 50-11. Next: vs. St. Bonaventure, Fri., 7 p.m.

9. St. John Bosco (3-0)
As expected, the Braves are spreading the ball around on offense, averaging nearly 38 points through three games. Cal-bound Bryce Treggs either beats defenses by himself or serves as a decoy. Last week: Beat Santa Fe, 51-0. Next: vs. Loyola at L.A. Valley College, Fri., 7 p.m.

10. Alemany (2-1)
In the biggest shocker so far, the Warriors blew a 14-point lead on the road Friday and lost, snapping their 15-game regular-season winning streak. The schedule doesn't get easier, either. Last week: Lost to J.W. North, 36-35. Next: at Chaminade, Fri., 7:30 p.m.


August, 20, 2011
8/20/11
3:10
PM PT
San Clemente was dealt a blow to the program on Tuesday when coach
Eric Patton
was
removed from the program after 11 seasons
following a district investigation into alleged involvement in a slush fund scheme with an athletic apparel and equipment supplier. Oh yeah, this might be the best Tritons team ever. How it all plays out will be one of the more intriguing storylines of the year.
Offensive line coach — and athletic director —
Jon Hamro
has taken over in the interim.
"We have all gone through a pretty shocking crisis," Hamro said. "When you go through a crisis, that suddenly becomes a common bond that none of you had prior. That goes for players and coaches. It's no longer players and coaches, it's
us
. It can galvanize and sharpen our focus that maybe wasn't there. I think the players are more focused, more on a mission and more unified than I've seen in 20 years."
They have plenty of starters back, including two blue chip players: quarterback
Travis Wilson
(6-6, 215), who has committed to Utah, and left tackle
Kyle Murphy
(6-7, 275), who can pretty much have his choice. Murphy is the Southland's No. 1 recruit, and No. 26 nationally, according to the
ESPN 150
.
Here's a closer look at the Tritons:
Team
: San Clemente
Coach:
Jon Hamro, first year
2010 Record:
8-3, lost in first round of the Southern Section Pac-5 playoffs.
Returning starters:
14 total. Eight on offense. Six on defense.
Key players on offense:
QB Travis Wilson (Utah), OL Kyle Murphy, RB Herbert Gamboa, RB Mike Elesperu, C Connor O'Brien.
Key players on defense:
LB Herbert Gamboa, LB Chad Foster, DB Nick Pasquale, CB Christian Tober, DL Julian Perry.
Difference maker:
It's easy to look at Wilson (Utah) as the key guy, but Gamboa has the kind of speed that Servite utilized in 2009 with Chris Nichols and 2010 with Malik Felton. Guys that run the 100 meters in 10.71 seconds and can turn any touch into a touchdown can make a QB look awfully good.
Newcomers
: TE Chris French, a transfer from Saddleback Valley Christian.
Not to be missed:
San Clemente at Mission Viejo, Oct. 28. Mission Viejo will have already played Tesoro, the other team that will challenge for the South Coast League title; regardless of that outcome, this is the biggie. The following week, San Clemente will play Tesoro, but the importance of that game depends on what the Tritons do in this one. They haven't beaten Mission since 1999—Patton's first year as head coach.
Coach's comment:
Before he was replaced on Aug. 16, Patton said that the team could be good, but "for the first time in my career, we're looking at about 40 guys. The big question for us is staying away from injuries."
Final analysis:
The Tritons are still playing catch-up to Mission Viejo and hoping to win their first outright league title since 1999. Who knows how the team might react to the change in leadership. It could be positive — or it could be a disaster. San Clemente was always consistent under Patton. No matter the end result, this team should be wildly entertaining, and the success — if it stays healthy — will probably hinge on the team defense it plays.
October, 25, 2010
10/25/10
5:36
PM PT
By
Martin Henderson
| ESPNLosAngeles.com
1. Servite trailed, 14-12, after St. John Bosco scored with 1:42 left in the second quarter. It's the deepest into a game that the Friars have trailed all season, though they drove 80 yards and retook the lead by halftime. They fell behind JSerra a week earlier, 7-0, after fumbling the opening kickoff at the 22. Are the Friars falling off their game? Not hardly. Bosco is that good, and whether the Braves make the playoffs or not – only three teams from the Trinity League will – they have made huge strides under first-year coach
Jason Negro
.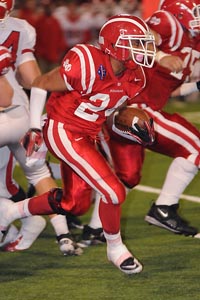 Courtesy of Lou Colazzo
Corbin Anderson has added another dimension to Mater Dei's offense.
A week earlier they led Mater Dei in the fourth quarter and were on their way to a potential game-winning touchdown when an errant snap doomed them. As for Servite,
Malik Felton
had the kind of breakout game I had expected much earlier. Playing the same position as
Chris Nicholls
, a central cog in last season's Pac-5 and State Division II Bowl championship team, Felton put up Nicholls-like numbers: He rushed 24 times for 199 yards and two 11-yard touchdowns in a 32-24 victory over St. John Bosco. Expect Servite to get even better over the next three weeks, and with Mater Dei and Santa Margarita still ahead of them, the Friars will need to be.
2.
Corbin Anderson
played for the first time this season for Mater Dei, and he definitely makes the Monarchs better. He rushed for 113 yards in 18 carries in his debut, a 28-14 victory over an Orange Lutheran team that's a lot tougher than most people think. Coupled with fullback
Todd Hunt
, the emergence of
Sedric Hill
as an excellent complementary receiver to
Victor Blackwell
, and ever-present QB
Max Wittek
, it's going to make for some long nights for Servite leading up to their game on Friday at Angel Stadium.
September, 23, 2010
9/23/10
6:53
AM PT
By
Martin Henderson
| ESPNLosAngeles.com
Back in the 1990s, Mater Dei and San Clemente were in the South Coast League together, and the Tritons were one of the last teams to score a league victory over MD during that era. But once Mater Dei was moved into a parochial league, San Clemente didn't have much to do with the private schools. Until now.

Mater Dei has been the benchmark in OC football, but this season the Monarchs have lost twice to tough opponents. Now comes a third opponent, and the proud program is looking at 0-3. Or are they?

"Even though we might be ranked ahead of Mater Dei now, Mater Dei is very dangerous," said San Clemente coach Eric Patton. "It's like playing a cornered animal, they're desperate for a win, and they're better than their record is showing. This is not something that is a wing and a prayer for us. We look forward to having a great game with Mater Dei, and we're very respectful of what they've done."


August, 31, 2010
8/31/10
1:42
PM PT
By
Martin Henderson
| ESPNLosAngeles.com
Who's the best team in Orange County, you ask? It's San Clemente, for now. The Tritons are 1-0 after winning last week against Wailuku (Hi.) Baldwin, 42-20. Terrell Johnson scored three touchdowns, Mike Elespuru two and Herbert Gamboa one – a 79-yard kickoff return – for the Tritons, whose Travis Wilson completed 14 of 20 passes for 241 yards and a touchdown of 45 yards to Johnson.

Johnson also scored on runs of six and three yards, while Elespuru scored on runs of 16 and one. San Clemente's leading rusher was Nick Pasquale (21 yards) and Spencer Montoya (18). The bulk of the Tritons' offense centered on its passing game: Wilson completed seven passes to Jordan Micalef for 131 yards.

San Clemente scored twice in each of the first three quarters before giving up the game's final 14 points. Because of their early start, the Tritons will have two byes during the season, in Weeks 5 and 9 – before the first league game against Trabuco Hills, and before the last league game against Tesoro.

In the Southern Section's only other action last week – Sub-Zero Week – Las Vegas Faith Lutheran defeated Fountain Valley, 26-23. Technically, the Barons are No. 2, for now.