Los Angeles Preps:

Trevor Gretzky
June, 7, 2011
6/07/11
9:13
PM PT
By
Tim Haddock
| ESPNLosAngeles.com
Hart High's Tyler Glasnow was selected by the Pittsburgh Pirates in the fifth round of the Major League Baseball draft Tuesday.

The right-hander, listed at 6 feet 7 and 200 pounds, is committed to the University of Portland

He was one of eight prep players from the LA North region selected on the second day of the draft.

Newbury Park's Danny Keller, Golden Valley's Scott Barlow and Campbell Hall's Adam Ehrlich were taken in the sixth round.

Keller, a right-handed pitcher, was taken by the Milwaukee Brewers with the 191st pick.

Barlow, another right-handed starter, was picked by the Los Angeles Dodgers with the 194th pick. He has a scholarship offer from Fresno State.

Ehrlich, a catcher, was taken with the 200th pick by the St. Louis Cardinals.

Oaks Christian's Trevor Gretzky, the son of NHL Hall of Famer Wayne Gretzky, was taken in the seventh round by the Chicago Cubs. The left-handed first baseman was expected to go to San Diego State.

Two players went in the 17th round. Chatsworth outfielder Aaron Brown was picked by the Pittsburgh Pieates. The New York Yankees took Chaminade right-handed starter Mathew Troupe.

Oxnard infielder Austin Davidson went to the Boston Red Sox in the 21st round.
June, 3, 2011
6/03/11
9:19
PM PT
CINCINNATI -- Trevor Gretzky, a senior designated hitter for Oaks Christian High School and the son of NHL and Los Angeles Kings legend Wayne Gretzky, is one of several prospects invited by the Los Angeles Dodgers to participate in a pre-draft workout at Dodger Stadium on Sunday, a team source confirmed.

Gretzky was limited by a partial labral tear to DH duties as a senior, something that presumably could impact his draft status.

This year's amateur draft begins with the first round on Monday night.

Tony Jackson covers the Dodgers for ESPNLosAngeles.com.
May, 31, 2011
5/31/11
7:51
PM PT
By
Dan Arritt
| ESPNLosAngeles.com


PALM DESERT — Steve Garvey was part of numerous clutch victories in his 19-year Major League Baseball career but he couldn't recall feeling this emotional after a win.

The legendary Dodgers first baseman was briefly at a loss for words Tuesday after watching the Palm Desert High School baseball team score twice with two outs in the bottom of the seventh to defeat Westlake Village Oaks Christian, 2-1, in a Southern Section Division 4 semifinal at College of the Desert.

Garvey's son, Ryan Garvey, is a senior center fielder for the top-seeded Aztecs, who advanced to the championship game Friday afternoon at Garvey's place of employment for 14 years, Dodger Stadium. Palm Desert will meet the winner of tonight's semifinal between La Puente Bishop Amat and Torrance.

"It has been destiny, just to get back to Dodger Stadium," Steve Garvey said with a shaky voice and glistening eyes. "This is what champions do, champions never give up."

Then he dropped a little secret on what to look for in the championship game, something the casual observer might not notice but would be an especially proud moment for the 1974 National League MVP.

"You might see Ryan at first base for an inning," Garvey said before hurrying off to congratulate the team and photograph the on-field celebration.

In the other dugout, the son of another Los Angeles sports luminary, Oaks Christian first baseman Trevor Gretzky, tried to make sense of his team's collapse.

"They had a good last inning," Gretzky said of the Aztecs. "Hats off to them."

Gretzky, the son of Hall of Fame hockey player, Wayne Gretzky, drove in the only run for Oaks Christian with a one-out double over Garvey's head in the first inning. He later used his 6-foot-4 frame to reach over the fence to snare a foul pop fly off the bat of Garvey, leaving the Lions just three outs from the championship game.


May, 29, 2011
5/29/11
6:07
PM PT
By
Dan Arritt
| ESPNLosAngeles.com
CIF-SOUTHERN SECTION BASEBALL SEMIFINALS
TOP CHOICE
Palm Desert vs. Westlake Village Oaks Christian at College of the Desert in Palm Desert, Tuesday, 3:15 p.m.
Even if this Division 4 semifinal didn't feature two of the most recognized last names in Los Angeles sports history, it still stands as a pretty good match up. But the selling point, no doubt, will be Palm Desert outfielder
Ryan Garvey
, the son of legendary Dodgers first basemen
Steve Garvey
, trying to lead the Aztecs over visiting Westlake Village Oaks Christian and first baseman
Trevor Gretzky
, the son of—you guessed it—
all-time great
hockey player
Wayne Gretzky
, who spent 7 ½ seasons with the Kings. Garvey, who signed with USC and should go high in next month's MLB draft, is hitting .374 with a team-high nine home runs and 44 RBIs. Garvey would like nothing more than to win this game and return to his father's former place of business, Dodger Stadium, for the championship game Friday at 4:30 p.m. Gretzky, who signed with San Diego State, is hitting .394 with 31 runs scored and 26 RBIs. He had two doubles and two runs scored in a 6-3
quarterfinal victory
Friday against fourth-seeded Laguna Beach.
SECOND BEST
Riverside North vs. Lakewood at Blair Field in Long Beach, Tuesday, 4 p.m.
The dream season continues for North. A year after finishing last in the Big VIII League and two years removed from a 4-24 season, the Huskies won their
first league title
in 14 years earlier this month. They haven't let up either, advancing to the Division 1 semifinals, their first trip past the quarters since winning the Division 2 title 1994. That season they were led by the division's player of the year and future Angels second baseman
Adam Kennedy
. North has been leaning on its pitching during this postseason run, and the Huskies will have junior left-hander
Jack Johnson
rested and ready for Lakewood. Johnson (6-2) threw a one-hitter in a 3-0 second-round victory against fourth-seeded JSerra and was the winning pitcher in the league-clinching victory two weeks ago against Riverside King. Lakewood has history on its side and a pretty good familiarly with the wind and
spaciousness
of Blair Field. The Lancers have won five section titles, most recently in 2006, and are coming off a 3-1 victory Friday against one of the
best prep southpaws
in the nation,
Henry Owens
of Huntington Beach Edison.
THE REST
May, 27, 2011
5/27/11
8:28
PM PT
By
Sean Ceglinsky
| ESPNLosAngeles.com
WESTLAKE VILLAGE -- When his teammates needed him most,
Drew Hacker
responded.
The senior captain for the Westlake Village Oaks Christian baseball team delivered a pair of timely hits and provided the Lions with a reliable presence on the diamond throughout Friday's 6-3 victory over visiting Laguna Beach in a Southern Section Division 4 quarterfinal showdown.
[+] Enlarge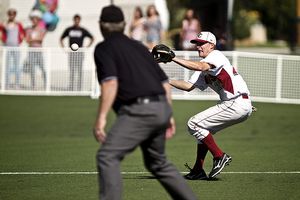 Eddie Raburn/For ESPNLA.comWhenever Oaks Christian needed him Friday, senior Drew Hacked seemed to deliver in a victory.
"When it comes down to leaders, no one is as important to our program than Drew. He went out there and got things done for us, no questions asked," Oaks Christian coach
Tim Penprase
said.
Hacker did just that for the Lions (25-6) -- he got things done, on more than one occasion.
Trailing by a run in the bottom of the first inning,
Trevor Gretzky
came around to score from third base for Oaks Christian on a well-executed suicide squeeze by Hacker. The sequence, along with a run scored by
Brandon Evans
beforehand, gave the Lions a 2-1 lead heading into the second inning.
Hacker was just getting started too. With two outs in the bottom of the third inning, his pressure-packed single ended up scoring both Gretzky and
Cole Taylor
to extend the advantage to 4-1. Hacker scored as well, on a
Nate Palace
base hit, to give Oaks Christian a comfortable four-run lead.
"I'm out there to do a job, fill my role on this team like everyone else, that's all,'' Hacker said. "Stats don't mean much to me. I'm more concerned with winning. Everything else is a bonus.''
The Breakers (27-3) threatened in the fifth inning. With the bases loaded and one out,
Steven Harrison
stepped into the batter's box. His grounder was fielded by Hacker, who combined with second baseman
Blake McFadden
and first baseman Gretzky to turn an inning-ending double play.
April, 21, 2011
4/21/11
10:48
PM PT
The Woodland Hills Taft baseball team won the South Bay Classic, beating Narbonne of Harbor City, 6-5, in the championship game.

Taft starter Jerry Barrajas earned tournament MVP. He threw a complete game against Narbonne. Jeremy Feldman knocked in the winning run for Taft in the top of the seventh inning. Jordan Berger was selected as the top offensive player of the tournament.

Hard 9 National Classic: Alemany of Mission Hills beat Chatsworth, 11-8, in the consolation championship game of the National Classic tournament at Cal State Fullerton.

Corey Sims was 4-for-4 with two triples for Alemany. Alemany collected 12 hits in the game.

Chatsworth sophomore Raul Camas had three hits and Steve Karkenny had two doubles.

In the fifth-place game, Chaminade beat Bingham from Utah, 8-2. Kevin Lewallyn pitched three shutout innings and struck out four for Chaminade.

Bishop Gorman Tournament: Trevor Gretzky set a school record with nine RBIs in Oaks Christian's 22-3 win over O'Gorman from South Dakota in the Bishop Gorman Tournament in Las Vegas.

Gretzky was 5-for-5 and hit for the cycle. Josh Davis had three hits for Oaks Christian.
February, 10, 2011
2/10/11
5:19
PM PT
By
Jim Barrero
| ESPNLosAngeles.com
Trevor Gretzky
and
Ryan Garvey
, sons of
Wayne Gretzky
and
Steve Garvey
, are two of the of the many players who will be participating in Saturday's fifth annual Southern California Invitational Showcase.
The event, which is put on by the Major League Baseball Scouting Bureau, will take place at the MLB Urban Youth Academy in Compton. Pregame drills begin at 10:15 a.m. with a game scheduled for 1-4 p.m.
The showcase is an opportunity for MLB scouts, scouting directors and general managers to assess some of Southern California's top high school talent as they look ahead to June's first-year player draft.
Trevor Gretzky is a first baseman for Oaks Christian High. He has signed to play for coach
Tony Gwynn
next season at San Diego State. Ryan Garvey plays third base and right field for Palm Desert High. Wayne Gretzky is the NHL's all-time leading scorer and led the Kings to their only Stanley Cup appearance in 1993. Steve Garvey played for the Dodgers from 1969 to '82 and helped lead the team to four World Series appearances and one title (1981).
The MLB Urban Youth Academy is located at El Camino College, Compton Center, 901 East Artesia Blvd., Compton, 90221. For more information, call (310) 763-3479 or visit the
organization's website
.
September, 30, 2010
9/30/10
9:45
PM PT
By
Tim Haddock
| ESPNLosAngeles.com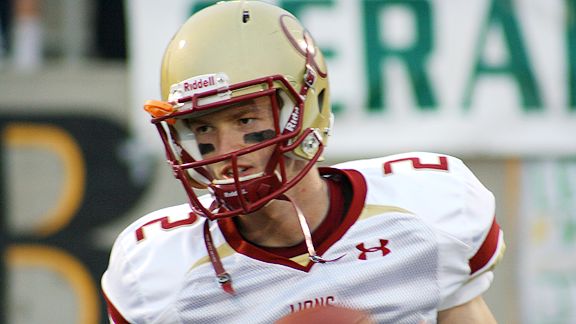 Tim Haddock/Special to ESPNLA.com
An injured shoulder has put Oaks Christian quarterback Trevor Gretzky's status for Friday's game vs. Westlake in doubt.
Will Oaks Christian quarterback
Trevor Gretzky
play or not?
Ask Oaks Christian coach
Bill Redell
, and he says Gretzky is out for the much-anticipated Marmonte League game against Westlake, the No. 2 team in the ESPNLA.com poll, at Oaks Christian High School.
But Westlake coach
Jim Benkert
is expecting Gretzky to play. Maybe not start, but Benkert wouldn't be surprised if Gretzky takes a couple of snaps.
"We're preparing for both of those guys," Benkert said. "We don't know what's true. That next kid, he did a nice job. We don't know what to expect."
That next kid would be
Richie Harrington
. All he did was rally Oaks Christian, the 12
th
-ranked team in the ESPNLA.com poll, in the second half for a come-from-behind, 33-32, overtime win over St. Bonaventure two weeks ago after Gretzky was benched.
Redell said Gretzky has an injured shoulder. Gretzky had an MRI exam on his shoulder this week and it was recommended that Gretzky take some time off to let it heal.
September, 18, 2010
9/18/10
12:48
AM PT
By
Tim Haddock
| ESPNLosAngeles.com


VENTURA – Oaks Christian quarterback Richie Harrington threw four touchdowns and rallied his team to a 33-32 overtime win over St. Bonaventure in the Marmonte League opener for both teams at Ventura High School on Friday night.

Harrington came in the game in the third quarter with his team down 19-0. He threw a 12-yard touchdown pass to Blair Holliday to get his team on the scoreboard. Harrington scored on a 1-yard run to cut St. Bonaventure's lead to five.

Harrington tied the score, 26-26, on a 29-yard screen pass to running back Ishmael Adams with 41 seconds left in the game.

Harrington's 16-yard pass to Holliday in the first overtime period wound up being the game-winner.

Oaks Christian coach Bill Redell put in Harrington after starting quarterback Trevor Gretzky struggled in the first half. Gretzky threw three interceptions. His third came on the first drive of the third quarter.

But Redell isn't quite ready to start the Richie Harrington era at Oaks Christian just yet.

"Gretzky's still our starter," Redell said. "It's nice to know we have two quarterbacks we can depend on."


September, 7, 2010
9/07/10
10:57
AM PT
By
Tim Haddock
| ESPNLosAngeles.com


Alemany beat Oaks Christian, 20-17, in a match-up of ESPNLA.com top 25 prep football teams. Alemany quarterback Vernon Adams scored his team's first touchdown on a 1-yard keeper in the first quarter. He threw a 4-yard touchdown pass to Jesse Sampson. He was 11-for-19 for 108 yards passing and rushed for 41 yards on 15 carries.

1. Westlake (0-0) -- The reigning CIF Southern Section Northern Division champions open at home against Oxnard.
2. Valencia (0-0) -- The Vikings will give Notre Dame Sherman Oaks its second tough game in a row.
3. Loyola (1-0) -- Loyola beat Mira Costa, 10-7, to open the season. Mira Costa got seven the hard way, two safetys and a field goal. Loyola's Jared Baker scored the only touchdown of the game, a four-yard run on fourth and goal.
4. Alemany (1-0) -- Coming off a thrilling 20-17 win over Oaks Christian. Warriors host Eastside next.
5. Moorpark (0-1) -- The Musketeers have a bye after losing to Eastlake of Chula Vista, 24-21, in their season opener.


September, 1, 2010
9/01/10
3:34
PM PT
By
Tim Haddock
| ESPNLosAngeles.com


Alemany quarterback Vernon Adams makes no apologies for losing to Oaks Christian last year. He was making his first start at quarterback as a junior and took his lumps a little bit.

Oaks Christian won the game, 28-17, on Alemany's field.

The two teams meet again to open the 2010 high school football season Friday night at Oaks Christian High School. Adams is back at quarterback for Alemany and he is looking for redemption.

"I want to win. They beat us last year on this field," Adams said. "So this year we have to go to their field and we owe them. It's payback. I'm really excited and I want to win."
August, 31, 2010
8/31/10
1:47
PM PT
By
Tim Haddock
| ESPNLosAngeles.com
Trevor Gretzky, the son of NHL Hall of Famer Wayne Gretzky, is the quarterback at Oaks Christian. The senior is taking over for Nick Montana, the son of NFL Hall of Fame quarterback Joe Montana.

Gretzky is the latest in a distinguished list of quarterbacks at Oaks Christian. Montana is a freshman at the University of Washington. Jimmy Clausen played quarterback at Oaks Christian before heading to Notre Dame and being drafted by the Carolina Panthers.

Chris Potter played quarterback at Oaks Christian and is a receiver at Boise State, the third-ranked college football team in the nation.

Trevor Gretzky says he hopes he can continue the rich quarterback tradition at Oaks Christian.

"Not so much pressure, I just try to have fun with it every day and work hard," Gretzky said. "Hopefully someday I can live up to those guys. I'm just going to do my best to represent them well."

Coach Bill Redell said he has confidence Gretzky has the ability to be a quality quarterback, although he is lacking in one area.

"He can run. He has a good arm," Redell said. "He hasn't had the experience level of some of those other quarterbacks, although he has equal probably what Potter had. But he hasn't had the experience level of being able to play as a junior or sophomore. When he played he did fine. He's a great character kid, great leader. He should be an outstanding quarterback. Time will have to tell."