Los Angeles Preps:

Troy Roelen
March, 10, 2012
3/10/12
11:12
PM PT


SANTA ANA -- With two starters out of the lineup, you'd think Mater Dei might have a serious dropoff in talent.

You'd be wrong.

The skill sets might be a little different, but the state's top-ranked team kept rolling on Saturday with Katin Reinhardt on the bench and Eli Stalzer at home sick. The Monarchs scored a 78-66 victory Saturday over visiting Mission Viejo

Mario Soto and Elijah Brown. stepped in for Reinhardt and Stalzer.

Soto hit some big shots, including a buzzer-beater to end the third quarter, and scored 11. Brown was 6-for-6 from the free-throw line and scored 10 to complement the Monarchs' big guns.

Namely, Xavier Johnson.

Johnson scored 28 points and had a game-high 11 rebounds to lead the Monarchs' charge into the Southern California Regional semifinals next week against Loyola, a 48-35 winner over Etiwanda.

The game, though, was competitive and not nearly the one-sided affair it was in the first game of the season, 89-53. For one thing, Mission Viejo (28-5) had its football players this time and that impacted Mater Dei's Stanley Johnson, which no doubt helped keep it close.

Fullback Jahleel Pinner told coach Troy Roelen he wanted to guard Johnson, the sophomore sensation, and held him to six points, none in the first half as Mission hung tough, 34-29.


March, 3, 2012
3/03/12
11:22
PM PT


ANAHEIM -- Orange Lutheran coach Chris Nordstrom kind of smiles every time an opposing group of fans begins chanting "Overrated" when Gabe York steps to the free-throw line.

Note to opposing fans: Stop chanting "Overrated."

York proved once again on Saturday that he's anything but overrated. The Arizona commit scored 28 points and led third-seeded OLu to a 64-58 victory over top-seeded Mission Viejo to win the Southern Section Division 1A championship.

The difference between Mission (27-4), which was more physical and even took a 50-49 lead in the opening minute of the fourth quarter at Anaheim Convention Center Arena, was simple: "York," said Mission Viejo coach Troy Roelen, whose team was spirited, but could not overcome the force that is No. 32.

Mission led for 72 seconds, at which point York made a three-point play for OLu (21-10). After giving up the lead, York scored seven of his team's final 15 points, including a free throw with a two-point lead with 1:32 left to go up 59-56, and another to give the Lancers a four-point lead with 9.7 seconds remaining, 62-58.

York also had five steals, but he wasn't the only one who had a big night. With Payton Banks held to only seven points, Jared Carver stepped up with 11 points and three steals, and Darien Williams had 10 points and 13 rebounds. Antwon Johnson was held scoreless, but had four of OLu's 16 steals.

Mission Viejo, which lost for the second year in a row in the finals, was emotional afterward. Michael Cramer, whose three-point basket gave Mission the 50-49 lead with 7:04 remaining, scored a team-high 16 points. Max Redfield added 14 and Evan Zeller 13. Redfield had 11 rebounds, and Mission held a 44-33 edge over Lutheran in that department.

But Mission fell behind in the first quarter, 22-14 -- Roelen said he expected his team to be better after having played in this game a year ago -- and the rest of the night was spent just trying to catch up.

But even when they caught up, the still had York to contend with.

As overrated as he may be.
February, 28, 2012
2/28/12
10:22
PM PT
By
Tim Haddock
| ESPNLosAngeles.com
MISSION VIEJO --
Michael Cramer
scored 17 of his game-high 20 points in the second half for Mission Viejo and sparked a third-quarter surge to oust Crescenta Valley, 65-60, in the semifinals of the CIF-Southern Section Division 1A playoffs on Tuesday night.
Cramer was instrumental in Mission Viejo's little third-quarter run that separated the two teams in a closely contested game.
[+] Enlarge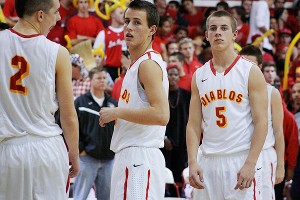 Tim Haddock/For ESPNLA.comMission Viejo's Michael Cramer (2) had a big second half to lift the Diablos over Crescenta Valley.
Mission Viejo (27-3), ranked No. 17 by ESPN Los Angeles, outscored Crescenta Valley, 8-0, early in the third quarter and turned a one-point, halftime lead into a seven-point advantage. Cramer scored six of his team's eight points in that run and Mission Viejo built a lead it would not surrender.
Crescenta Valley (26-5) jumped out to the early lead, 22-15, in the first quarter. But Mission Viejo rallied to take a 29-26 lead near the end of the second period.
Dylan Kilgour
hit a pair of 3-pointers just before halftime to give Crescenta Valley a one-point lead, 32-31. But Mission Viejo's
Max Redfield
scored a basket at the end of the first half for a 33-32 lead.
"It's a credit to our guys' toughness and ability to play through adversity," Crescenta Valley coach
Shawn Zarganian
said. "That's what these guys are about."
Crescenta Valley opened the second half with a 6-2 run to take a 38-35 lead. That's when Mission Viejo started to break away.
Cramer converted two free throws to give his team a one-point lead, 39-38.
Evan Zeller
made it 41-38 with a basket. Then Cramer pushed the lead to 45-38 with a basket and a pair of free throws.
January, 18, 2012
1/18/12
11:25
PM PT


MISSION VIEJO -- Aleks Lipovic knew his shot was true from the moment it left his hand. When the ball fell through the hoop, Lipovic had buried a 3-point basket as well as Mission Viejo's 18-game winning streak.

Capistrano Valley, ranked No. 16 in the ESPNLA top 20, scored a 46-43 boys' basketball victory over the defending South Coast League champion.

Lipovic's big shot came with 31 seconds remaining, and it capped a comeback in which Capo Valley had trailed, 42-34, after Mission's Michael Cramer scored on a follow with 7 minutes 6 seconds left in the game. From that point on, Mission scored only one point.

Capo Valley (18-2, 4-0) is now in the driver's seat the for South Coast League title as Mission (18-2, 3-1) dropped to second place. The teams will play again on Feb. 9 in the league finale.

Nick Thomas scored 10 points for Capo Valley, and Johnny Bates had eight, including a three-pointer that pulled the Cougars to within 42-41 with 4:17 left.