Los Angeles Preps:

Ventura Buena
March, 16, 2011
3/16/11
9:47
PM PT
By
Dan Arritt
| ESPNLosAngeles.com
ESPNLA is taking a closer look this week at the Inland Empire basketball teams that qualified for the Southern California Regional championship games Saturday at USC's Galen Center. Today, the spotlight is on the Rialto girls' basketball team, which plays Ventura Buena in the Division 2 final at 2 p.m.

RIALTO (32-3).

League: San Andreas.

Resume: The Knights won their first 12 games by an average margin of 48 points. They finally ran into some trouble during the Chino Hills Ayala Best of the West tournament in late December, losing back-to-back games against La Puente Bishop Amat and Fontana Summit. Rialto made headlines in late January when it defeated San Bernardino Cajon, 43-41, to end its 85-game league winning streak. The Knights cruised through their first two Southern Section Division 2AA playoff games before the competition stiffened. The top-seeded Knights beat Norco by six points in the quarterfinals, then edged Inglewood by three before defeating Buena on last-second shot in the championship game. Rialto posted another two-point win in its opening game of the regional playoffs against Canyon Country Canyon, then beat North Hollywood Harvard-Westlake, 76-60, to set up a rematch with Buena.

Roster: Rialto features one of the premier playmakers in the Inland Empire in senior guard Janae' Sharpe. It was Sharpe who scored the game-winner against Buena the first time around. Sharpe, who has signed with Cal State Northridge, is averaging close to 26 points a game. If Sharpe isn't on, the Knights can usually depend on junior center Denae Williams, who had 25 points and 19 rebounds in the semifinal win against Harvard-Westlake. Rialto point guard Summer Webb is also a key figure. She scored 18 points in the section final against Buena, including three 3-pointers in the final quarter.

Reality: Buena didn't take its loss to Rialto very well, so you can bet the Bulldogs have been eagerly awaiting the rematch. Gonzaga-bound guard Keani Albanez scored 27 points in a semifinal victory against Westview and 29 in Buena's opening victory against Palisades. If she can get the better of the match up against Sharpe, the Bulldogs have a good chance of winning. Otherwise, expect the Knights to be a couple points better.

Result: Rialto 65, Buena 62.
March, 4, 2011
3/04/11
11:19
PM PT
By
Dan Arritt
| ESPNLosAngeles.com


ANAHEIM — Janae' Sharpe acted as if she'd been there before. In reality, nobody in the history of the Rialto girls' basketball program history had reached that point.

With the score tied and 17 seconds remaining in the Southern Section Division 2AA championship game, Sharpe took the inbounds pass, calmly let about nine seconds tick off the clock before crossing halfcourt, paused again at the three-point line with about three seconds remaining and then drove into the lane, letting go of a five-foot pull-up jumper that rolled in at the buzzer, giving Rialto a 55-53 victory against Ventura Buena at the Anaheim Convention Center.

It was a sensational end to the Knights' first-ever section final appearance.

"I just had to get to the rim," Sharpe said.

The end was fitting considering how the final quarter played out.

Neither team led by more than three points in the last eight minutes, which featured five ties and seven lead changes.

Taylor McGuire sank back-to-back three-point baskets to give second-seeded Buena (24-7) a 49-46 lead with 2:05 remaining. Rialto guard Summer Webb answered with a three-pointer to tie the score with 1:20 remaining.

Sharpe then stole the ball in the backcourt and passed to Webb for a layup. After the Bulldogs tied the score on two free throws by Gonzaga-bound guard Keani Albanez with 55 seconds left, Sharpe stole another pass under the Rialto basket and laid it in for a 55-53 lead.

McGuire tied the score one final time on a driving layup with 17 seconds remaining, setting up Sharpe's final shot.

Before the play, Rialto coach Michael Anderson had one final set of instructions for Sharpe.

"You cannot pass this basketball," Anderson told his star guard.

With Cynthia Mora guarding Sharpe from before halfcourt, the top-seeded Knights (30-3) faked a high screen and then cleared out for Sharpe to penetrate. The play worked to perfection.

"It's a shame they had the ball last," said Buena coach David Guenther.

Sharpe, who came in averaging 26 points, seven rebounds, 10 steals and 7.6 assists per game, finished with 23 points, five rebounds, five assists and four steals. Webb scored 18 points, helping to offset an off-night for center Denae Williams, who had six points but pulled down 16 rebounds.

"We've been accomplishing a lot of things but this is the icing on the cake," said Rialto senior Brittani Walker.

McGuire and Albanez were visibly upset after the game and didn't have a lot to say to reporters, but that didn't surprise Guenther.

"We have two competitors who don't like losing," he said.

McGuire finished with 21 points and seven rebounds. Albanez had 19 points and 13 rebounds.

Both teams advanced to the Southern California Regional playoffs beginning next week.
February, 25, 2011
2/25/11
8:21
PM PT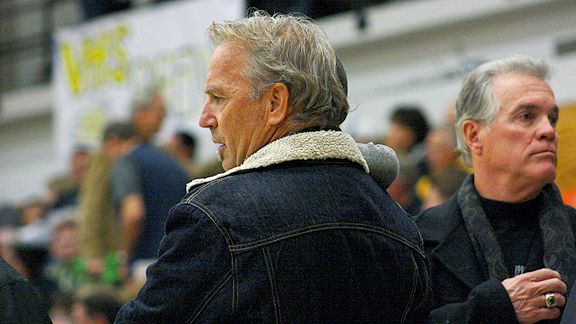 Tim Haddock/For ESPNLA.com
Prep blogger Tim Haddock had a star sighting at Friday night's CIF-Southern Section boys' basketball playoff game between Compton and Ventura at Ventura College. Actor Kevin Costner was in attendance to watch the proceedings. Costner, who is known to be a big sports fan, attended nearby Ventura Buena High. Costner graduated from Villa Park High and attended Cal State Fullerton.
March, 10, 2010
3/10/10
10:09
PM PT
By
Martin Henderson
| ESPNLosAngeles.com
Santa Margarita rolls into its second-round Division III girls' basketball Regional on Thursday coming off a 71-46 victory over North Hills Monroe. The reason it was so decisive was the Eagles' shooting.

When the starters exited in the fourth quarter, they had made 25 of 42 from the field. After sleepwalking through the first half, they made eight of their nine three-point baskets in the second half.

Santa Margarita's hot shooting goes back to a Feb. 10 season-ending Trinity League loss to Orange Lutheran, 52-29, in which it made only 11 of 53 (20.7 percent). Since that time, Santa Barbara-bound Melissa Zornig (23.8 ppg) and Denise Fernandez (6.9 ppg) have made sure their teammates take extra shooting after practice.

"We thank our lucky stars that we had that kind of shooting game in league, and not in CIF or State," first-year coach Matt Houser said. "We got that game out of the way."

The Eagles' worst shooting performance since was against La Verne Bonita, 19 of 51, in the Southern Section Division 3A semifinals; throw that one out, and the Eagles have been shooting 47.6 percent from the field. More impressive, this isn't a team that lives off the layup.

In the six games since the loss to Orange Lutheran, three different players have complemented Zornig as the top scorer, and Madison McKinney (UC Riverside) even outscored Zornig against La Habra.

Santa Margarita (23-6) plays host to Ventura Buena (22-9) on Thursday, 6 p.m. Filming Santa Margarita against Monroe was former Buena coach Joe Vaughn, the state's winningest girls' basketball coach.

His postgame assessment to a reporter about Zornig can be paraphrased with one word: Indefensible.