Los Angeles Preps:

Washington State
May, 30, 2012
5/30/12
7:33
PM PT
Running back Gerard Wicks of Long Beach Poly picked up two scholarship offers Wednesday, from Nevada and Colorado State. He has also holds an offer from Washington State.

Wicks and fellow senior-to-be Manusamoa Luuga form a powerful backfield tandem for the Jackrabbits. Wicks rushed for 11 touchdowns last season and averaged nearly eight yards per carry; Luuga had 10 scores and more than six yards per carry.

And although Wicks shares the ball, he figures to be one of the area's most productive seniors this fall.
May, 2, 2012
5/02/12
9:17
AM PT
By
Tim Haddock
| ESPNLosAngeles.com
Westlake defensive back Dashon Hunt has another offer from a Pac-12 school.

Washington State is the latest school to seek the services of Hunt. Colorado and Oregon State have offered Hunt scholarships as well.

The junior verbally committed to UCLA, but is fielding offers from other schools.

He had six interceptions and five returns for touchdowns in his junior season at Westlake. He also rushed for 1,274 yards and 18 touchdowns.
April, 25, 2012
4/25/12
10:58
PM PT
Dorsey defensive back Daquawn Brown received a scholarship offer from childhood favorite UCLA this week, the latest indication that recruitment for the rising senior is heating up.

Oklahoma dropped by Dorsey on Tuesday. USC and Nebraska did the same on Wednesday. Brown has college coaches intrigued and looks to add to a list of offers that already includes Arizona State, Cal, San Jose State and Washington State.

"It's catching up to me," Brown said of his recruitment. "To be noticed by my favorite, ideal schools is an honor."

Brown said he will commit to the most "genuine" school, meaning the one that has his best interests, both athletically and academically, in mind. Brown has sought the advice of former Dorsey standouts Jeremiah Allison (Washington State) and Jaydon Mickens (Washington), as well as Oregon phenom De'Anthony Thomas, an inner-city legend who attended rival Crenshaw.

"We all grew up together, playing for the same teams in Pop Warner," Brown said. "They're all helping me."

Don't expect the 5-foot-11 Brown to make a college decision soon. He hopes to take all five official campus visits to get a feel for what each school has to offer, and he anticipates that a choice will likely come near signing day in February.
January, 30, 2012
1/30/12
6:29
PM PT
Washington State has nabbed another underrated Southern California prospect.

Allison
On Monday night it was Dorsey linebacker
Jeremiah Allison
who committed to new Cougars coach
Mike Leach
.
The Los Angeles Times reported it earlier
, and Allison later confirmed the news through a text message. He also had offers from Arizona, Boise State and UCLA, among others.
Allison, who competed in the inaugural U.S Marine Corps Semper Fidelis All-American Bowl, was a fierce pass-rusher for Dorsey. He had 14 sacks for the Coliseum League champions last season, giving him a total of 34 over the last two seasons.
The 6-foot, 200-pound Allison projects as a hybrid end/linebacker at the next level. He joins Venice's
Gabriel Marks
and
Teondray Caldwell
, Culver City's
Khalil Pettway
and
Alex Jackson
, La Habra's
Brett Bartolone
and Gardena Serra's
Kache Palacio
on Washington State's list of commitments.
South East athlete
Robert Lewis
is also considering the Cougars.
Wednesday is the first day recruits can sign their letters of intent.
January, 30, 2012
1/30/12
5:06
PM PT
Two-star defensive back Raymond Ford of Gardena Serra has narrowed his list to three, according to a source at the school. The former UCLA commit will pick between Cal, Colorado and Nebraska, and will sign his letter of intent at Serra's signing ceremony on Wednesday.

Ford committed to UCLA last summer but reopened his recruitment after Rick Neuheisel was fired. He took official visits to Southern Methodist, Nebraska, Utah, Washington State and, most recently, Cal.

Ford wasn't completely healthy his senior season, but he played on both sides of the ball for the Cavaliers.
January, 25, 2012
1/25/12
4:01
PM PT
By
Sean Ceglinsky
| ESPNLosAngeles.com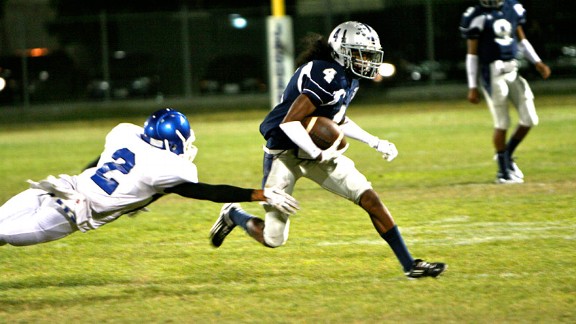 Courtesy of Jackie SattiSouth East's Robert Lewis says he will announce his college choice on Friday night.
LOS ANGELES -- It appeared as if
Robert Lewis
had, at long last, made up his mind about his final destination for college when the senior from South Gate South East gave a verbal commitment to Washington State a couple of weeks ago. Questions about the pledge, however, remain.
Lewis plans to put a stop to all of the second-guessing and make things official on Friday night when a ceremony will be held on his high school campus and the 5-foot-10, 160-pound running back will decide between his final three schools, Oregon, Southern Methodist and Washington State.
"I'm going to make my announcement this weekend at my school and pick the hat of my college choice in front of all my family and friends,'' Lewis said. "I'm still exploring all my options, but the recruiting process is almost over for me. Anything can happen in the next two days.''
There was some who thought San Diego State had recently emerged as a player. When Lewis decided to cancel a visit earlier this month, the talk about the Aztecs subsided.
Utah made a last ditch effort to lure him Salt Lake City. The same thing can be said about Texas Tech and the Red Raiders' desire to wow him with everything Lubbock had to offer.
"We've talked plenty about recruiting in the past, and I know Robert likes Washington State, but I don't think it's a lock that he'll commit to the Cougars,'' South East coach
Derwin Henderson
said. "He also likes SMU, that program has been high on his list since the beginning. We're all in the dark about his decision. I can tell you this, we'll find out on Friday night when he decides.''
The Mustangs and coach
June Junes
initially received a verbal commitment from Lewis in February. At the time, all signs pointed to the program, essentially, being the frontrunner.
January, 20, 2012
1/20/12
10:48
AM PT
By
Sean Ceglinsky
| ESPNLosAngeles.com
LOS ANGELES -- Patience is a virtue, as they often say, and
Jaydon Mickens
can attest to that much. The old adage, in fact, accurately describes how the Los Angeles (Calif.) Dorsey senior has attempted to recently approach the whole recruiting process.
Mickens has carefully weighed his options. And in doing so, the 5-foot-9 and 170-plus pound athlete has emerged as one of the nation's more sought-after unsigned recruits around and it appears as if his final destination could end up being Oklahoma State.
"I visited the Cowboys last weekend, liked what they had to offer and they're my leader now,'' Mickens said. "Things have been crazy for me lately, a lot of schools have interest in me. I almost rushed into some things, but am glad I waited to my pick.''
He gave a verbal commitment to USC, initially. Something happened along the way though. The lines of communication, unfortunately, broke down between him and the Trojans. Somewhat surprisingly,
Lane Kiffin
& Co. were no longer an option.
With the window of opportunity seemingly open once again, several programs stepped up their efforts to land him, mostly from the Pac-12 Conference.
"It didn't seem like the Trojans had big plans for me, I didn't think it was going to be a good fit, that's why I started to look at other schools,'' Mickens said.
Washington was once considered as a major player, as recently as a week ago. The Huskies, however, have been put on the back-burner. At least temporarily.
Oregon is in the midst of making a late run to secure a commitment from Mickens. He traveled North to Eugene on Friday morning for a visit with the Ducks.
Plans are in the works for a recruiting trip to Washington State on Jan. 28. With new coach
Mike Leach
in the mix, and the offensive system he brings to the table, you can't count out the Cougars. Mickens' game appears tailor-made for playing in Pullman.
Playing the waiting game has its advantages, apparently.
"Things happen for a reason, and I have a tough decision to make, but I'm not worried about things,'' Mickens said. "I plan on making my choice on signing day.''
"If I had to pick one, like I said before, it's Oklahoma State, that program brings a lot to the table. My next two visits are going to be big though. I would say that Oregon, Washington State and Washington are all about tied for second right now. They're all real close.''
Sean Ceglinsky covers preps for ESPNLosAngeles.com. Follow him on
Twitter
.
January, 19, 2012
1/19/12
12:31
PM PT
By
Sean Ceglinsky
| ESPNLosAngeles.com
LOS ANGELES -- The Southland is home to its share of quality wide receivers. Kenny Lawler, however, has emerged as one of the hotter commodities around due in large part to the fact the Upland (Calif.) senior remains uncommitted and National Signing Day is right around the corner.

Oregon State appears to be the leader for the 6-foot-3 and 175-pound pass-catcher. The Beavers have recruited Lawler for a while now and the somewhat close proximity of the school to his Southern California roots could end up being one of the deciding factors.

"I really like Oregon State, I had a visit up there and it went really good, the coaching staff is great there,'' Lawler said. "They are at the top of my list right now.''

His family is on the same page when it comes to the future.

"It's coming down to the wire, but I'd have to say that Oregon State is in the driver's seat,'' said his father, Kenny Lawler Sr. "We had a visit with them last week and it went well. They are leading now, but that could all change. The next couple weeks will be interesting.''

Washington State is also considered to be a major player in the Lawler sweepstakes. Coach Mike Leach was in the family home on Wednesday night, presumably in an effort to make one final pitch. The plan is for Lawler to visit the Cougars campus this weekend.

"I was impressed with Coach Leach and his whole staff, I like what they have to offer me,'' said Lawler, who finished with 1,267 yards receiving and 12 touchdowns this season for Upland. "I have a decision to make soon and I'm going to think about all my options.''


January, 15, 2012
1/15/12
9:30
PM PT
Venice athlete Gabriel Marks committed to Washington State while on his visit to Pullman over the weekend, ESPNU Recruiting's Greg Biggins reported Sunday.

Marks had previously been committed to Southern Methodist but reconsidered his options after coach Adrian Klemm left SMU for UCLA.

Marks, who was chosen by City Section coaches as the defensive player of the year, intends to play receiver at the next level. He joins locals Alex Jackson (WR, Culver City) and Khalil Pettway (OLB, Culver City) and Brett Bartolone (WR, La Habra) on Washington State's list of commits.

National signing day is Wednesday, Feb. 1.
February, 10, 2011
2/10/11
3:56
PM PT
By
Sean Ceglinsky
| ESPNLosAngeles.com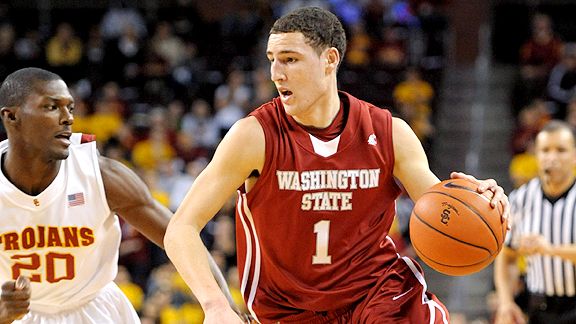 Kirby Lee/Image of Sport/US PresswireKlay Thompson was a standout at Santa Margarita High before blossoming into one of the Pac-10's top players.

Like father, like son?

Well, not just yet.

If, however, the past is any indication of what the future might have in store for Klay Thompson, the Santa Margarita High graduate who has emerged as a budding star at Washington State could possibly end up following in the footsteps of the family's patriarch.

His dad, mind you, is none other than Mychal Thompson.

Yes, the same Mychal Thompson who was the top pick in the 1978 NBA draft and enjoyed a rather successful 12-year professional career, including a stint with the Los Angeles Lakers for five seasons during the late 1980s and early '90s.

Make no mistake, the younger Thompson appears to be heading in the right direction. The 6-foot-6 junior leads the Pac-10 Conference in scoring, averaging 21.2 points for the Cougars (16-7 overall), who host Stanford on Thursday at 7 p.m.

"I have high aspirations for Klay,'' his father said this week. "My son has all the talent in the world, I tell him that all the time. He can be an NBA player some day. It's all about making the most of your opportunities and he understands that.''

Klay Thompson did not become a sensation overnight.

He made a name for himself as a freshman when he started 33 games at Washington State. Thompson led the team in 3-point field goal percentage (.412) and free-throw percentage (.902). He was also third in scoring (12.5 points per game).


February, 2, 2011
2/02/11
12:27
PM PT
By
Tim Haddock
| ESPNLosAngeles.com
Steve Dillon from Palmdale and Antwaun Woods from Woodland Hills Taft are going to have some stiff competition on the defensive line at USC. Greg Townsend Jr., the son of former NFL defensive lineman Greg Townsend, and Christian Heyward from Point Loma in San Diego also committed to USC today. Dillon van der Wal had a last-minute change of heart and switched his verbal commitment from Arizona State to Vanderbilt.

UCLA

Steven Manfro, running back, Valencia

UNLV

Patrick Carroll, OT, St. Francis

USC

Steve Dillon, defensive end, Palmdale

Antwaun Woods, DT, Woodland Hills Taft

Vanderbilt

Dillon van der Wal, defensive end, Oaks Christian

Washingtion State

TJ Poloai, DT, Burbank