Los Angeles Preps:

West Valley
January, 9, 2012
1/09/12
9:23
PM PT
By
Dan Arritt
| ESPNLosAngeles.com
BASELINE LEAGUE

League openers: Tonight – Etiwanda @ Glendora; Upland @ Los Osos; Alta Loma @ Rancho Cucamonga.

Last year's finish: Etiwanda (9-1); Glendora (6-4); Upland (6-4); Los Osos (5-5); Rancho Cucamonga (4-6); Alta Loma (0-10).

Players to watch: Jordan McLaughlin (Etiwanda), 5-11, So., G; Sheldon Blackwell (Etiwanda), 6-4, Jr., F; Brandon Townes (Etiwanda), 6-2, Sr., G; Sam Flemming (Etiwanda), 6-0, Sr., F; Nick Colletta (Glendora), 6-5, Jr., F; Kyle Gordon (Glendora), 6-4, Sr., G; Myles Pearson (Upland), 5-10, Sr., G; Ferrell Marshall (Upland), 6-0, Sr., G; Malcolm Drumwright (Rancho Cucamonga), 6-1, Jr., G; Victor Joseph (Rancho Cucmamonga), 6-1, So., G; Adom Jacko (Alta Loma), 6-6, Sr., F; Jonathan Solomon (Los Osos), 6-3, Sr., F.

Predicted order of finish: Etiwanda, Glendora, Rancho Cucamonga, Upland, Los Osos, Alta Loma.

MOUNTAIN PASS LEAGUE

League openers: Tonight – Beaumont @ Citrus Hill; Hemet @ West Valley; Tahquitz @ San Jacinto.

Last year's finish: Citrus Hill (10-0); San Jacinto (8-2); Beaumont (5-5); Tahquitz (4-6); West Valley (2-8); Hemet (1-9).

Players to watch: Anthony Rounds (Citrus Hill), 6-7, Sr., F; Ralph Myles (Citrus Hill), 5-0, Sr., G; Dejon Brown (Beaumont), 6-2, Sr., G.; Andrew Walker (Beaumont), Jr.; Kris Acevedo (Hemet), 6-0, Sr., G; P.J. Murrieta (San Jacinto), 5-10, So., G; Roosevelt Adams (West Valley), 6-4, Sr., F; Robert Edwards (West Valley), 6-4, Jr., F; David Walker (Tahquitz), 6-1, Sr., G.

Predicted order of finish: Citrus Hill, Beaumont, San Jacinto, West Valley, Hemet, Tahquitz.


February, 10, 2011
2/10/11
3:56
PM PT
By
Sean Ceglinsky
| ESPNLosAngeles.com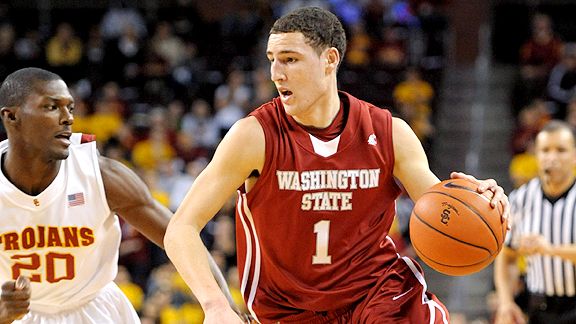 Kirby Lee/Image of Sport/US PresswireKlay Thompson was a standout at Santa Margarita High before blossoming into one of the Pac-10's top players.

Like father, like son?

Well, not just yet.

If, however, the past is any indication of what the future might have in store for Klay Thompson, the Santa Margarita High graduate who has emerged as a budding star at Washington State could possibly end up following in the footsteps of the family's patriarch.

His dad, mind you, is none other than Mychal Thompson.

Yes, the same Mychal Thompson who was the top pick in the 1978 NBA draft and enjoyed a rather successful 12-year professional career, including a stint with the Los Angeles Lakers for five seasons during the late 1980s and early '90s.

Make no mistake, the younger Thompson appears to be heading in the right direction. The 6-foot-6 junior leads the Pac-10 Conference in scoring, averaging 21.2 points for the Cougars (16-7 overall), who host Stanford on Thursday at 7 p.m.

"I have high aspirations for Klay,'' his father said this week. "My son has all the talent in the world, I tell him that all the time. He can be an NBA player some day. It's all about making the most of your opportunities and he understands that.''

Klay Thompson did not become a sensation overnight.

He made a name for himself as a freshman when he started 33 games at Washington State. Thompson led the team in 3-point field goal percentage (.412) and free-throw percentage (.902). He was also third in scoring (12.5 points per game).


November, 8, 2010
11/08/10
3:58
PM PT
By
Dan Arritt
| ESPNLosAngeles.com
1. The most exciting finish occurred in the Citrus Belt League. Redlands took a 7-3 lead with just over two minutes remaining Friday night against A.B. Miller of Fontana, but the Rebels took it back on a five-yard touchdown run by quarterback Eric Shufford with 33 ticks left. Down three points again, the Terriers returned the ensuing kickoff to the Miller 11-yard line. With 11 seconds remaining, Redlands quarterback Mike Stallone rolled out looking to throw the ball, but instead ran and was tackled on the one-yard line as time expired. With the 10-7 win, Miller (5-4, 3-1) takes over sole possession of second place and can claim a share of the league title with a victory Thursday against visiting Redlands East Valley (7-2, 4-0).

2. Palm Springs put itself in good position to win its second Desert Valley League title in the last three years with a 16-7 victory against visiting La Quinta. The Indians (8-1, 4-0) just need to beat winless Cathedral City in its final regular season game Friday at Palm Springs High. Nephi Garcia continues to be primary cause of the Indians' success. He scored both touchdowns against La Quinta and kicked a 34-yard field goal, finishing with 101 rushing yards in 15 carries.

3. How tight is the Mountain Pass League race? Four teams begin the final week of the regular season with 3-1 records. The four-way tie was created Friday night when host Perris Citrus Hill knocked off first-place Hemet West Valley, 15-13. Beaumont and San Jacinto also won their games to move into a tie for first. The league race will be settled Friday night when Beaumont plays West Valley at San Gorgonio Middle School and Citrus Hill travels to San Jacinto. One of the losers will likely miss the playoffs.


October, 28, 2010
10/28/10
1:56
PM PT
By
Dan Arritt
| ESPNLosAngeles.com
When you have a chance to beat Corona Centennial, it's important to take advantage of the opportunity.
Norco was in that situation last November, down a point after scoring a touchdown with 27 seconds remaining. Go for the win or the tie? In the mind of Norco coach
Todd Gerhart
, it was a no-brainer. He had a chance to beat the Huskies and wasn't about to let it pass him by.
The Cougars went for two and quarterback
Taylor Viloria
punched it in, giving Norco a 29-28 victory at Centennial and the Big VIII League title.
On Friday, the biggest rivalry in the Inland Empire moves to Norco High. The Cougars (6-1, 3-1) have already been dinged for a Big VIII loss by Eastvale Roosevelt, but a win against Centennial (7-0, 4-0) would drop them right back in the race.
And if the Cougars should be in the position to go for the win or tie down the stretch, you can bet they will make the most of their opportunity.
Kickoff is scheduled for 7 p.m.
Three more to see:
Upland (5-2, 2-0) vs. Rancho Cucamonga (6-1, 2-0) at Rancho Cucamonga Los Osos High, Friday – If you went to Upland or Rancho Cucamonga, or just follow the Baseline League, this game was probably marked on your calendar in July. Rancho Cucamonga won the Central Division title in 2008, the Highlanders took it home last season.
ESPNLA.com
's pick: Upland 24, Rancho Cucamonga 21.
Los Osos (4-3, 1-1) vs. Etiwanda (3-4, 1-1) at Ontario Colony High, Friday – Etiwanda quarterback
Larry Cutbirth
will meet his match against the Grizzlies. Cutbirth, who has thrown for just over 2,000 yards and 21 touchdowns, will meet a defense that has 18 sacks and 10 interceptions. ESPNLA.com's pick: Los Osos 30, Etiwanda 27.
San Jacinto (6-1, 2-0) at Hemet West Valley (4-3, 2-0) – San Jacinto quarterback
Kevin Clark
has been remarkably efficient, completing 65% of his passes with 10 touchdowns and no interceptions. West Valley is a newcomer to the Mountain Pass League this season, but hardly a pushover. ESPNLA.com's pick: San Jacinto 27, West Valley 20.