Los Angeles Preps:

Zander Anding
November, 13, 2011
11/13/11
4:19
PM PT
Defending champion West Covina is in prime position for a repeat after receiving the division's top seeding Sunday. The Bulldogs (9-1) didn't go undefeated because, really, they wanted to test themselves against Loyola, a Pac-5 playoff team. Coach
Mike Maggiore
hopes that loss pays dividends. Here's a breakdown of the division:
The seeds:
No. 1 West Covina, No. 2 Santa Fe, No. 3 Burbank Burroughs, No. 4 La Mirada.
Best first-round matchup:
Bonita (6-4) at Arcadia (8-2) -- Tailback
Cameron Griffin
is running the ball well for Bonita. Arcadia has the weapons -- namely
Myles Carr
and
Taylor Lagace
to be a scary team.
Toughest road:
La Mirada (6-4) -- If the La Mirada Matadores make it past Crescenta Valley -- and that's a big if -- they'll have to fend off either Bonita or Arcadia in the second round. That's the epitome of a grueling draw.
Potential shocker:
Muir (6-4) at No. 2 Santa Fe (6-4), first round -- It might not be that big of a shocker, given that Muir has the star power with
Kevon Seymour
, rated as one of the top athletes in the area, and running back
Tairen Owens
, a Washington commit.
Darkhorse:
Bonita (6-4) -- The Bearcats have won four straight and gave Hacienda League foe West Covina all it could handle in last year's championship game. Griffin is averaging 125 yards rushing over the last four games.
Final analysis:
The division breaks down quite simply -- there's West Covina and there's everybody else. Talented teams abound, but no one is as physical as Maggiore's bunch. Tailback/safety
Chris Solomon
, the reigning division player of the year, could very well take the honor again this season.
Championship prediction:
West Covina vs. Burroughs – Solomon isn't the only capable runner in West Covina's backfield.
Jimmy Frazier
has rushed for over 1,000 yards and
Aaron Salgado
is also approaching the four-digit mark. Unless Burroughs' running back
Zander Anding
can pull off another 300-yard game, there's too much power here for the Bulldogs not to make it two straight titles. Final score: West Covina 33, Burroughs 27.
Link to Southeast Division playoff bracket on CalPreps.com
November, 1, 2011
11/01/11
5:54
PM PT
By
Sean Ceglinsky
| ESPNLosAngeles.com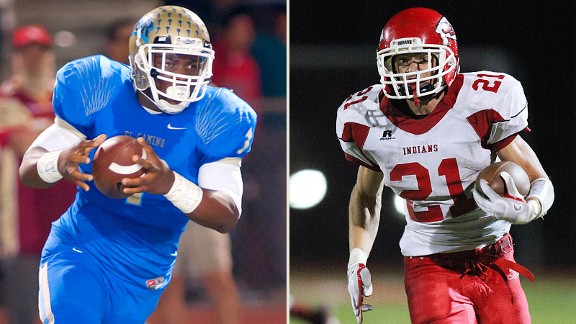 Dustin Jack Photography, Courtesy of Dwight KimRunning back Kawan Rally, left, of El Camino Real, and Zander Anding of Burroughs, are gaining attention with their big numbers.
LOS ANGELES --
Kawan Rally
who?
Zander Anding
what?
If their names sound unfamiliar, fear not. You are not alone.
Make no mistake, both running backs are not nearly as well-known as some of their more high-profile peers from the Southland. Nevertheless, Rally from Woodland Hills El Camino Real and Anding from Burbank Burroughs are a pair of seniors worth remembering.
In terms of statistical performances this season, each is in the midst of an eye-opening effort. Rally and Anding, in fact, are on the verge of stealing the spotlight from their more publicized counterparts at the position.
"People don't talk about me all the time, but that's cool, I go out there and let my play do the talking for me. That's how you get everyone's attention,'' Rally said.
All signs point to his strategy paying off. Eventually.
Rally leads California in rushing, having surpassed the 2,000-yard plateau with 327 yards on the ground and four touchdowns in last week's 49-20 victory over Chatsworth. The 5-foot-10, 220-plus pound tailback has 2,033 yards in 193 carries this season, a 10.5 yards-per-carry average. He also has 27 touchdowns.
October, 24, 2011
10/24/11
1:40
PM PT
The Valencia football team handed Canyon its first loss of the season and emerged as the leader in the Foothill League standings. The Vikings have won the past two Foothill League championships, but Canyon came into the game with an undefeated record and a six-game winning streak. The future looks bright for Valencia, who had two underclassmen star in the win. Valencia junior quarterback Sean Murphy had one of his best games of the season. He passed for two touchdowns and rushed for another. He was 12-for-19 passing for 146 yards. Both of his touchdown throws went to sophomore Malik Townsend. He caught touchdown passes of 29 and 19 yards and finished with five catches for 74 yards. Valencia is 2-0 after the first two games of Foothill League play. Canyon, Saugus, Hart and West Ranch are 1-1 and tied for second place. Only two of those teams are guaranteed playoff spots. It should be an interesting next three weeks in the Foothill League.
Another underclassman has been playing well in Ventura County. Camarillo junior Travis Valdez, making only the third start of his high school career, passed for 389 yards and seven touchdowns in his team's 58-14 win over Hueneme. Valdez is 3-0 as the Camarillo starting quarterback and the Scorpions are 2-0 in Pacific View League play. Senior Conrad Kotake caught four touchdown passes and had 133 receiving yards. He was one of three receivers who had more than 100 yards in the game. Senior Jake Maulhardt caught nine passes for 133 yards and a touchdown. Corbin Covey had 106 yards receiving and scored a touchdown.
Burroughs of Burbank running back Zander Anding recorded his fourth 300-yard rushing game in a row. He gained 358 yards and scored three touchdowns in a 35-22 win over Crescenta Valley. Anding scored on runs of 93, 23 and 65 yards. Behind Anding, Burroughs improved to 4-0 in Pacific League play. The Indians are on the road and play Muir in Pasadena on Friday night.
A pair of City Section running backs combined to score nine touchdowns in crucial league wins. El Camino Real's Kawan Rally scored five rushing touchdowns and gained 218 yards in his team's 62-0 shutout on the road over Cleveland of Reseda. Arleta's Dejon Coleman rushed for three touchdowns and caught a touchdown pass in his team's 49-6 win over North Hollywood. He had touchdown runs of 4, 20 and 10 yards and had a 35-yard touchdown reception. He finished with 143 rushing yards and 64 receiving yards.
The Thousand Oaks boys water polo team won the Anaheim Canyon tournament for the second year in a row. Thousand Oaks beat Long Beach Poly, 14-2, in the championship game of the two-day tournament. Ben Rogers scored 13 goals on the final day of the tournament.
October, 17, 2011
10/17/11
6:32
PM PT
By
Tim Haddock
| ESPNLosAngeles.com
Even though Sherman Oaks Notre Dame lost its Serra League opener, 28-26, to Crespi, the Knights can look to some positives from the game. First off, Notre Dame outgained Crespi in total offense, 212 yards to 164 yards. Neither team was able to move the ball much on offense, but Notre Dame running back Khalfani Muhammad made his presence felt. He rushed for 92 yards in 26 carries but didn't find the end zone. Secondly, Notre Dame picked off two passes and turned them into touchdowns. Kevin Carrasco's interception return in the second quarter gave Notre Dame a 10-point lead, 17-7. Nick Holland's pick six in the fourth quarter put Notre Dame up 24-21. Finally, Notre Dame's Sam Robinson matched Crespi's Chris Harper for most acrobatic touchdown catch of the game. Robinson made a diving catch for a touchdown that tied the score, 7-7, in the second quarter. Unfortunately, Notre Dame doesn't win games with style points. Now, the Knights find themselves in a must-win situation against Loyola on Friday night at L.A. Valley College. Notre Dame needs a win to get back in the Serra League championship hunt. Loyola is playing its Serra League opener after having a bye last week. It will be another tough one for Notre Dame. Crespi, meanwhile, plays Bishop Amat, which lost its Serra League opener to Alemany.
Two school passing records were broken over the weekend. Canyon quarterback Jonathan Jerozal set the school mark for career touchdown passes in the Foothill League opener against Saugus. Oaks Christian quarterback Brandon Dawkins broke the school record for passing yards in a game in a 50-0 shutout against Royal. Jerozal threw three touchdown passes in his team's 51-28 win over Saugus. He has 62 career touchdown passes and broke the record set by Nate Longshore, who went on to play at Cal. Dawkins passed for 387 yards against Royal and broke the record set by Jimmy Clausen, who passed for 367 yards against Santa Paula in 2006, and went on to play in college at Tennessee. It might be the first of many school records for Dawkins, who is only a sophomore.
Some of the biggest rushing games on Friday night came out of the City Section. Kawan Rally from El Camino Real rushed for 319 yards and four touchdowns in his team's 48-7 win over Woodland Hills Taft. It wasn't only a huge night for Rally, but for the El Camino Real program. The Conquistadores beat Taft for the first time since 1991. Birmingham's Isaiah Hastings rushed for 248 yards and two touchdowns in his team's 35-16 win over Chatsworth. Both his touchdowns came in the second half, one on an 86-yard run in the third quarter. Arleta's Dejon Coleman didn't have eye-popping numbers on the ground, but he scored four touchdowns in his team's 49-6 win over Poly. He scored two rushing touchdowns, caught a touchdown pass and intercepted a pass for a touchdown. Coleman gained 91 yards on nine carries and caught five passes for 75 yards. Brian Sanchez from Granada Hills rushed for 213 yards and scored three touchdowns in his team's 38-13 win over Cleveland of Reseda.
Another game, another rushing record for Zander Anding from Burroughs of Burbank. He rushed for 394 yards and scored six touchdowns in his team's 70-34 win over Glendale. It was Anding's third 300-yard rushing game in a row and the third time he has broken his own school record for rushing yards in a game. He scored on runs of 39, 75, 5, 47 and 41 yards and caught a touchdown pass. Way out in the high desert, Quartz Hill's Osirus Burke rushed for 242 yards and scored four touchdowns in the Rebels' 27-21 win over Palmdale. Burke scored on runs of 6, 1, 13 and 11 yards.
Pasadena Poly won the Oxnard water polo tournament, beating Rio Mesa, 15-7, in the championship match. Rio Mesa reached the final of the Oxnard tournament for the third year in a row. The Spartans won the tournament in 2009 by beating Pasadena Poly. Rio Mesa lost to Crescenta Valley in last year's championship match. Rio Mesa beat Malibu, 13-9, in the semifinals. Rio Mesa's Joe Yamamoto scored five goals against Malibu and had four goals in the championship match against Pasadena Poly.
November, 12, 2010
11/12/10
1:03
AM PT
By
Sean Ceglinsky
| ESPNLosAngeles.com
BURBANK -- It's called "The Big Game" for a reason.

For years now, seemingly too many to count, crosstown rivals Burroughs and Burbank have met on the football field to decide which team is the better overall unit, and thus, own city bragging rights for the next year.

The programs settled their differences once again Thursday night, this time in front of a packed house of more than 7,500 fans. The action, of course, lived up to the hype. It was another classic game in a long line of classics

Cristobal Escobar kicked a 20-yard field as time expired as Burroughs rallied from a 28-point deficit to defeat Burbank, 38-35, and clinch at least a share of the Pacific League championship.

"There was a lot of pressure on me to make that kick, I mean this game means everything to us and to them,'' Escobar said. "It was like things were in slow motion. But once I got my foot on the ball, I knew the kick was good. It was like a dream, we came back to beat our biggest rival. What a game.''

The Indians (6-4, 6-1) trailed by what appeared to be a truly insurmountable deficit, four touchdowns, midway through the second quarter. Giving up to their despised counterparts was never an option though. With the loss, Burbank (7-3, 5-2) missed out on an a chance to pick up a piece of the league title.

If Arcadia (6-3, 5-1) loses to Crescenta Valley (4-5, 2-4) in Friday's regular-season finale Friday, Burroughs will win the title outright.