Los Angeles Preps:

Zeno Edosomwan
December, 28, 2011
12/28/11
6:47
PM PT
By
Sean Ceglinsky
| ESPNLosAngeles.com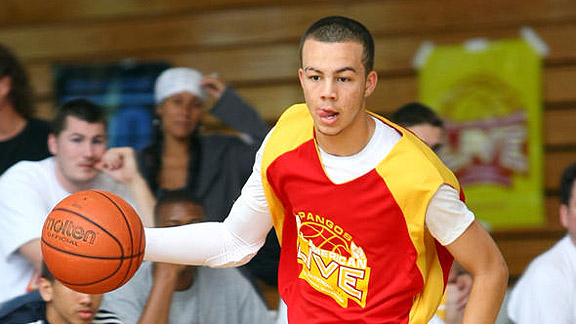 Nick KozaGabe York had to bide his time at Orange Lutheran, but now he's a mainstay and averaging 27 points.
LOS ANGELES -- As
Gabe York
dribbles across halfcourt, his head is up, eyes constantly scanning the floor on the lookout for an open teammate. The ball appears on to be on a tightly-wound yo-yo string attached to the right hand of the senior from Orange Lutheran.
A split second later, York effortlessly switches things up and heads directly toward the basket with his left. Forget about the two undersized guards tugging on his jersey in an effort to keep pace. The small forward charging straight at him offers little, or no, resistance.
A jump-stop at the free-throw line draws the attention of a pair of post players, essentially freezing the tandem in their tracks. With the focus on him, York passes up a tough jumper in the lane and tosses a well-placed bounce pass that leads to an uncontested layup.
The scenario has played out on more than a few occasions.
Nevertheless, his decision-making process has rarely wavered despite the fact opponents have regularly designed game plans around stopping York. Suppose that best explains why the Arizona-bound guard is considered one of the nation's premier players in his class.
"Teams are all over Gabe, and as a high school kid, that's tough to deal. Give him credit though, he has handled things well,'' Orange Lutheran coach
Chris Nordstrom
said. "I think we have seen every kind of defense. Double-teams and triple-teams. Box-and-one. Triangle-and-two. You name it, opponents have thrown it at us. I'm not sure what they will think of next.
"Gabe has a knack for making the difficult play look easy. He understands the game, he gets it. I can't tell you the number of big plays he's made for us in the biggest moments of games. He has a calmness about him. We want the ball in his hands as much as possible.''
York figures to have plenty of chances to make plays this season for the Lancers (8-2 overall), who figure to be a mainstay in the ESPNLosAngeles.com Top 20 rankings.
December, 20, 2011
12/20/11
10:32
AM PT
By
Sean Ceglinsky
| ESPNLosAngeles.com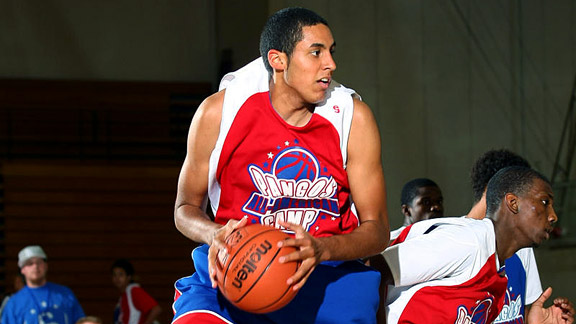 Nick KozaGrant Jerrett of La Verne Lutheran -- and his big, agile frame -- are headed to Arizona.
LA VERNE -- At 6-foot-10 and 220 pounds, and potentially growing,
Grant Jerrett
possesses the size necessary to make an impact each time he steps out on the basketball court. There is more to him than merely an ideal frame for the game though. Much more, in fact.
The senior from La Verne Lutheran is as skilled as they come.
A well-rounded interior game separates Jerrett from most of his peers. A deft touch from the perimeter, especially for a post player, makes him a match-up nightmare for opposing bigs. An unrelenting will to grab seemingly every rebound from counterparts in his general vicinity is a valuable asset. Blocking shots and stepping in passing lanes for steals comes naturally.
[+] Enlarge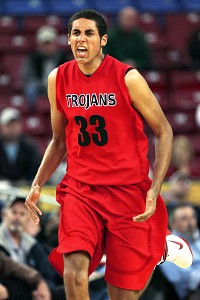 Nick KozaJerrett caught the eye of many Pac-12 schools, including UCLA and USC.
All of the intangibles are there, and given that fact, the Arizona-bound Jerrett is recognized as one of the Southland's premier players. The Trojans, as result, figure to be a force to be reckon from start to finish this season. With Jerrett leading the way, of course.
"Grant gets better with each day, with every practice, every game, every jumper, every rebound. He's a special player,'' La Verne Lutheran coach
Eric Cooper
said. "The best is yet to come. Once he realizes that he can dominate games, everybody better watch out for him.''
Make no mistake, Jerrett has been a well-known commodity for quite some time. He has, after all, been at the forefront of back-to-back CIF State titles for the Trojans.
Jerrett & Co. are expected to be one of the marquee attractions at the Chick-fil-A Classic, a high-profile multiple-day tournament the rest of this week in Decatur, Ga.
There was, however, a time when he wasn't a household name.
Jerrett is in his fourth year as a contributor on the varsity level for La Verne Lutheran. His first season, unfortunately, was cut short when he broke his foot twice.
He took a big step forward during as a sophomore, no pun intended. Jerrett opened plenty of eyes with more than respectable averages 18 points and 10 rebounds per game.
"Everything happens for a reason, I'm just thankful all of those injuries are behind me and I'm healthy now,'' Jerrett said. "I feel stronger than ever, which is a good thing because I know I have a big target on my back nowadays. I'm always up for the challenge though.''
That was blatantly obvious last season as a junior. Jerrett was unstoppable, at times, and averaged 18 points, 10 rebounds and more that three blocks every night.