Yorba Linda's Chris Pontius lost his hat trick one day after scoring three goals to lead resurgent D.C. United in Seattle last week, but no matter. It wasn't a particularly artistic three goals -- one went in when former U.S. star Kasey Keller pulled a Robert Green (and before Green's name became synonymous with outrageous goalkeeping errors) -- and he never thought he scored the third one anyway.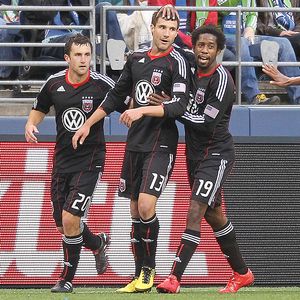 Otto Greule Jr/Getty Images
Chris Pontius, middle, of D.C. United is congratulated by teammates Stephen King, left, and Clyde Simms after scoring one of his goals against the Seattle
The former Servite High School and UC Santa Barbara star got credit for two goals and an assist as D.C. escaped the Eastern Conference cellar with a 3-2 victory over the struggling Sounders before 36,146 at Qwest Field. He was initially credited with all three strikes, but Adam Cristman was awarded the third after league officials reviewed the video.
"It's kind of weird," Pontius told D.C. United's website after the game. "I didn't think I played exactly great tonight, especially the second half. Everybody looks at the goals, probably."
He scored the first in the 39th minute after collecting a poor clearance; a deflection wrong-footed Keller. It was 2-0 six minutes later when a simple shot squirted through Keller's hands and into the net. That's two horrendous goals the 40-year-old goalkeeper has surrendered in six games.
"I said my whole career that once I feel I can't do the job, then I have to stop doing the job," Keller told the Seattle Times. "I wanted to play another year, but not if I don't play to the level that I expect of myself and the level that the players and the fans and the coaching staff expect of me."
Pontius' third was a looping header that cleared Keller en route to the right post. It probably would have gone in on its own, but Cristman made sure.
THE RIGHT CALL: The Galaxy bitterly complained after Javier Morales' 80th-minute goal gave Real Salt Lake a 1-0 victory last week, ending L.A.'s 12-game unbeaten streak to start the season.
Morales was in an offside position, as Galaxy coach Bruce Arena pointed out to officials -- literally; the replay was on the video board at Rio Tinto Stadium -- but referee Edvin Jurisevic ruled, correctly, that the ball to Morales was played by Galaxy rookie Michael Stephens. Hence, no offside.
RSL coach Jason Kreis, whose team moved to within nine points of the Galaxy (10-1-2) in the top-of-the-West showdown, has been a critic of MLS officiating that has cost the Utahns goals and points.
"I've been complaining for a long time that I feel like referees are making too many decisions that are taking goal-scoring chances and goals away," he told the Deseret News. "So I'm really, really pleased that he got it right tonight."
Arena wasn't buying it.
"It wasn't a pass," he told the Salt Lake Tribune. "There wasn't a pass on the whole play. ... It was a missed play. Let's be fair. Over the season you're going to get some in your favor and some are going to go against you."
REVS RETURNS: Matt Reis (Santa Margarita Catholic High School/UCLA) returned to the field in New England's 3-0 loss Sunday to Brazilian club Cruzeiro, his first minutes since undergoing offseason shoulder and knee surgery. Steve Ralston, MLS's all-time assists and minutes leader, had a painful return to the Revs lineup, dislocating his left elbow just two minutes after entering the game in the second half. Ralston rejoined New England last week after his hometown AC St. Louis of the USSF D2 Pro League, which he joined during the offseason, ran into financial problems.
ODDS AND ENDS: Lawndale's Kei Kamara netted his sixth goal of the season for Kansas City, emphatically finishing Davy Arnaud's feed as the Wizards ended a nine-game, all-competitions winless skid with a 2-0 victory over Philadelphia. … Conor Casey's stoppage-time header, his second goal from the run of play in two games (after none since September), gave Colorado a 2-2 draw at Chicago. … Oliver Luck resigned as Houston Dynamo president to become West Virginia University's athletic director. … MLS is on a World Cup break and will resume play June 25.
Last week's scores (home teams listed first)
Wednesday
Real Salt Lake 1 (Morales 80), Galaxy 0
Chicago 2 (Pappa 23, 46), Colorado 2 (Cummings 21, Casey 91+)
Thursday
Kansas City 2 (Kamara 9, Zusi 35), Philadelphia 0
Seattle 2 (Riley 90, Montero 91+), D.C. United 3 (Pontius 39, 45, Cristman 79)
Standings
Western Conference: Galaxy 32 points, Real Salt Lake 23, Colorado 20, San Jose 17, Houston 16, FC Dallas 15, Seattle 15, Chivas USA 10
Eastern Conference: Columbus 21, New York 21, Toronto FC 17, Chicago 14, Kansas City 12, New England 11, D.C. United 10, Philadelphia 7
June 25-27 games (all times Pacific)
Friday, June 25
San Jose at at Real Salt Lake, 6 p.m.
Saturday, June 26
Galaxy at Toronto FC, 4:30 p.m.
FC Dallas at Chivas USA, 7:30 p.m.
D.C. United at Columbus, 4:30 p.m.
Philadelphia at Kansas City, 5 p.m.
D.C. United at Seattle, 7 p.m.
Sunday, June 27
Seattle at Philadelphia, 2 p.m.
Chicago at New England, 4 p.m.
Leading goalscorers
1 Edson Buddle (Galaxy) 9
2 Dwayne De Rosario (Toronto FC) 8
3 Juan Pablo Angel (New York) 6
Kei Kamara (Kansas City) 6
Chris Wondolowski (San Jose) 6
6 Conor Casey (Colorado) 5
Sebastian Le Toux (Philadelphia) 5
Fredy Montero (Seattle) 5
Marco Pappa (Chicago) 5
Alvaro Saborio (Real Salt Lake) 5
Zach Schilawski (New England) 5
FRIENDLIES
Last week's results (home team listed first)
Thursday
Houston 2 (Davis pen. 68, Oduro 85), Laredo Heat (PDL) 1 (F. Garcia 2)
Saturday
At Sacramento: Chivas USA 0, San Jose 0 (San Jose wins on penalties, 6-5)
Sunday
New England 0, Cruzeiro (Brazil) 3 (Wellington Paulista 24, 49, 83)
This week's games (all times Pacific)
Friday
Cruzeiro (Brazil) at New York, 5 p.m.
Saturday
El Salvador at D.C. United, 4:30 p.m.
Aguila (El Salvador) at Houston, 6 p.m.
Puntarenas (Costa Rica) at Real Salt Lake, 6 p.m.