Nadia Link's journey is a family's reward
October, 13, 2011
10/13/11
1:32
AM PT
By
Scott French
| ESPNLosAngeles.com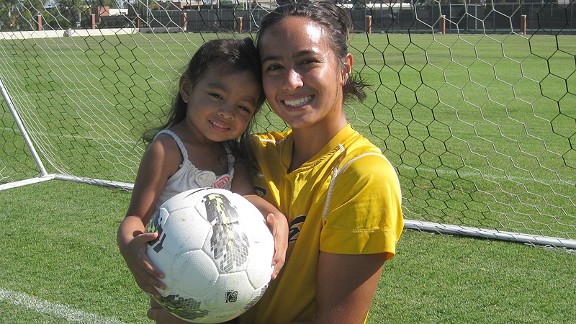 Scott French/For ESPNLA.comNadia Link found out she was pregnant shortly after graduating from Walnut HS in 2008. She lost her scholarship to UC Irvine, but after giving birth to daughter Adrianna, Link has found her way back.

LONG BEACH -- If the grind ever seems too tough, the swirl of responsibilities too dizzying, Nadia Link needs only a peek at the inside of her right arm to find the strength to keep pushing.

It's tattooed in stately script, just below her biceps: "Adrianna"

Long Beach State's star forward has overcome some terrific obstacles since learning three years ago, shortly after graduating from Walnut High School (Walnut), that she was pregnant. It sent her down a difficult and at times shrouded path while costing her a UC Irvine scholarship, destroying her relationship with her family, and forcing her to live, for a short stretch, in her car.

That path has led to unexpected reward, on and off the soccer field. Link, following two years of hard work to regain her fitness and form, has emerged as one of the deadliest attackers in the college game, with 12 goals and eight assists to lead the 49ers to a 10-3-1 record and a No. 22 ranking in the National Soccer Coaches Association of America's Division I poll.

It led to last week's call-up to the U.S. under-23 national team's camp at Home Depot Center -- Link was most impressive, reports say -- and All-American buzz for the 5-foot-6 junior.

She has grown up, is getting good grades (while juggling 17 units) and has a plan for the future (nursing and law) and has watched as her family has come together, healed deep wounds and built a connection that had never before existed.

All of it is about Adrianna, her daughter, who will be 3 in January.

"It was very difficult," Link, 21, says. "I had to do a lot on my own and be really strong, but my outlook is I'm like a freight train now. Any time I ever feel like maybe I should quit, I just look at her, and I find there's no way I can."

NINE HARD MONTHS

Link, a Rowland Heights native, learned she was pregnant right after her June 2008 graduation from Walnut. She told her mother after accompanying her on a stroll.

"I was figuring something was wrong," Nelia Mendoza says. "We went home, and it was just her and me, and she says, 'Ma, I want to tell you something.' She was already in tears. I had a feeling, a mother's instinct.

" 'What, are you pregnant?' That just came out, like that. And she cried. And I screamed, and I cried so hard."

Nadia and her "very traditional" family are devout Catholics, and the news threatened to tear a rift through them. Her father, Nicholas Link, calls it "a very tough time, very tough time."

"It was very, very hard on all of us ..." he says. "We all anticipated she would go on to school and play soccer, and when we heard she's pregnant, it was very hard on all of us. She didn't know what she was going to do. We didn't know what we were going to do."

Nadia, whose ancestry is Russian and Filipino, didn't know whether to keep the baby, to have it and put it up for adoption or to end the pregnancy.

"It was a very strong battle morally for me, because I'm very religious," she says. "I have a lot of faith."

Nadia was asked to leave.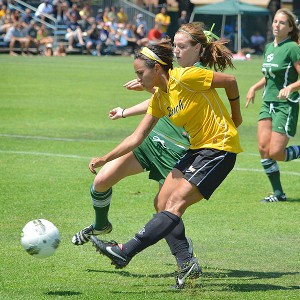 Long Beach State athleticsNadia Link has 12 goals and eight assists for Long Beach State, which is ranked No. 22 nationally in the latest coaches' poll.
"At first, they pretty much disowned me ..." she says. "It wasn't my decision [to leave], but it was probably for the best at the time."

She moved in with her boyfriend -- the father of the baby -- but that didn't last long, and soon they were living in a car parked at a gas station. A move to his sister's in Alhambra followed, and when that became untenable, she made a phone call.

"I called my mom," Nadia says, "and I was like, 'Mom, I have nowhere else. Please?' And, of course, being a mother, she couldn't say no."

Mendoza had quietly been keeping tabs on her daughter, mostly through friends, and fretting over her prenatal care and schooling. Clearly, there are regrets about asking Nadia to leave the house, and Mendoza says she has asked for no detail from the time living in the car "because it's hurting us."

Asked about regrets, Mendoza pause for a moment.

"I was thinking about that," she finally says. "But at the same time, maybe it's good, because she understood how hard it is. [In high school] she has her own car, has her own room, is buying stuff, doesn't have to work."

The experience, Mendoza says, provided lessons that can't be easily taught.

"You realize that [life is] hard. You realize it's really hard," she says. "Sometimes I look back: Should I not have left her? But sometimes you have to experience the life, how it is outside."

A FUTURE IN SOCCER

Nadia Link had been looking forward to life after high school. She was a soccer stud, had grown up in big clubs (Alta Loma's Arsenal and then Orange County giants So Cal Blues and Slammers), starred at Walnut High (a three-time All-CIF selection and two-time San Gabriel Valley Tribune Player of the Year) and won a scholarship to burgeoning power UC Irvine, one of the region's top academic schools.

The pregnancy altered her course. Her focus moved to natal care (Medi-Cal took care of things) and trying to survive away from home (she worked in fast food and as a secretary). And she gave up on the idea of going to UC Irvine, instead enrolling at Mt. San Antonio College in Walnut, the state's largest community college.

"The one thing for me was I didn't want to stop school," she says, "because when you stop, it's going to be hard to go back."

Link wasn't playing soccer, but she kept up her relationship with the ball, often juggling on Mt. SAC's fields -- even after she was noticeably expecting. "Some people would be like, 'I don't think you should be doing that,' but I just couldn't stay away," she says.

Long Beach State coach Mauricio Ingrassia, meantime, had noticed Link hadn't shown up at UCI. He'd built Long Beach State into the Big West Conference's top program -- with four regular-season or tournament titles in the past five years -- by pulling in very fine local players, most of whom had been overlooked or undervalued by the big powers. He liked Link and started looking for her.

"I kept calling her every couple of weeks to see where she was, and because we were really interested, and we couldn't figure out where she was," Ingrassia says. "So every few weeks, I would just try. I even showed up at her house one night, knocked on the door."

He finally tracked her down, by phone, at the end of the college season. She was about eight months pregnant.

"I get a phone call from a 562 [area code] number," she explains. "He goes, 'Hey, this is Mauricio,' and I was like, 'Oh, hi.' And he goes, 'First question: Did you have a baby?' "

Ingrassia told her he wanted to talk to her if she had interest in playing soccer collegiately. "And I didn't even think about that," she says. "Because my focus was what I need to do for the future."

Ingrassia wouldn't leave it alone.

"Mauricio came to my house," Nadia says, "and he was really pushing hard, saying: 'If you really want to go back to school and play soccer, we can work something out.' So he's the one that really opened the door for me. That started it all, and here I am."

Ingrassia offered a one-year scholarship, subject to renewal, and told her she would have three full-time jobs -- student, soccer player and mother -- and would have to regain her soccer fitness. He was blunt: "We want to see how you handle it."

Adrianna had been delivered by C-section, and Link was instructed "no full activity" for six months. She put on a compression band and a girdle and began training after three months.

It was a grind. She was heavy and had lost a couple of steps, and although her touch remained, her confidence was shot.

Nadia found support among her teammates, most of whom couldn't fathom what she'd been through, and played in 17 games in 2009, starting six of them. She didn't score a goal and hadn't passed a fitness test, and she would have to the following spring to keep her scholarship.

She worked out daily and was lighter and quicker when the team gathered together, and impressed during spring preparations. Her fitness test came the final day of sessions.

"It was surreal," Ingrassia says. "She knew, because we'd talked about it: 'You've got to get it done, for yourself and for your teammates.' And it was one of the most amazing moments I've seen."

The 49ers were running the brutal "beep" test, in which you must pass boundaries before the next "beep" sounds or drop out.

"Nadia is the last one standing," Ingrassia says. "She's just going, and we had a tunnel of kids just cheering her on. I still get goose bumps just thinking about it.

"Everyone's screaming, 'C'mon, Nadia! C'mon, Nadia!' And she broke the program record for fitness. It was a great moment for us and a great moment for her. A statement."

She was very good last fall, scoring a team-best eight goals and winning All-Big West accolades as the 49ers won the conference tournament and advanced to the NCAA tournament.

A BREAKTHROUGH

Link was good in 2010. She knew she could be better, so she spent the offseason working on her team-best fitness, then played for two amateur teams -- the W-League's Pali Blues and Women's Professional Soccer League's Los Al Vikings -- to sharpen her game before reporting for preseason.

"I ran every day, played every day," she says. "I really kicked it into high gear this summer, and I feel super fit. I feel like that's the key to everything, just feeling fit."

Ingrassia was pleased with what Nadia provided last year.

"We thought this turned out great," he says, "and then all of a sudden she shows up this fall, and she's picked up another step."

The explosiveness and confidence the offseason instilled took her game up a couple of notches, and foes have struggled to stop her. She has had a goal or assist in all but three games, linking with a strong attacking group -- also starring midfield leader Shawna Gordon (Rancho Cucamonga/Los Osos HS) and prime striker Nicole Hubbard (Lakewood/Mayfair HS) -- as Long Beach State romped to the top of the Big West Conference and into the national top 25.

The 49ers take a six-game winning streak into Big West games Friday night at Cal State Northridge and Sunday evening at UC Irvine.

Stationed on the right side of a three-woman frontline, so she can cut inside on her preferred left foot, Link has been a constant scorer and a superb provider, but it's the class within her game -- the precision of her runs, the magic in her feints, her ability to beat foes one-on-one, the knack for scoring extraordinary goals -- that has most impressed.

"I think the difference is we're playing better soccer than we've ever played," Ingrassia says. "It's not like 'give it to Nadia and hope she can do something.' The players we have, we're moving the ball really well, using the entire width, using both sides. When it gets to Nadia, it's not because that's the game plan. It's the flow of the game."

Ingrassia loves her soccer acumen.

"She's a student of the game," he says. "We'll talk about the Barcelona game or the Argentina game or Arsenal game or whatever, and she's right there with you, like she's one of the guys. ... She watches soccer. That's not common for a young female."

He says a television was placed in the women's soccer team's locker room, "and I'm constantly telling the team: 'This game, this game, this game -- it better be on.' Sometimes you walk in there, and they're watching 'Jersey Shore.'

"But Nadia can hold a conversation. 'Did you see Rooney? Did you see Xavi? Did you see Cristiano?' She gets it. And when it's part of you, naturally you're going to see so much, and you're going to incorporate a thing or two. And you're going to carry yourself a little different, because it's in the culture."

The national team has taken notice. She's the Big West Player of the Year frontrunner and could make the All-America team. And Women's Professional Soccer, should she put off her plans in nursing (and law), could be an option in another year and a half.

"Hopefully, people are going to take notice," Ingrassia says. "She's a fantastic soccer player, a great person, a fantastic leader."

A FAMILY STORY

The turning point for the Link-Mendoza family -- and for Nadia -- was Jan. 18, 2009. Adrianna Rose Lopez was born at Pomona Valley Hospital in Pomona, checking in at 9 pounds and 20 inches.

All was forgiven and, mostly, forgotten.

"Once the baby got here," Nadia says, "oh my God, they couldn't resist."

Said Nicholas Link: "When the baby came, it kind of unified us. It got us on the same page. ... The baby is absolutely paramount to this family, and she always has been. So is Nadia. But the baby is first and foremost for us -- she just brought us together."

Unity was required if Nadia was going to succeed. When Ingrassia offered the scholarship, she sat down with her parents.

"I told them, 'If we're going to do this, I need all your support,' " she says. " 'I need you guys to go whole-heartedly with me. There are going to be times I won't be able to watch her. It will demand a lot of me, and a lot of you guys, too.'

"My family, without hesitation: 'Of course, go. We'll do this. We'll handle this. You go.' "

Nadia's aunts, uncles and cousins share in the responsibility, and it is steep. Nadia primarily lives in Long Beach, with five teammates, has a brutal class schedule -- nursing school is her aim, with plans for law school later on -- and the life of a full-time college athlete is hectic.

The family brings Adrianna to all of her mother's Southern California games, and Nadia gets to the San Gabriel Valley at every opportunity. She and Adrianna's father parted shortly after the birth, but he's also involved in her life, taking her one day each week.

"My family has been a big part of my success right now," Nadia says. "It was hard during those times, you know, being on your own, but they really pulled through."

Said Mendoza: "Now she's really inspired, because of the baby. All of us are inspired. And the baby loves soccer, likes to kick the ball. Sometimes when she's playing with her toys, she'll ask me: 'Grandma, I want my soccer ball.' "

Nadia kisses her tattoo with every goal.

"Plenty of times I wanted to give up," she says. "One thing my parents instilled into me, you can't quit. Every time I felt that, I thought I just have to keep going. As hard as it was just to take that next step forward, and when I get the strength, take my other foot and put it forward. One step at a time."

There are, naturally, regrets. But things couldn't have played out any better.

"I would do it all over again," Nadia says. "I would live in a car again. I would bounce around ... to see her now and where I am now and how close my family is, I wouldn't trade anything for the world."