Donovan: 'Disgraceful' finish defines Bulls
October, 30, 2011
10/30/11
7:35
PM PT
By
Scott French
| ESPNLosAngeles.com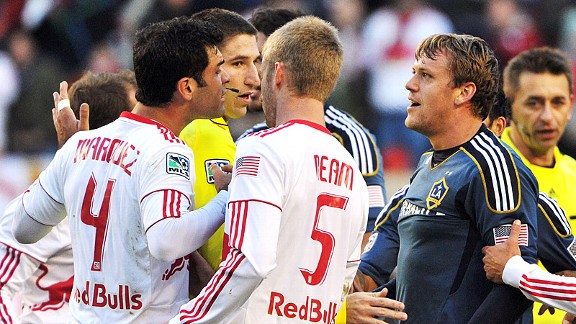 Christopher Pasatieri/Getty ImagesA postgame argument between New York's Rafa Marquez (4) and the Galaxy's Adam Cristman led to two red cards.

HARRISON, N.J. -- It was unnecessary, it was unfortunate, it was ugly.

But, Landon Donovan noted following the Galaxy's victory over the New York Red Bulls in a Major League Soccer playoff opener Sunday afternoon, it was hardly unexpected.

A scuffle broke out at the finish of L.A.'s 1-0 triumph, and you could have predicted this: Rafa Marquez was the center.

The Mexican midfielder, a supremely talented player with a propensity for on-field nastiness, greeted the final whistle by hurling the ball, sharply, at Donovan. Adam Cristman confronted Marquez, who tried to head-butt the Galaxy forward, Red Bulls defender Stephen Keel leaped in, and L.A. midfielder Juninho retaliated.




When it was done, referee Alex Prus issued postgame red cards to Marquez and Juninho, and the league could decide on further sanctions -- against Keel, most likely -- before Thursday's second leg in the home-and-home series at Home Depot Center.

"It's a disgrace," said Donovan, who was standing at midfield, about 10 yards from Marquez, when Prus blew his whistle with a Josh Saunders goal kick in the air. Marquez caught the ball, and immediately flung it at the Galaxy captain, nailing him in the lower leg.

"We're here to play soccer," Donovan said, "and when things like that are instigated by players on their team, it's real disgraceful."

Marquez has a mostly one-sided history with Donovan -- and with the U.S. national team. His brutal foul against Cobi Jones in the 2002 World Cup round of 16 remains a sore point with Yanks, and when there's opportunity to deliver a cheap shot, especially away from the ball, he too often steps up.

Asked about this, Donovan was succinct: "I don't think anybody's surprised by what happened."

What Marquez thinks about this is anybody's guess. He hasn't spoken to the media since his public comments last month criticizing Red Bulls defender were punished by a team suspension.

Keel, who was knocked to the ground by Juninho, blamed it all on playoff intensity.

"Tensions were high. You can see it's a playoff game ...," he said. "At the end, there is a little scuffle, nothing major. I think someone comes in to break it up and everything. I just got knocked in the mouth a little bit. Nothing major. For me, it's not a big deal."

For Juninho, it is. The Brazilian midfielder, an important cog in the Galaxy attack, will miss Thursday's game, as will Marquez. He received some slaps on the back from teammates in the locker room and on the flight home Sunday night.

"It's kind of silly," L.A. defender Omar Gonzalez said. "You never want that to happen. Rafa tried to throw a head-butt, and Juni was just protecting our player."

Said Donovan: "Adam [stuck] up for his teammate. Marquez tried to head-butt him, Keel came in ... they told me Juni reacted and went after those two. It's unfortunate. The guy who reacts always gets in trouble. But I'm glad my teammates stuck up for me."

Keel flopped to the ground when Juninho made contact, and Marquez, too, went down as Cristman shoved back. Then both teams leaped into the scrum and some Red Bulls gave chase to Juninho, who was shepherded away from the mess by Sean Franklin, assistant coach Dave Sarachan and Saunders.

That was pretty much it, aside from some harsh words and, naturally, complaints and pleas to Prus.

It could be the end for the Red Bulls, who must overcome a deficit against a Galaxy team that hasn't lost at home this season. If Keel joins Marquez on the sidelines, the Red Bulls will be in crisis mode at the back.

Keel's addition to the lineup, with Marquez moving from center back to his favored position in midfielder, was a key move in New York's end-of-season run, and his presence seemed to lift Tim Ream out of a ghastly sophomore slump.

Marquez, one of the Red Bulls' Designated Players, is a most influential player -- he changed Sunday's game at the start of the second half, sending two balls over the top to jump-start New York's attack.

"It's going to be a difficult task playing without Rafa," said Red Bulls captain Thierry Henry. "Even if Rafa was with us, it would have been difficult to play against L.A. at their place. ... What we need to do is regroup and try and concentrate on the game. It's going to be difficult playing without Rafa, but we're going to have to do it."

Donovan says there was an edginess to the game as it played out -- and that such an incident defines what the Red Bulls represent.

"There were a few plays where they took some cheap shots at us," he said. "In all my years in this league, I've not played against a cheaper team, and they've been doing that all year. We saw it a few weeks ago, with Henry kneeing [Sporting Kansas City's Roger Espinoza] in the back [and receiving a red card]. We've seen that all year. ...

"There's been instances all year that things have happened with them. I think it's part of their makeup."

One last shot from Donovan: "At the end, the cream rose to the top, and the better team won."